This Is Our Family Gap Year – Itinerary and Future Plans

This is a summary of our family gap year. Here we give an outline of our itinerary, our philosophy of travel, and what might lay beyond this special time.
This post was updated and republished in May 2023 (about 10 months into our journey) to correct some future tense speculation that became past tense history.
In nearly every post I write, I make mention of our family gap year. After all, this blog's main purpose is to record our experiences and thoughts while our family of five travels long term. At every mention of our gap year, I reach back for a link that sums it all up, but every time I come up empty handed. That's because we've dedicated all of our writing to what we're learning and experiencing in the moment — as it should be. But it would be nice, at least once, to zoom out and focus on the bigger picture.
So here is an attempt to fill that informational void. This article will summarize all the questions of where, why, and what about our grand adventure. My hope is to give context to all the other content on this site.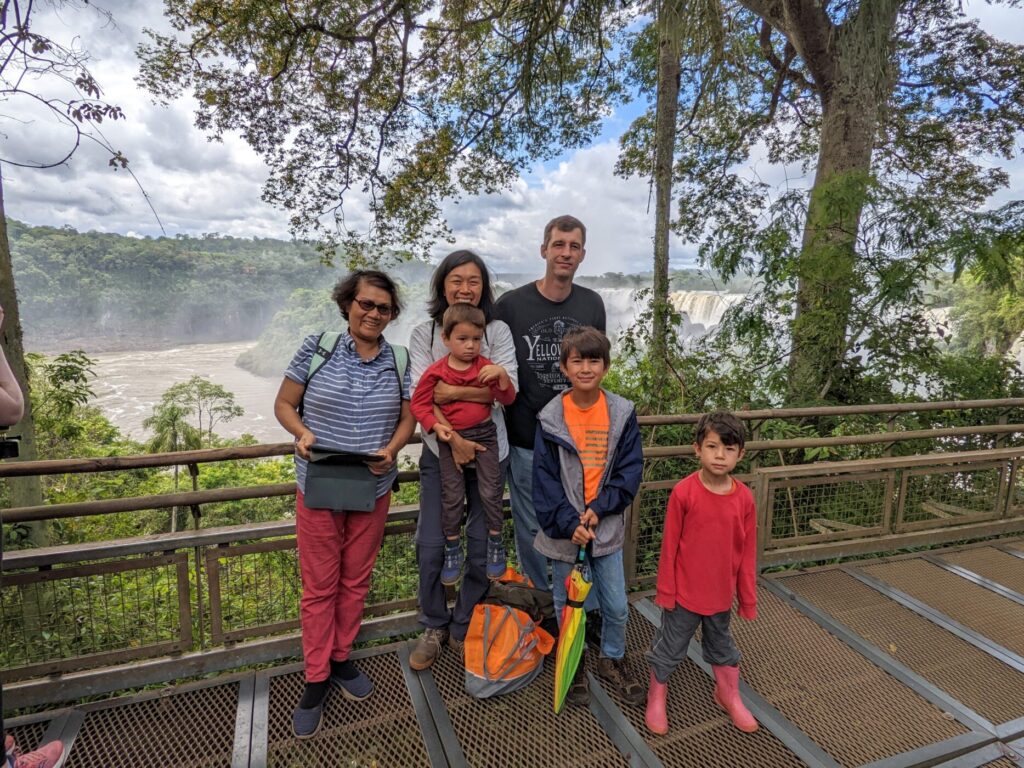 What is a Family Gap Year?
A gap year is what happens when a high school graduate realizes they don't legally have to go to class next fall. They take a year of freedom, because, why not? When a professor takes a long break, it's called a sabbatical. When a family with kids takes a year off work and school, it's called a family gap year.
It often involves international travel but doesn't have to. It could be joining a community and doing a cool or meaningful project, or living in one place with a host family for a year. There might be a goal — writing a book, learning a new skill, experiencing things you would never do back home — but then again, there doesn't have to be any set purpose. You might find the purpose as you go.
When it comes to traveling with three little boys, it gets complicated. What do you do with the kids' schooling? The house? How to afford five plane tickets every time you fly? But once you figure out the logistics, it's essentially the same idea. Take a break from "normal" life, and live it up, learn new things, try new things, and recover that lost sense of wonder.
What Made Us Decide to Do This?
Wanderlust is in my blood. I've always dreamed of leaving it all and traveling the world. It was always just a matter of when and how.
The final nudge from fantasy to reality came from the suggestion of a family friend who was gearing up to take their own gap year. Our biggest problem was the house. We couldn't just leave it there — pipes could burst, branches could fall on it, a gang of squirrels could move in — but we couldn't bring ourselves to sell it either. We had just spent seven years of sweat and love rehabbing it.
Our friends had already solved that problem. They were putting their house online as a vacation rental and paying someone to manage it. Brilliant! Home care with the benefit of extra income!
We decided we were going to do it. That was 2019. That same year we were surprised with a third child. We were still determined to do it, but not while lugging a sack of diapers. It became our three-year plan. The delay didn't matter anyway because we all know what happened in 2020. In fact, it made the pandemic doldrums slightly more bearable. We had something to work towards and look forward to during COVID's darkest days.
What Do We Hope to Get Out Of It?
That's a big topic. I've devoted several blog posts to various aspects of it.
If I were to boil it down to four main points they would be: rest, growth, purpose, and family. It's a chance to get out in the world and be challenged. It's a time to lower the stress and catch up on a decade of crappy sleep. It's a period to reflect on our life's purpose and where we want to dedicate our time in the long term. And, importantly, it's a time to spend our fleeting moments as a young-ish family — learning, growing, and experiencing amazing things together — before the kids grow up.
The kids are getting educated on the ways of the world. They are seeing that places can't be boiled down to simple binaries like dangerous or safe, ugly or pretty, friendly or aloof. They are learning the subtle art of cross-cultural communication and becoming aware of their own privilege as Americans. They are also getting to see another side of their parents — the side that's fun-loving and adventurous as opposed to anxious and zoned out.
Itinerary
We didn't plan the whole year in advance. And, in fact, we had to revise even our most high level plans due to continued COVID-related closures in Asia.
What we did decide, more or less, was our general approach to travel. We settled on our travel philosophy. In a word, we wanted to travel slow. We made a preference for seeing more of a few places than trying to see it all. That's why we will most likely only circle one continent, South America, for the entire year. We will spend a month (or more) at a time in several places. That also means we'll choose to pass over other interesting and famous destinations.
We had to prioritize our motives. We decided to scratch one potential motive off the list: trying to impress people. We weren't going to travel to every major city and tourist trap. We weren't going to circumnavigate the world. In fact, we'd probably spend most of our time in places nobody's ever heard of, because those are the kinds of places we love best.
The slow approach meets a lot of our highest priorities. It gives us some stability and makes our time more flexible. That's useful with three boys occasionally getting sick or needing days of rest. It gives the kids a chance to form friendships with the local children. It's also more affordable and better for the environment to fly less and spend more time in a place. Many of our long-haul journeys can even be done over land since we have the time. The result is a less hectic, more pleasurable travel experience, with still enough changes of scenery to keep the adventure alive!
So now that you know more about our general approach, here is a more specific outline of our past and future travel.
May 2023 Update: It turns out one year, one continent still requires a pretty fast pace. We probably could have just traveled Brazil for a year and not run out of things to see.
Phase I – The Big Chill
Timeframe: Mid-July through Mid-September, 2022 (2 months)
Places: Rio de Janeiro, Brazil; Teresópolis, Brazil; Paraty, Brazil;
We promised, pinky swore, and signed our names in blood that we would not plan anything for the first month. No meetings. No work. No getting involved or trying to make the world a better place. Just sleep, sightseeing, and pure leisure.
In fact, the idea sounded so nice, we decided to extend this phase for second month.
The point of this period was to disconnect from our harried former lives and let go of the need to fill our schedules. Two months was a healthy amount of time to disconnect. By the time it was over, we were more than ready for the next phase, volunteering at a sustainable farm.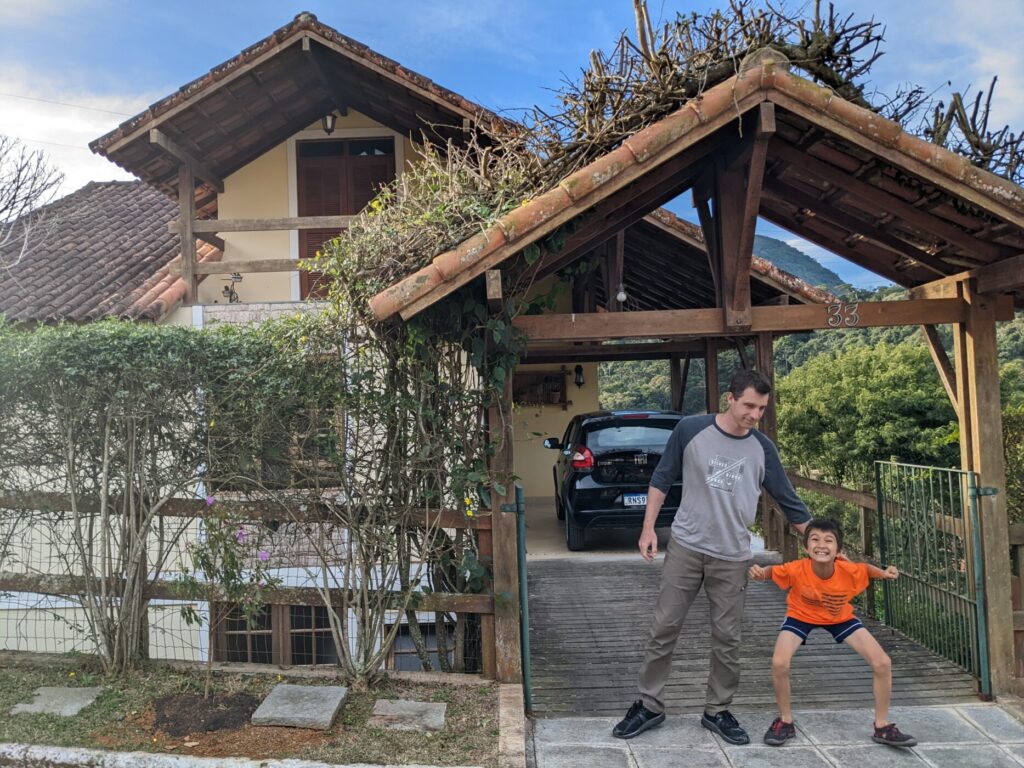 Phase II – Eco Caminhos Farm Experience
Timeframe: Mid-September to November, 2022 (2 months)
Place: Eco Caminhos Farm – Nova Friburgo, Brazil
After a period of doing nothing, we swung the pendulum the other way. We woke up at the crack of dawn and did hard manual labor. We did construction and farm work. When we weren't doing that we were sightseeing and attending workshops to learn about agroforestry and bioconstruction.
Having responsibilities and a community to plug into was a welcome change after two months of relaxation.
(Link to Eco Caminhos webiste)
After two months of a structured schedule, and four months in Rio de Janeiro State in Brazil, we were ready to move on to the next phase of our journey, a mixed bag of destinations in Northern Argentina and Uruguay.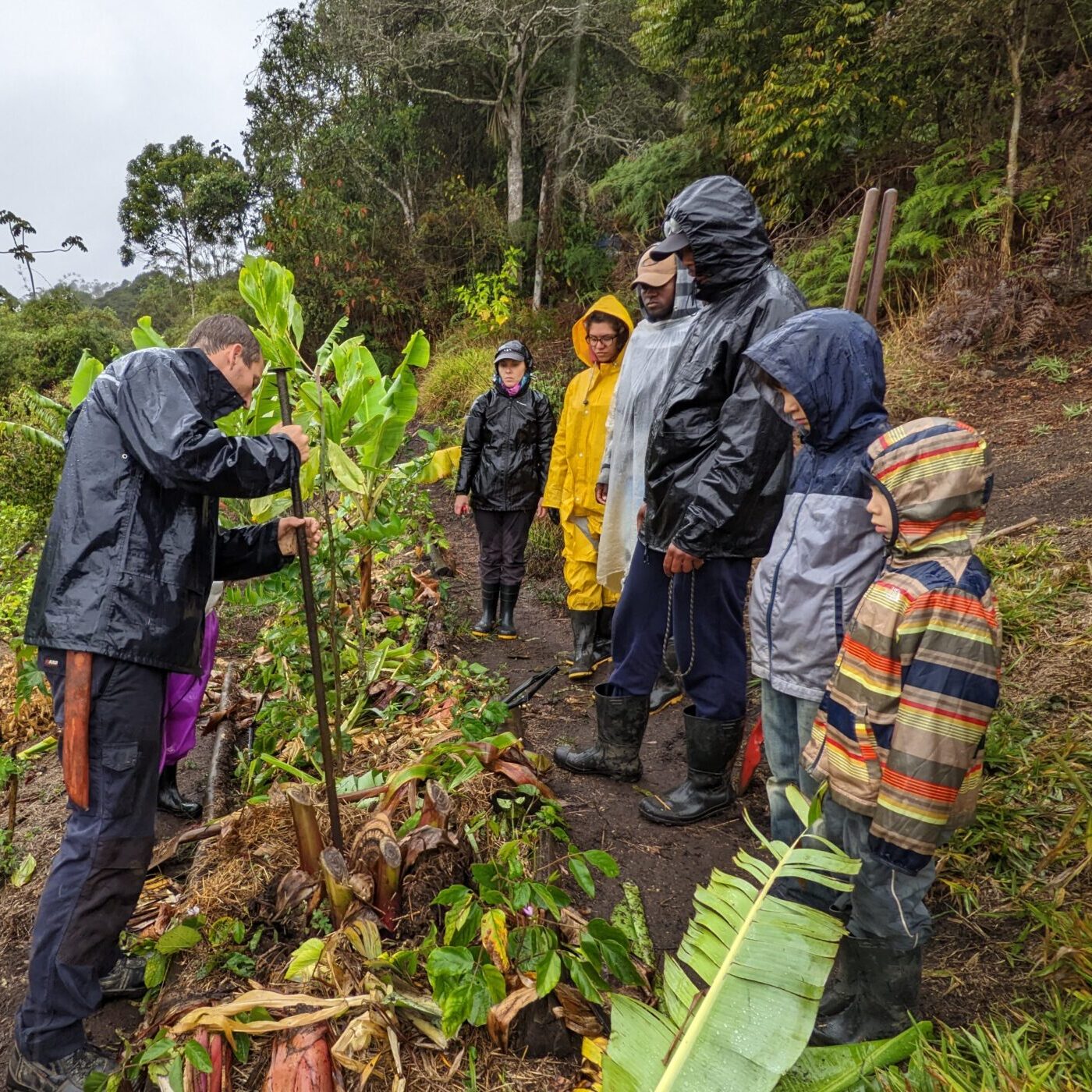 Phase III – Northern Argentina and Uruguay
Timeframe: November to the End of 2022
Places: Foz do Iguaçu, Brazil, Puerto Iguazu, Argentina; Buenos Aires, Argentina; Quinta Esencia Nature School, Argentina; Montevideo, Uruguay; La Paloma, Uruguay
This period of time was being driven by two factors: a three-week visit by Liuan's mom and the holidays. We were also sneaking in another 2-week "experience" at Quinta Esencia in Argentina.
As I wrote this (November 2022) we were in the middle of this phase. I had to admit, I liked our previous slower pace better. This phase was fast-paced. Booking and arranging that much travel is a lot of work and it seemed like every few days we were having to pack up for six people (including my mother-in-law) and hit the road. It was quite exciting though! After four months in Brazil, it was like starting our travels all over again.
After Quinta Esencia, we spent Christmas with some friends of friends of work friends living in Uruguay. We also hit pause on the sightseeing and got regular again with homeschooling. We also caught on some blogging, and relaxation before the next action-packed phase.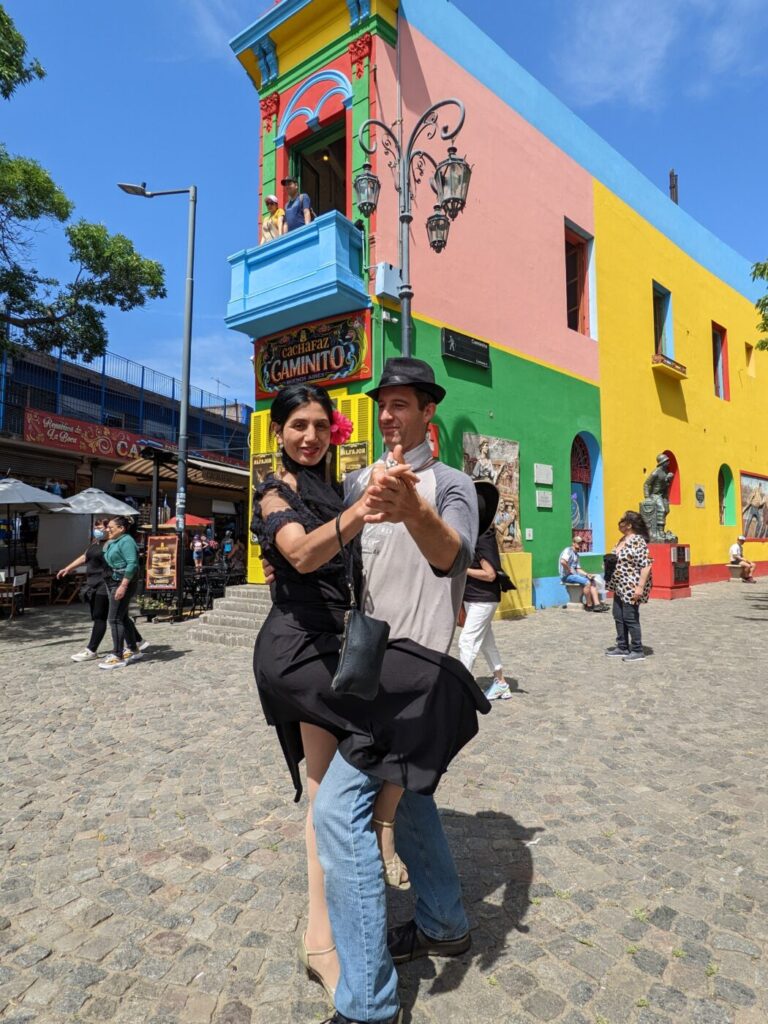 Phase IV – The "Long Way Up" Patagonia Trek
Timeframe: January through February, 2023
Places: Ushuaia, Argentina; Punta Arenas, Puerto Natales, and Puerto Montt, Chile; …still working on the rest of the itinerary (November 2022) — May 2023 Update: Lago Ranco, Chile; thermal pools in Coñaripe, Chile; 2 weeks at farm in rural central Chile; Santiago, Chile; Mendoza, Argentina; Salta, Argentina.)
As much as we love just picking a beautiful, quiet place and staying a month, we couldn't resist "going all in" and working our way up from the southern tip of Patagonia. When else were we going to find $70 plane tickets to the world's southern-most city? We were also more than a little inspired by the Long Way Up TV series. We use "Long Way Up" as our family's shorthand term for this phase of our travel.
Sadly, we won't be able to be improvise and slowly wend our way north (ideally with a Volkswagen Vanagon), which was my initial daydream. Being summer in the Southern hemisphere, it is high season for tourists. Everything is sold out, crowded or really expensive. (Welcome to Earth as it really is.) So, to make sure we didn't lose out on any decent-value lodging and make sure we had five seats on every bus ride, we booked everything in advance.
By the time we finished our "Long Way Up", we were ready to resume our preferred slower pace of travel.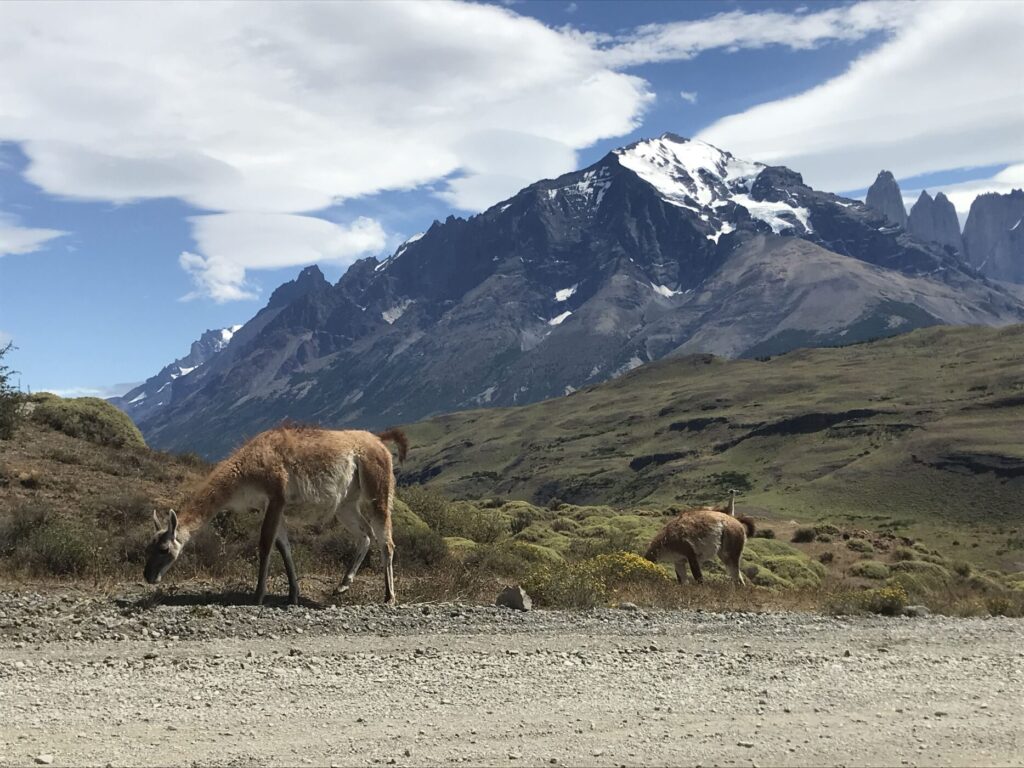 Phase V – Peru / Ecuador / Colombia Bolivia / Colombia / Ecuador
Timeframe: March through June, 2023
Places: Peru, Ecuador, Colombia, and maybe even Bolivia May 2023 Update: Sucre, Bolivia; Permaculture farm in rural Bolivia; Cochabamba, Bolivia; La Paz, Bolivia; Cali, Pereira and various small towns in Colombia's coffee growing region; Quito, Ecuador; Mindo Valley, Ecuador; Rio Lindo Coffee Farm in rural Ecuador; a spontaneous 3 week road trip from coast to sierra to jungle in Ecuador.
As of November 2022: We haven't planned that far in advance yet. Here we will once more stay in places for longer.
We are looking forward to eating ceviche in Peru. In Ecuador, we have friends of friends that started a coffee farm and we hope to arrange a visit. We've traveled to Colombia twice and look forward to returning to our favorite places (especially el Eje Cafetera) as well as discovering new locales.
Like we've already done, we'll probably seek out a mix of volunteering opportunities and periods of unstructured time.
May 2023 Update: We are now in the middle of this phase.
Sadly, we made the decision to skip Peru due to safety concerns. The president, popular among the poor and indigenous groups, was arrested in December for trying to dissolve congress. Parts of the country erupted in protest, some of it violent.
We did end up traveling to Bolivia for a little over a month, and boy am I glad we did!
Instead of traversing the north-western end of the continent by land, we took a flight from La Paz, Bolivia to Colombia.
In Colombia we relived good old times. This was our third visit.
As I write, we are less than a week from taking a flight to Quito. Once there we will volunteer two weeks at a coffee farm and then take a spontaneous (i.e. nothing booked in advance) road trip around the country.
Finale: Costa Rica (New in the May 2023 Edition)
Timeframe: Late June through Early July 2023
Places: Monte Verde; Liberia (Pacific Coast); Maybe Osa Peninsula; still planning…
For a few months, we thought we might like to become expats. Colombia and Costa Rica topped our list being a closer flight to home and places we really loved. We added Costa Rica to the itinerary to look at properties.
Since then, we decided to pass on the idea of leaving home permanently. I guess we'll just spend a little more time on the beach before we reintegrating into Midwestern American society.
After the Year is Done…What Next?
As of November 2022: The truth is, we don't know what's next. Half of the fun is not knowing. The other half is dreaming about what it will be.
That's not to say we don't have ideas. One possibility is that we follow the example of the founder of Eco Caminhos (and other entrepreneurs we've met along the way) and embark on our own life project. I've long dreamed of designing and running a bed and breakfast in Latin America, possibly with a working coffee farm on the side.
Or we could continue traveling. Asia, anyone?
Then there is the possibility of going back home and picking up where we left off. It's the option I least wanted to consider at the beginning of our gap year but I've slightly warmed up to lately. If we did go that route, we'd likely make some tweaks to our careers, our habits, and maybe even our address to implement a better version of the good life we had before we left. (May 2023 Update: this is the route we chose in the near term.)
We are very fortunate to be at a time in our lives where we can ask ourselves the question, how do we want to live? and be able to do something about it. But it's not a simple choice. Liuan and I have spent hours discussing this and our conclusions constantly evolve. There are going to be tradeoffs no matter what we do. Just as our philosophy of travel required prioritization, our lives going forward will require a clarification of values. Are we optimizing for meaning? Positive impact? Freedom? A healthy lifestyle? Time together as a family? Adventure? Rooting ourselves in a community? Making life easier? Making life more pleasurable?
Ultimately, Liuan and I (and the kids!) might favor slightly different values, but I'm confident we'll work our way to an acceptable compromise.
How Can You Follow Us?
If you've made it this far, you must be really interested in keeping up with our travels! Here are some ways you can continue to stay connected. You can check back on our blog from time to time. We average about one post a week, but don't hold us to that. Sometimes we'll publish three in a week, sometimes we'll go three weeks without posting anything. It all depends on how many things we're juggling at once and how good the internet connection is wherever we are.
The easiest way to follow us is by subscribing to our newsletter where you will get a monthly email with exclusive content, plus links to all the blog posts we published since last time.
Or, follow us on instagram: