12 Best Family-Friendly Things to Do In Paraty, Brazil

Our family of five spent a month in a small riverside cottage in the mountains surrounding Paraty. Paraty is situated on the coast at the west end of Rio de Janeiro state, four hours west of the city of Rio de Janeiro.
Our youngest child is three years old and our oldest is eight. All the activities we list in this post are suitable for children, though adults will find pleasure in every single one of these activities as well!
Paraty, by itself, is worth visiting for its preserved colonial charm. Pedestrian-only cobblestone streets crisscross the historical center and flood at high tide, creating a palindrome of the colorful arched doorways. But the surrounding mountains, beaches, and only tropical fjord in the world amplify its appeal as a base for exploring the region.
Paraty and the surrounding area are safe for visitors, as many places outside the big, well-known cities usually are. So leave Rio de Janeiro, and discover this not-so-hidden gem for yourself!
The following are a few suggested day trips based on our favorite experiences in this region.
A Map of Our Recommendations
In case any of these recommendations interest you, this map will help you find them.
1. Cachoeira do Tobogã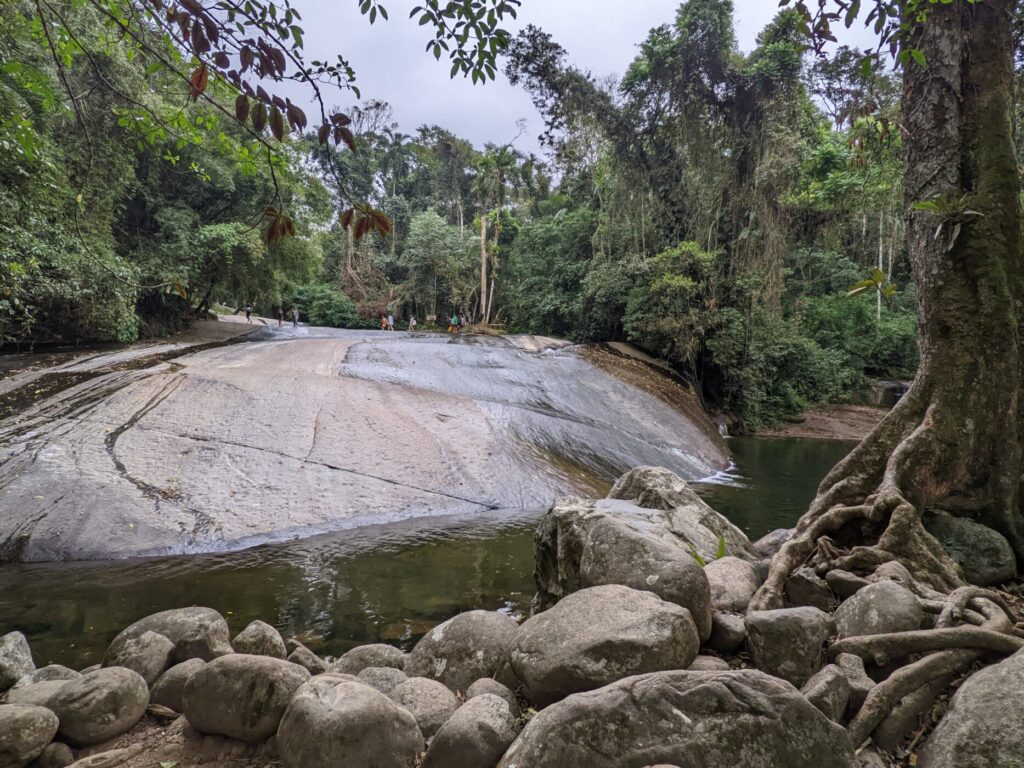 This waterfall offers an alternative to the "natural shower." Aptly named Toboggan Waterfall, this slick rock offers a natural water slide!
We did not try it ourselves. But we did have fun watching others do it, including children. Some of the locals put on a good show, skiing down on their feet and sliding up to the edge without going over. While they make it look easy, it is difficult for a newcomer to even walk over the wet parts without slipping, so take care. Best to go down on your butt the first time!
Getting There
To drive there, leave Paraty on the Paraty-Cunha Highway, directly across the traffic circle from Paraty's main thoroughfare. Continue about 8km. Just before the second bridge, turn on the small road to the right. From there, continue up a short way and you will see signs.
Otherwise, the tour companies, found on Paraty's main street, can take you there. Or take the bus to Penha from Paraty's main terminal, leaving every hour (about a 20 minute ride for 5 reais).
2. Cachoeira das Sete Quedas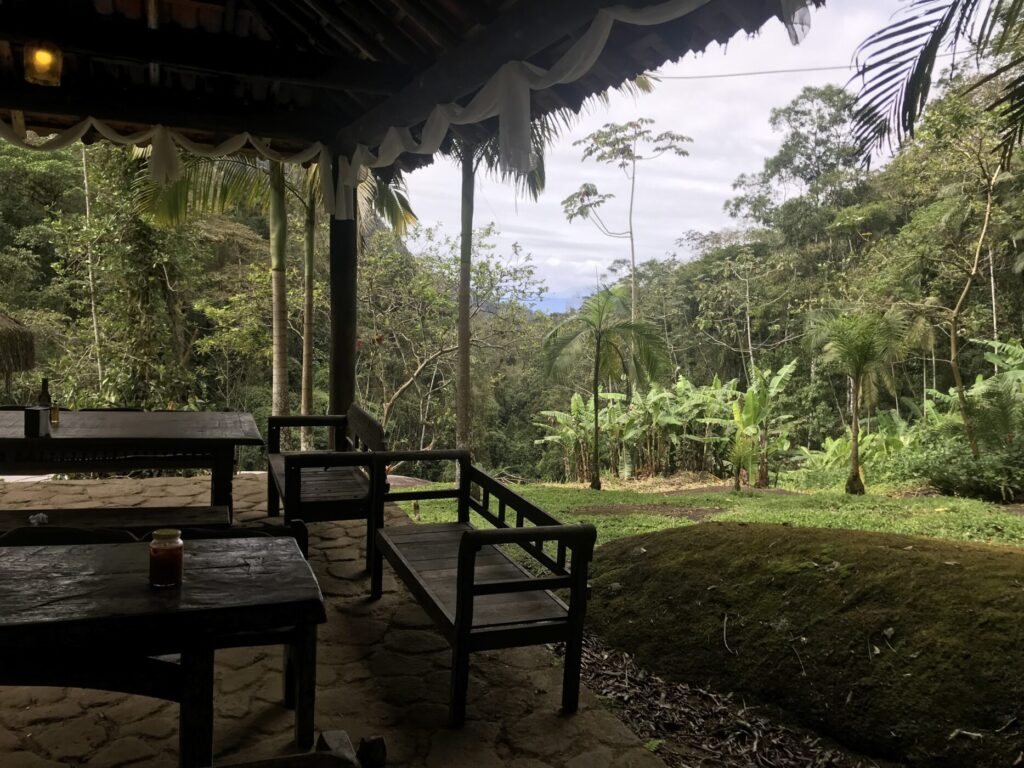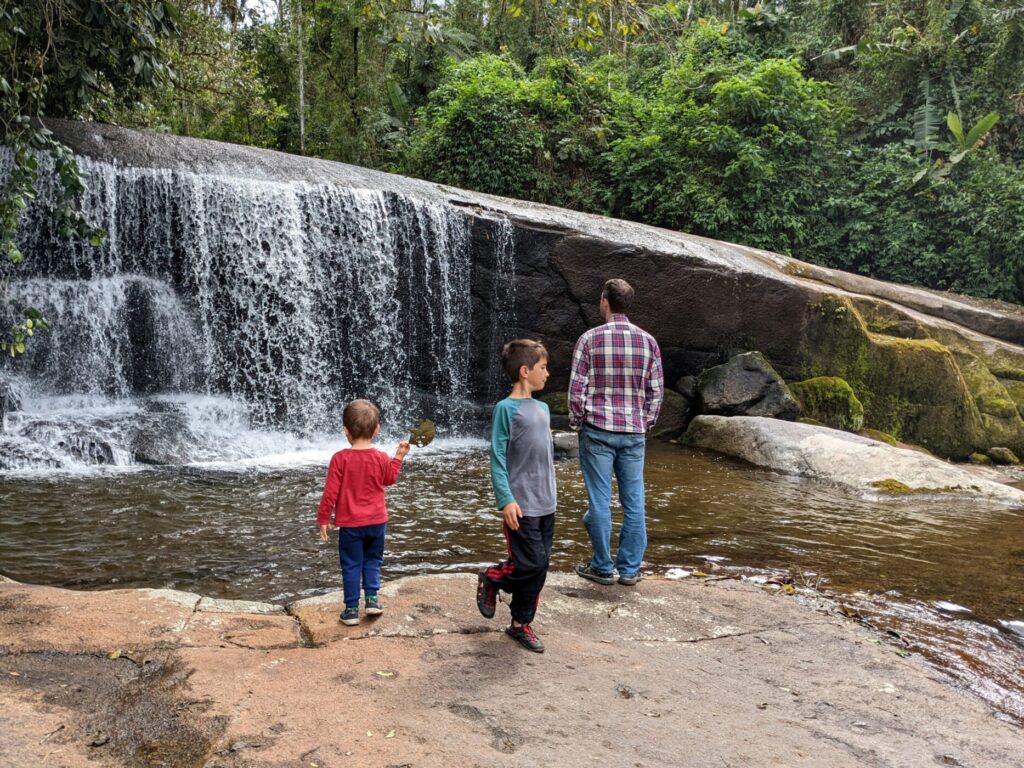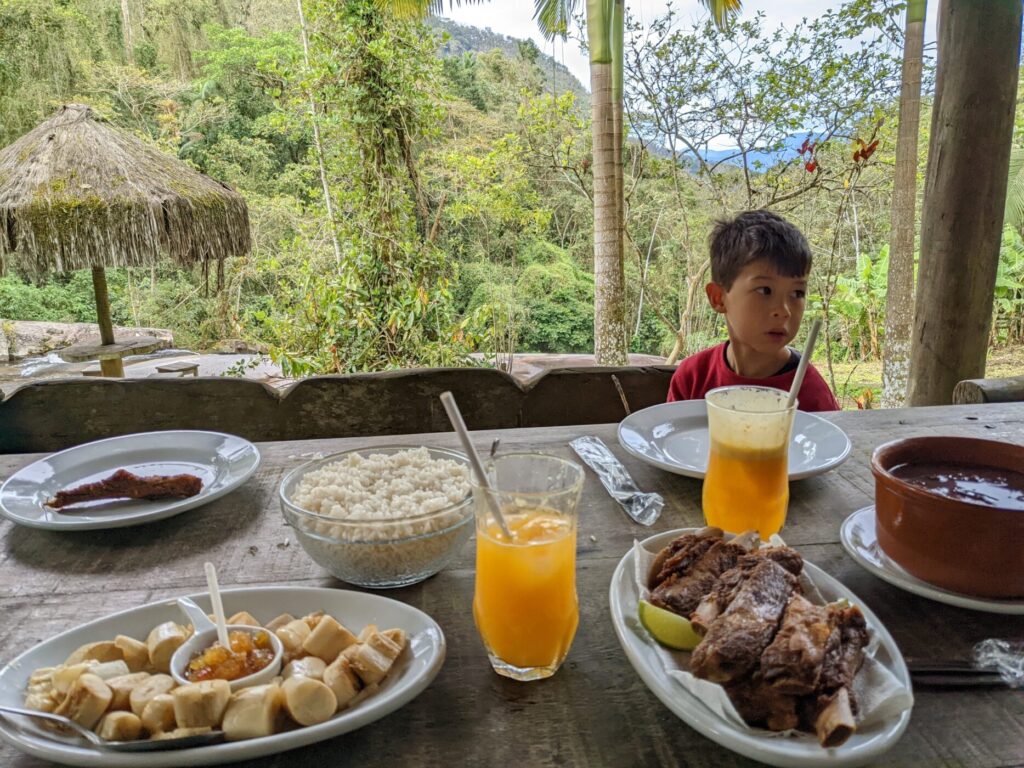 This little paradise sits on private land and requires a small fee to park. You must drive up a very rough dirt road for what seems like forever, but little signs encourage you along the way.
Once at the top, the views are stunning. There are seven waterfalls which can be explored using the trails on the property. In the summer they would be wonderful for taking a dip, though we didn't want to freeze our tushies on the cool winter day when we visited.
Once you are finished looking around, there is a restaurant right there so you don't have to make the trek all the way back down without a meal.
3. Saco do Mamanguá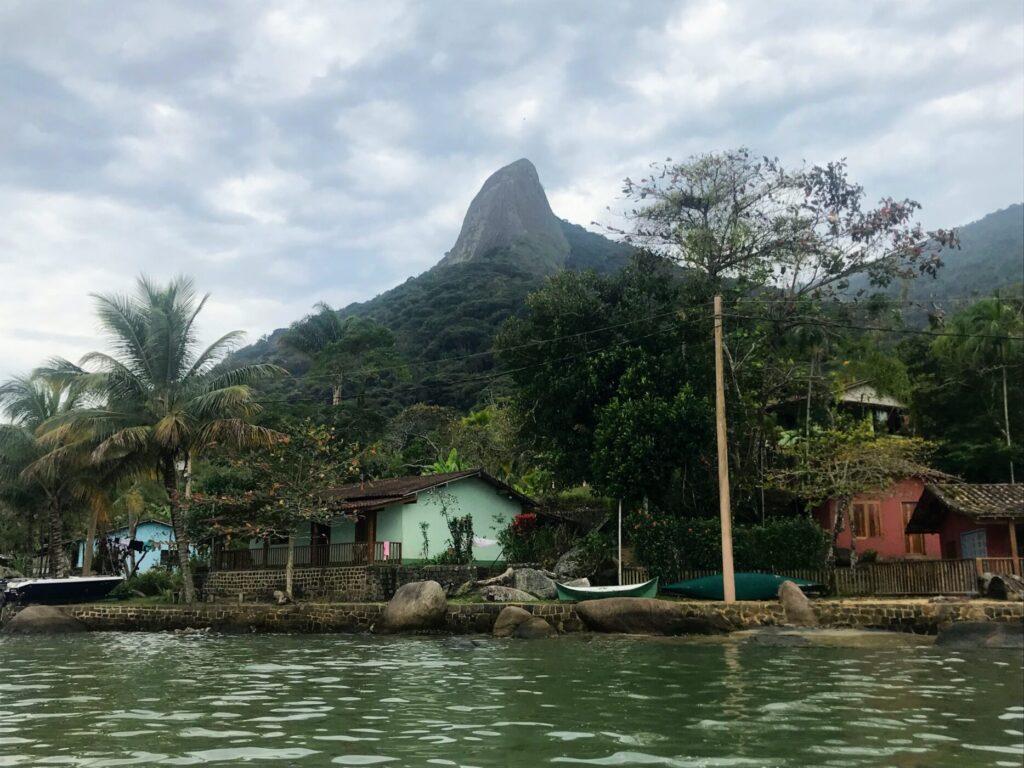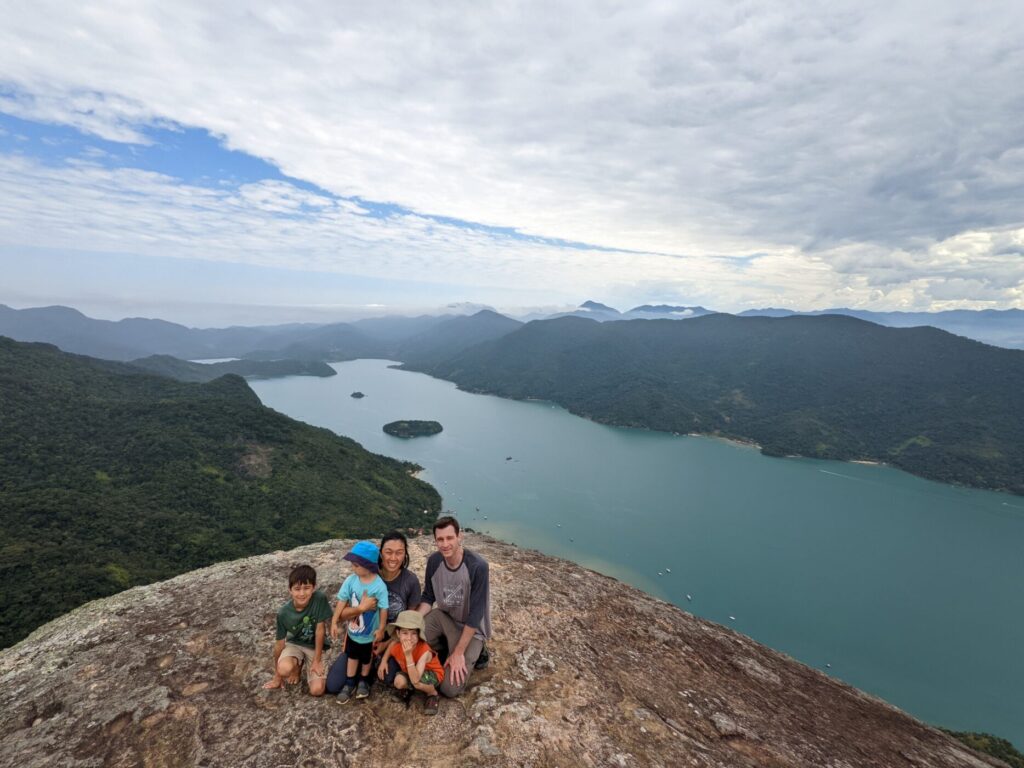 The area around Saco de Mamanguá is a geographical curiosity, being the only tropic fjord in the world. There are a variety of trails, beaches and even places to stay, that can only be reached by boat.
We climbed Sugarloaf Peak (Pico do Pão de Açúcar), which we accessed at Praia do Cruzeiro. I have to be honest, the climb was arduous. Even so, our five-year-old made it up and down without help. We did have to carry the three-year-old part of the way, though.
Though the peak looks treacherous from below, the trail takes you around to the other side of the rock where the slope is more gradual, making it safe and easy for the kids to climb to the top. Once you arrive, you get a bird's eye view of the entire fjord, which makes the effort worth it.
Getting There
First, drive or bus to Paraty Mirim. At the end of the road, just before the beach, there is a parking lot that costs a small fee. From there we simply got out of our car and there was someone ready to take us to where we wanted to go. The boat ride cost us about $50 in the off season. That included taking us to Praia do Cruzeiro, waiting for us to climb the peak and eat lunch, then taking us back to Paraty Mirim.
4. Paraty Historical Center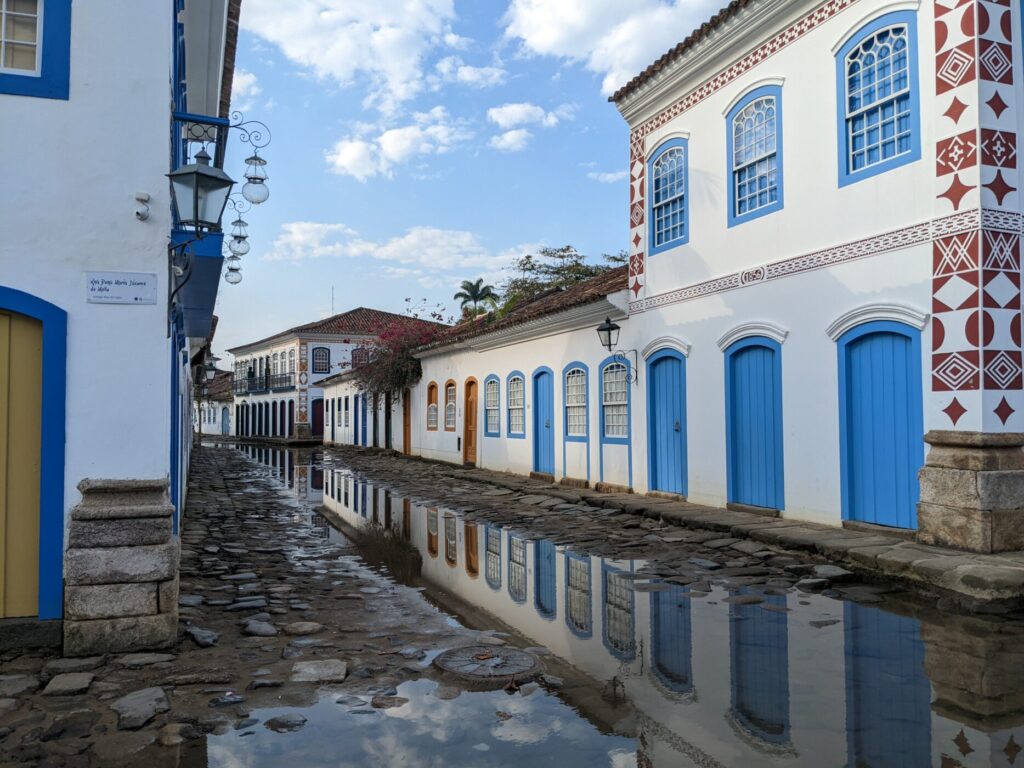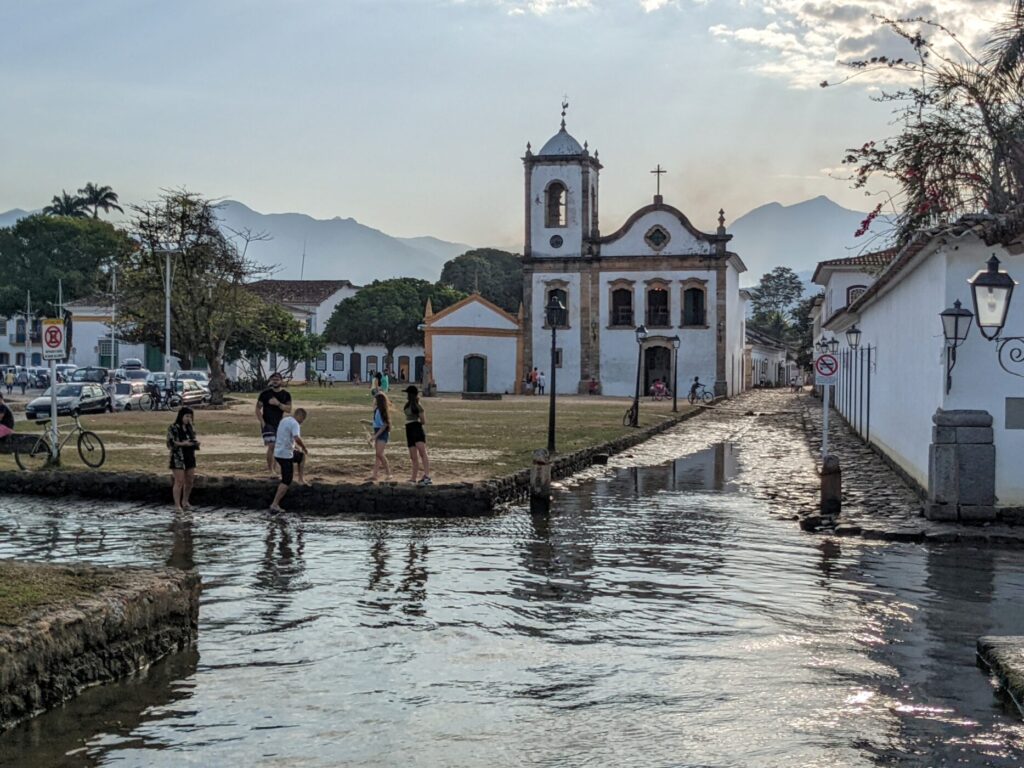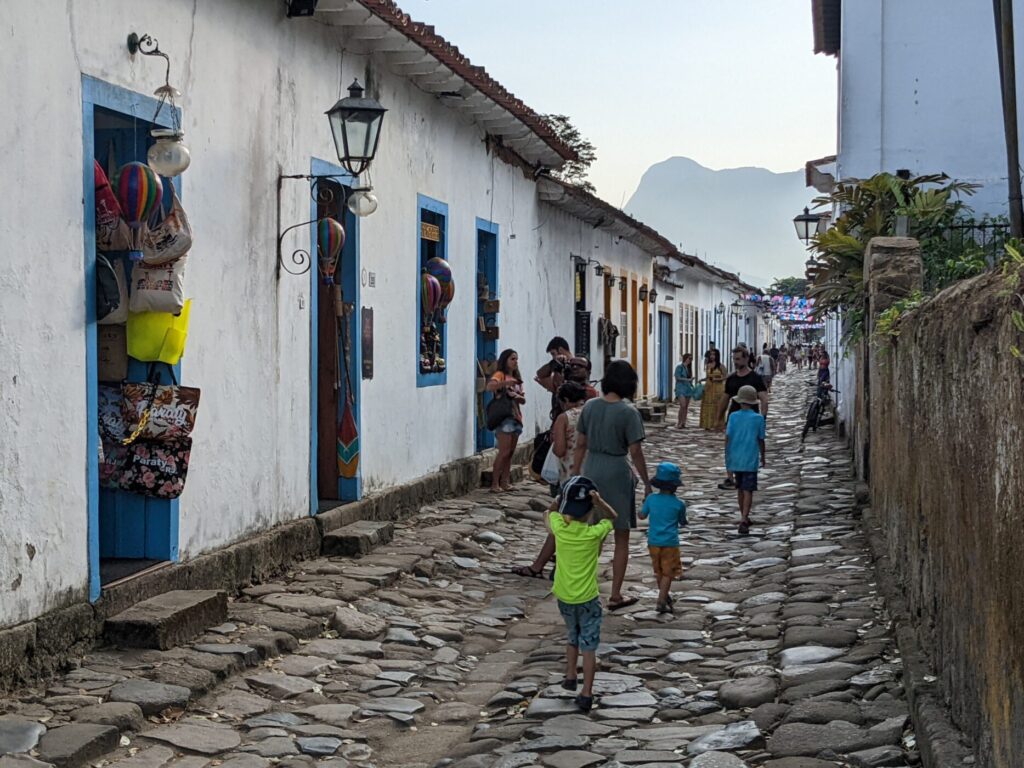 The center of town has been preserved from colonial times. No cars are allowed — well, almost. There are always exceptions in Brazil — making it a perfect place for families with kids to wander.
Or, better yet, have the kids guide the tour! Just don't run. Even the most surefooted among us can get tripped up on the large cobblestones.
Along the way, you'll discover arts and craft stores, restaurants and ice-cream shops, bakeries, coffee, and more.
If you time your visit with the high tide, you may see the streets flood.
Recommendations
Restaurant: Van Gogh Hamburgueria had a creative menu, tasty food and very reasonable prices. Apparently, it's the place where all the Americans go because it's where we met the only other tourists from the U.S. on our whole trip thus far.
Ice-Cream: Gelateria Miracolo had gelato-style ice-cream with unique flavors including a very, very dark chocolate. Unlike some of the other places, it had sturdy wood tables, which prevented accidents when the vultures — ahem, I mean kids — descended on their prey.
Fresh Roasted Coffee: And finally, the most critical recommendation, a place to get fresh roasted coffee beans! Montañita Cafés Especiais has bags of fragrant, fresh-roasted coffee that are never more than a couple weeks from their roast date.
5. Trindade Beach (and Paragliding)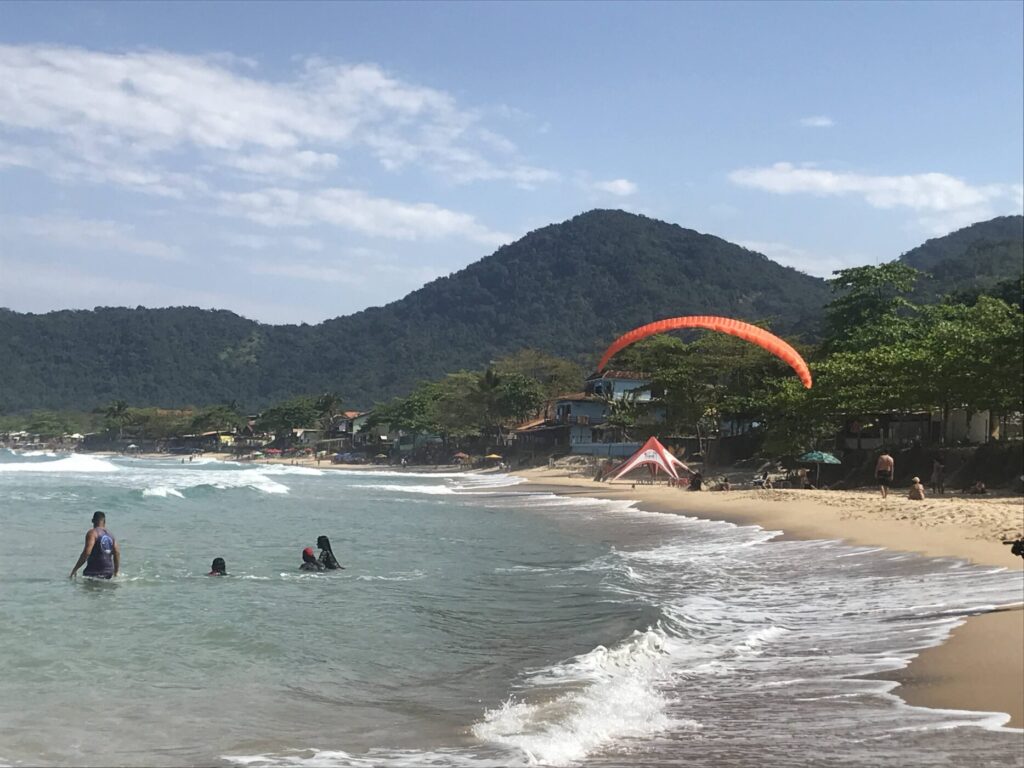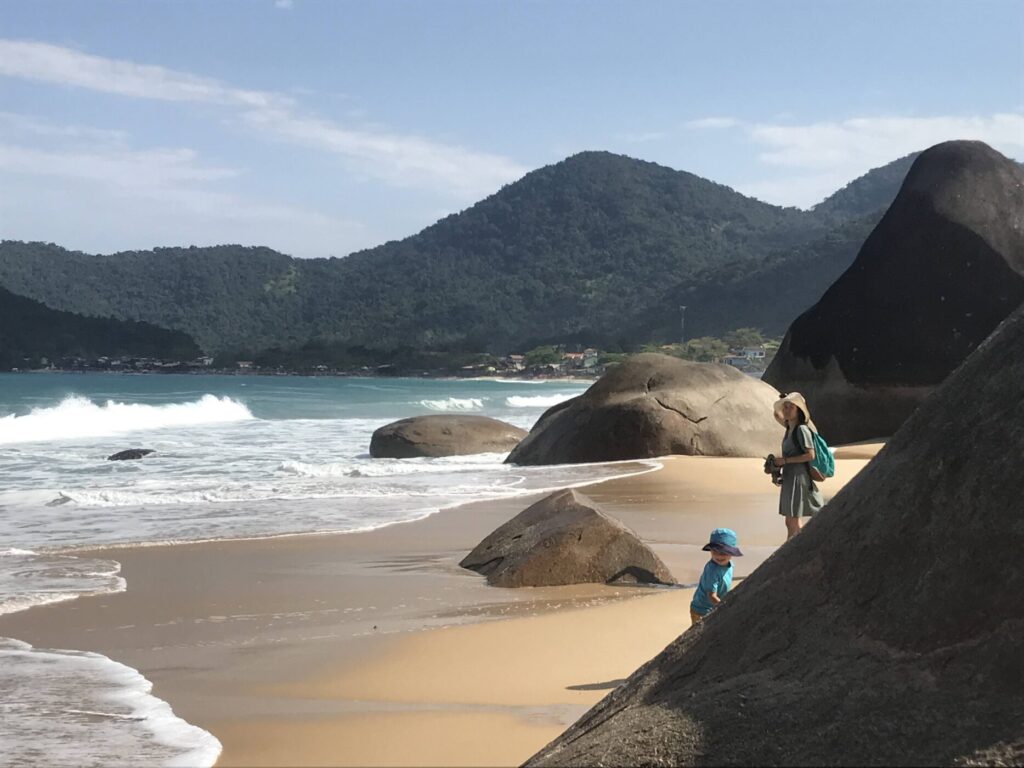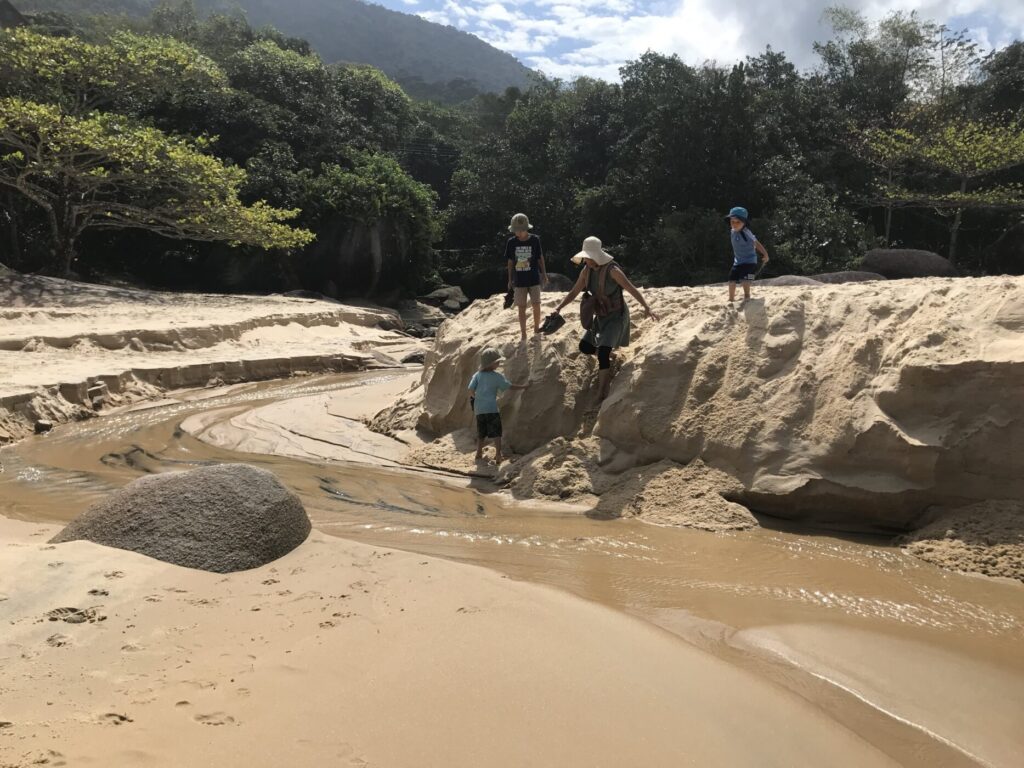 Trindade was by far the boys' favorite day trip. So much so that we came back twice and plan to visit again in a few months.
Its alure for them was the variety of novel natural features. We started at Praia Brava watching the waves crash over the giant granite boulders. Further along, there was a labyrinth of towering rocks. After that, a small creek cut through the sand where you could see a real-time version of erosion forming a canyon.
For those craving a bird's eye view of paradise, paragliding was on offer right there on the beach.
For recommendations on where to stay and eat, check out this guide.
Driving there from Paraty
Driving from Paraty takes about 40 minutes, mostly on the highway. You can either park for free just outside of town on the side of the road, or you can drive into town and park for a small fee at a parking lot along the main road.
6. Itamambuca Beach, Ubatuba (and Surfing Lessons)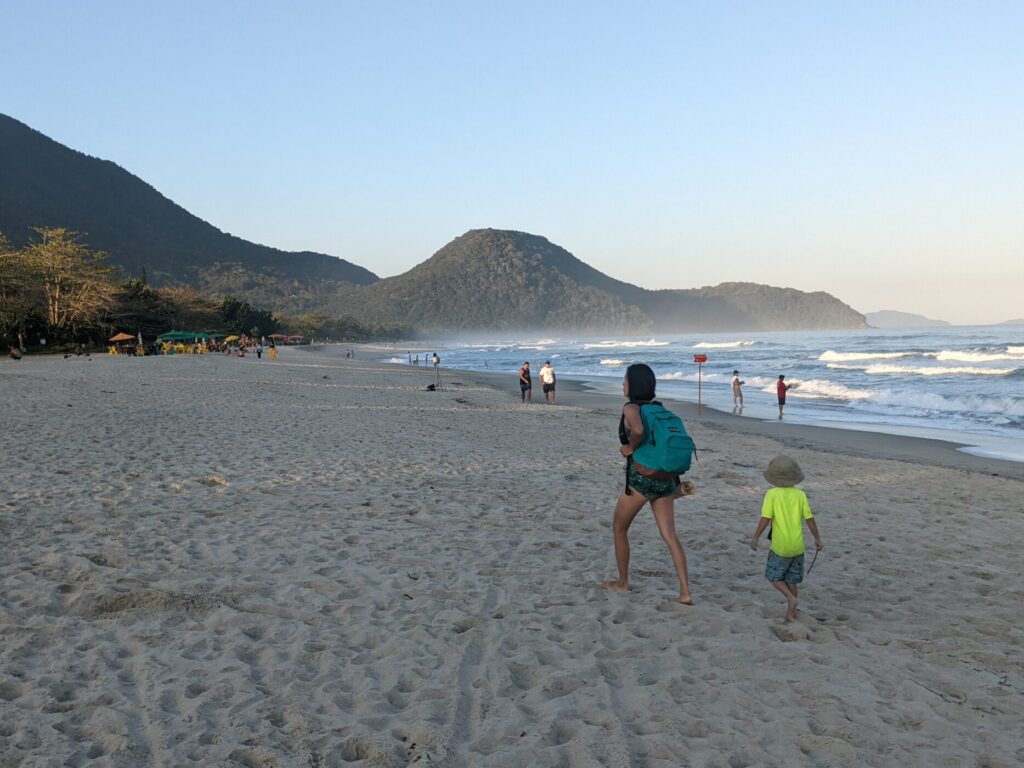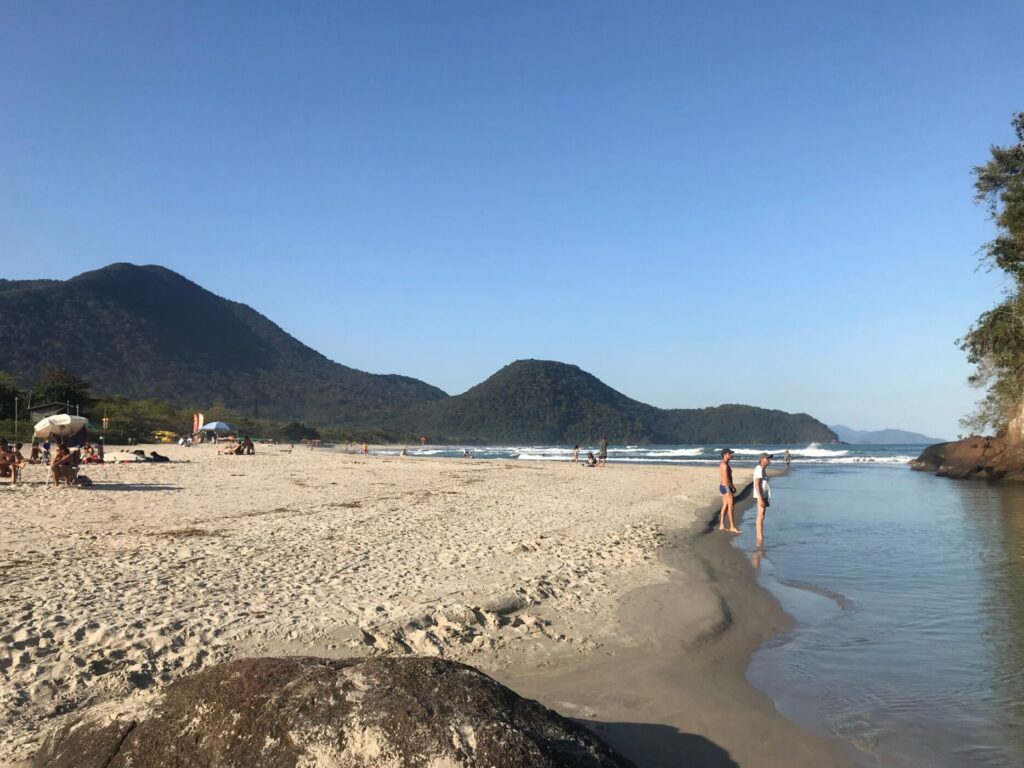 Ubatuba has numerous beaches, all with their own character and unique offerings. The closest beach is only about 50 minutes drive from Paraty and the farthest is almost two hours away. Itamambuca beach was one of the closer beaches.
This beach had much the same appeal as Trindade in that it featured much more interesting geographical features than just your typical strip of sand on the sea.
A freshwater stream merged with the ocean and provided a placid pool for the kids next to the crashing waves.
Signs at one popup tent on the beach invited visitors to "quickly learn to surf."
Driving There from Paraty
An hour drive, mostly on the highway, gets you to the village of Itamabuca. As you drive in, expect to pay a small fee to proceed. In return, you get a day pass to display on your dashboard allowing you to park anywhere on the village streets.
7. Visit an Indigenous Village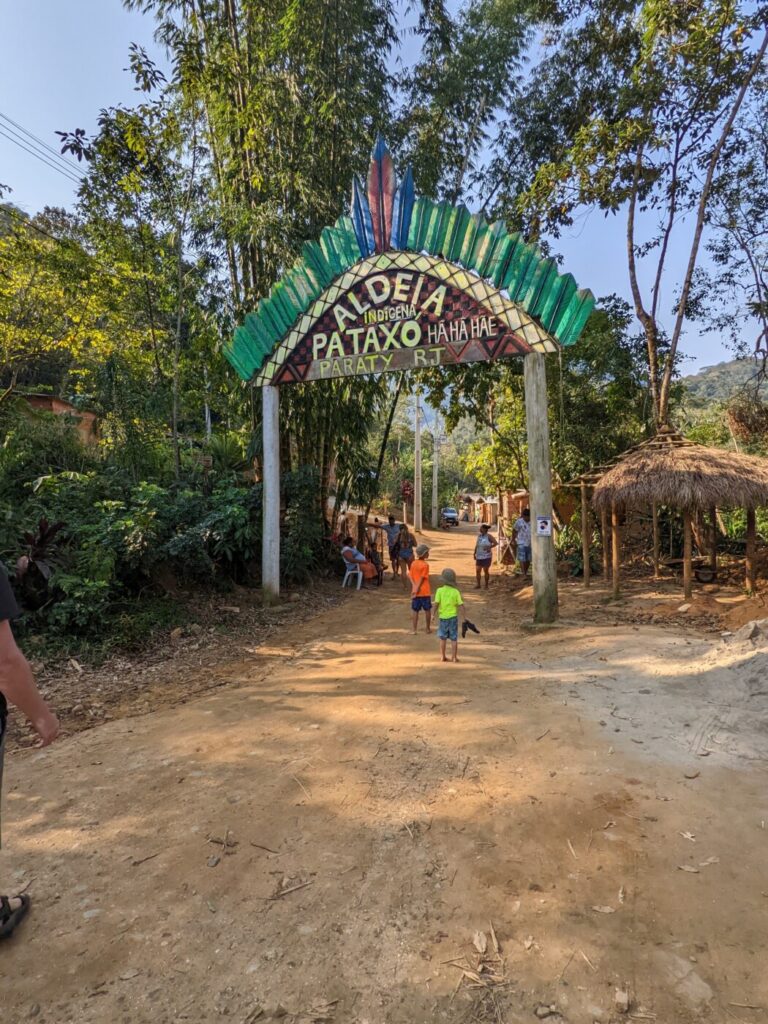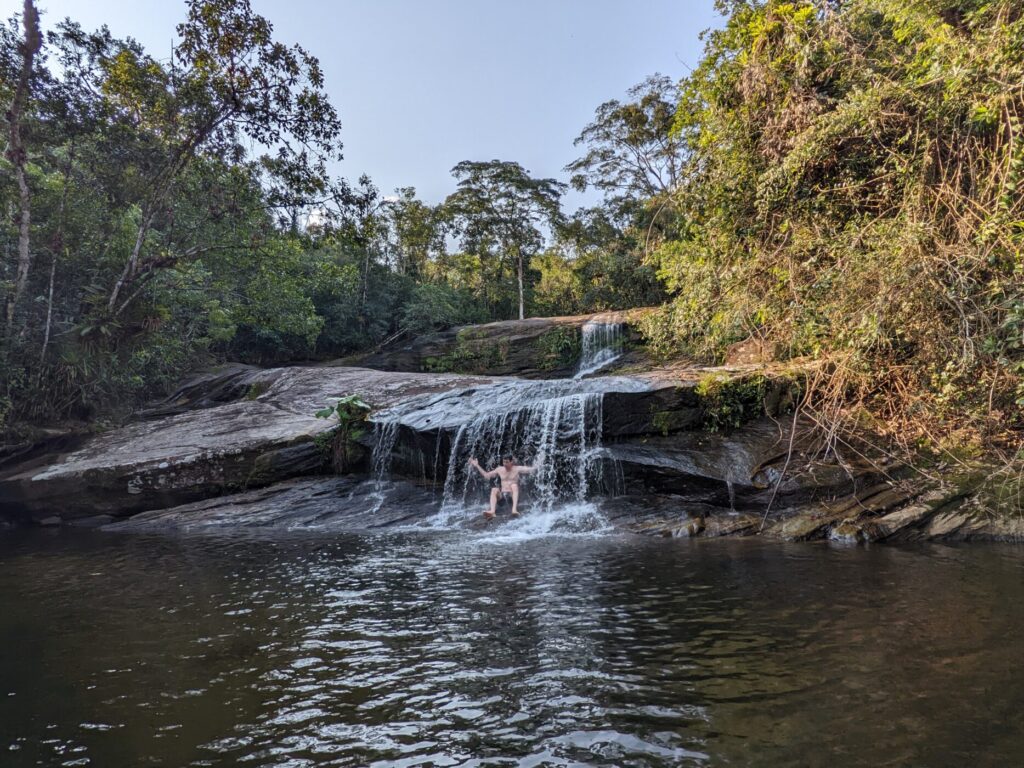 We visited this Pataxó village as part of a day tour, but you can simply drive there yourself. You park outside and pay a small fee to enter.
We enjoyed browsing the craft shops where we bought some wooden, hand-crafted bird whistles. Some of the whistles were more difficult than they appeared!
If you continue walking on the main road, you will leave the village and come to a small waterfall with a natural pool.
8. Visit Waterfall From the Set of Twilight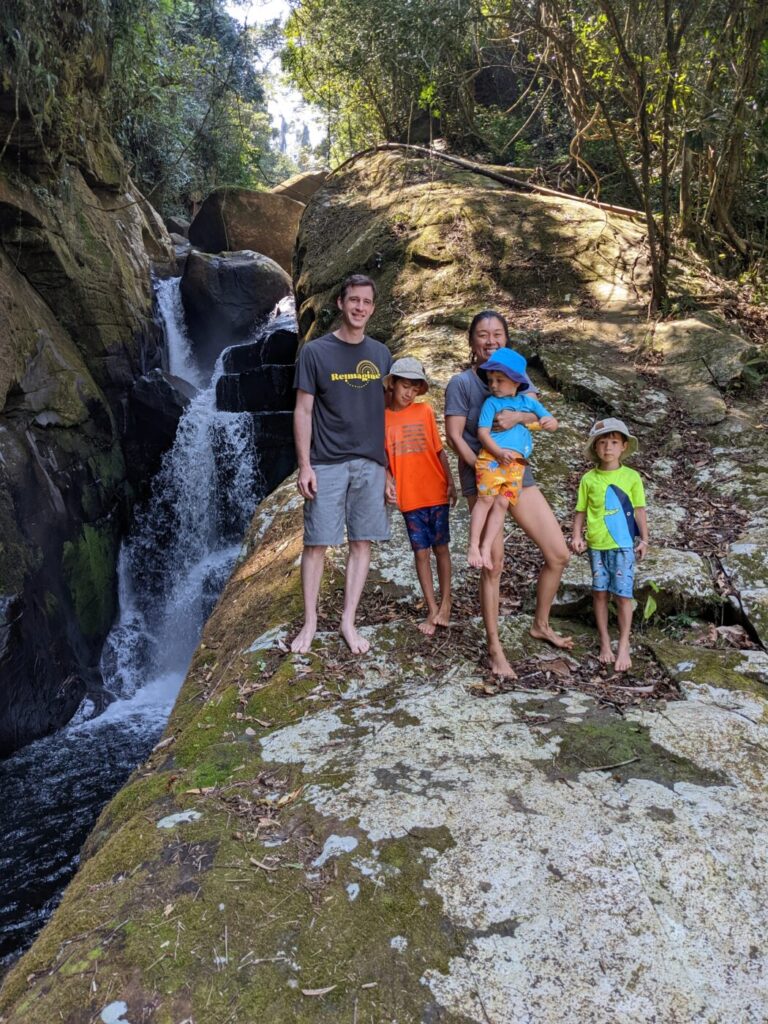 None of us have ever watched the Twilight film series, but we were nonetheless intrigued when our guide mentioned that a scene from that production was filmed there.
The waterfall, Cachoeira do Crepúsculo (a rebranding, not its original name), is itself beautiful and thrilling to explore, even without the pop culture association.
We visited as part of a day tour, getting there by hiking a trail that was on private property, which, according to our guide, depended on the owners (who also have a restaurant on the property) leaving the gate open and accepting visitors that day. There was a small charge to park, but otherwise we were free to spend time there at our leisure.
9. Hike the Trail to Praia do Sono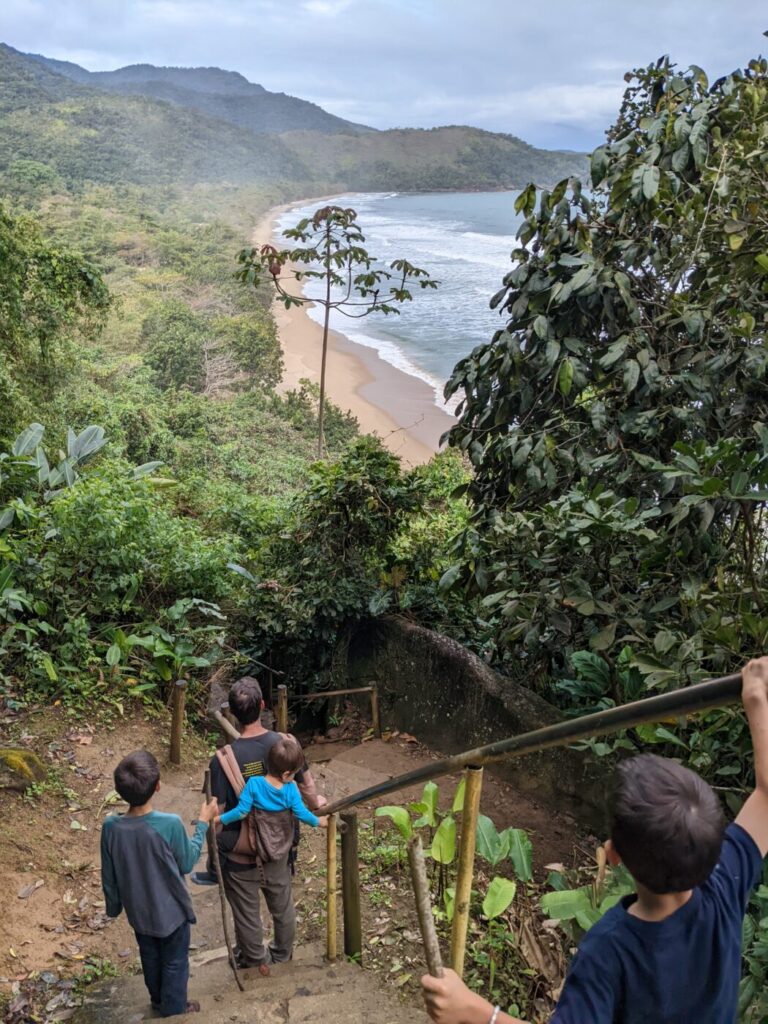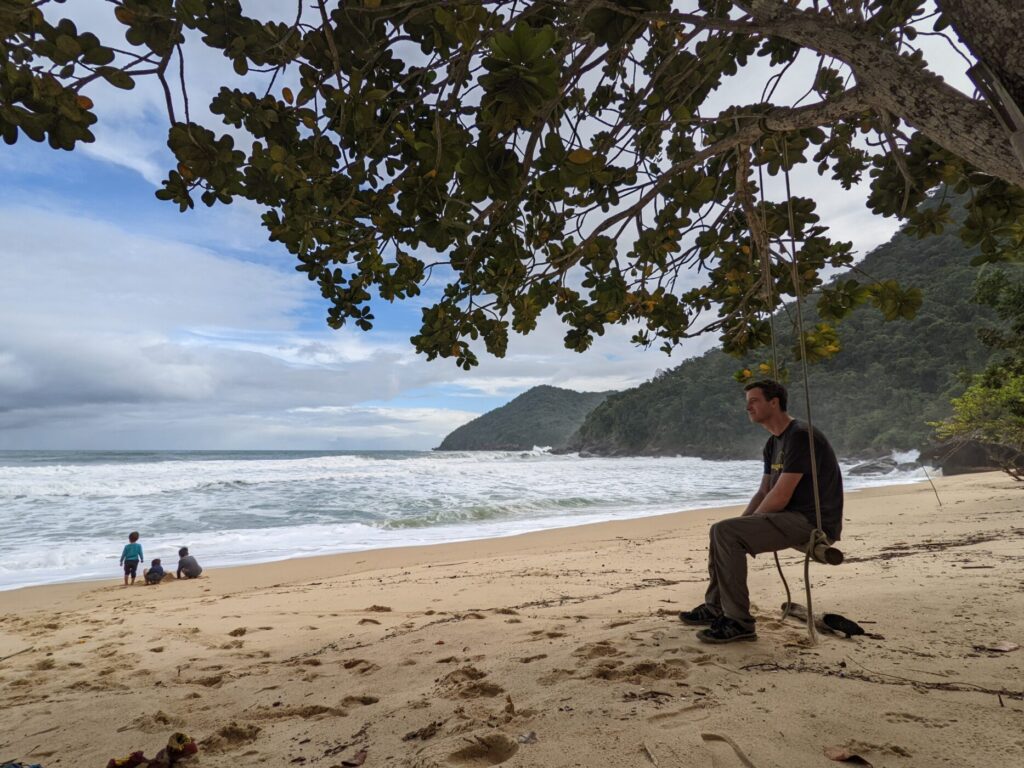 This beach is the reward at the end of an hour and a half hike (with kids). We found the trail to be surprisingly well kept and, while challenging, doable for our family of five.
Along the way, you are covered by the jungle, far from the sounds of the highway. As you get closer you get little peeks of the ocean through the foliage, until finally, the beach comes into full view.
The trail starts in Laranjeiras. Once we got off the highway and close to our destination it wasn't completely obvious where we were supposed to go. Fortunately, everyone there seemed to know what we were coming to do and see and readily helped us at every fork in the road until we got to the little village where the trail begins.
10. Praia São Gonçalo (and Kayak / Paddle Board Rental)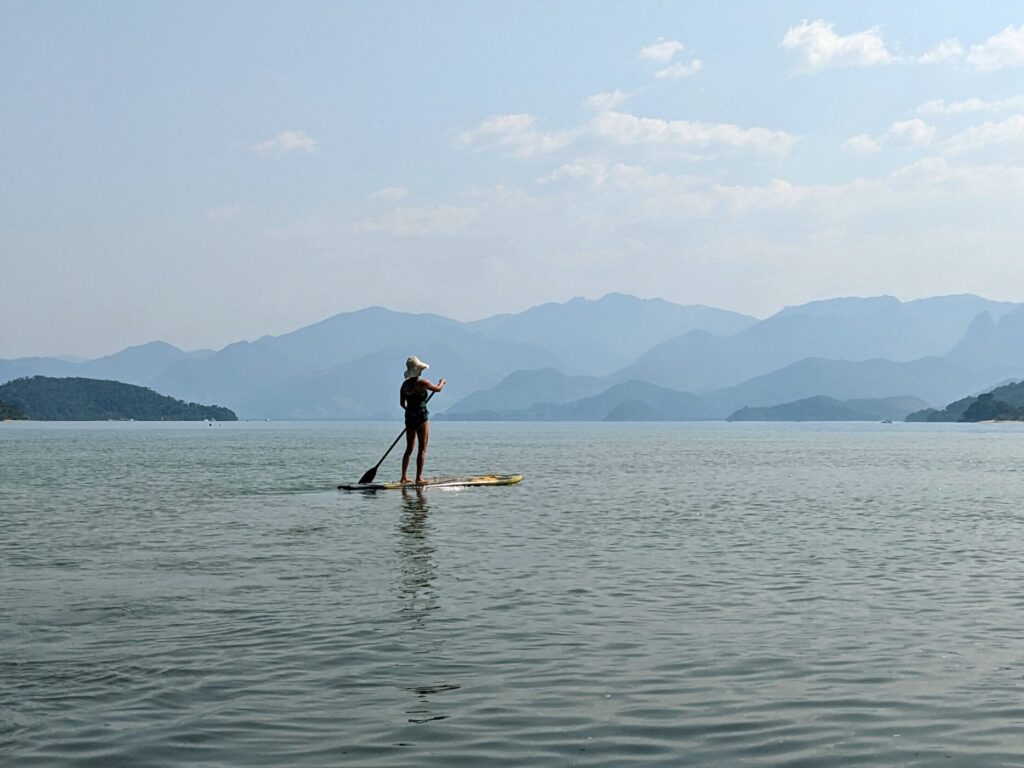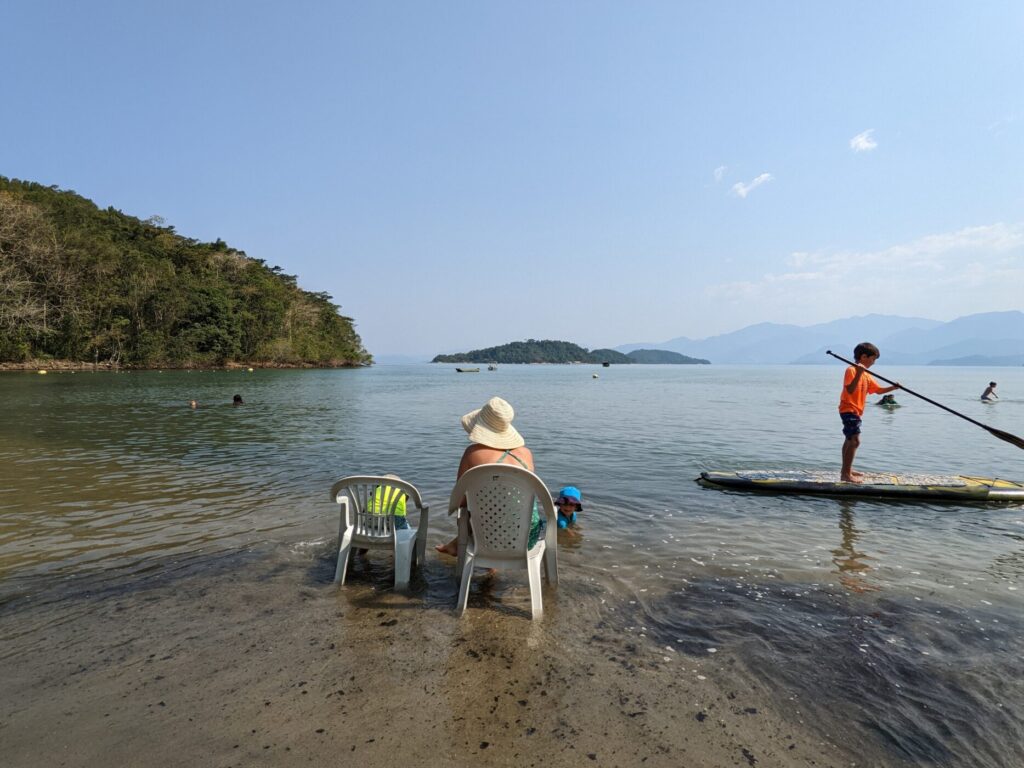 Unlike some of the other beaches we visited, this one had calm water. The big crashing waves can be thrilling, but here we could let our three- and five-year-olds wade in the shallows for hours without incident.
The beach had a restaurant right there in the sand as well as a kayak and paddle board rental.
11. Tour a Distillery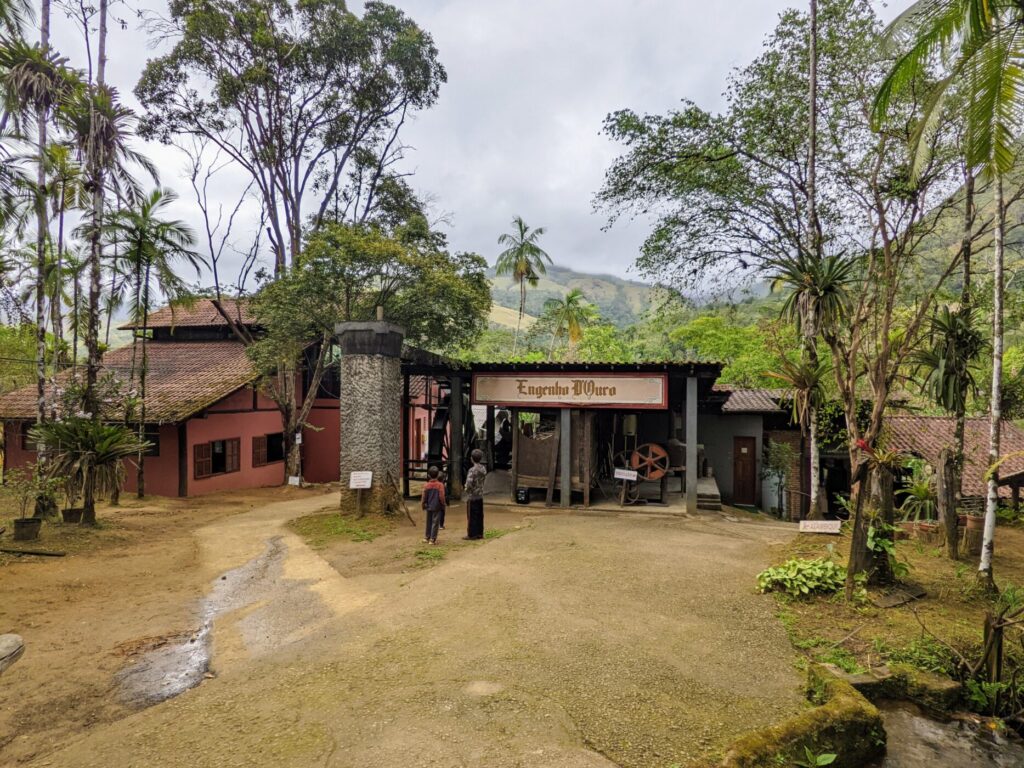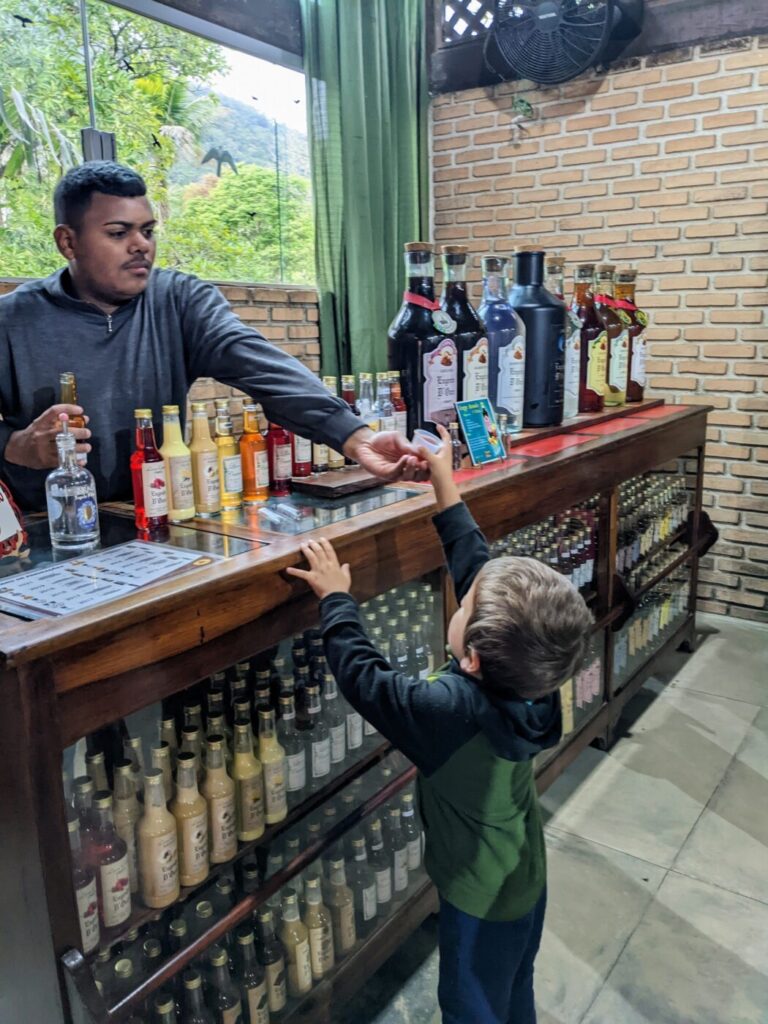 One of Paraty's regional specialties is Cachaça, a hard liquor made from sugarcane grown in the region.
There are many alambiques (distilleries) to choose from. Many offer tours of their facilities and let you taste various flavors of the finished product.
Engenho D'Ouro is one such alambique, located near Cachoeira do Tobogã. They've preserved their water powered engines and other contraptions from the not-so-distant past, which the boys and their engineer father found fascinating.
12. Take a Cooking Class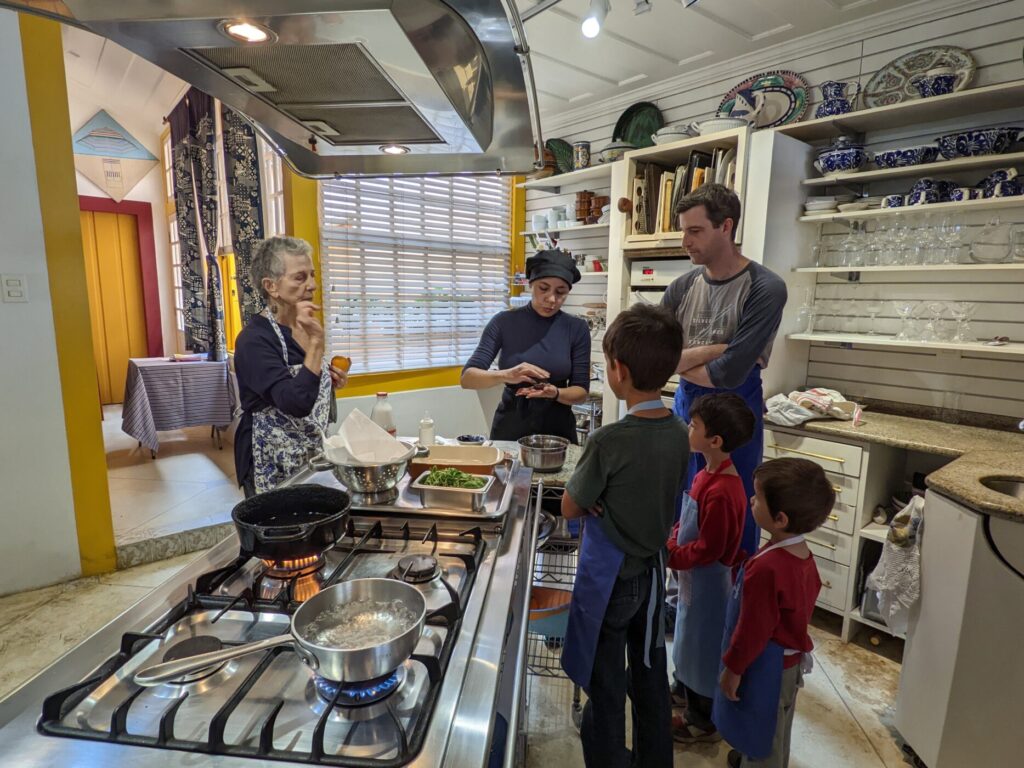 Tucked away in one of the cobblestone alleys of historic Paraty is the home of Yara and Richard Roberts, authors of The Brazilian Table cookbook. From their renovated colonial home, they run their Academy of Cooking & Other Pleasures.
What other pleasures, you may ask? The pleasures of good company and conversation around the dinner table. The experience is part cooking class, part history seminar, and part dining amidst free-flowing conversion. Each course relates to some aspect of Brazilian history.
Yara forms the experience around the members of the group. For our family, she put together a two hour lunchtime program designed to keep the kids engaged the entire time.
If you are ever in Paraty, look for the red door just a half block from the old church. It's an experience you don't want to miss!