3 Days in Rio de Janeiro: Sailing and Artisanal Bread

Our first stop on our world travels was Rio de Janeiro. Rio is famous for many things: Samba, the Christ the Redeemer statue, the favelas. If you google Rio you get a sense of it's natural beauty with sheer vertical rocks rising out of the sea and sandy beaches lining the coast.
We were only in Rio for three days. Of those three days, it rained one of the days, and we spent another half day dealing with a sick kid. So we admittedly saw very little.
But much of what we did get to do we would do again. Here was our experience.
Our Hostel
We stayed in an attractive hostel in the Botafogo neighborhood. From the terrace we could see Cristo Redentor, the iconic statue of Christ.
The hostel was beautifully designed with shards of granite paving the floor and bright paintings on the walls. Pretty much every aspect of the place was quirky in a good way.
The only downside was that the bathroom smelled like a sewer. I assume it's because the shower drain didn't have a p-trap. Everybody silently cursed the first person to open the bathroom door in the morning to take a pee. But as long as you're not too picky about those kinds of things, I would recommend the hostel.
That and pretty much nothing about the hostel (or anywhere in Rio, really) was child safe. Everything was uneven floors, hard surfaces, and sharp edges. I had to sit my kids down and give them a speech about how they needed to wake the flip up and look where they were going instead of horsing around all the time, which is their wont in the U.S. where everything is a flat surface and if they do get hurt, it's someone else's fault.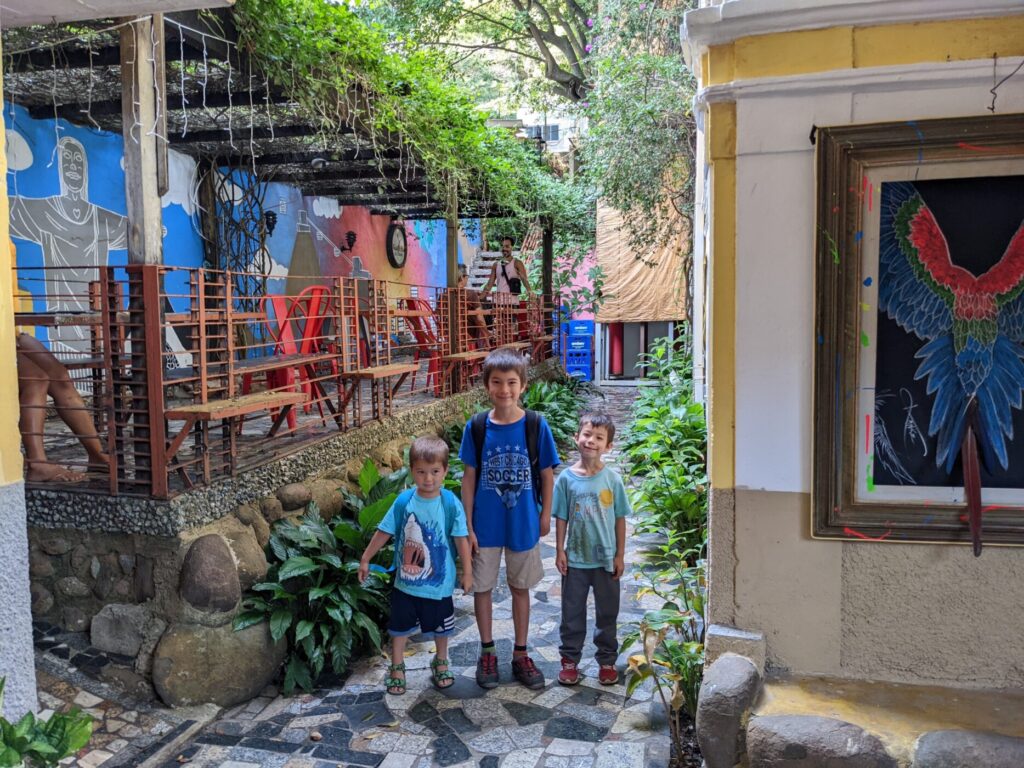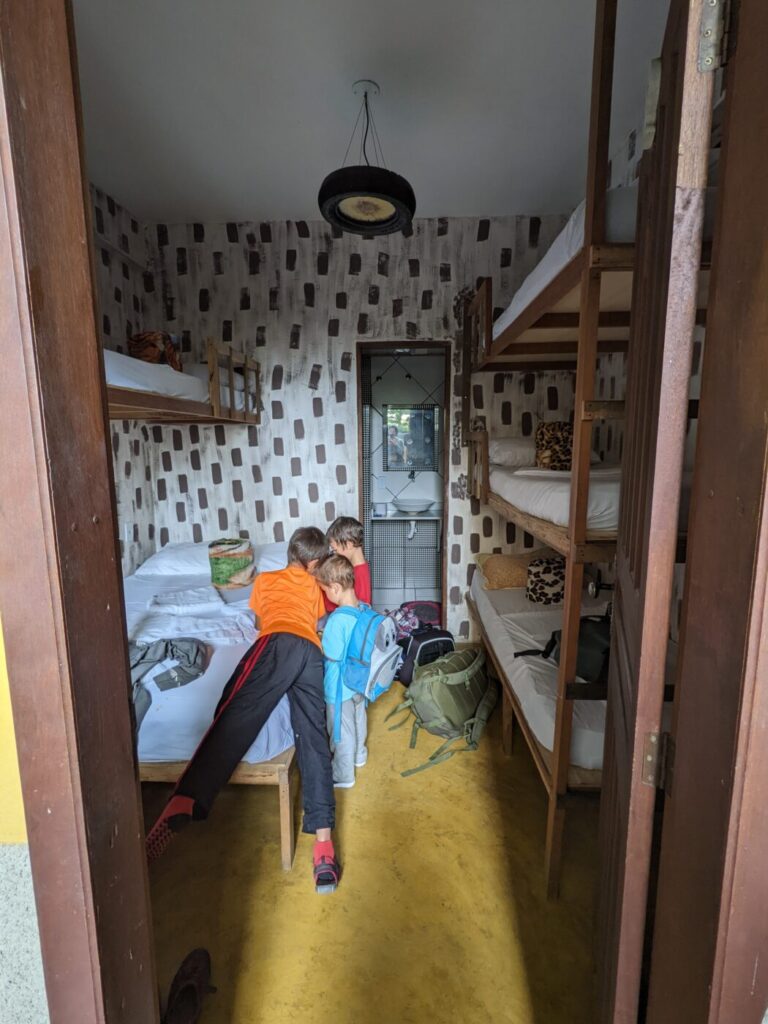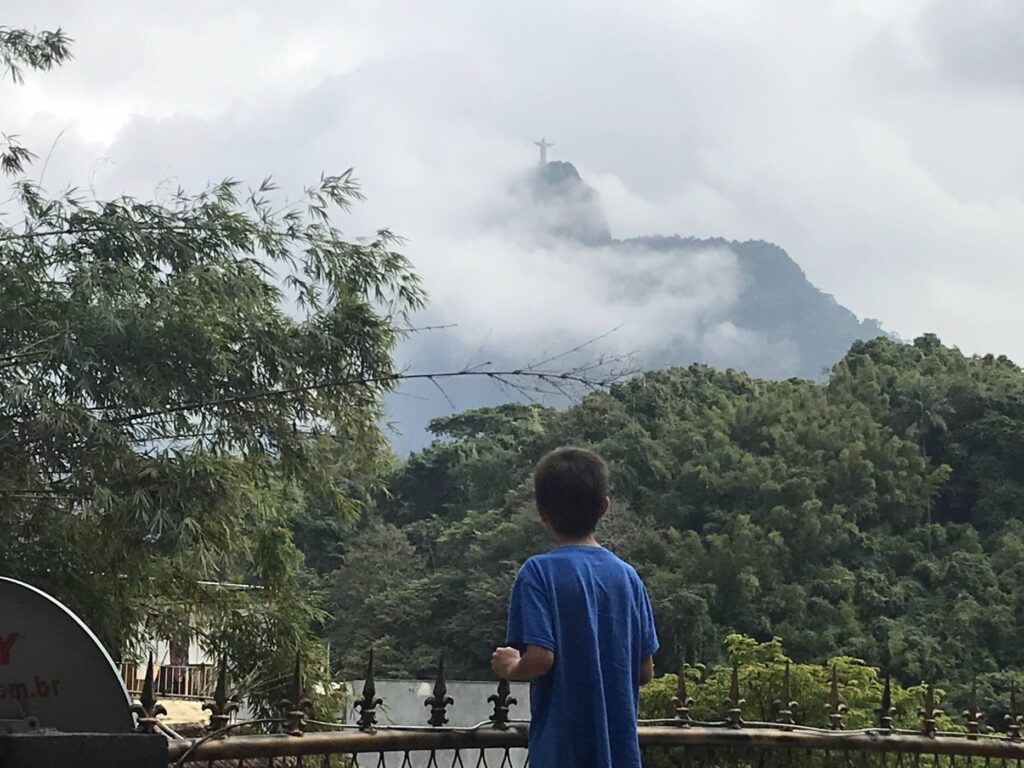 The Streets and Bakeries of Botafogo
Botafogo is one of the safer areas of the city near Copacabana and Ipanema where most tourists flock to. The streets were lively and nothing like city streets in the U.S.
To my profound delight, there was an artisanal bakery on every corner, each one more impressive than the next. I was in bread and coffee heaven.
Our favorite bakery and café was Desjejum. I wish we could have gone back enough times to try everything on the menu. My favorite item was a sandwich with thin ham between slices of fresh bread. Gruyere cheese was melted on top of a layer of creamy horseradish sauce. I know this sounds like just a ham and cheese sandwich, but it was so much more! It was pure heaven.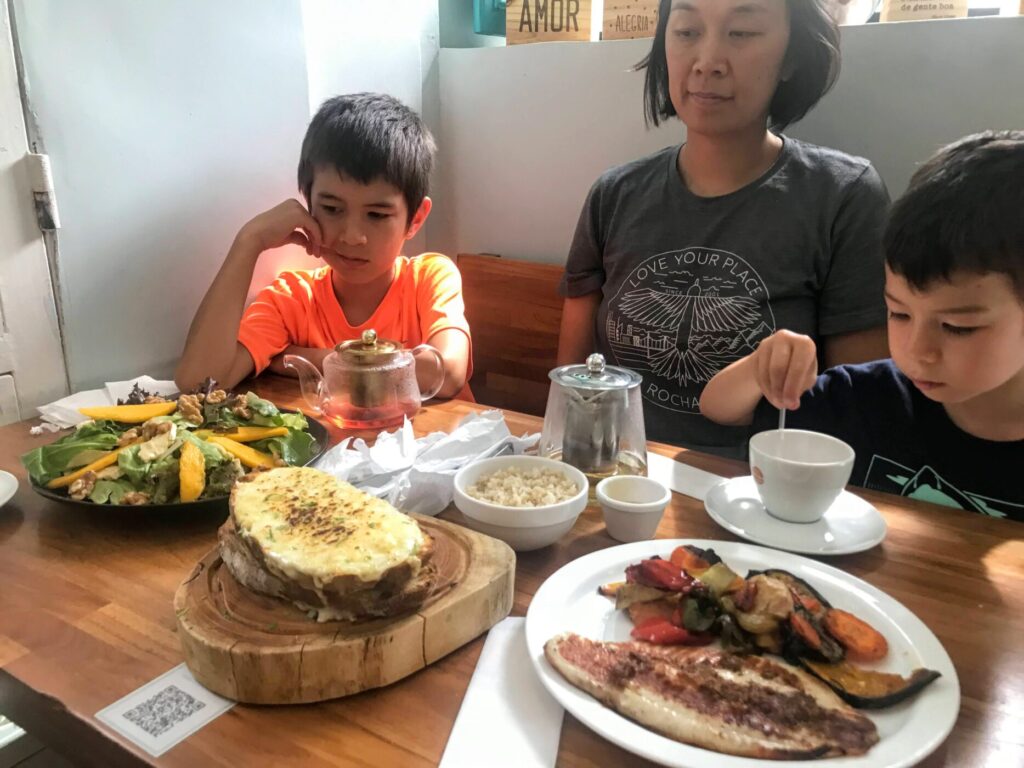 Praia Vermelha and the Trail Around Pão de Açucar
Our first activity was to check out Praia Vermelha. We didn't go swimming because all our kids were some stage of sick. We did, however, take a walk along the trail that meanders around the edge of Morro de Urca, and eventually climbs Pão de Açucar, though we didn't walk anywhere near that far.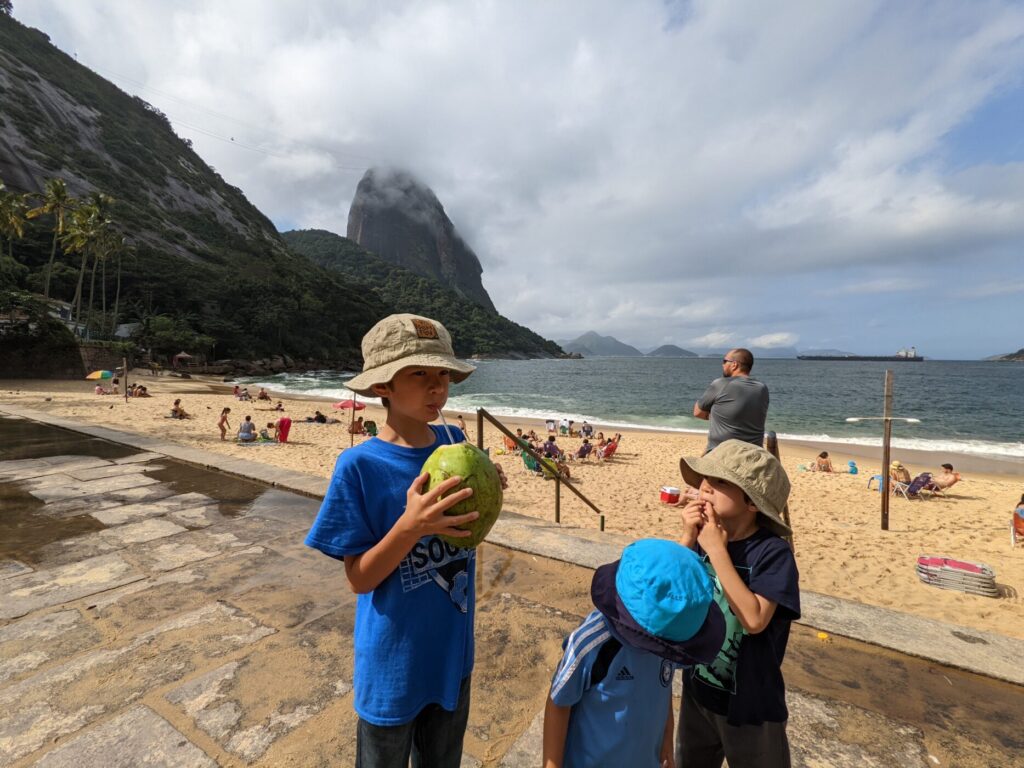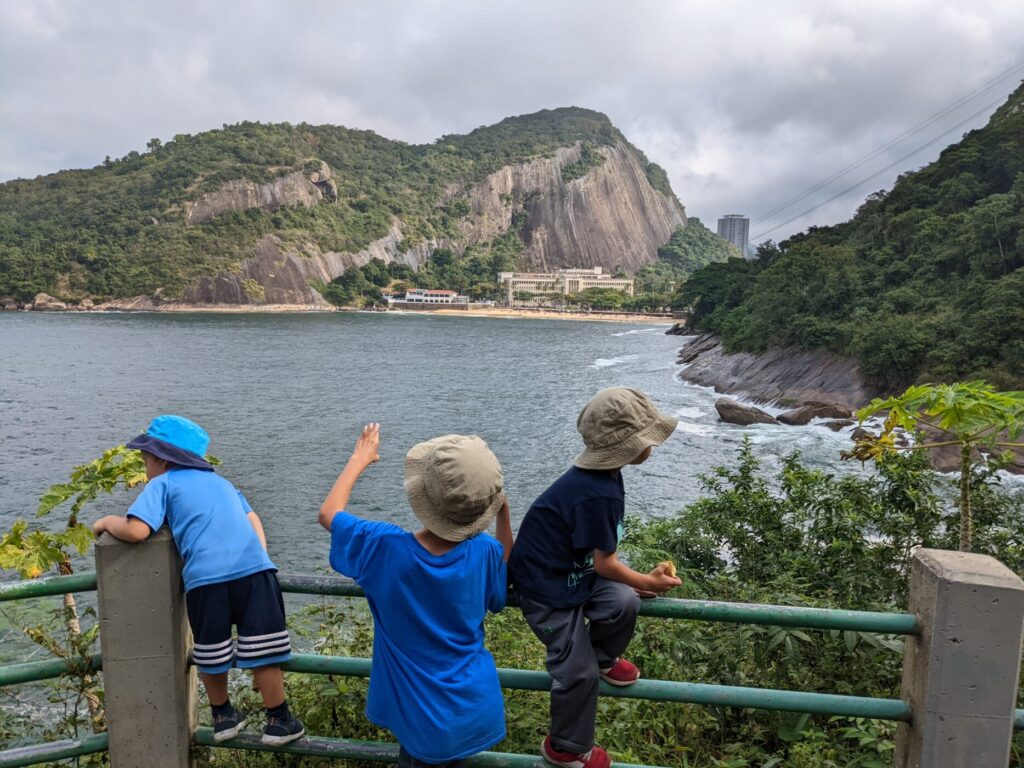 Pão de Açucar Cable Car
Pão de Açucar (Sugarloaf Mountain) is probably the second most iconic landmark in Rio after Cristo Redentor.
We took the cable car up, and then hurried back down again because we had booked a sailboat tour at 2:30pm.
If we had it to do again, we would have planned an entire day just for the cable car. It was more than the quickie out and back that we thought it was going to be. There were two stops where you could get out and see amazing views of the city. At the first stop there were restaurants, ice cream shops, and all manner of stores and activities.
Next time we'll know to block out the entire day.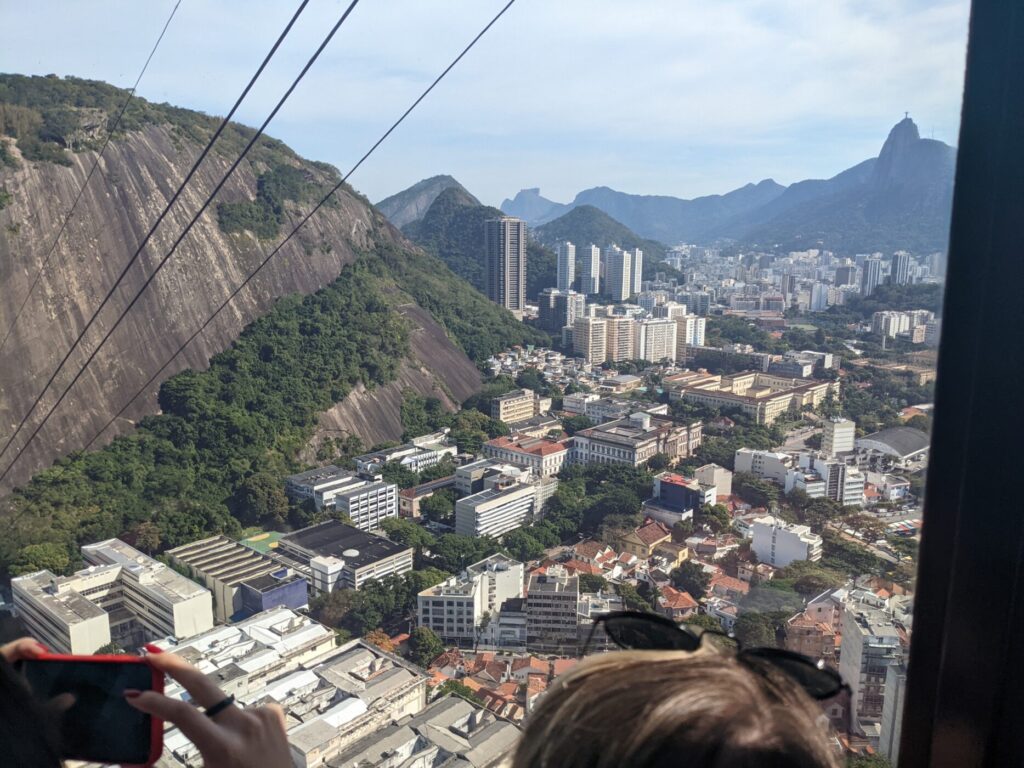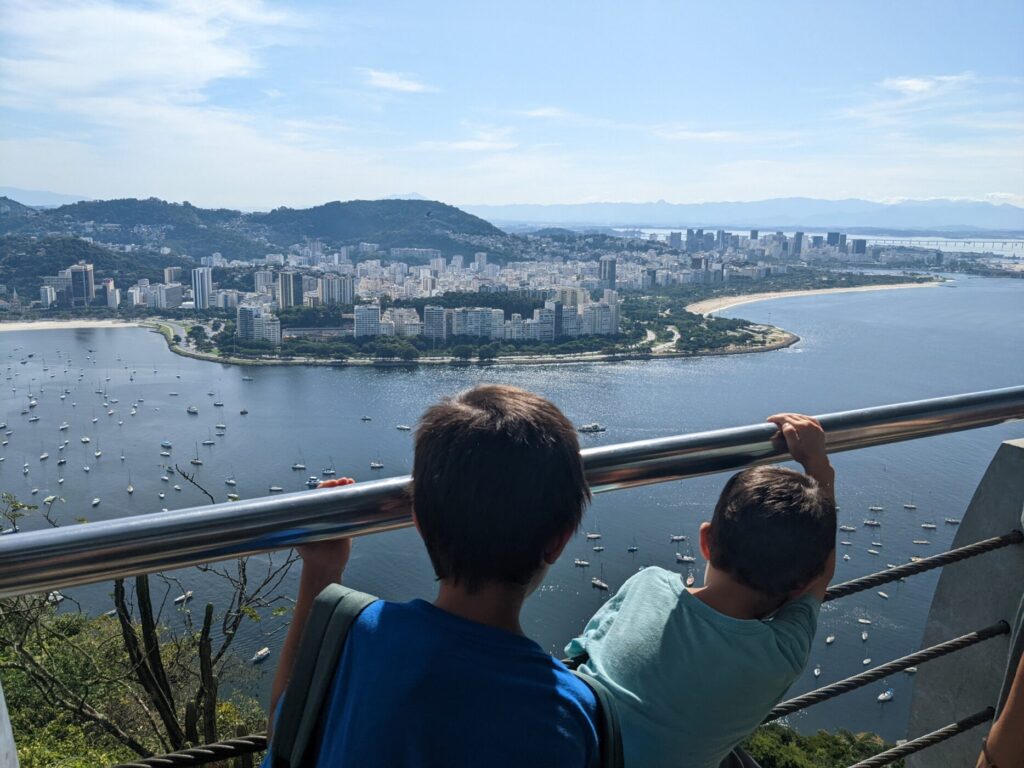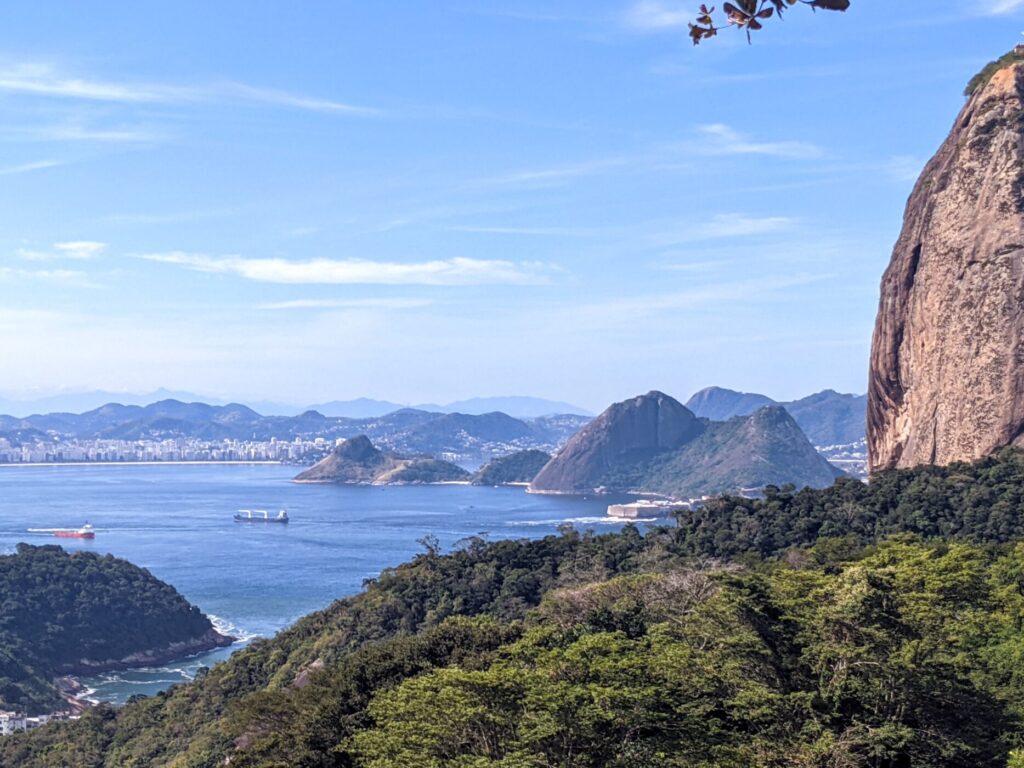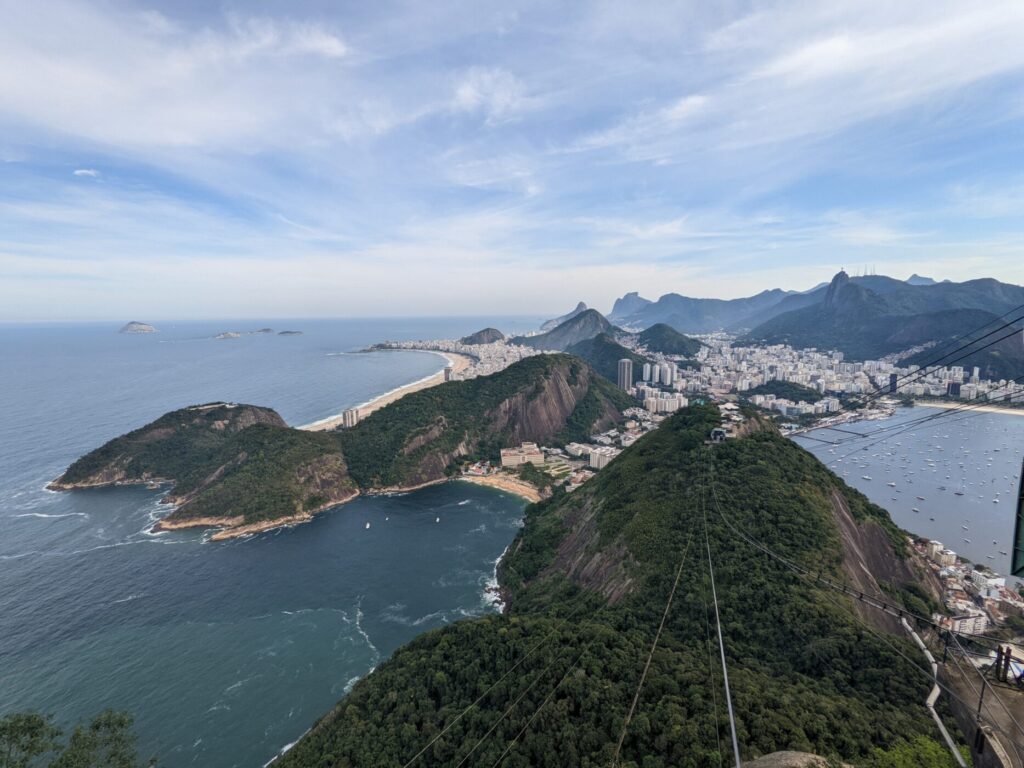 The Sailboat Tour AirBnB Experience
The sailboat tour at sunset was a dream! It wasn't so much a tour as a relaxing pleasure ride, which was OK with us. They played some well know Brazilian music and supplied us with drinks, fruit and empanadas.
My youngest son fell asleep in my lap as I lounged side by side with my oldest son on deck. I couldn't imagine a better way to spend a Friday afternoon, drinking caipirinhas, floating at sea, watching the sky turn orange with the people I love most.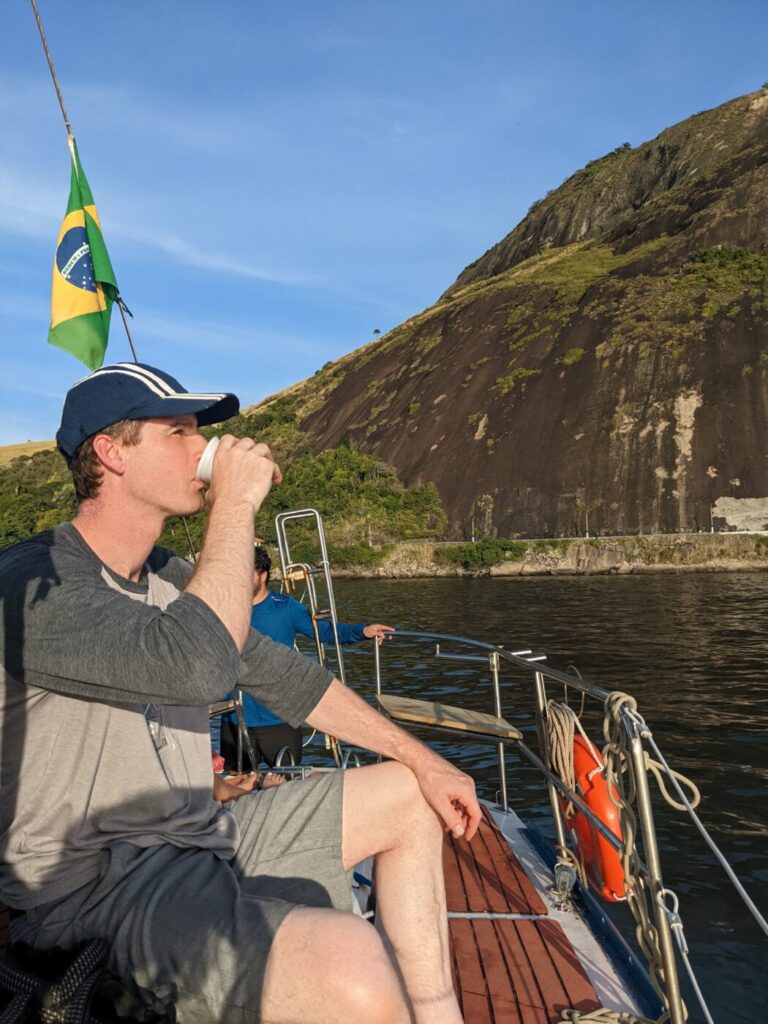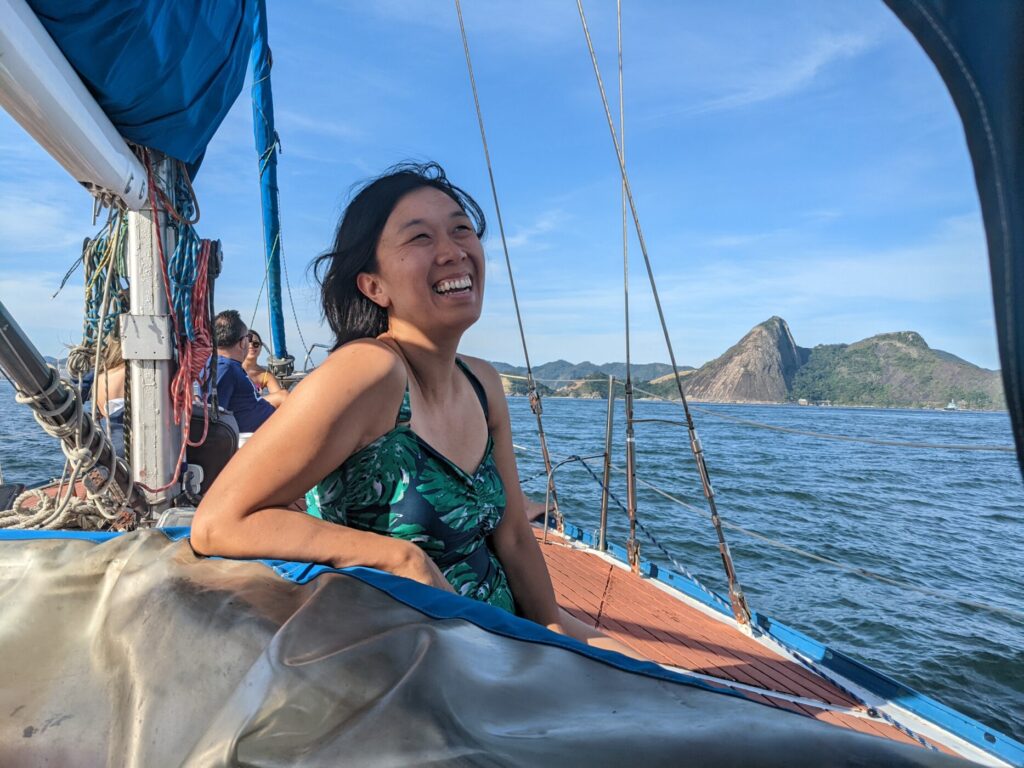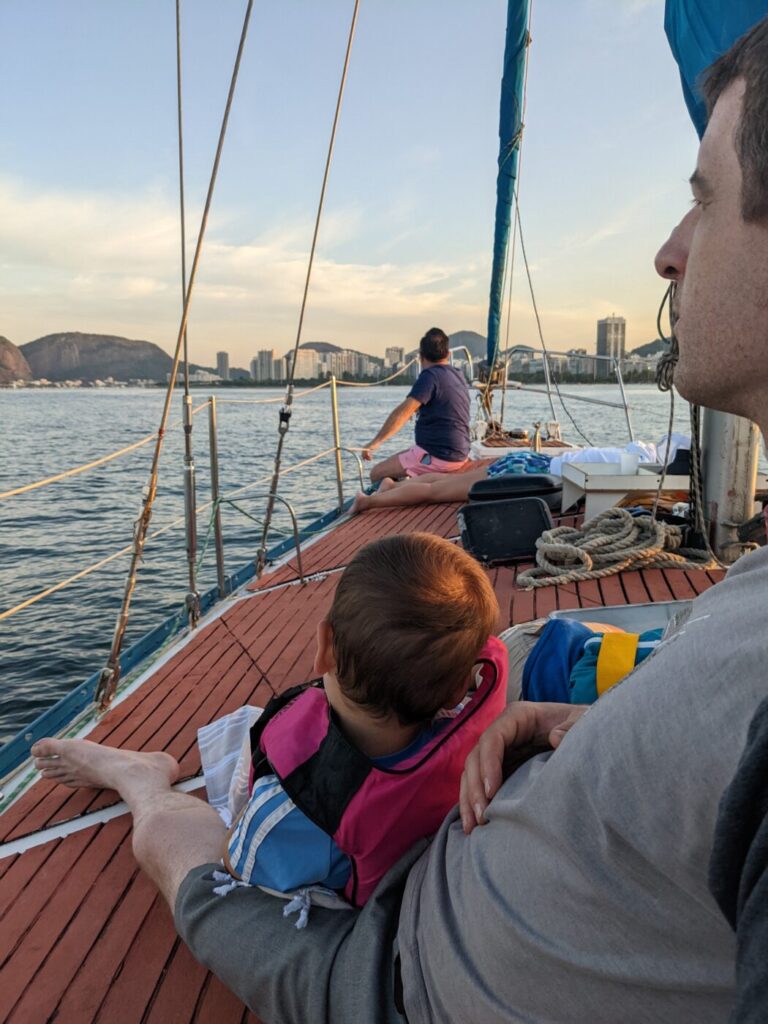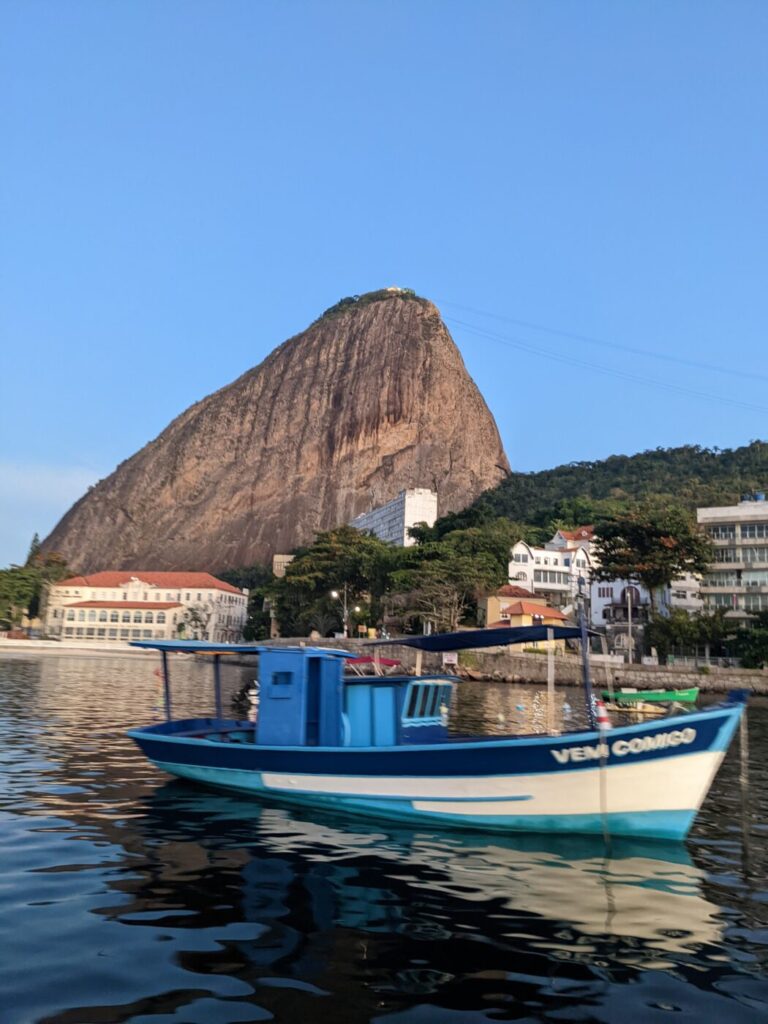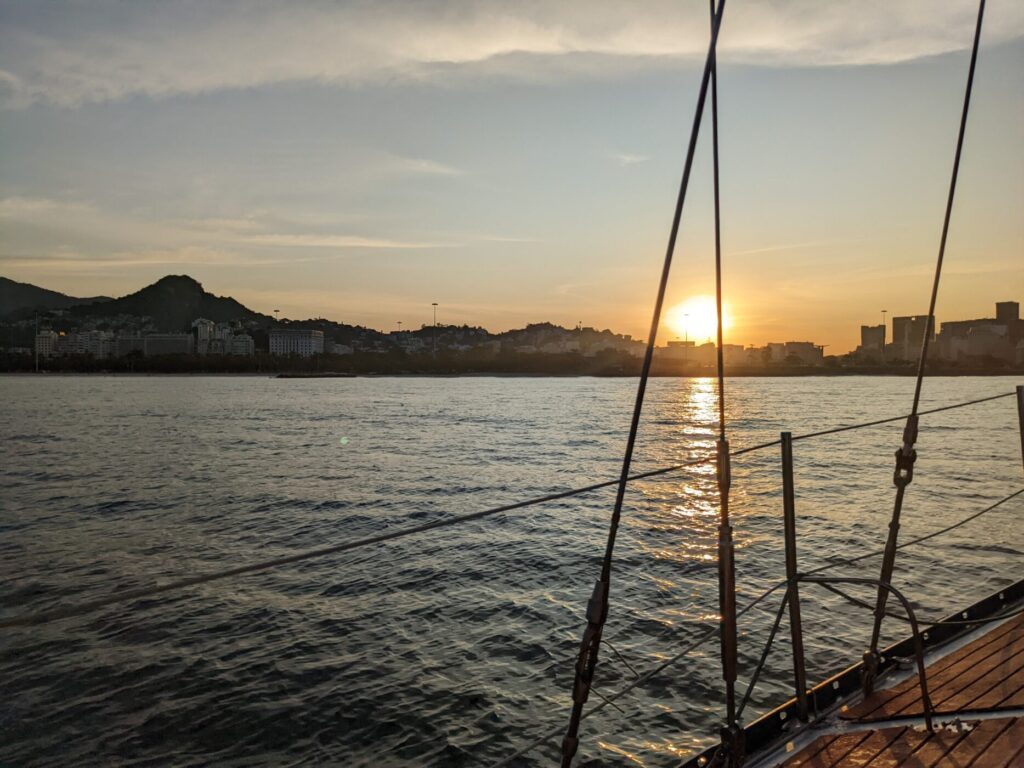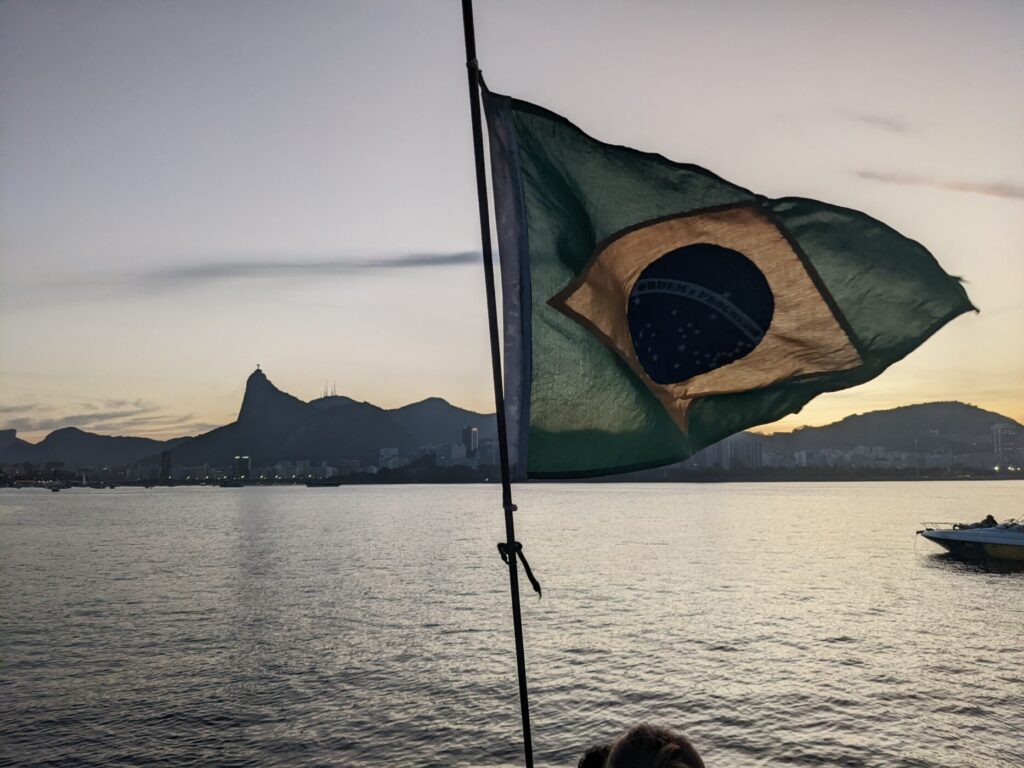 Our Favorites (If You're Ever In Rio)
Places to Eat In Botafogo
Desjejum Padaria Artisenal e Restaurante
Fresh bakery with great coffee and a good variety of menu items. I enjoyed the fresh bread, while Liuan enjoyed the tropical salad, fish and roasted veggies.
If you're there for breakfast or brunch, get the combo, which includes coffee, orange cake, eggs, ham, cheese, jam and a basket with a variety of breads for two.
The Slow Bakery
Enjoyed a very good breakfast with a phenomenal French toast (rabanaba), eggs on toast, and great coffee.
Ceviche RJ
Delicious Peruvian cuisine for a decent price.