Purgatory: Our First Two Weeks of Prep and Travel

Enjoy our first dispatch on the road. Here I talk about wrapping up our home life and doing a bit of domestic travel before flying to a new continent.
It's been a while since I've been able to write and some of you may be wondering what we've been up to. I assure you we are safe and sound and having a great time!
Instead of writing two thousand words on any one topic, I thought I'd just hit the highlights including my first, but probably not last, bonehead travel misadventure (read to the end of this post).
I typed most of this up on our flight from LA to Houston. I am publishing this almost a week later because of all the transit, settling in, and unreliable WiFi at our hostel. So here it is, our first dispatch from the road…
Is this Our World Travels?
My oldest son and I have had a running tongue-in-cheek debate regarding when exactly we can say we have officially begun our year of travel.
I'm inclined to say it commenced the moment the door to my office building clicked shut after handing in my key card. He, on the other hand, doesn't think we're quite there yet. As I write this, we are on a flight to Houston, where we will connect to our overnight flight to Brazil. After three years of looking to the future, it's hard to accept our "world travels" is something in the present.
After I quit my job, my son said we weren't officially traveling until we stepped onto the Metra taking us into Chicago. Then it wasn't until we got on the Amtrak at Union Station in Chicago. Then not until we got off the train. Then, not until we boarded the plane to Brazil. Nevertheless, we both agree that we will be officially, definitely, incontrovertibly, no-more-moving-the-bar, on our world travels when we step off the plane on Brazilian soil tomorrow morning.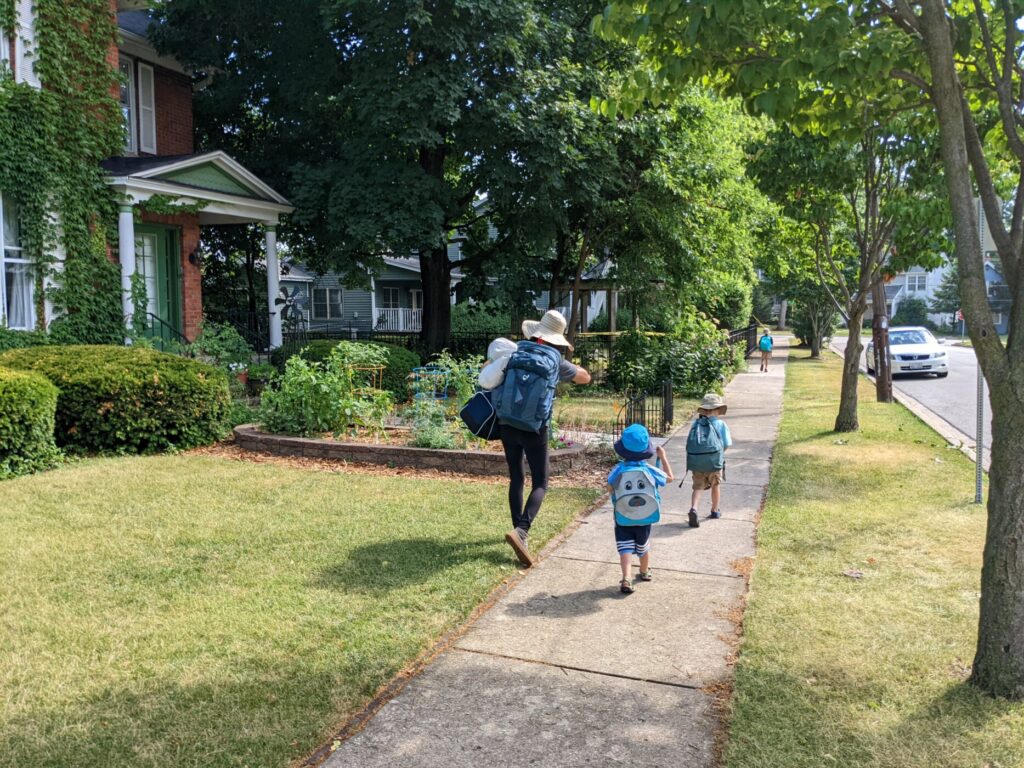 Wrapping Up Our Home Life
I've written extensively about our preparations, so I won't go into depth here. In summary, we had to finish packing (i.e. jamming more crap into the few remaining cavities). And we had to convert our home into an short-term rental, passive-income-generating machine (with huge thanks to our friend and property manager, Deya).
At the beginning of that week, I said something ignorant like, "Nothing on our to-do list seems too time consuming. It's like doing a day and half of work over the course of a week."
I guess I forgot about Parkinson's law. Just cleaning the windows took a full day and a half. Then the fridge stopped working at our other rental (turns out you can't jam your fridge so full that you block the hole where the cold air blows in and expect it to stay cold). Needless to say, our butts were hustling until the last minute.
Wrapping Up Our Home Life – Part II
Our first AirBnB booking was over the Fourth of July weekend. That meant we would be around when the first guests left. This was a perfect "dress rehearsal" for the house. A chance to receive some feedback and work out any last kinks in our home. And kinks there were.
This also meant we had to find somewhere to stay nearby for four days — ideally for free — since we hadn't left the area. The plan was to camp in my brother's yard, where we were also planning to celebrate the 4th with my family the day before we left for good.
Then my brother called early in the week and let us know that he tested positive for COVID. Rubbing elbows with COVID seemed inadvisable a week before an international flight, so we moved on to plan B.
We have a friend who lives in the same neighborhood who offered her yard and guest room. The next day, Liuan got off the phone and said, "you'll never believe who called and told me she tested positive for COVID."
Plan C? There was no plan C. We just cobbled something together. Two nights with some friends in Bloomington two and a half hours away. A hotel room in Lisle on the 4th. The final evening we slept on the floor in our own house so as not to mess it up too much for the following AirBnB booking.
On top of the "light" amount of final prep for our departure, the guests broke the couch (which I was able to fix) and a squirrel sabotaged half of our outdoor string lighting by chewing off one of the sockets.
And that is how I ended up spending our final evening at home on a ladder, in the dark, melting in the hundred degree heat, trying to splice six tiny wires in the correct combination while the mosquitoes had their feast.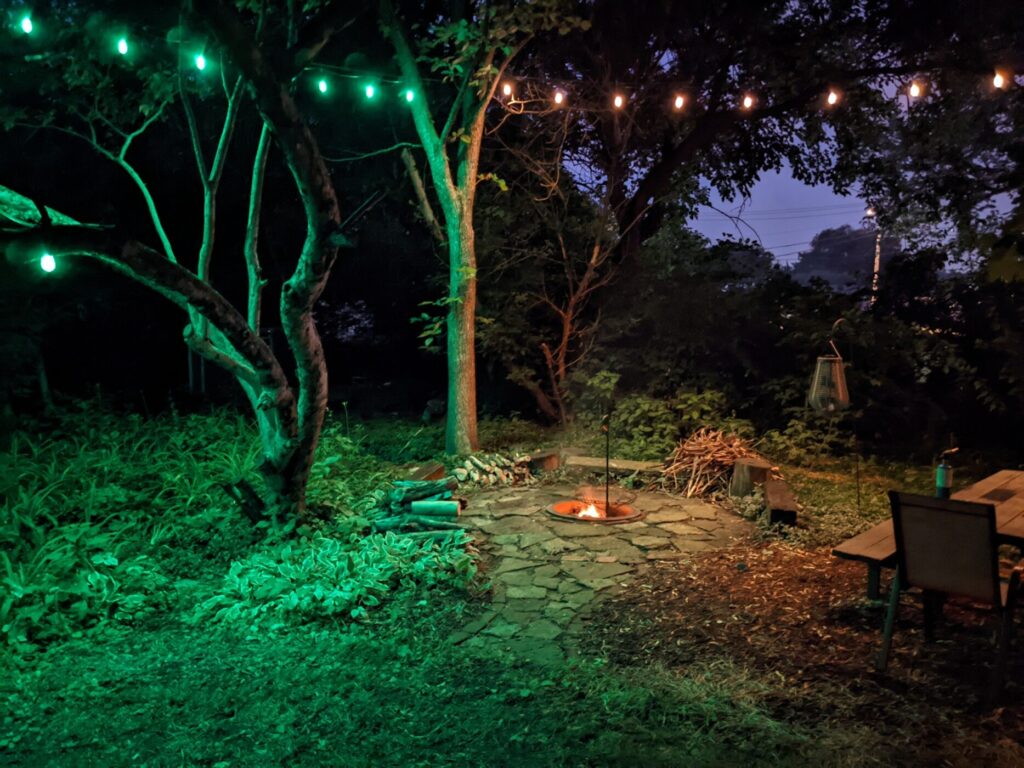 Amtrak
The Amtrak ride from Chicago to Los Angeles was forty-eight hours trapped in a rumbling cage. (Liuan wrote another article with a more positive take).
Unless you are a hobbit, the sleeper rooms allow for exactly two body positions, laying or sitting, with an elaborate room reconfiguration to switch between them.
The lounge car, on the other hand, was spacious and well lit. That's where I forced my kids to sit for many long hours gazing at the landscape. "I'm tired of looking at rocks," Oliver remarked somewhere in the middle of Colorado.
One could be forgiven for romanticizing the journey, the vastness of the American landscape unfolding mile by mile. In reality, the change is so gradual — from flat corn fields, to scrubby desert, to scrubby mountains — that you spend most of the time thinking you've seen this landscape a million times already.
On the positive side, the food exceeded expectations!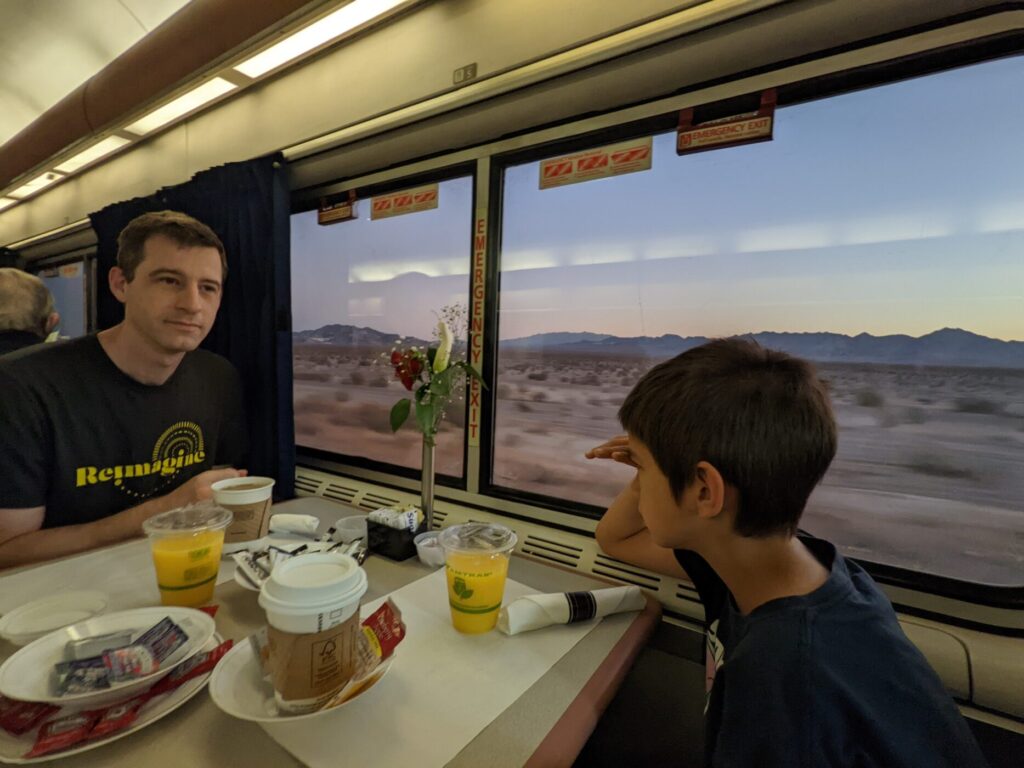 Purgatory
Our first leg of the journey involved a 48 hour Amtrak ride from Chicago to Los Angeles. After that, we stayed with Liuan's dad and aunt for almost a week. I jokingly referred to our first week with the in-laws as my time in Purgatory.
To be fair, the visit with the in-laws was a pretty good time! We ate a lot of great food, mostly not at our expense. We hiked the beach and saw some amazing views rivalling some of the places we've crossed oceans to see.
We stayed at Liuan's aunt's house, nestled on a cliff overlooking the Pacific ocean. The boys enjoyed spending time with family. And we all loved seeing the dog, Toby, even though watching him repeatedly make love with his cushion a few steps away from the dinner table got kind of old.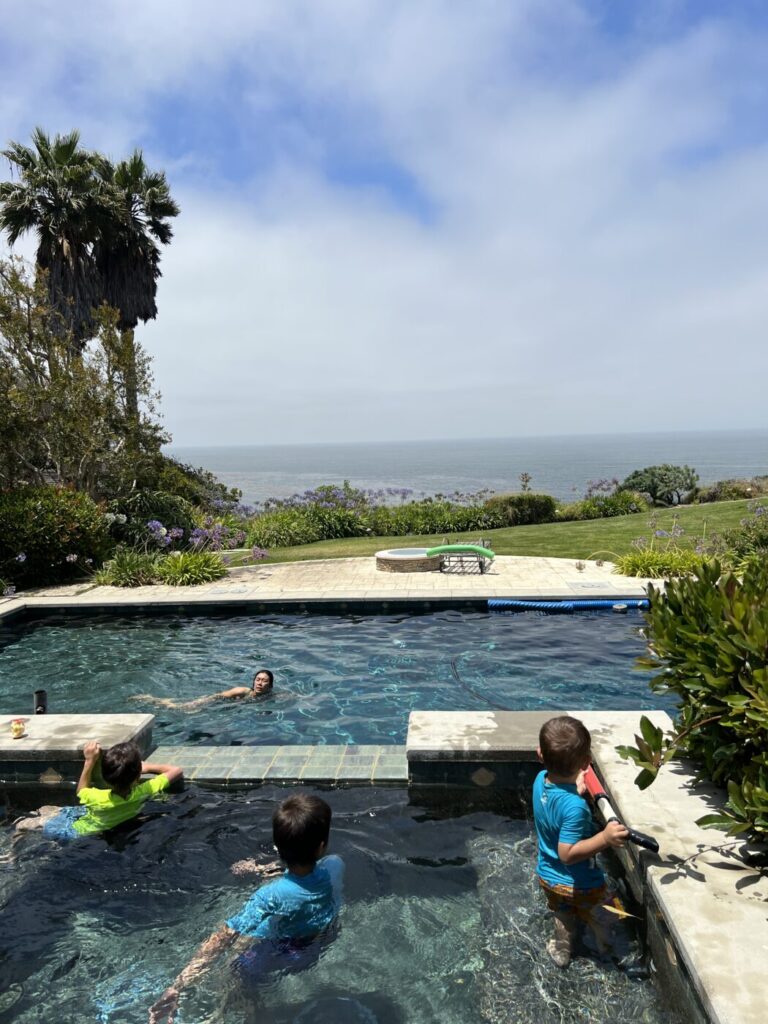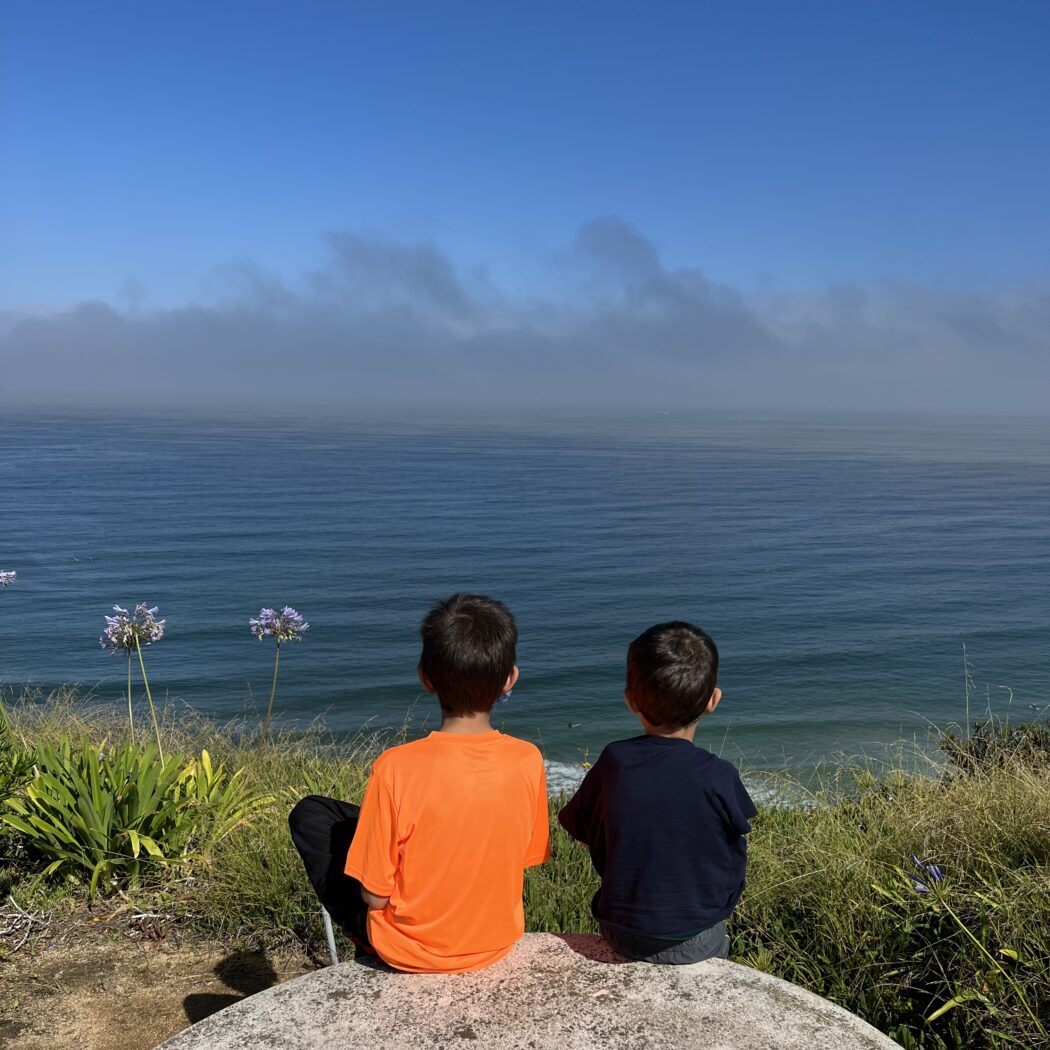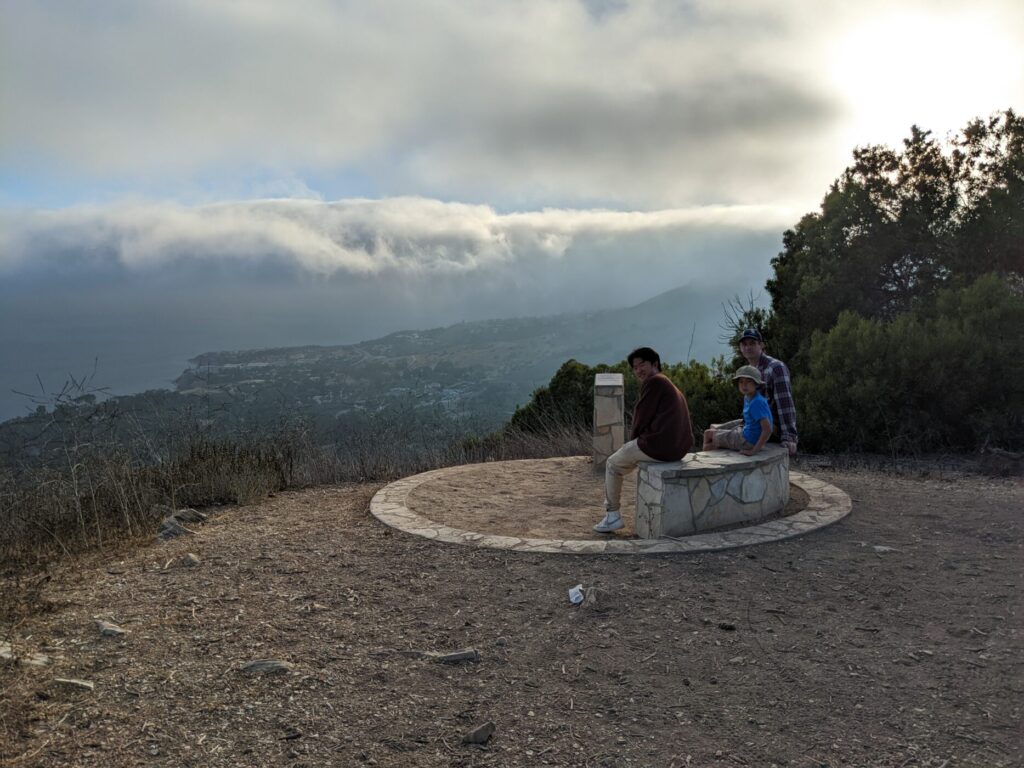 Seriously!?! I Lost My Wallet on the Second Day of Travel
One of the downsides of having life suspended for 48 hours on a train is that it's easy to forget yourself and let your guard down.
At first, I was very cautious about keeping our stuff well organized and out of view of other passengers. This would mean keeping my wallet in my pants at all times.
But by the middle of the second day, I reasoned that as long as everything stayed within the tiny sleeper compartment, a deep scouring of the space at the very end would be sufficient to ensure that nothing got left behind. This led to me be ok with casting aside my wallet because it dug into my hip when I laid down for a nap.
That "deep scouring" for personal items at the end turned out to be less deep than it should have been. Bending down to look under the seats was a physical impossibility for me. Not only that, but we had a few dirty articles of clothing stashed away in the tiny slit of a closet. That stuck in my mind as the thing we would be most likely to forget.
And so it was, that while I successfully remembered my boys' smelly socks and undies, I forgot to check that I had my WALLET!!!
Fortunately, my wife still had everything: a driver's license, a credit card and a debit card. The snag was that our car rental would be a stick shift, which only I know how to drive.
Unlike the last time I lost my ID and money, this time was a breeze. I submitted a report to Amtrak. After two days of cycling between beseeching prayers and checking my iPhone for any update from Amtrak, I received the miraculous call. They found it!