10 Ways Trains Are Better Than Planes

We recently took a 48-hour Amtrak ride from Chicago to Los Angeles. It was our second time as a family of five to take a cross-country train ride in lieu of flying. If you have the time to spare, we definitely recommend it.
Here's why:
1. "You get your own room." – Finley (5yo)
We booked two sleeper car roomettes for the trip, and the price was comparable to five plane tickets (though for this trip we used points). For this amount we were able to ride cross-country in private compartments. The bottom seats recline to become a full-length bed and another top sleeping compartment pulls down to make enough total sleeping space for two adults, or one adult and two little kids.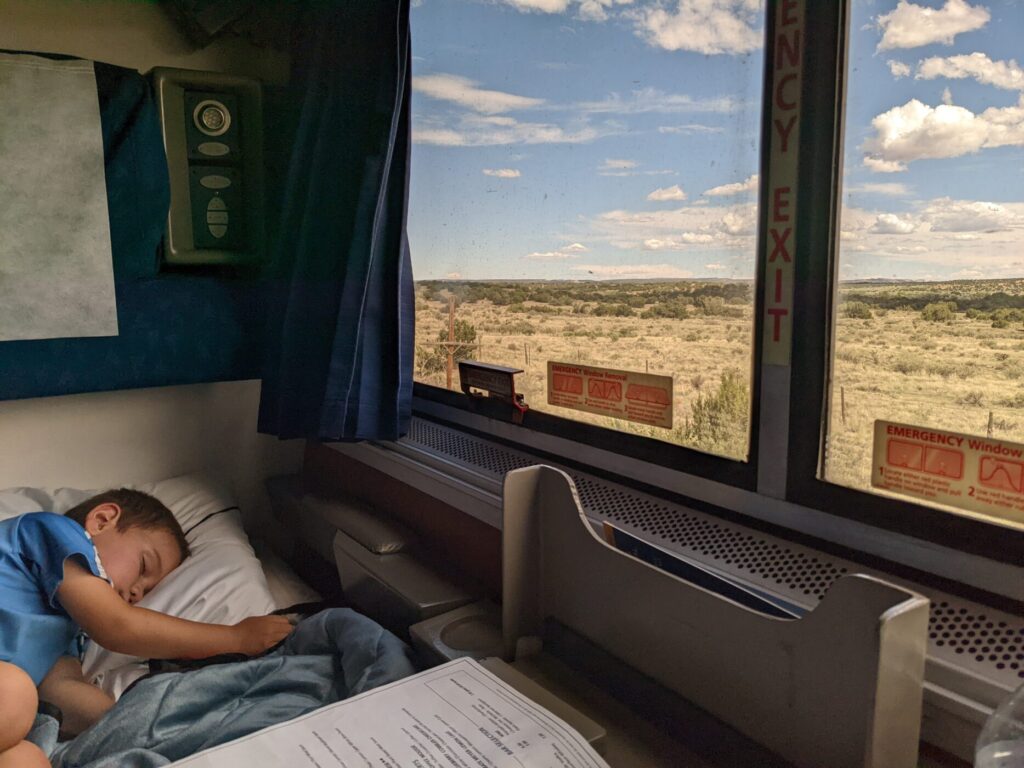 2. "The food is better." – Oliver (8yo)
Coconut shrimp, brie and raspberry empanadas, flat iron steak, vegan meatballs in Thai curry sauce and noodles, chocolate mousse, and lemon blueberry cheesecake were some of the options for three-course dinners on our ride across the Southwest American desert. And that's just dinner.
Our meals were made in the kitchen car and way tastier than microwaved plane food.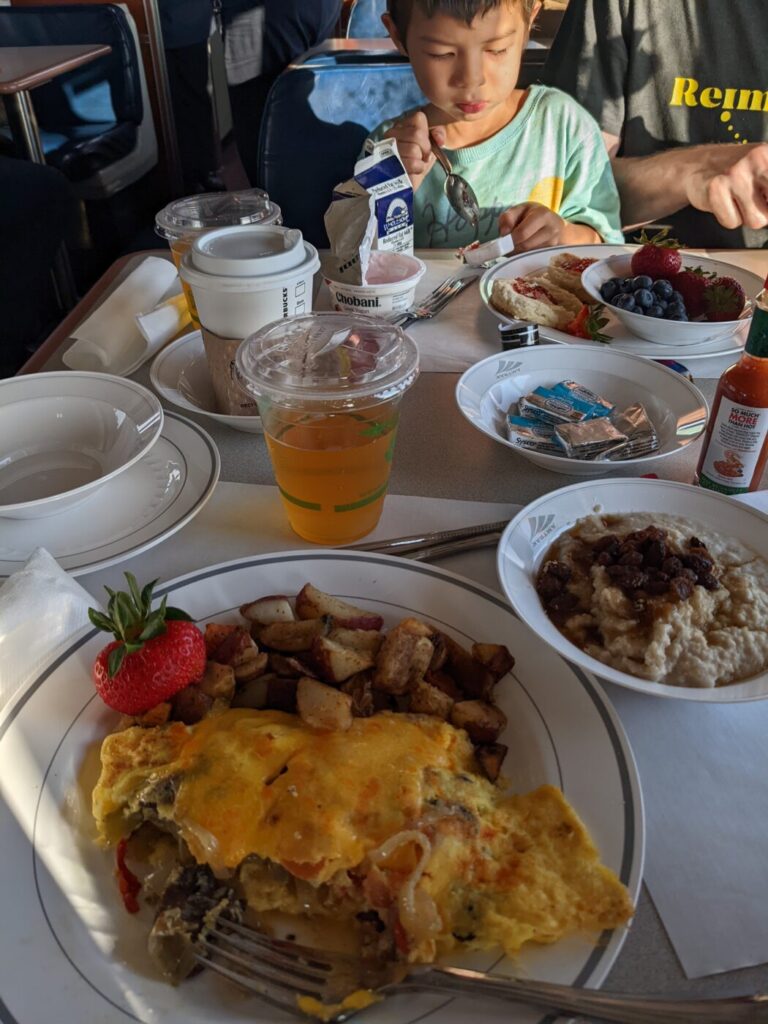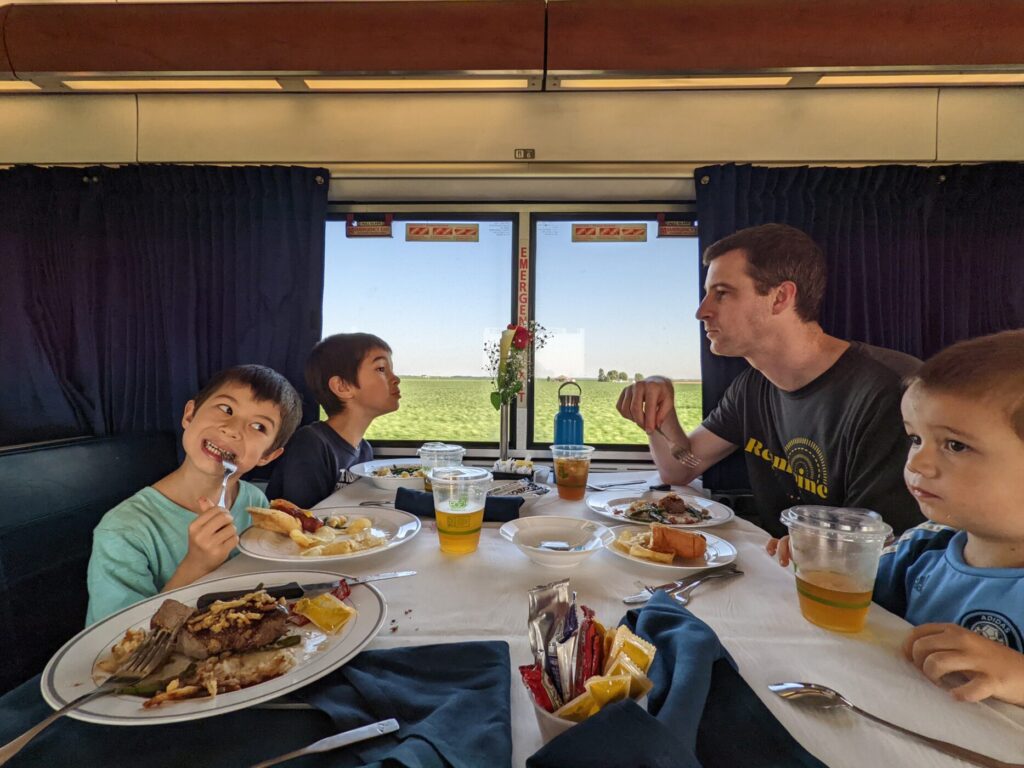 3. "You can take a shower!" – Liuan
I was a little wary of trying out the shower but after 30 plus hours on the train I decided to give it a go. I was pleasantly surprised by fresh white towels, complimentary toiletries, and a spacious, clean shower stall. Just had to brace my legs for any bumps along the track!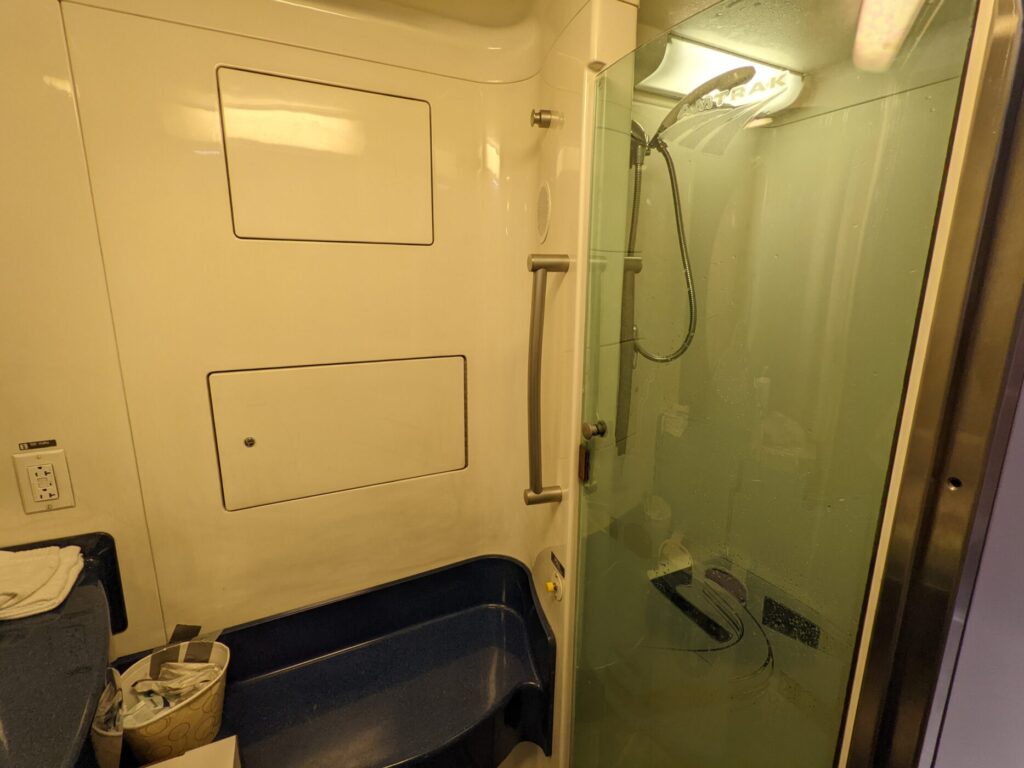 4. "See the landscape up close in a lounge car with floor-to-ceiling windows." – Liuan and Oliver
From the Midwest, cornfields gave way to the wide Mississippi River and then the Great Plains, where we indeed saw the deer and the antelope play. Past Colorado and into Arizona and New Mexico, we watched flat-topped mesas glow red in the setting sun. Our route on the Southwest Chief went right along the edge of the Grand Canyon, but unfortunately it was dark by then and we didn't see anything.
When we got tired of sitting in our compartments we went to the lounge car for better views and some more space to stretch out.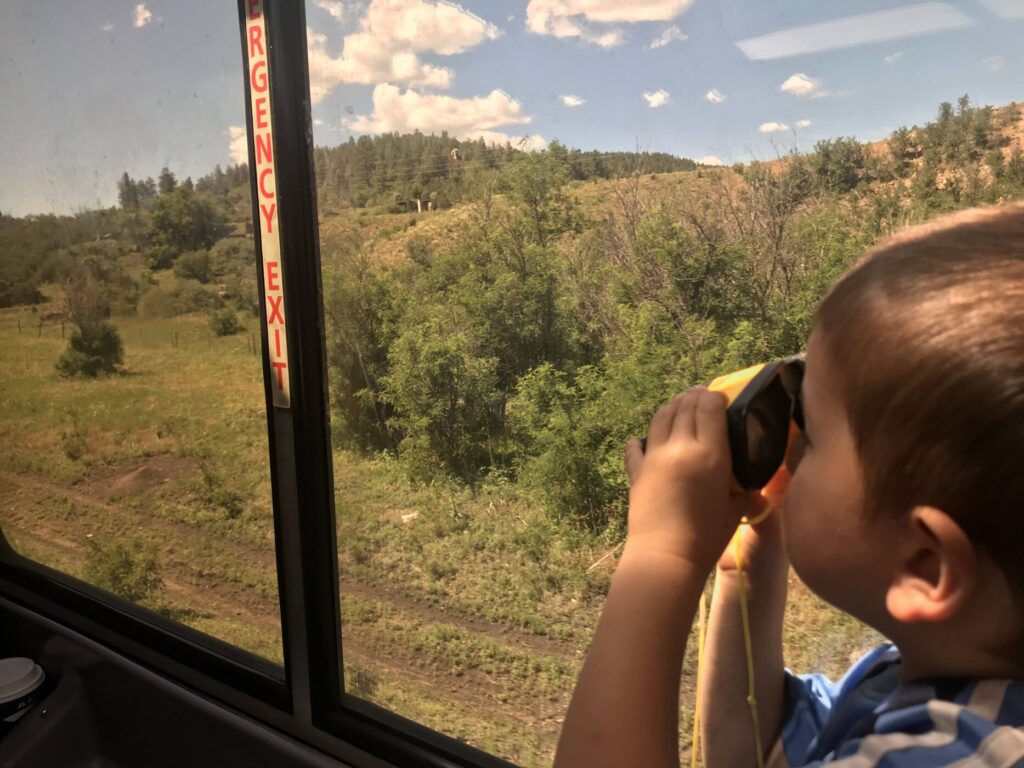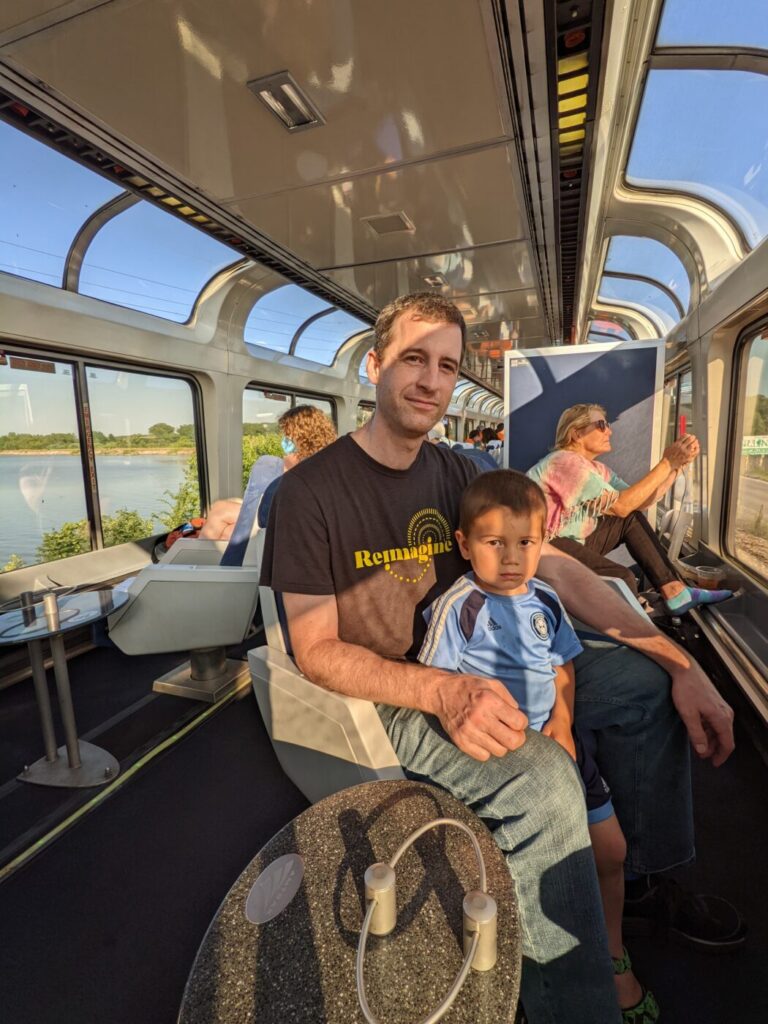 5. "Spend more time together." – Finley
It's debatable whether two entire days together in a tight train compartment benefits relationships, but our family did enjoy some quality time together. We talked, watched the Great British Baking Show, read, journaled, and simply stared out the window.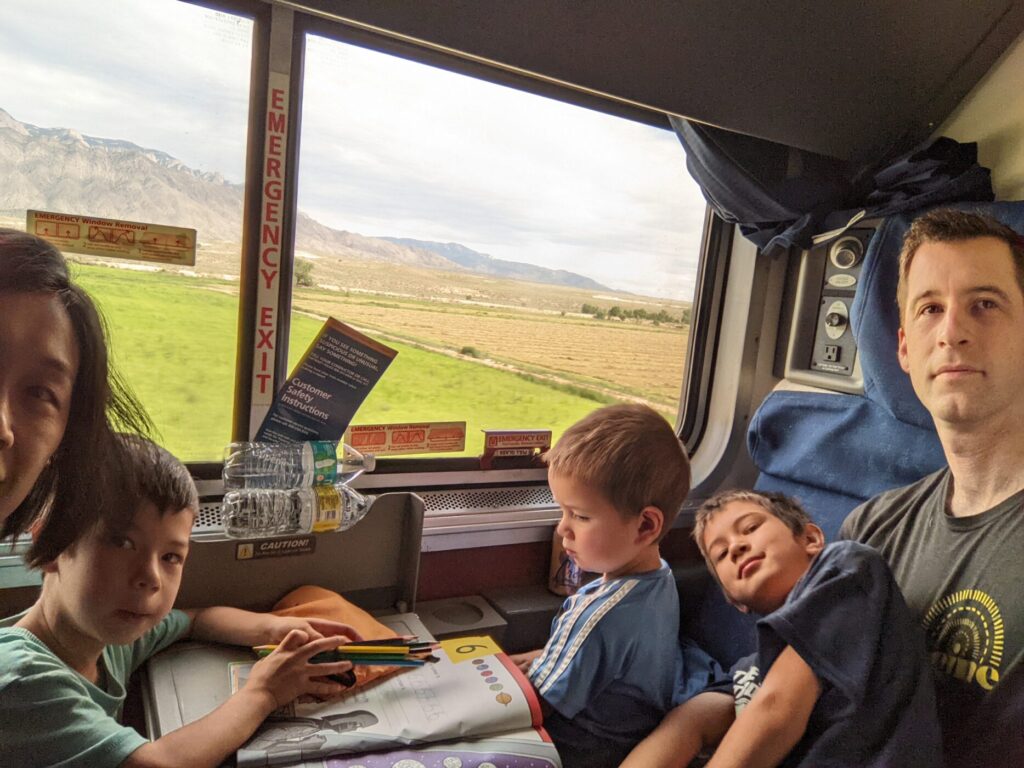 6. "There are stops to get off and stretch your legs." – Oliver
Every few hours the conductor offered some "fresh air" stops, where we all got off the train and blew off some pent-up steam. In Albuquerque, New Mexico we even left the station for about 20 minutes, though Oliver was so worried about getting left behind that he pestered us to go back the entire time. Being late for train, plane, bus, etc. is one of his biggest fears. Even so, he thought the "fresh air" stops were a perk to train riding.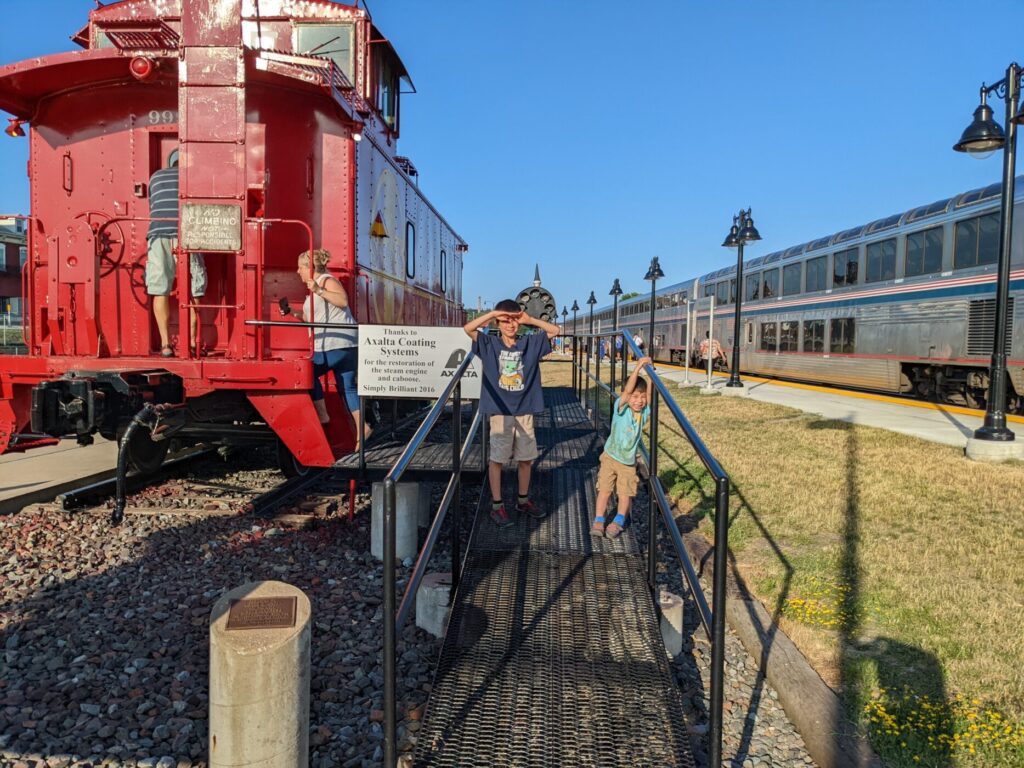 7. "You can make new friends." – Finley
In the dining car, separate riders are seated together at a table. Though our family was big enough to take an entire table, we overheard other riders getting to know each other over meals. Amtrak riders seem very friendly in general, which maybe is a symptom of having nothing to do over a very long train ride.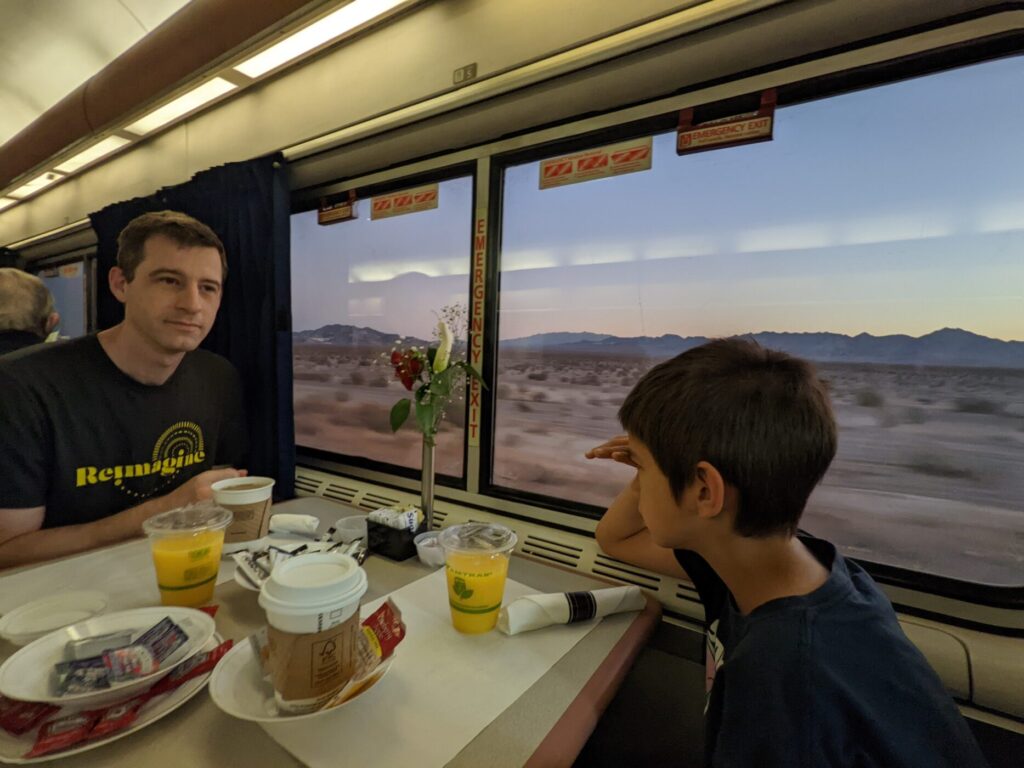 8. "You don't have to wear a mask." – Oliver
Mask guidelines seem to be constantly changing, but having a private room allowed us to ride maskless without much worry of catching anything.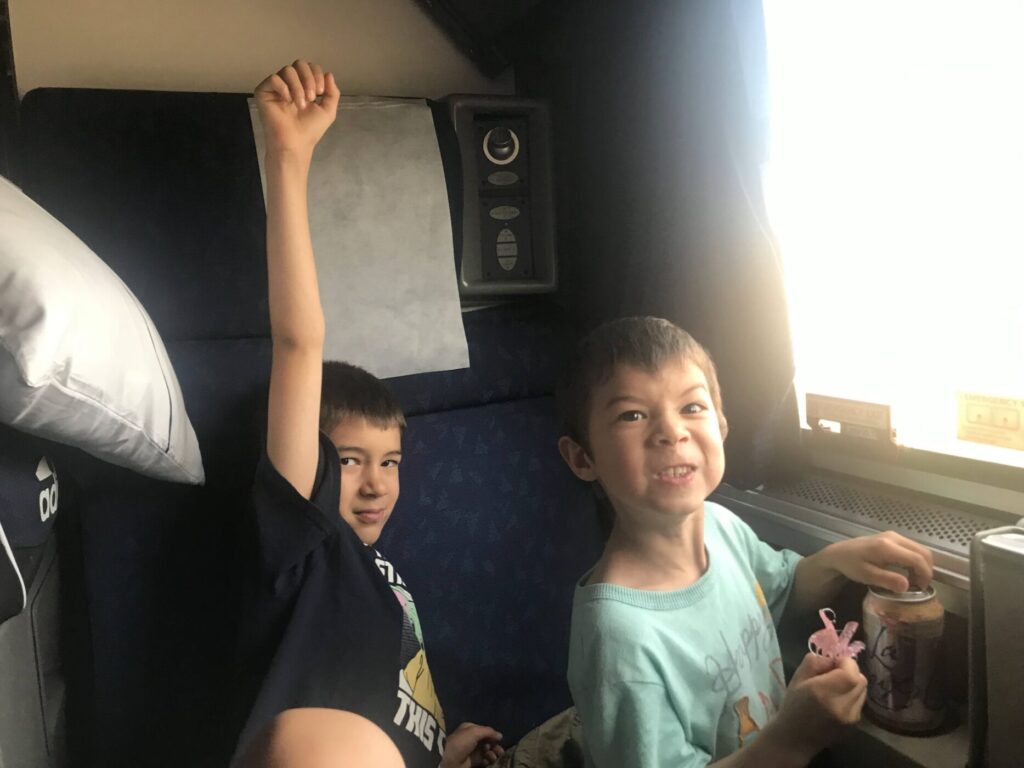 9. "It's better for the environment." – Liuan
Generally speaking, train travel has a lower individual carbon footprint than air travel. I'll be breaking down the details in a later post.
10. It's fun! – All of us
What's not to like about conductors yelling "All Aboard!", the clickety-clack of tracks taking you to yet-unexplored destinations, and riding across breathtaking landscapes with all the time in the world?