11 Great Family-Friendly Things to Do in Teresópolis, Brazil

A Mountaintop Getaway
Never heard of Teresópolis? Neither had we. So how did we choose this no-name mountain town to kick off our family gap year in South America?
First of all, we find rural destinations more interesting, pleasurable and safe. We already had plane tickets to Rio de Janeiro. So I got on Google Maps and clicked around the periphery of that popular destination. It wasn't long before I stumbled upon Teresópolis. I was drawn in by the small city surrounded by mountains and natural beauty. Pricing for vacation rentals was amazing! We found a long list of options well within our price range for a month stay. It was love at first sight.
In our three-year planning phase for our big adventure, we had collected a sizable must-see destination list gleaned from news articles, research, and Windows lock screens. Two of them, Serra dos Órgãos and Guapimirim, were nearby. This place had everything! And that is how we decided to spend the honeymoon phase of our gap year in Teresópolis.
You don't see many international tourists. Nevertheless, this mountain town with a chill vibe is where Brazilians get away from the noise, soot and crime of Rio. It is also the home of the national soccer team.
As you will see in this post, the city and surrounding area offer unique — and delightfully weird — attractions that amount to an unforgettable experience.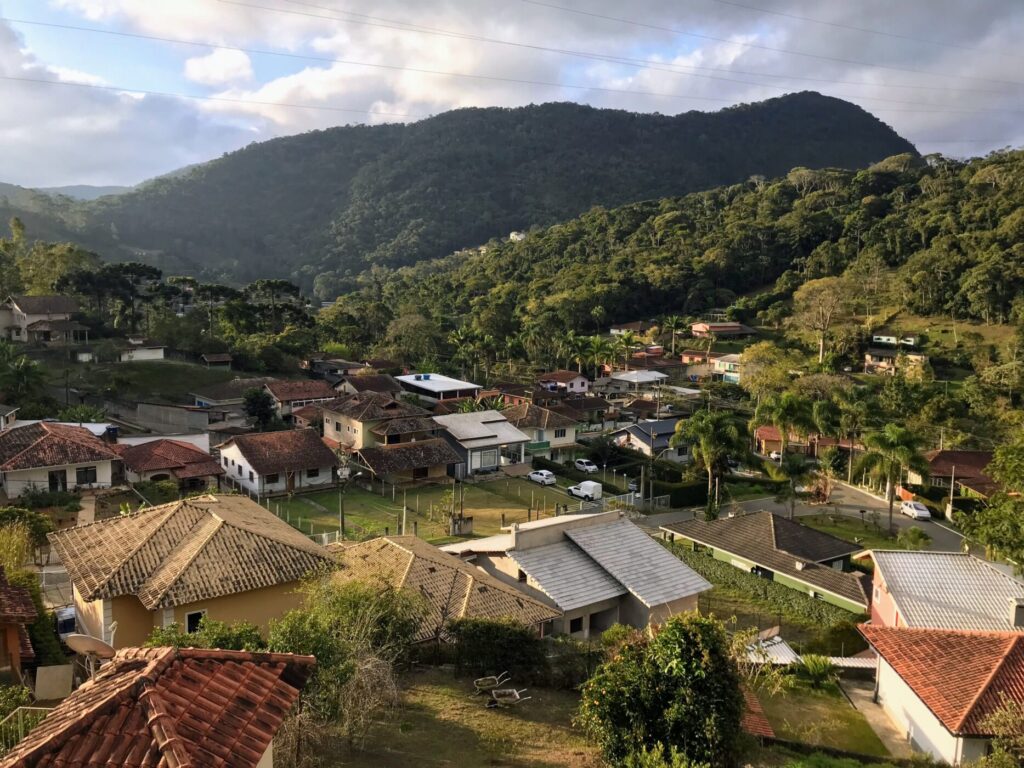 Security in Teresópolis
If I were to rate traveler security anxiety on a scale of one to ten — one allowing you to leave your cell phone on the table while you use the toilet at a coffee shop, and ten being aware at all times, never letting a stranger see your cell phone or cash, and sticking to a few well-traveled streets — Teresópolis ranks at a two or three. (I'd give Rio an eleven. These ratings are subjective, by the way.)
If you want a more objective measure, Teresópolis is the safest city in Rio de Janeiro state and ranks an impressive tenth for safety in the entire country.
In other words, after our first few days in Rio, we could let our guard down and relax.
Of course, you should never be reckless as a tourist. We still took reasonable precautions. We locked our car and didn't leave valuables on the dash, or on coffee shop tables. But living in the Chicago suburbs, those basic precautions are a matter of habit. The important thing was that we were able to be out at all times of day, have fun and interact with locals like normal folks.
How We Got There and Where We Stayed
We stayed a whole month at a three story home with one outdoor and two indoor kitchens in a gated community for about $1,200. (We were there in July, their winter and low season, so prices may vary). The gated community came with top-notch amenities: a gym, a heated pool, a game room, and a beautiful shared park with the typical Brazilian grills, just to name a few. Most importantly, there were other children for our boys to play with. A group of kids would make a daily stop by our house to invite our boys to play soccer or tag.
Car rentals were a great price this time of year as well. We spent between $300 and $400 a month for a compact, manual transmission (again, off-season prices). We rented from Movida, and would rent from them again.
Driving in Brazil is not for the faint of heart. There is the option to take buses and taxis, which are very economical. But we wanted the freedom of a car. Getting out of Rio was hairy, to say the least. But once outside of the city limits, we cruised on well-maintained highways. Once you get into the mountains, the roadway narrows, you might encounter a pothole here or there, and you'll probably get stuck in construction or behind a slow moving truck. That said, we were glad we had the car.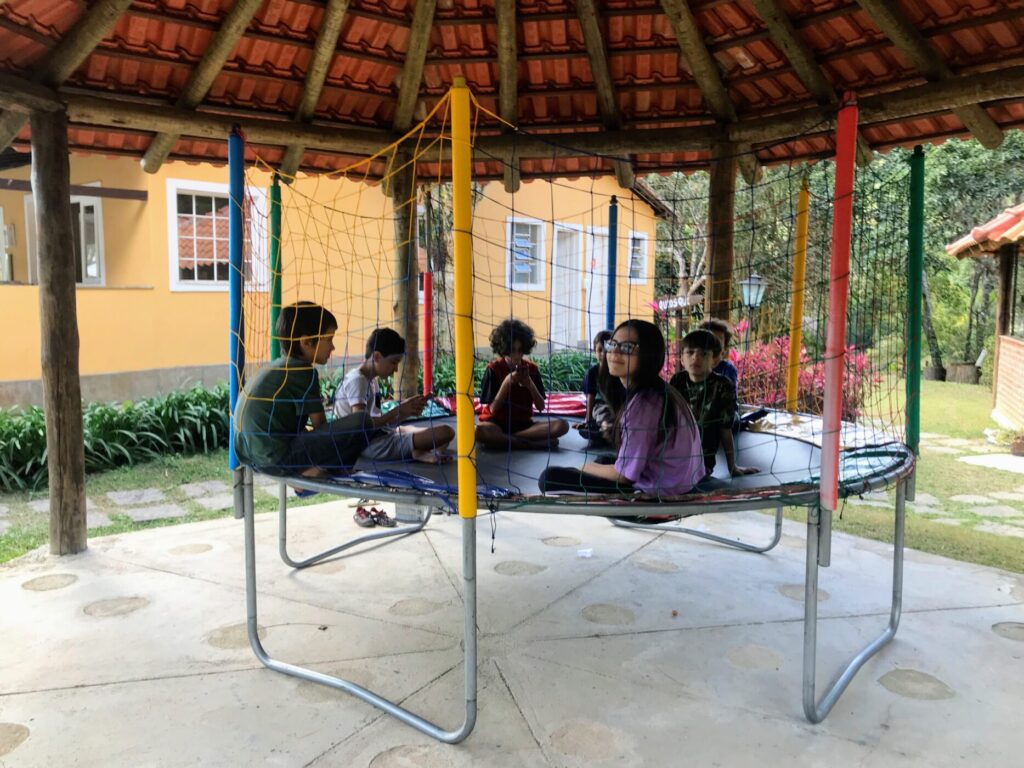 Where to Shop
If you plan to stay a while (and you should), you'll need groceries. It can be difficult to find all that you're looking for (things like cream cheese, real butter, and baking soda). But we found a few big stores that made finding things a bit easier.
Green Fruit supermarket is high end and a bit pricey. But it had a lot of the difficult-to-find items we were looking for and the products were all high-quality.
Regina Supermercados is large and had most of what we were looking for as well. It was more price-friendly than Green Fruit. As a bonus, it was a stone's throw from the Feira Agroecológica (organic farmer's market, open on Saturday mornings), making it easy to kill two birds with one stone.
Lojas Americanas is for every other random thing you need. This is the closest thing you'll get to an all-purpose store like Walmart or Dollar General in rural Brazil.
A Map of Recommendations
Eleven Child-Friendly Activities in Teresópolis
It is not hard to find things to do. You are surrounded by nature reserves, trails, rock formations, and waterfalls. I would encourage you to just click around on a map and find random destinations, or ask locals once you arrive.
But if your time is limited and you want to hit the highlights — or want to get our kid-friendly take — then read on.
1. Parc Magique Amusement Park
This is the only activity on this list we failed to do. But since this post is from the perspective of a family with kids, I couldn't fail to mention it. The condition for going was that our five-year-old stop sucking his thumb. That didn't happen, so we didn't go (we're such wonderful parents, I know). Anyway, our family isn't that into amusement parks, so no one was too put out.
From what I understand the park is small, but a fun way for a kid to spend half a day. Maybe you'll even succeed where we failed to use it as leverage to control improve your kids.
Here is a link to get you started: https://www.tripadvisor.com/Attraction_Review-g303509-d4818051-Reviews-Parc_Magique-Teresopolis_State_of_Rio_de_Janeiro.html
2. Finger of God
To see the Dedo de Deus (Finger of God), just drive to Teresópolis on a clear day. You can't miss it. There are several lookout points (mirantes) where you can take selfies or family photos. Again, hard to miss.
If you want more effort and drama leading up to the big reveal, take the Post Card Trail (Mirante Cartão Postal) in the national park. Our five- and eight-year-old boys did it with energy to spare. Our three-year-old, however, complained the entire way. It is a moderately difficult hike for kids due to length (about an hour each way) and the rugged incline. But totally doable and good for character development.
You access that trail at the Serra dos Órgãos Teresópolis Park Entrance (Sede Teresópolis).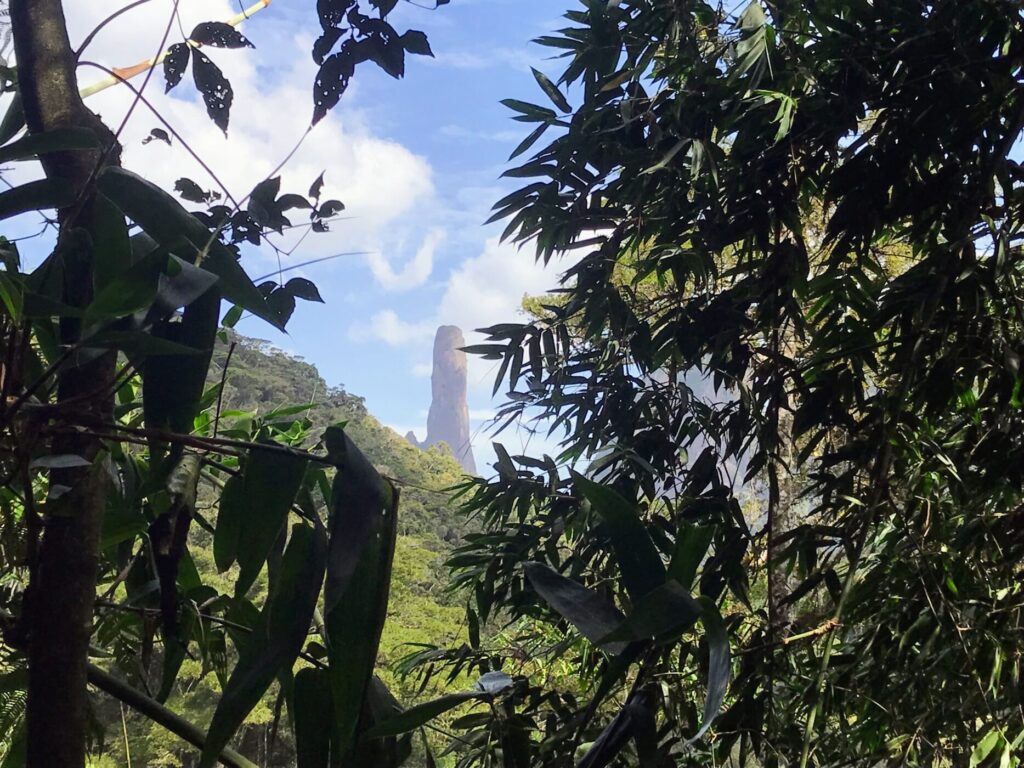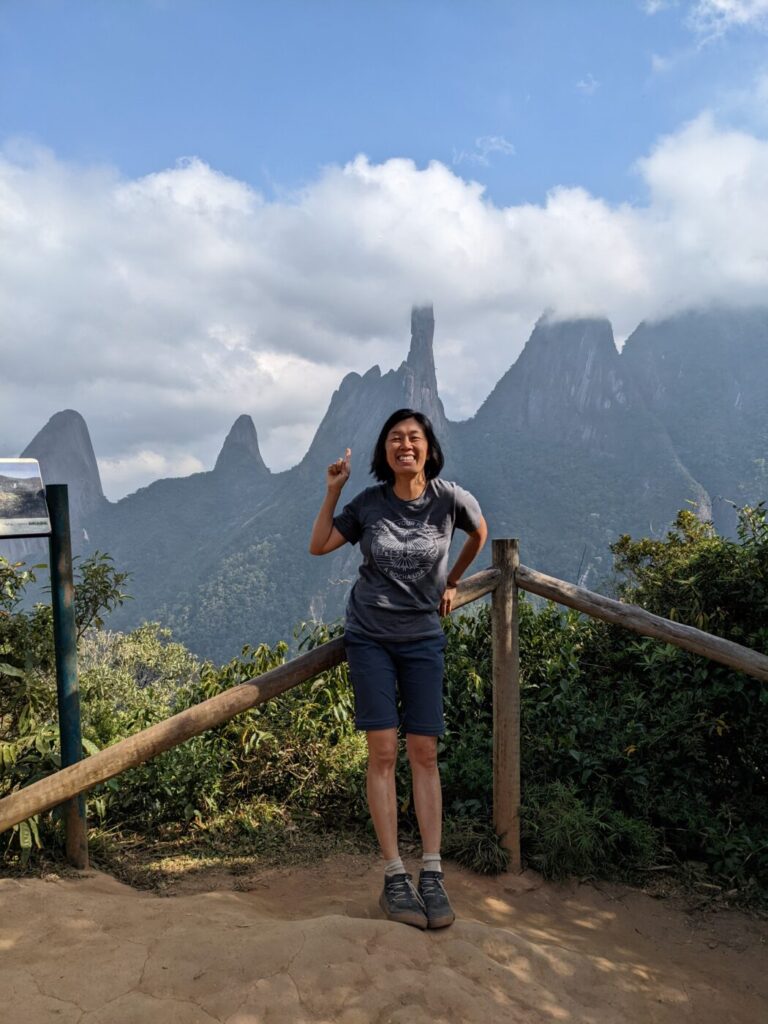 3. Parque Nacional da Serra dos Órgãos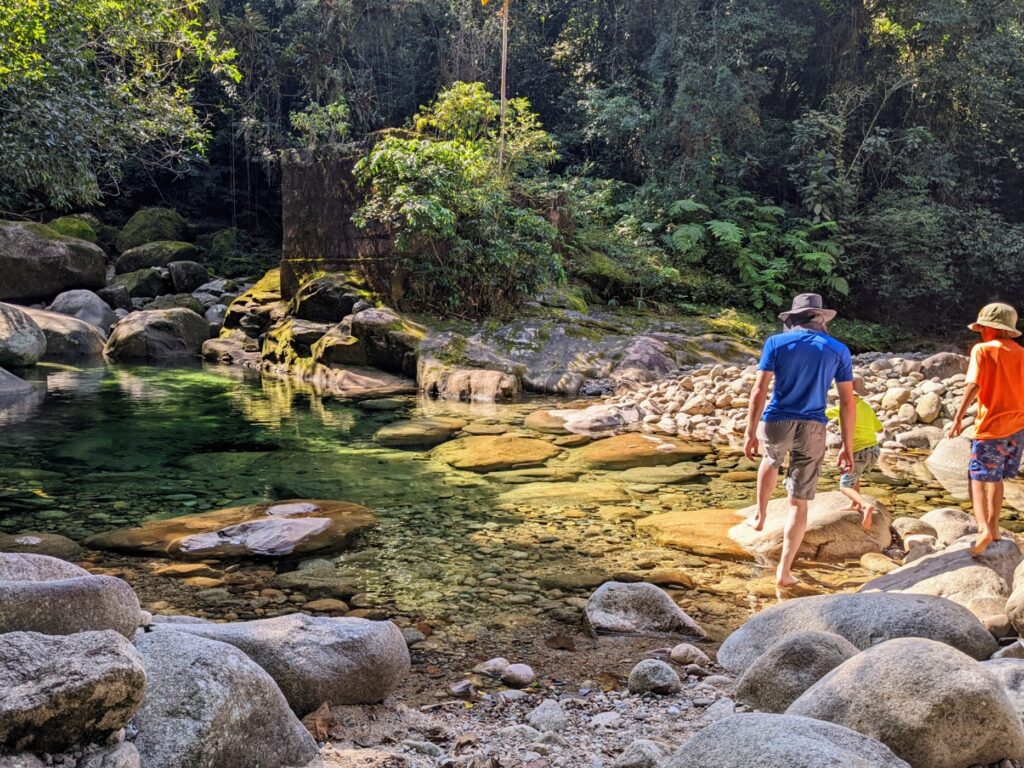 The national park is huge. It contains everything from small loops and roadside attractions to epic multi-day treks through the interior of the park. Clearly, if you have children in tow, you will choose the former. There are other sites where you can learn about the more epic treks.
Entrance is free. All they ask is that you register with a valid ID (they let me in with an Illinois driver's license).
Teresópolis Entrance
From Teresópolis, the simplest place to start is the Teresópolis Entrance. There is parking and an information center right at the gate. Nearby, there are beautiful picnic areas nestled in thick forest. Several trail heads originate there, including the aforementioned Mirante Cartão Postal, where you can get stunning view of the Dedo de Deus.
If you drive up farther into the park, the Trilha Suspensa is a flat boardwalk and a very easy trail for kids.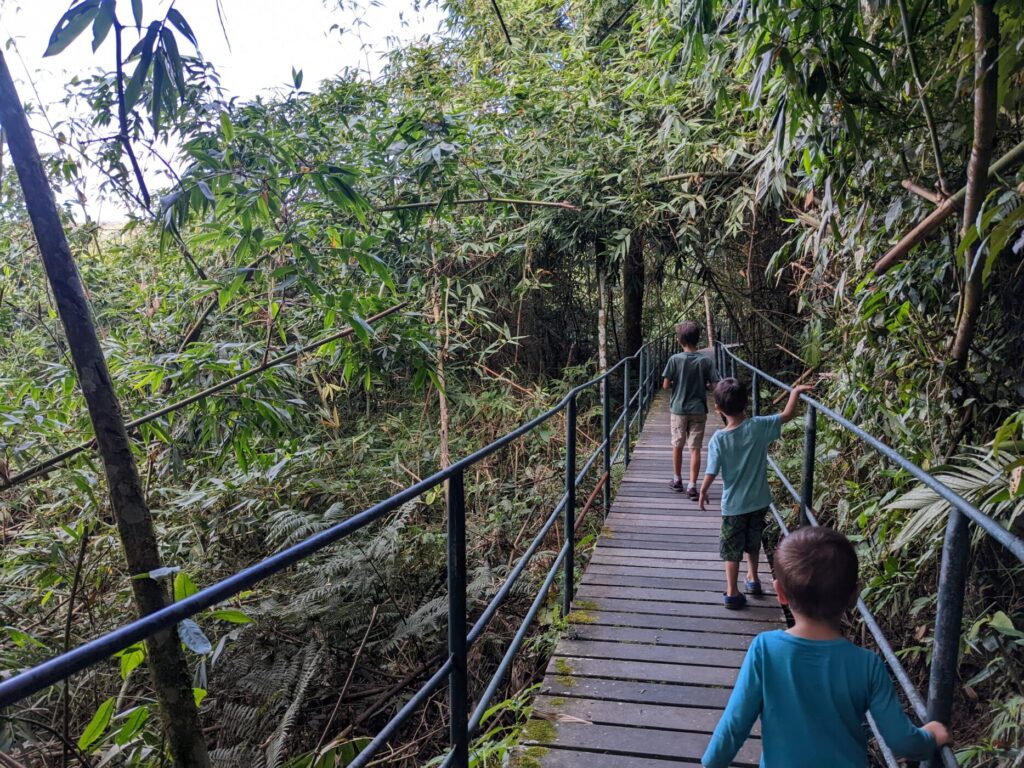 Guapimirim Entrance
If you've squeezed every ounce of juice out of the Teresópolis entrance and want more, the Guapimirim entrance is about half hour from town. Though it doesn't show it on GoogleMaps, the road continues in past the entrance gate toward the Soberbo River. Along the road, you can drive right up to picnic areas, river pools, and trail heads that take you a short distance to waterfalls and hidden pools.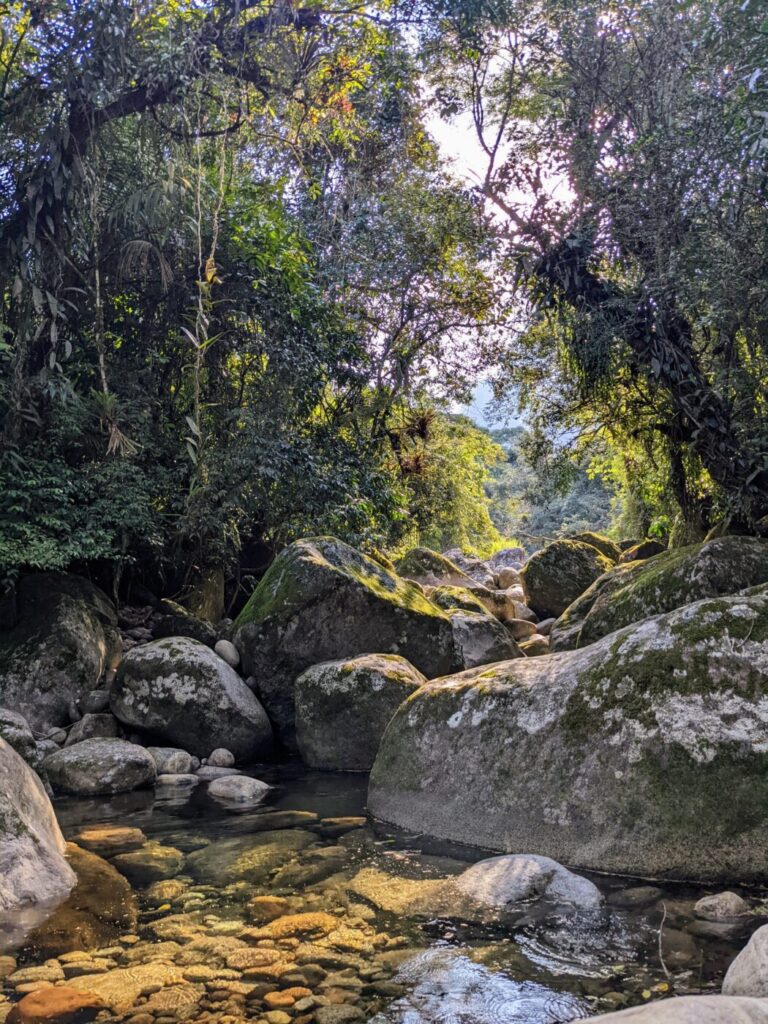 Here are a few helpful links:
4. Cachoeira dos Frades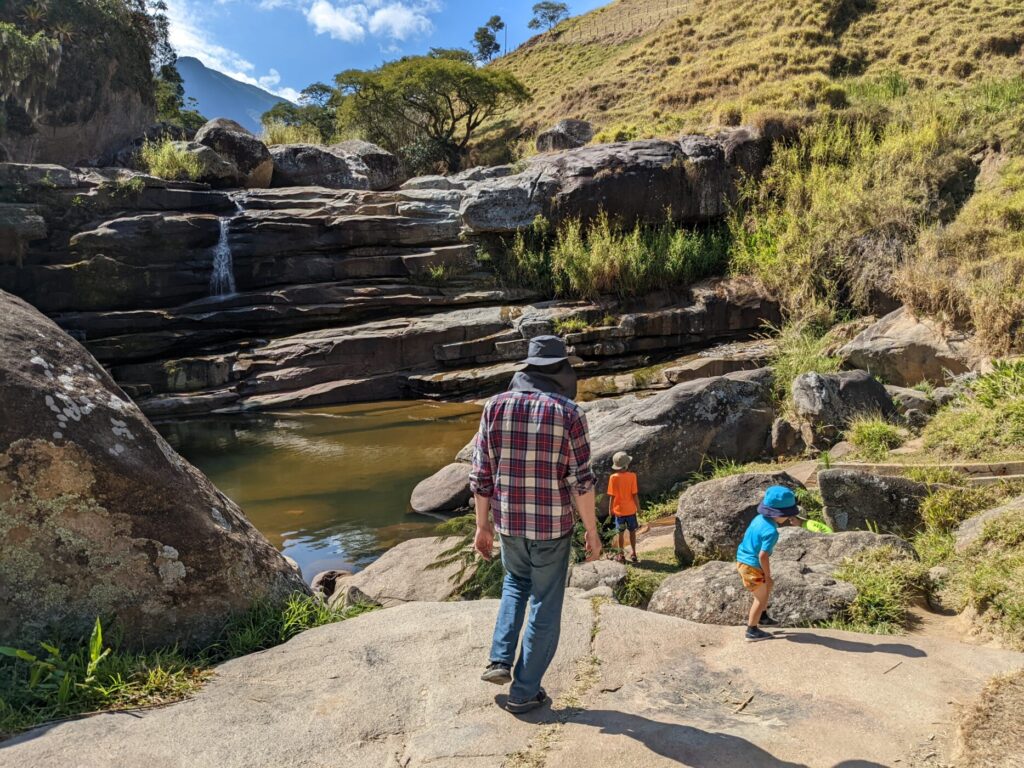 If there was ever a place that fit my image of paradise, this was it. There is no entrance fee or registration. Just drive up, park on the side of the road, and enjoy.
After seeing the waterfall, you can hike up beyond it and there are more natural pools and water slides.
If you continue driving into the valley, the views are amazing. There is a point where the road passes through an open gate that says private property, but it's ok to keep going (we were a bit confused on that point the first time). We were told that if you follow the road all the way to the end, you reach a trail head with views to Tres Picos.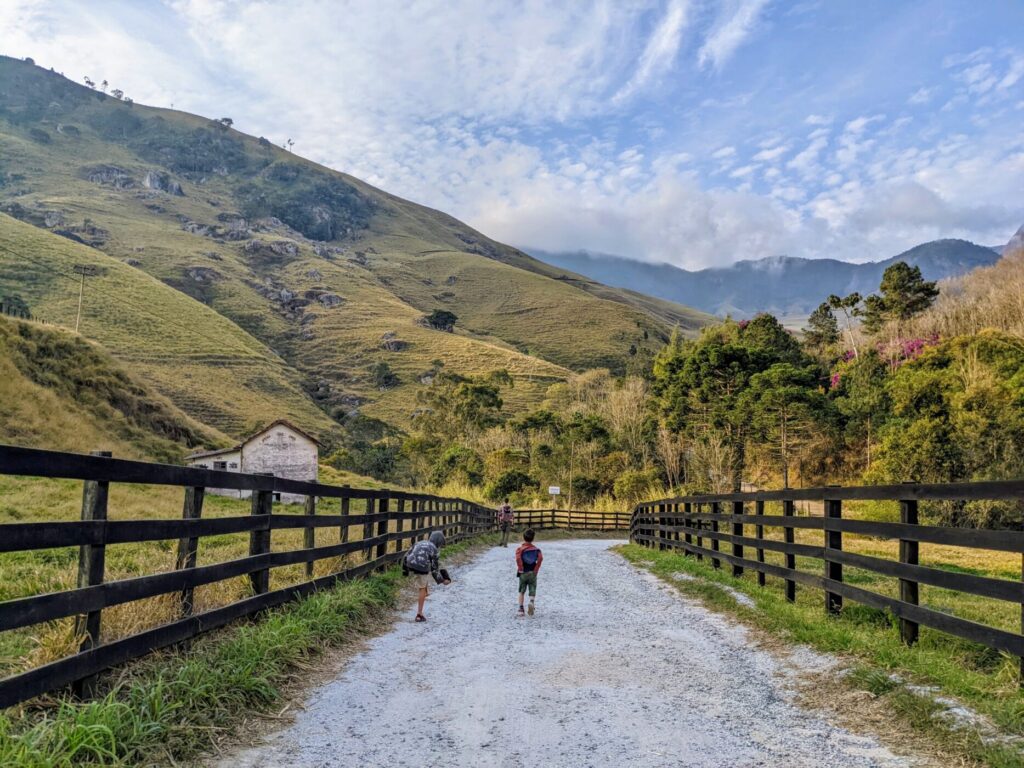 5. Museo do Futuro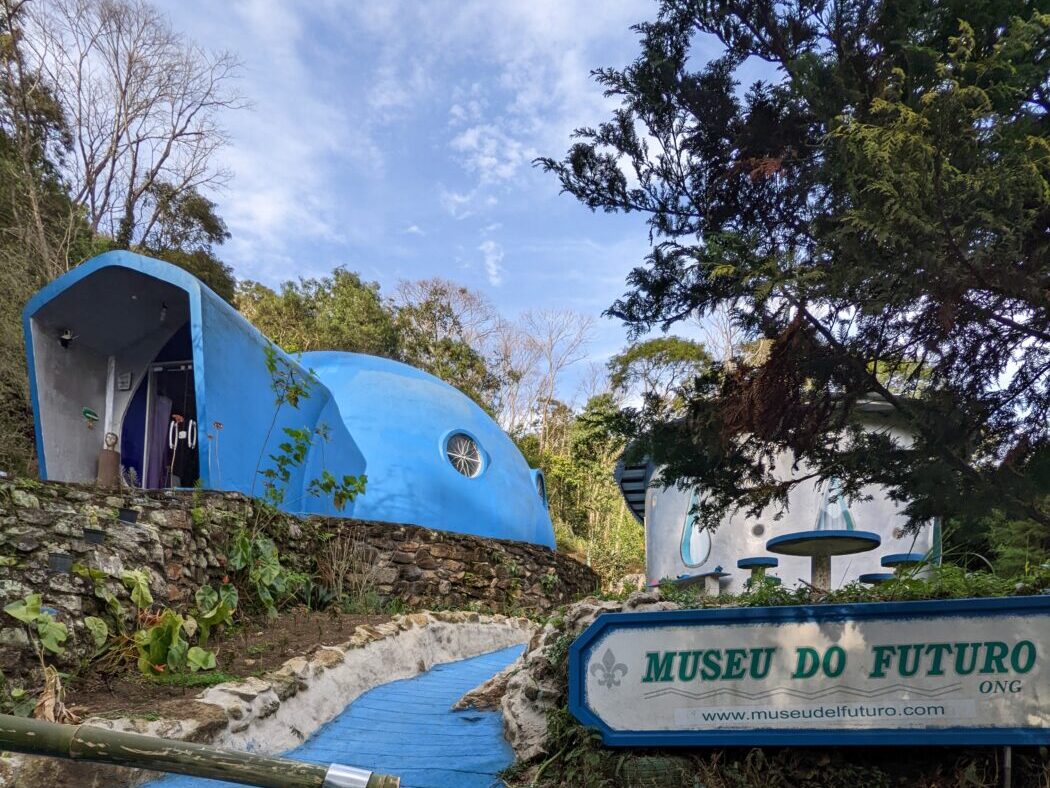 And while you're visiting Cachoeira dos Frades, if you're into New Age (or just want a delightfully weird experience), drive or walk up to Museu do Futuro. For a fee, you can get a tour of the facilities and learn about sound healing and various other alternative therapies that put you in touch with the universe's energies. Our host was Mukti, a sweet old man with a gentle persona. For me, it was good Portuguese listening practice.
It's also possible to stay overnight in their moon- or heart-shaped rooms. I don't think you'll find them on any booking sites, so you will need to contact them directly using the info on their website. The rooms are very basic, but the natural surroundings are out of this world. Massage, sound healing, and other therapies are available upon request. If you are looking for a one-of-a-kind, off-the-beaten-path, spiritual retreat within a short hike to a gorgeous waterfall, this place might be for you.
Their website: https://www.museudelfuturo.com/
6. Feirarte and the Big Magic Train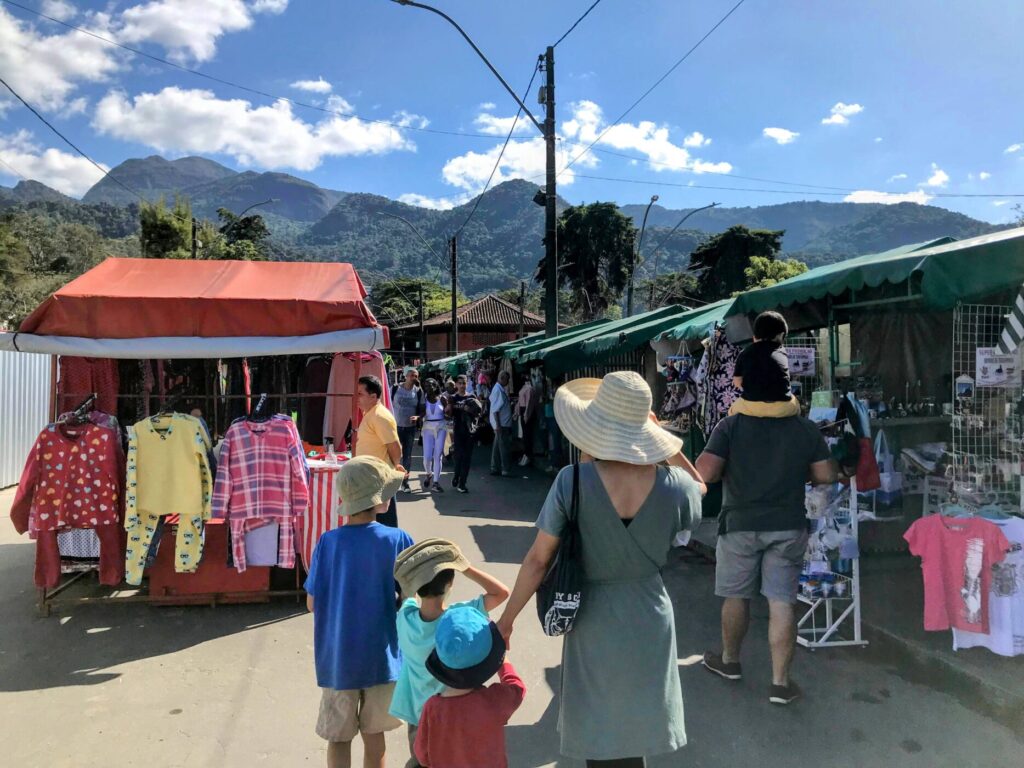 This is Teresópolis' huge outdoor market and fair. It's virtually required if you are a first time visitor.
Vendors sell everything from clothing to local treats. An outdoor food court serves very inexpensive mounds of barbequed meat. Zany impromptu shows feature dancing superheroes and cartoon characters. And don't forget one of the main attractions, the carnivalesque magic train that picks up riders near the food court and winds through Teresópolis blasting Brazilian hip hop.
The fair is open on Saturdays and Sundays starting at 10am. It is alternatively called Feirarte, A Ferinha, or Ferinha do Alto. They all refer to the same event (helpful when asking for directions or following road signs).
To us, it was all a bit too loud and crazy. The vendors and restaurant staff were aggressive in badgering passersby for business. But that's just us, and we're still glad we tried it.
Website: https://www.portaltere.com/tabfeirarte.html
Instagram: https://www.instagram.com/feirarte.teresopolis/
TripAdvisor: https://www.tripadvisor.com/Attraction_Review-g303509-d2425831-Reviews-Feirarte-Teresopolis_State_of_Rio_de_Janeiro.html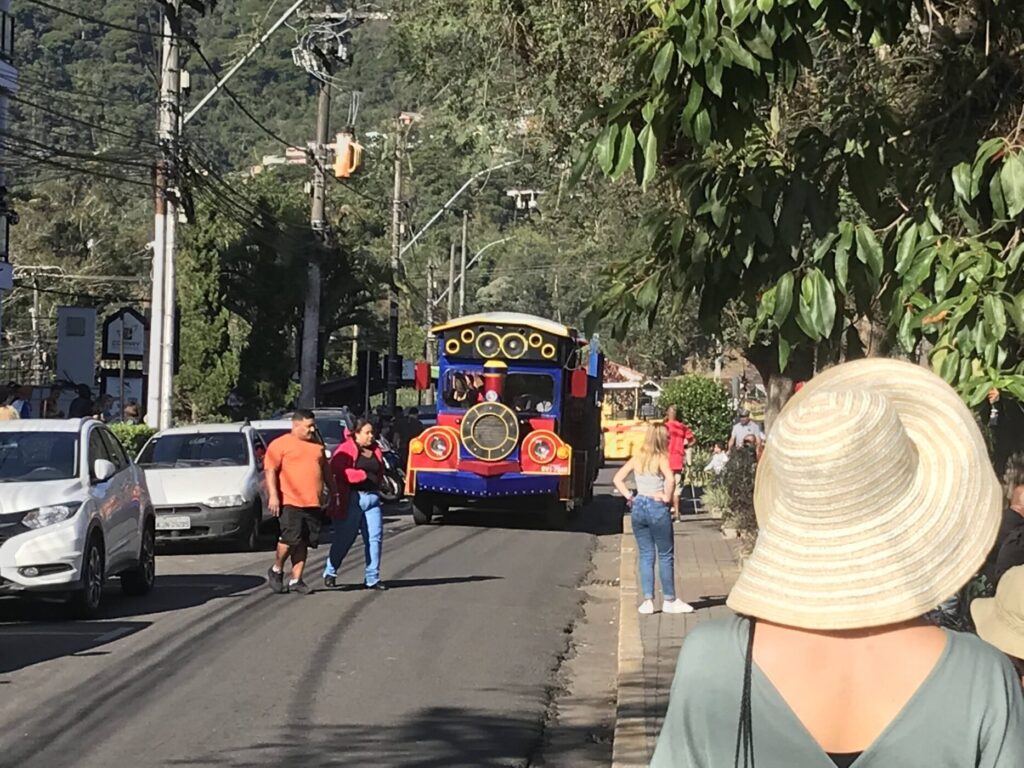 7. Organic Farmer's Market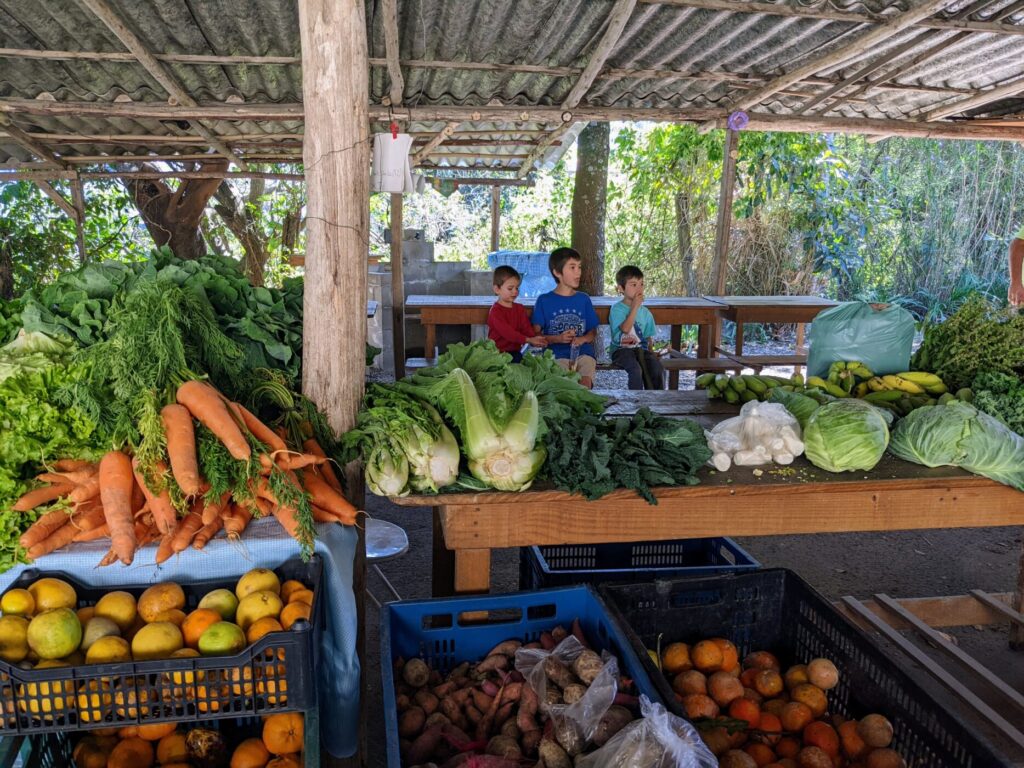 Not to be confused with the more well-known Feirarte or Ferinha do Alto, the Organic Farmer's market (A Feira Orgânica or Feira Agroecológica) is small and laid back. If you ask people on the street, as we did, they might think you mean the more popular Feirarte.
We loved this market and visited weekly. After the boisterous Feirarte, you might think this one a bit dull, depending on your tastes. To each their own.
This was a very pleasant place to shop, try local street food and meet people. Nobody pushed you to buy anything. A small playground allowed the boys to blow off some energy while Liuan browsed fresh veggies and chitchatted with the farmer ladies in Portuguese. They also had a live band, making the ambiance festive.
They run the market on Wednesdays and Saturdays from 8am to 1pm. But you should definitely go Saturday. It's pretty dead on Wednesdays.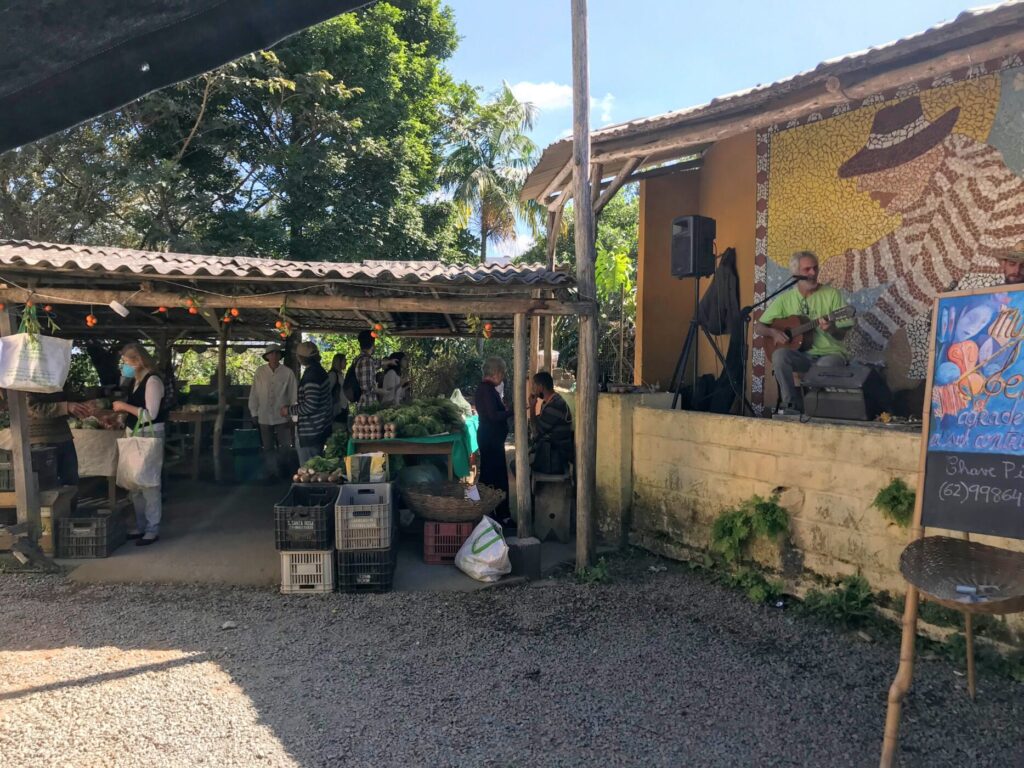 8. Lose Yourself On a Drive Through the Country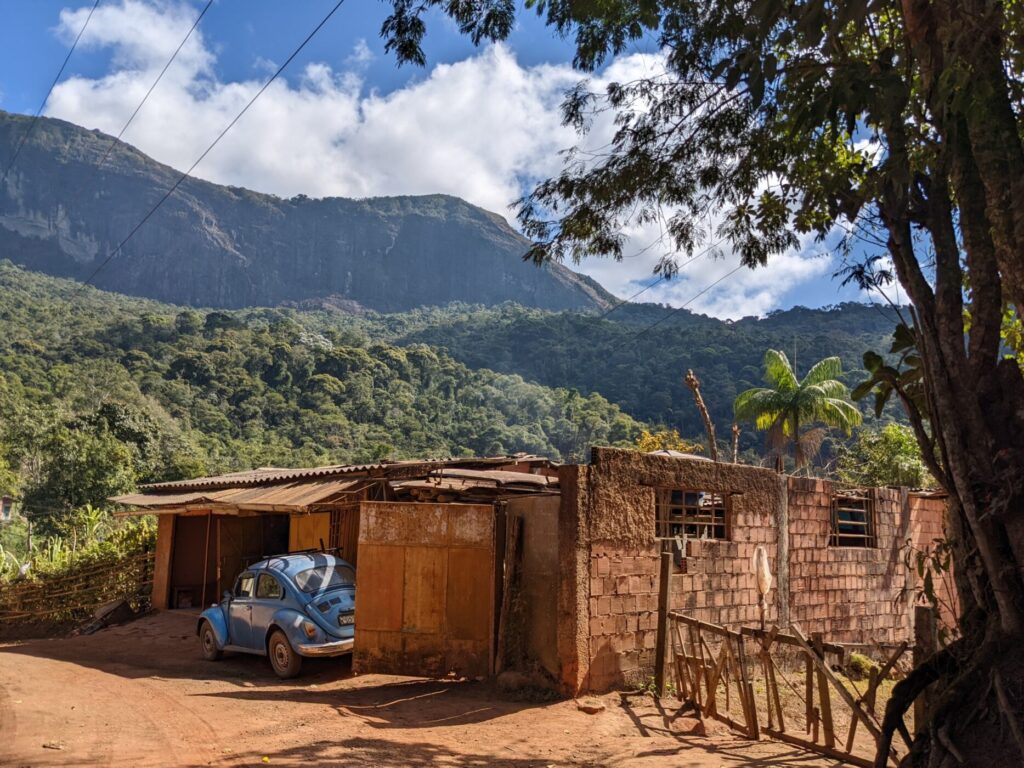 Who doesn't love a lazy drive through mountains and farmland?
If you set your navigation to one of the many supposed trails on Google Maps, your odds of actually finding it are no better than a coin flip. That's what we did the day we ended up driving through one of the most stunning and untrodden landscapes we had laid eyes on in Brazil.
We never found the trail we had intended to hike, Sete Torres. So we tried navigating toward another supposed trail. Before arriving at the point on the map, we parked our car on the side of the washed out dirt road. We thought it best not to push our little rented Fiat Mobi any further. We continued on foot for about an hour before we realized there was never going to be any trail. This local farm road was the trail. I ran back, got the car, and carefully drove up the mountain. My family was on the other side, where I had left them.
We set our navigation to a point back in town and continued on the path we had chosen. We wound our way down the mountain, every so often glimpsing the bucolic grazing land below. Every so often, we would encounter a friendly local on a motorcycle or tractor. This spontaneous driving tour was one of our most memorable days.
In case you want to follow in our footsteps, here's the route we took: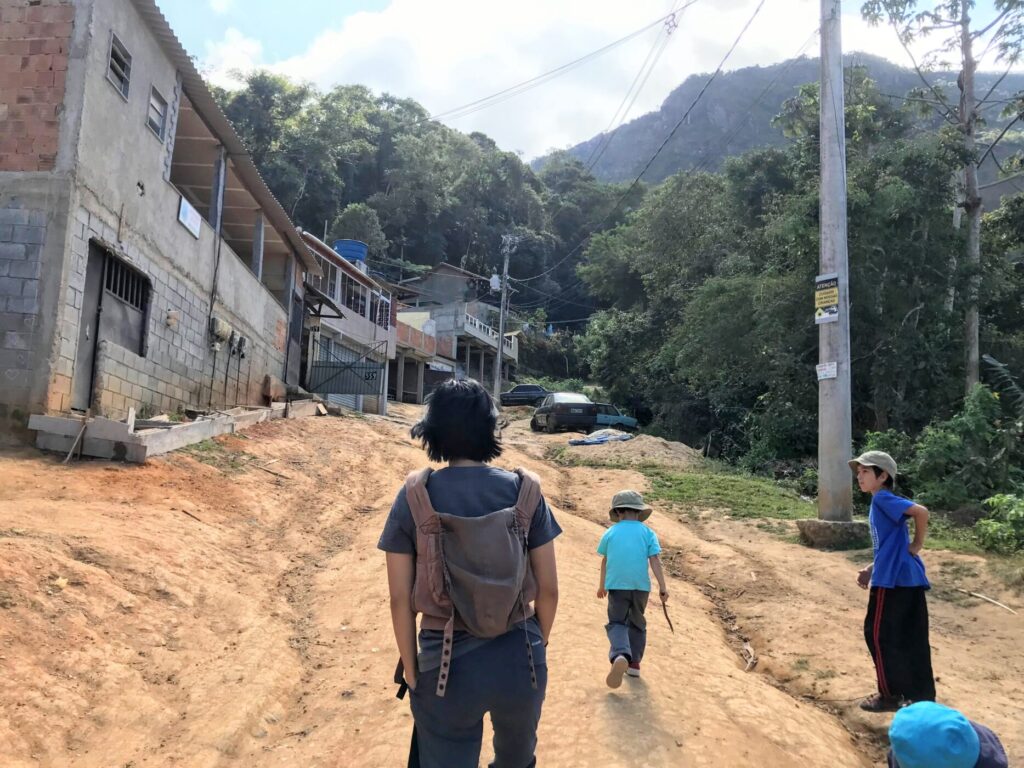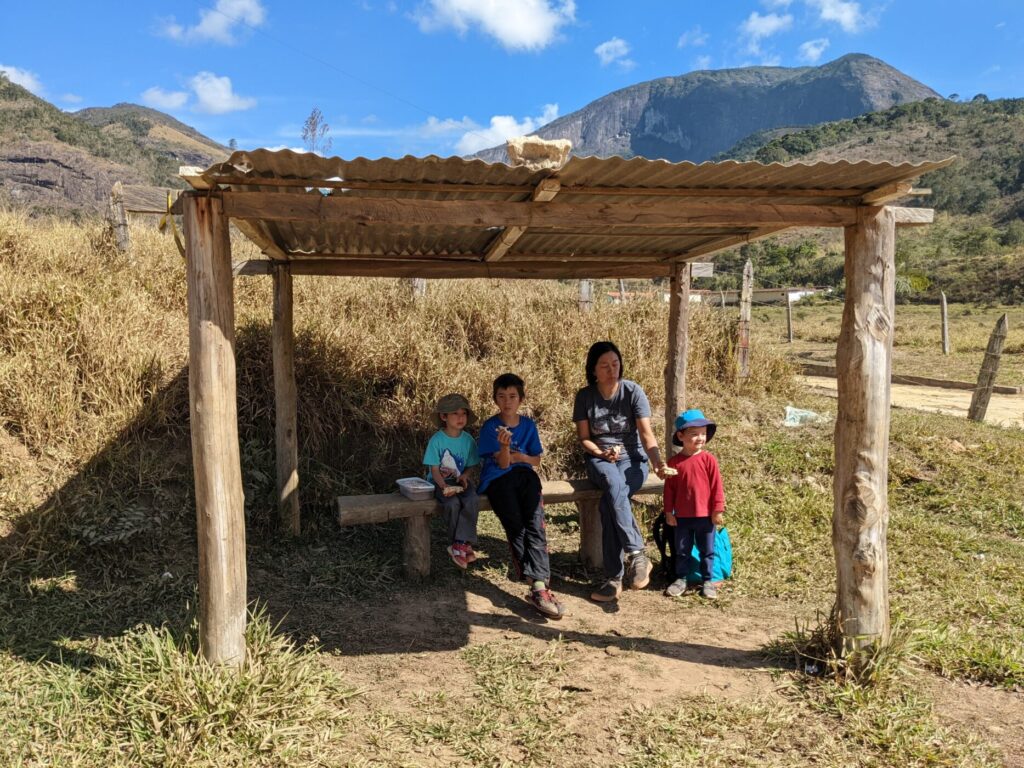 9. Pedra da Tartaruga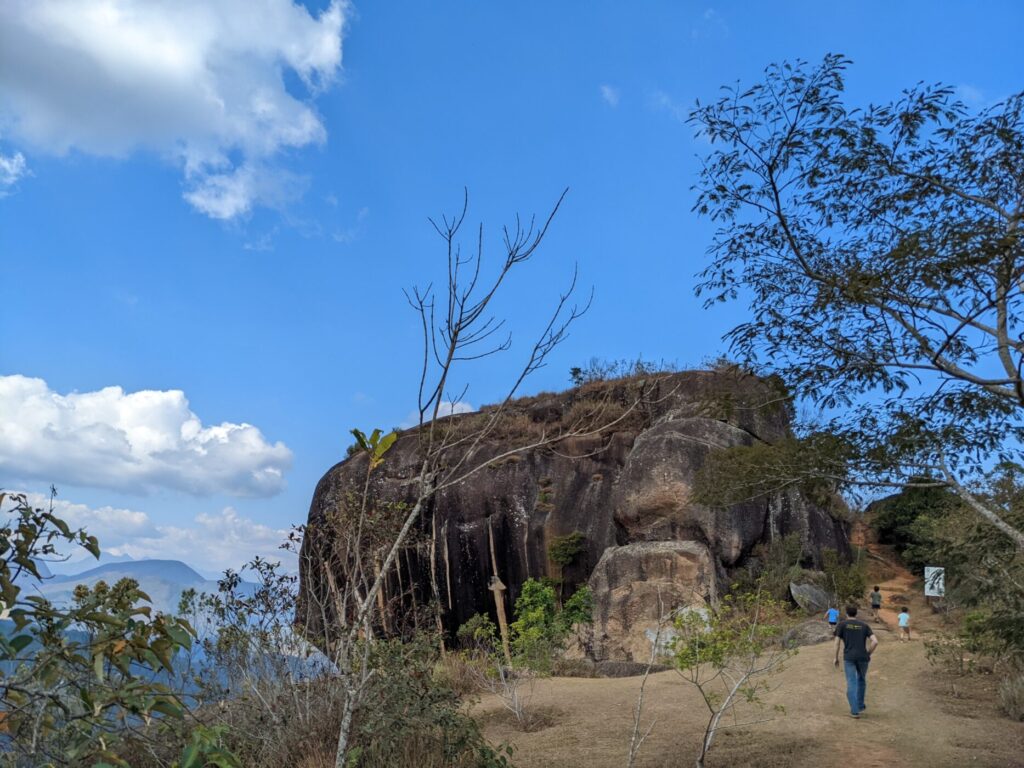 It's literally a huge turtle-shaped rock. Thus the name. The trail to get there goes up the side of a mountain, but it's relatively short and well-groomed. There is no fee, but you register at the entrance.
As far as I know, there is no parking lot. We just parked on the street below the entrance. Despite how overcrowded an attraction like this would be in the States, there were only a handful of hikers. When we got there, we were alone.
You can easily walk up to the top of the rock. Just be careful that the kids stay away from the edge! The views from on top are incredible.
If you continue along the path, you'll find a playground and some public bathrooms. With our three boys in tow, it was a perfect final stop to round out our visit.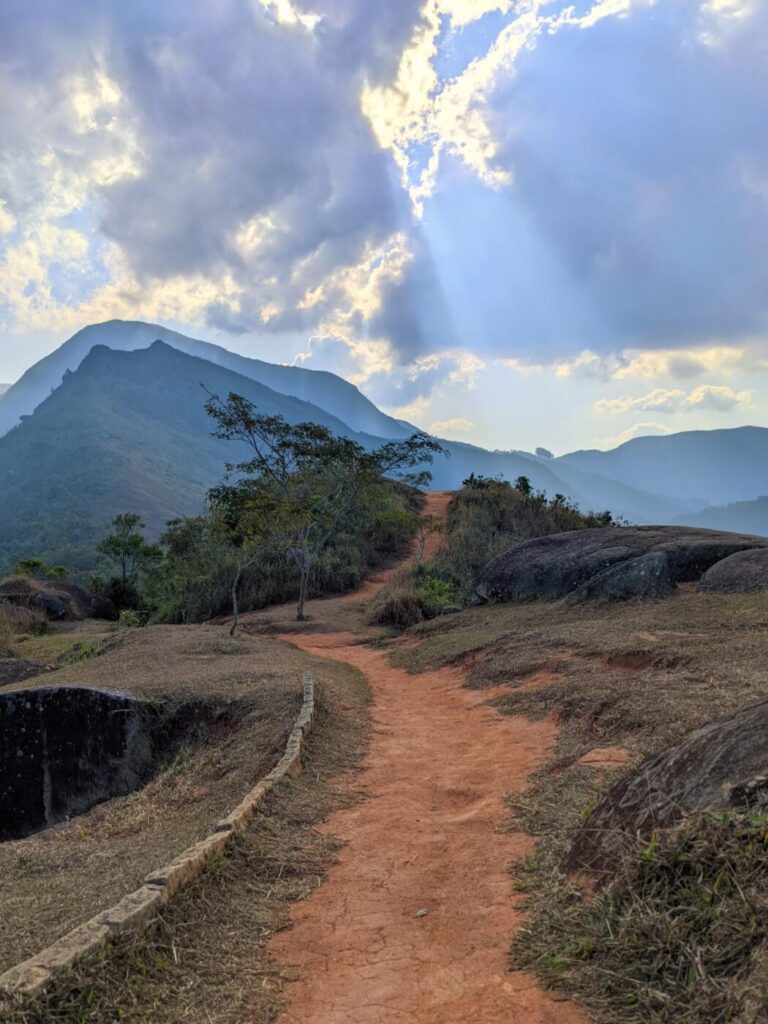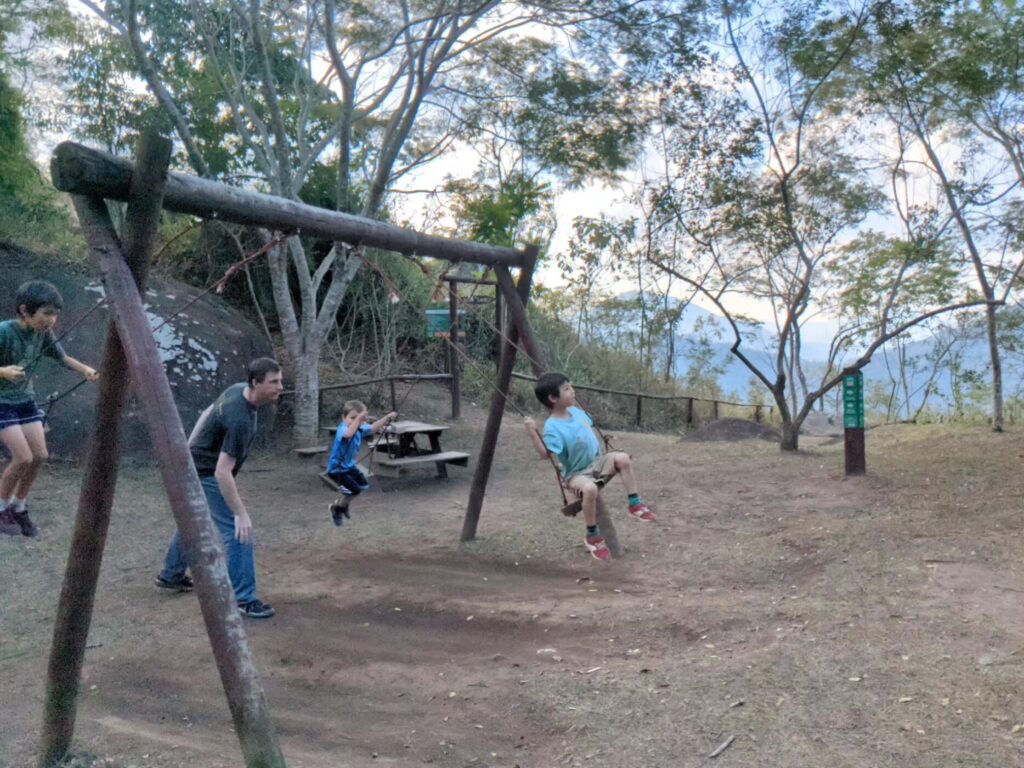 10. Take a Day Trip to Petropolis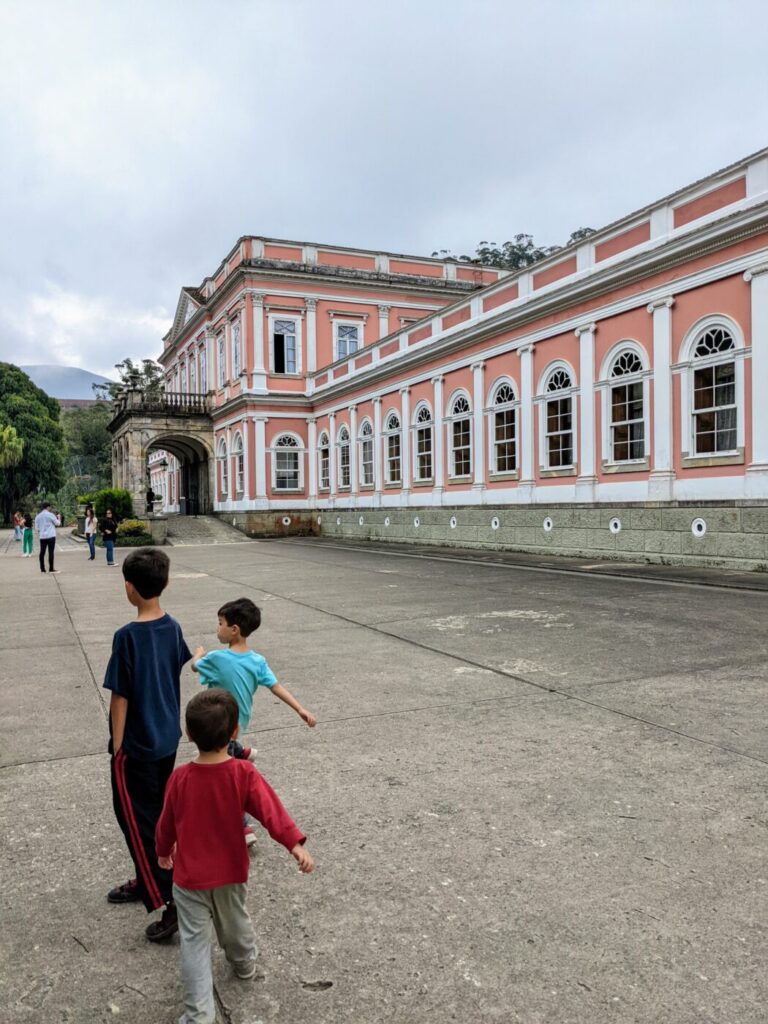 You will have to read someone else's blog to find out all there is to do in Petropolis because we only spent a morning there. The city lies on the other side of the Serra dos Órgãos national park and takes about an hour to drive. It is the other cute laid-back mountain town in this region.
We visited the Imperial Museum, which was home to the first emperor of Brazil, Dom Pedro I. That is how "Petropolis" got its name. It was named by the second emperor, Dom Pedro II. His wife was named Teresa Cristina. So you can guess where the name Teresópolis came from.
Brazil's political history can be difficult to grasp. Brazil gained its independence when the prince, Dom Pedro I, broke away from his father, who was the king of Portugal. And thus he became emperor of Brazil. That to me, sounds like one rebellious son gaining his independence, not a whole nation. But then, the second emperor, Dom Pedro II, was deposed, even though everyone liked him. After that, the country flipflopped between a dizzying series of military dictatorships and democratic regimes.
Frankly, the kids found it boring. But Liuan and I found it fascinating.
11. Visit an Ashram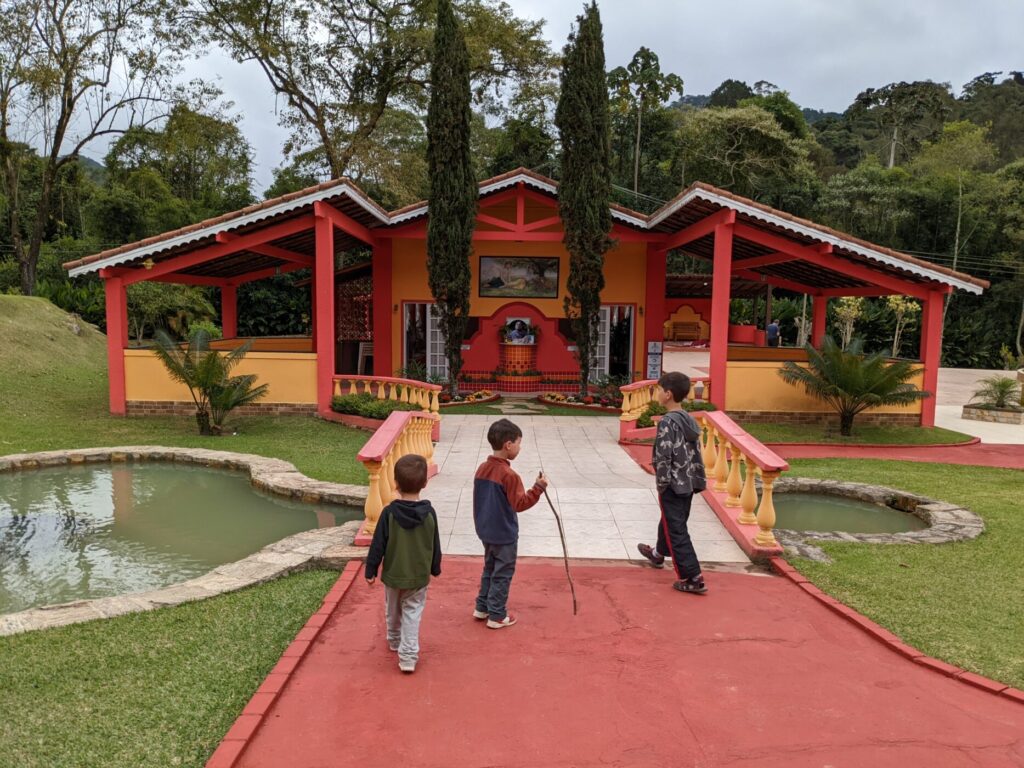 I would have never associated the mountains of rural Brazil with the Hindu religion, but there are two Hindu ashrams in the vicinity. And the both welcome visitors. We chose one that happened to be on the same rural road as our vacation rental, Ashram Vrajabhumi.
It felt a bit strange showing up just to look around, but the people there made us feel like welcome guests. They invited us to come back the next weekend for a big festival. And so we attended it. It was unexpectedly similar to a church service and picnic, adding in a little procession involving the priest plopping sweet syrupy doughballs in people's mouths along the way.