6 Colombian Coffee Tours, Rated For Kids' Enjoyment

In Colombia's Eje Cafetero, there are so many coffee tours to choose from. But which ones will engage the little ones? We took six different tours over the course of three visits to this region. Read on to see how we rated our experiences based on kids' enjoyment.
An Education in Coffee
The biggest mystery in the world stares you in the face every morning. That's right. It is in the cup of black goodness that warms your hands and lips, covers your tongue with complex notes of flavor, and puts you in just the right mood to dominate that never-ending to-do list.
Despite being addicted to the stuff, most of us know very little about its cultivation, fermentation, drying or preparation. If you are like me, you may have thought that the beans came straight from the tree already dark brown and smelling like heaven.
That's why, if you ever have the privilege to travel to Colombia (and yes, it's a privilege despite what you may have heard), touring the Eje Cafetero is a must. Here you will learn about things you never knew you never knew. (And never knew you would ever care to know.)
We are currently homeschooling our three boys on our family sabbatical. We wanted them to learn about this important worldwide industry. In the process of touring these coffee farms, our kids learned and got hands-on experience in agriculture, economics, culture, social trends, and the processing of our favorite drink from deep red coffee cherry to sublimely scented coffee grounds. Now that's worldschooling!
Every tour had its own personality and taught us something fresh. But a few of them stood out for how well they engaged our little boys (four, six and nine years old).
Our "Kids' Enjoyment Ratings" are on a scale from one to ten, ten being the most beloved by the kids. I put the kids' favorites right up at the top of the list.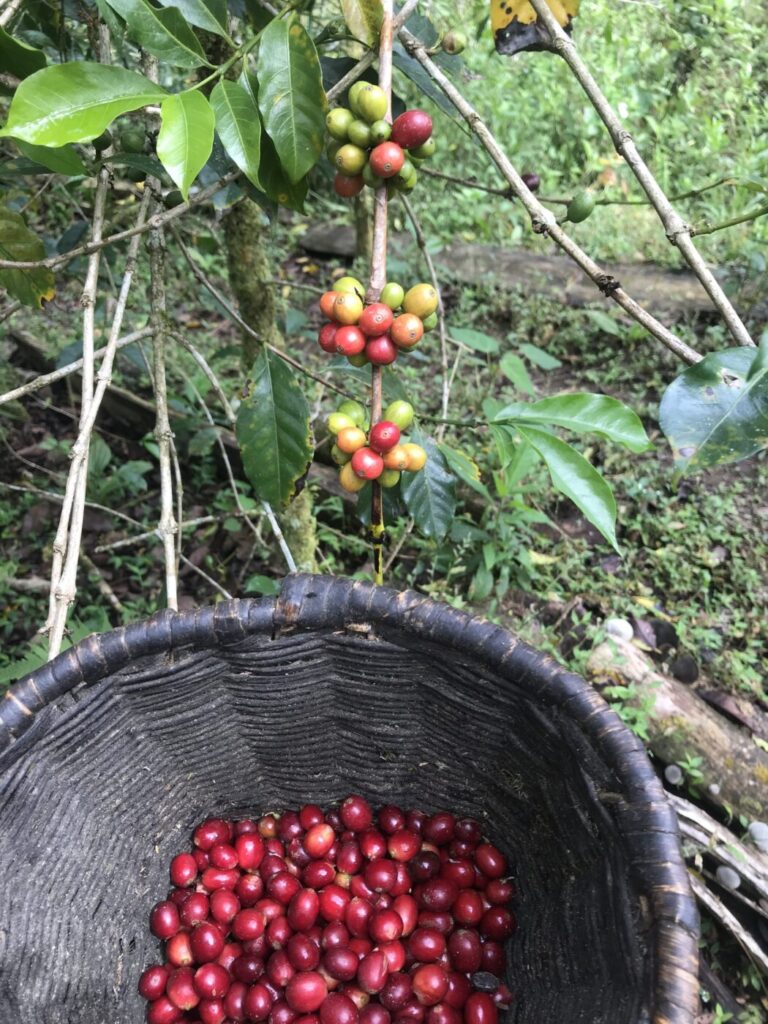 Table of Contents
1. WakeCup Coffee Tour
Location: Pijao
Cost: $$$$$
Duration: 6 hours
Kids' Enjoyment Rating: 10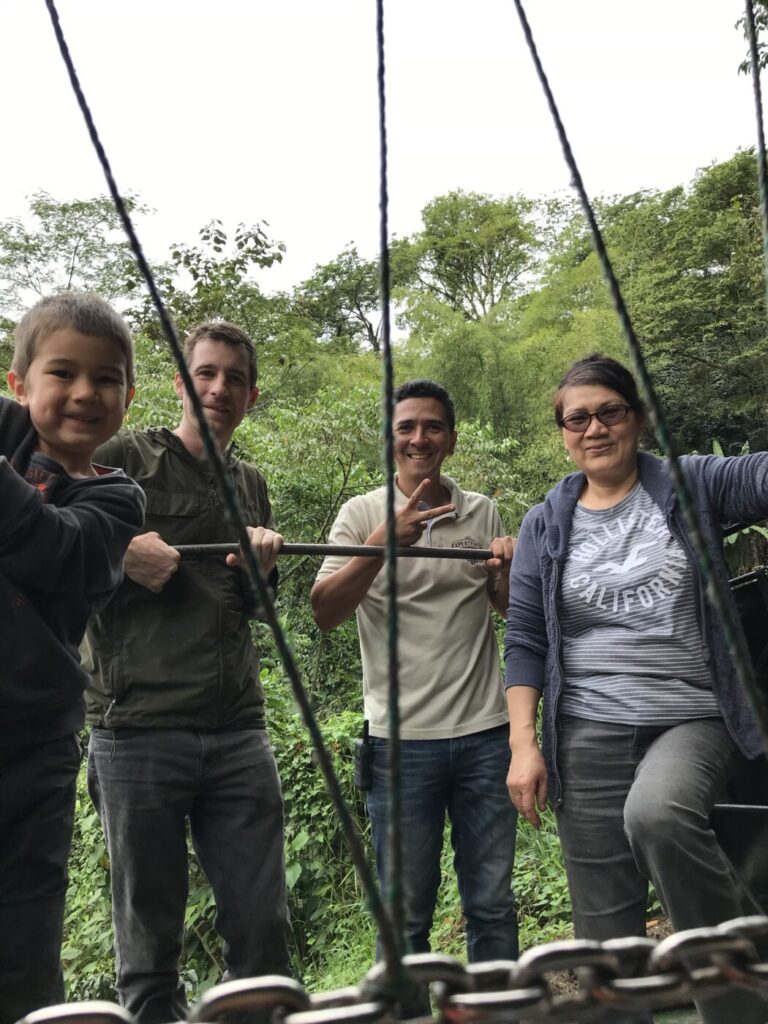 This tour was the most comprehensive, longest, and most expensive of all the tours we took. It was also the very best, in my opinion.
It started out in the quaint mountain town of Pijao. We rode on the back of a jeep. It was a long, but beautiful and pleasant, ride over a dirt road to the coffee plantation. There we got up on the roof where Don Leo dried his beans. He showed how high-end coffee gets sorted and processed.
Every step of the way was interactive and kept the little ones' attention. They sorted beans. Cranked the peeler. Stood on the roof. Tasted the coffee.
We ate a typical lunch. They offered a drink that combined coffee and passion fruit. It was the most delicious thing I ever tasted. I've never been able to reproduce it, despite many earnest attempts.
For the last part of the tour, we rode back into town in our jeep. Our guide walked us around the city. We visited the collective that buys the local coffee and exports it. Our final stop was La Floresta coffee shop for coffee preparation and tasting. It's where I learned how to use a Chemex.
We took this tour in 2019 when our oldest boys were two and five. Our oldest boy's favorite parts were: standing on the tail of a moving jeep, getting up on the roof, getting to do something at every stage of the process, and tasting the superbly prepared coffee at the end.
2. Divisa de Don Juan
Location: Pereira
Cost: $$
Duration: 3 hours
Kids' Enjoyment Rating: 10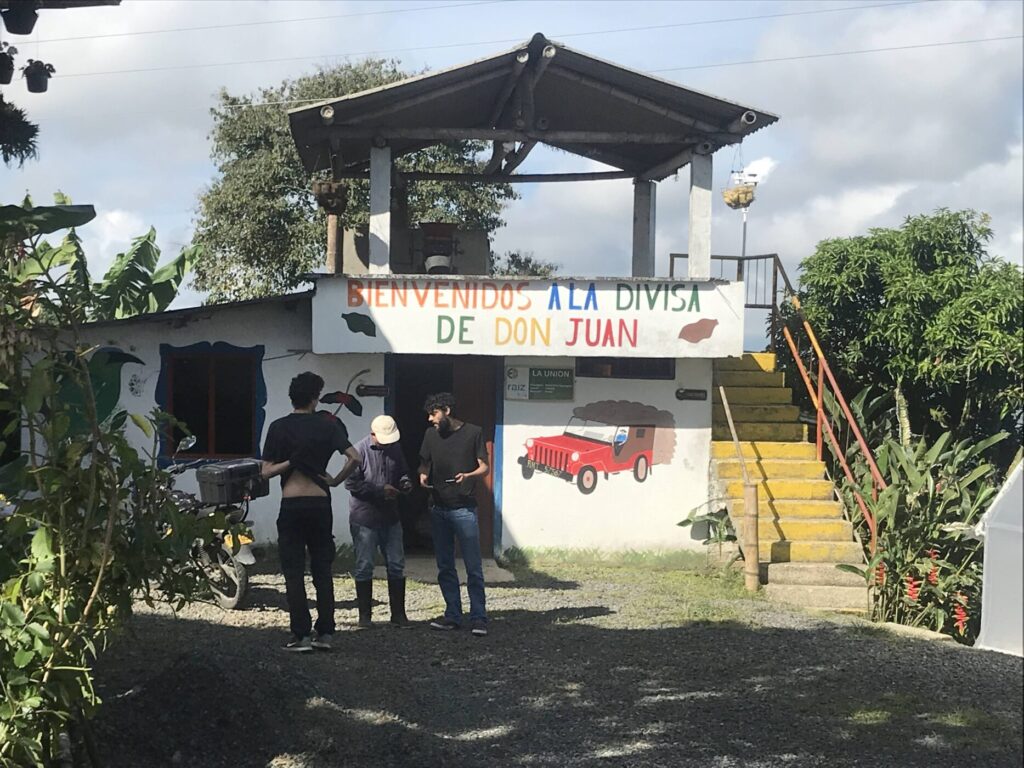 First of all, they started right off arming us with hats, ponchos and baskets. What kid doesn't get enthused when they get to dress the part?
The tour was interactive the whole way through. Our tour guide did an excellent job of including the kids at every stage. The boys each planted a seedling. Even the adults got to work a shovel and plant a tree that was ready to go in the ground.
The farm and tour are operated by a Colombian family with a lot of history on the land. Our whole family came away glowing from the experience.
They were a little hard to find since they don't have their own website. I found them on GoogleMaps (and also provided a link to their TripAdvisor page). We messaged them on WhatsApp to reserve our tour and nail down prices. l saw others show up unannounced. That seemed to work too.
The experience was all around great and the prices very reasonable. If you are ever anywhere near Pereira, don't miss this tour.
3. Finca el Ocaso
Location: Salento
Cost: $$
Duration: 1.5 hours
Kids' Enjoyment Rating: 9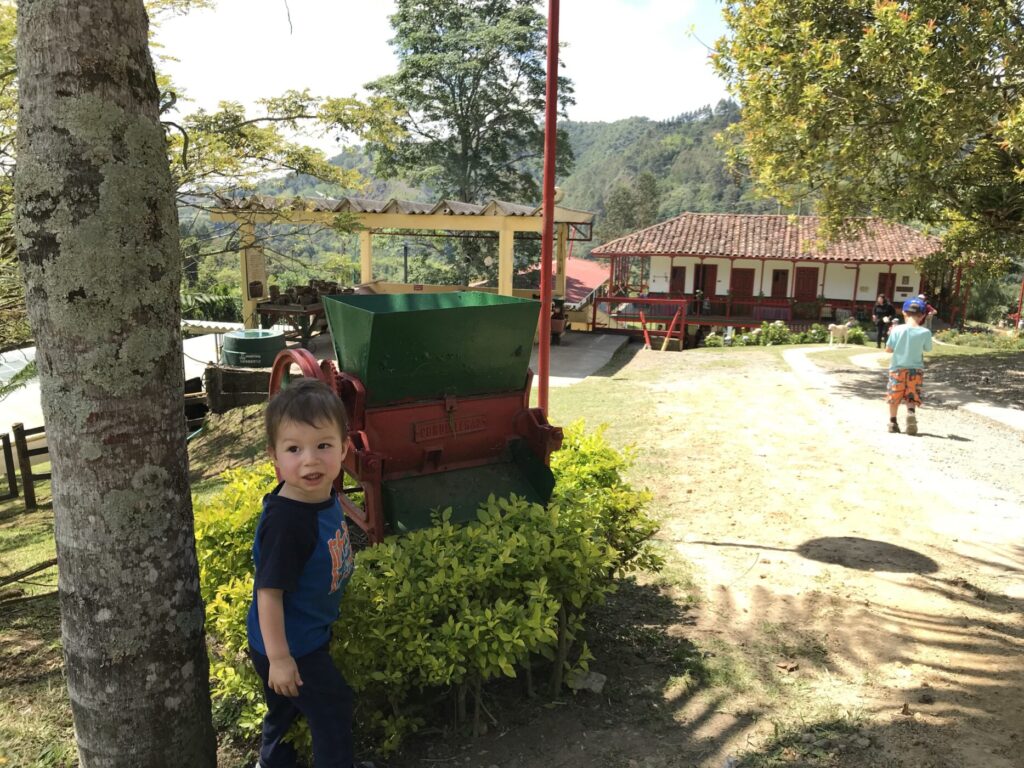 If you are staying in or near Salento, I recommend this tour if you have little kids. It was one their favorites.
The tour is interactive. The children have opportunities to get involved. They picked ripe coffee cherries, got to crank the peeling machine (again), and took part in the coffee prep demonstration.
Unlike some of the others, this is not a small family operation. It's a touristic enterprise with lodging, a gift store, and a specialty coffee shop. They also grow and produce great coffee.
You can get to Finca El Ocaso by taking one of the jeeps from the main plaza in Salento. We've also walked. It's a long walk, but with stunning views the whole way. To return, jeeps come by the farm every hour to pick up passengers on the way back to town.
You can reserve through their website. We didn't reserve. It's fine as long as you arrive before their set tour time (see the website).
4. Las Acacias Coffee Farm
Location: Salento
Cost: $
Duration: 1 hour
Kids' Enjoyment Rating: 5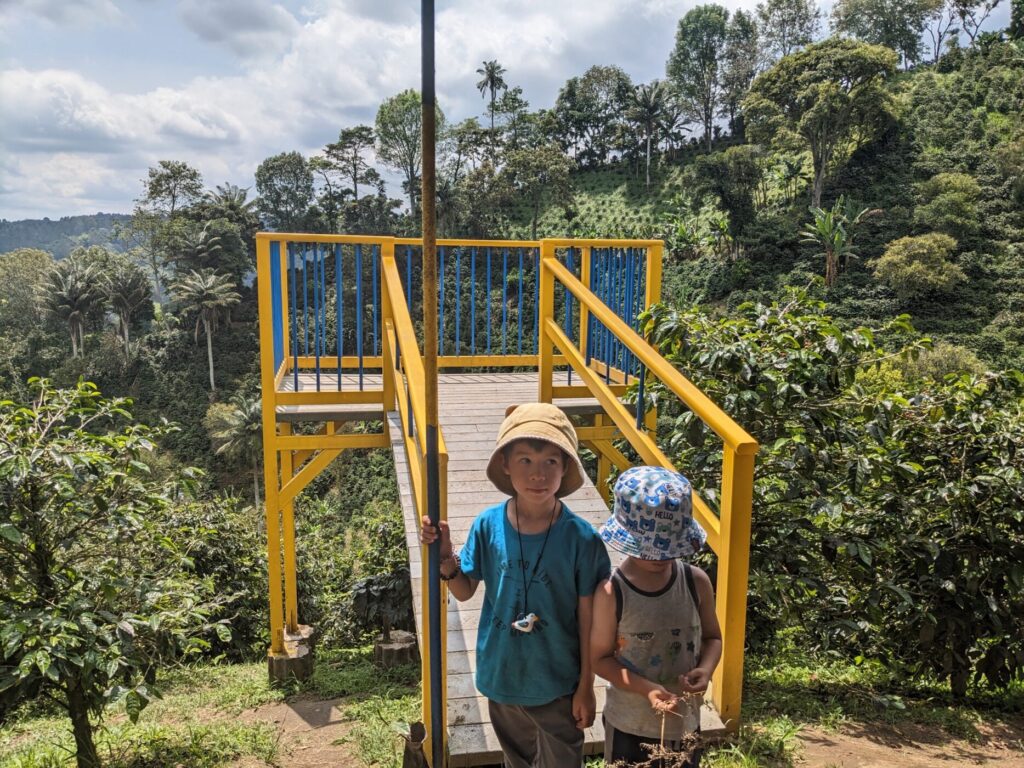 The tour at Las Acacias is one of the shorter and least expensive tours we tried. It is owned and run by a local Colombian family.
The tour guide walked us around the farm and explained everything we passed by. At the end we each got a cup of complimentary coffee, which we drank while overlooking their beautiful farm.
Our boys were a bit less engaged on this tour. It was mostly walking and listening, and not too much for them to do but march and be quiet. The parents found the tour interesting and the property charming.
This is a good tour to take if you are looking for something short, basic and inexpensive.
5. Don Elias Coffee Tour
Location: Salento
Duration: 1 hour
Cost: $
Kids' Enjoyment Rating: 5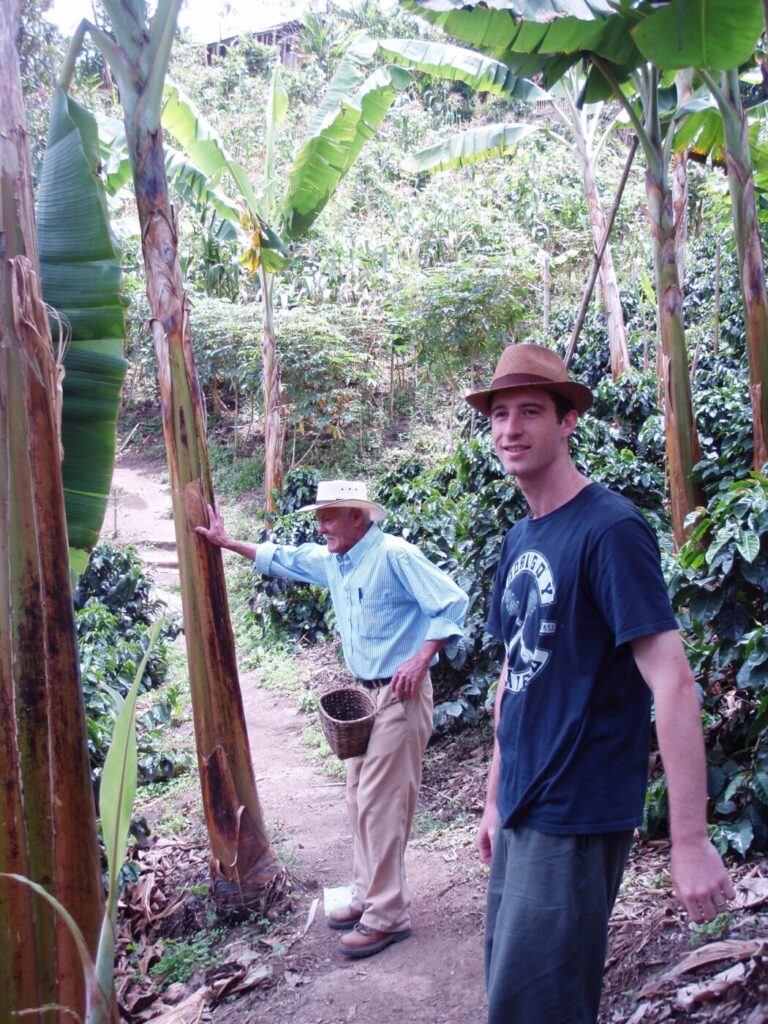 We visited this family run coffee farm before our first sone was born, so I can only guess what the kids would have thought of it. This was our first coffee tour, and we loved it. Given that the kids don't follow Spanish as well and the tour wasn't as interactive as some of the others, I can imagine they might not have been as engaged.
Back when we took the tour (ten years ago), Don Elias himself gave the tour. Nowadays, I've read in other blog posts and reviews that his grandson gives the tour. He walked us around the farm and showed us where the coffee was fermented and dried. I remember learning about how shade improves the quality of the beans by slowing down its growth.
At Don Elias, you'll learn about the operations of a small-time family coffee farm. The tour is entirely in Spanish, so you will need to have some proficiency.
Getting there from Salento involves a long walk, or taking one of the jeeps in the main plaza. For this tour, it's perfectly fine to just drop by.
6. Momota Coffee Lab
Location: Salento
Cost: $$$
Duration: 3 hours
Kids' Enjoyment Rating: 3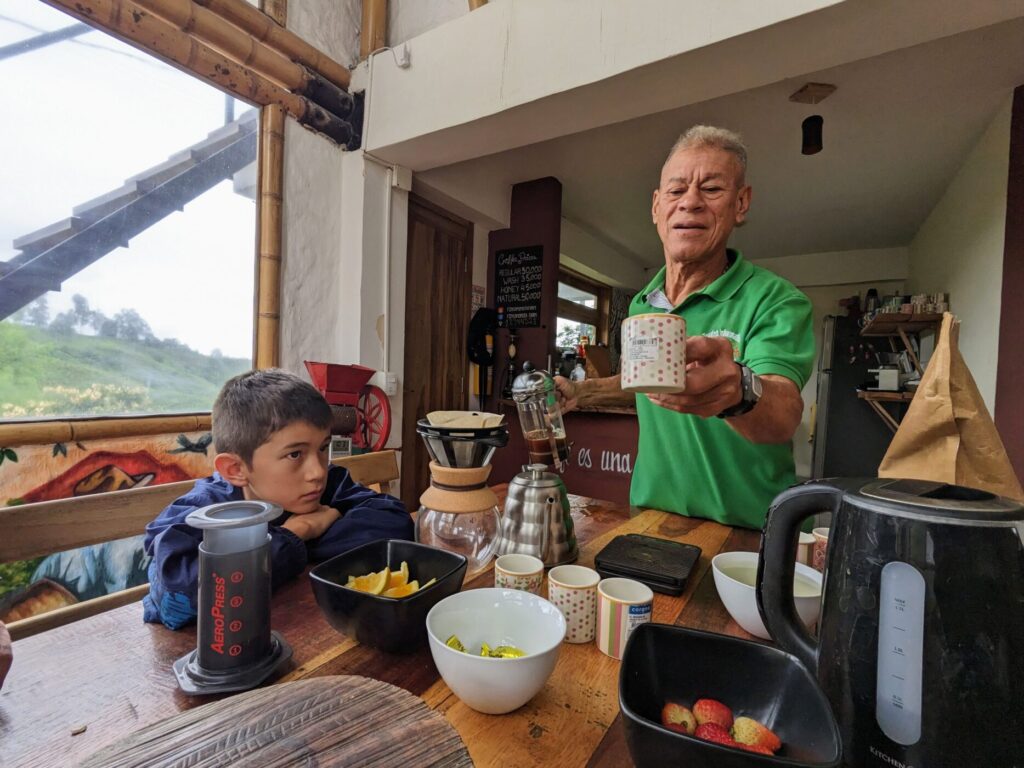 The Momota tour was heavily weighted toward the history, economics and social aspects of coffee cultivation. Most of the tour was spent sitting around the table and listening to our guide lecture on different topics related to coffee. It was quite a bit more freewheeling than the description of the tour on the website would lead you to believe.
All the same, it was interesting. We enjoyed learning about the local tourist economy and the fact that farm labor is getting more scarce due to low wages and young people chasing better opportunities. It was also this coffee tour that we learned why Salento seemed so dead this time around (this was our third visit and we expected it to be even more crowded with tourists). Liuan and I like to glean inside cultural knowledge, and this was the perfect opportunity to ply our loquacious guide with questions.
At the tail end of the tour, there was a coffee tasting and a short walk around the farm.
The kids were mostly bored at this one. They had to sit through hours of lecture in Spanish. The owner of the farm was very kind, though. Sensing their boredom, he took the boys over to the archery area and showed them how to shot a bow and arrow (the farm offers paid tours for this activity too). That at least gave them a moment of excitement.
I would recommend this one for adults only. This experience will be enjoyable for anyone who would rather have a relaxing chat around a table with a cup of coffee than a long grueling hike through a coffee plantation.
Also, note that on the website there is another 3-hour tour that is half the price. We opted for the more expensive one thinking it would include some special elements, like learning about different methods of fermentation. But we think that the new owners kept the old owners' tour options and descriptions without having quite figured out how to differentiate these two three-hour tours themselves. I'm guessing if you went for the cheaper 3-hour tour you might get the same thing.
How Many Coffee Tours is Enough?
After our sixth coffee tour, we were all burned out. We had joked that we were going to do a coffee tour every other day while visiting Colombia on our year in South America. There were enough tours out there that we could have done it. But at some point you end up receiving a lot of redundant information.
To be honest, all of the tours were good. There were plenty other tours we passed up that were probably also good. It's pretty hard to screw up a tour that consists of wandering rows of coffee bushes while looking out over breathtaking vistas of bucolic mountain valleys — and then capping it off with a gourmet cup of coffee.
While each new tour taught us something new, six tours felt a bit over the top. One or two will suffice for the typical tourist.
Have you taken any coffee tours we didn't mention? Let us know what you thought in the comments!