Back to School Q&A with Our Worldschoolers

If we were at home in West Chicago, our kids would be starting Kindergarten and 3rd grade at our local dual-language elementary school this week. Instead, we're in Brazil homeschooling while we travel around the South American continent for a year. Today on our blog, they reflect on their new school life.
If you were to tell a friend, how would you describe the way we do school right now?
Oliver (3rd grade): I would say I'm learning how to program and sometimes I'm programming my own learning game, like for math. And I would say that sometimes we go on field trips and sometimes we go find leaves and see what kind of tree or whatever it is. And then every day we have a phrase of Portuguese.
What do you like most about worldschooling?
Finley (Kindergarten): That I get to spend more time with you guys.
Oliver: We are learning in a different place every month or so and sometimes we go on field trips.
Miles (3 years old): Paying attention for cookies.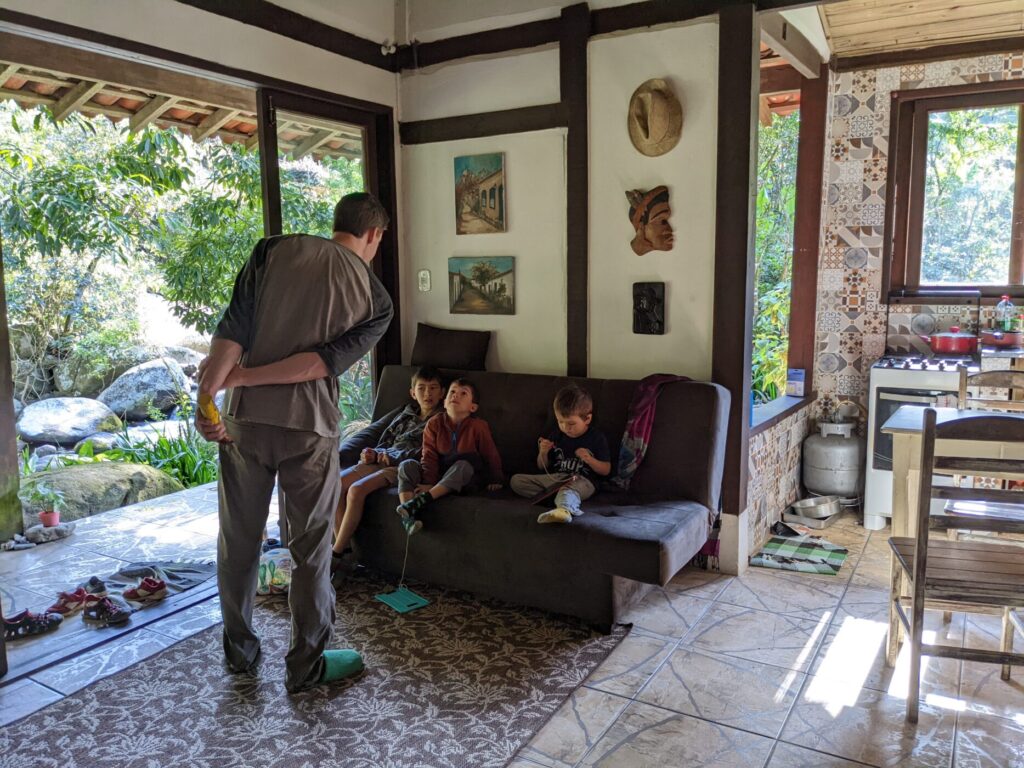 What do you miss most about school back home?
Finley: Friends. The fun puzzles, like the dinosaur one.
Oliver: I miss my friends and being able to play with them. I miss gym class – the fun games we play. I also miss the playground.
Finley: I miss the playground too, but I still kind of like the river [next to our house here in Paraty, Brazil].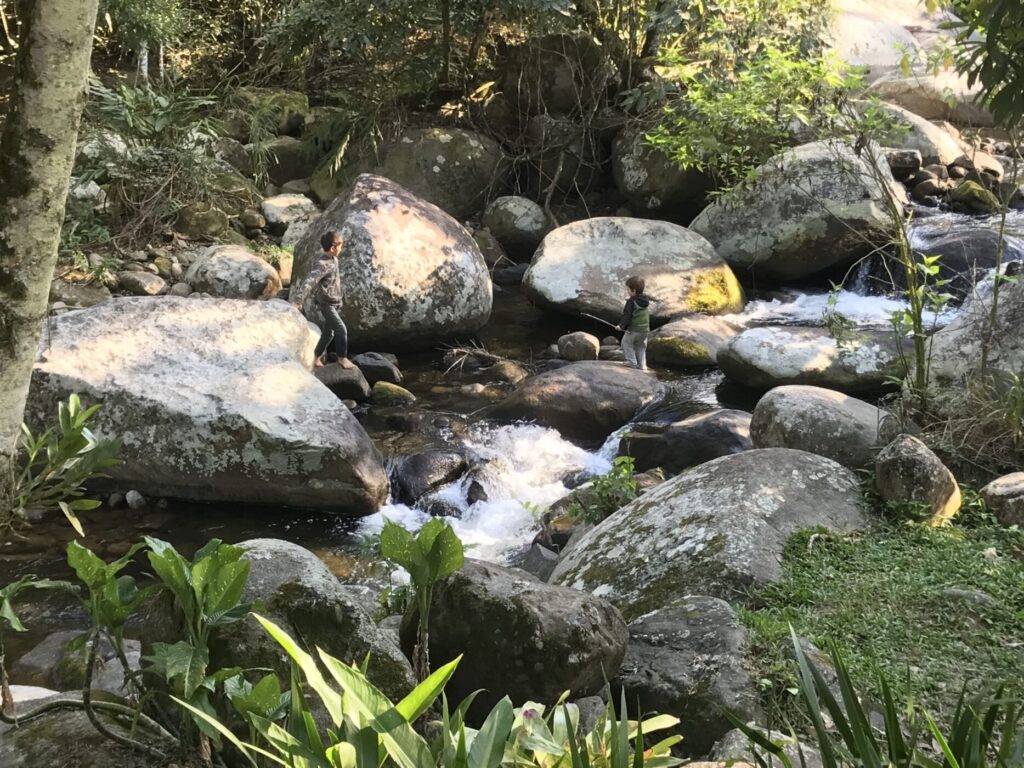 How do you feel about your friends at home going back to school while we are doing worldschooling?
Oliver: I'm wanting to know what they're going to be doing, and if I was there, who would be in my class.
Finley: I feel left out. I feel sad that I can't do the fun things they're going to be doing.
What are you learning right now?
Oliver: I'm learning my multiplication facts, I'm learning some writing, I'm learning Portuguese, Spanish, and that's all I can remember for right now.
Finley: Reading, a little bit about water, when the rocks hit the water some of the air comes up.
What is your favorite topic to learn about?
Oliver: Portuguese, and sometimes writing, like making my restaurant menus [this was a project we did to practice handwriting and spelling]. "Isso é chato" means "This is boring."
If you had to pick, would you rather go back to regular school or do worldschooling?
Finley: Regular school, because I get to see my friends and I get to see you guys for a little time. And also I get weekends to stay at home.
Oliver: I would rather pick regular school because my friends are there. I miss our house, I miss the school. I miss everything.
There you have it! Worldschooling through the eyes of our children. They miss life at home, but they love playing in the river, going on outings, and getting cookies occasionally. We'll be following up soon with a post on worldschooling resources we've found helpful.