10 Years Since Our First Trip to Colombia, Much Has Changed

We first visited Colombia in 2013. Back then, tourism was still in its infancy. In two following visits we witnessed the country's transformation, and our own. Most of it was for the better.
Nostalgia
Visiting old favorites can be bittersweet.
We've grown to love the Eje Cafetero, Colombia's coffee-growing region. In particular, we fell in love with a little coffee town called Salento.
Ten years ago, with trepidation, we took a two week trip to Colombia. Back then, you could find a bit of tourism propaganda that read Colombia, el riesgo es que te quieras quedar — the risk is that you'll want to stay. Most of us tourists worried about other risks. But the truth is, after our trip, we dreamed of leaving our flat paved homeland with chronically unpredictable weather for the stable temperate climes of the Colombian cordillera. The propaganda was on to something.
Four years ago, we made a second visit. That time we brought our two little boys and my mother-in-law.
Coming back to Salento for a third time brought on some intense mixed emotions. We are on month nine of a year-long family gap year traveling around South America. This is the first country we've visited before.
Of course, we were revved up to relive some of our most cherished memories as a family. But there was also anxiety about savoring every moment. The end of our two-day trip to our favorite Colombian town loomed large from the moment we arrived. It would be over before we knew it. This was our chance to make the most of it.
And there were risks, though not the ones we feared on our first trip. These risks were emotional. First, there was the inevitable disorienting confrontation between memory and reality. The living evidence that our memories are shot through with yawning gaps and complete fabrications.
And then there was the more insidious danger of finding that the magic was no longer there. The place could have grown beyond the days when small businesses were run by friendly and chatty owners. Or COVID closures could have shriveled the budding tourist infrastructure. Either way, change is a bitter cup of pasilla coffee (you'll learn what that is if you keep reading).
When we recently visited our old haunts in April 2023, we found an unexpected mix of boom and bust.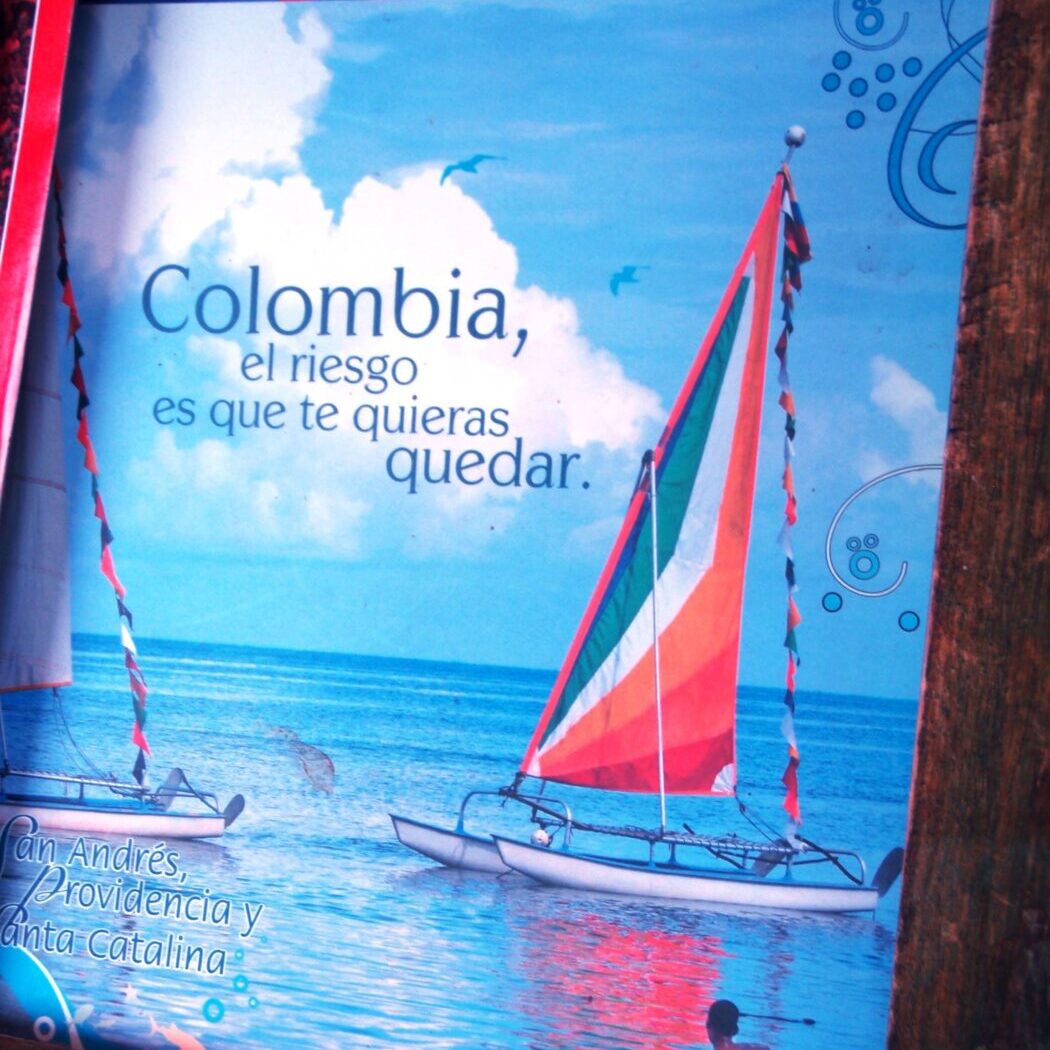 Winter Scheming
It was the depth of winter in the first months of 2013. Liuan and I were a young married couple with no children. We were stir crazy in our one-bedroom condo. An adventure was what the doctor ordered and we wanted it to be epic.
We schemed up an overland backpacking trip through Central America. Our final destination would be Colombia. We nabbed some cheap tickets for the return flight in mid-September. The rest we would figure out as we went. It was an itinerary that presaged our current year-long journey through Latin America.
I don't remember how I planned to request that much time off of work. Or cross the Darien Gap for that matter.
Alas, it didn't matter. Liuan found out on Easter day (late March) that she was pregnant with Oliver. Bus travel through Central America suddenly sounded too arduous and risky. We decided on something less epic. We would just fly to Colombia and make it a two week vacation.
Colombia, Part I – Enchanted by the Eje Cafetero
That's how Liuan, six months pregnant, and I found ourselves in the storied Caribbean city of Cartagena in late August, 2013. We followed a well-trodden tourist circuit, stopping in Medellín, Guatapé, and Bogotá.
But Colombia truly won our hearts on our visit to the Eje Cafetero. Coffee bushes and banana trees dot misty hills. Brightly painted Jeep Willys stacked with burlap sacks (or more likely nowadays, tourists) rumble over winding, dusty roads. Wax palms tower over bucolic waves of pastureland. It feels like one of the few places on earth that have held on to their idyllic past. This magic was not lost on Disney producers, who based the popular Encanto animated film off this region.
We spent half of our 14 days in a sleepy pueblo called Salento, marketed as a great place to do nothing. Special early-marriage memories piled up like the souvenirs tucked into the small void in our backpacks.
We recall our first coffee tour at a small family farm led by the unassuming family patriarch, Don Elias.
Then there was the time we went out with a group of young travelers, most of them European, to play Tejo at a local bar. It's like cornhole, except the beanbag is a heavy iron disk, and the hole is a packet of gunpowder. My legs went wobbly when I hit the target and it exploded with a heart-stopping blast.
I also remember us tiring of the typical Paisa dish: trout with several starchy sides. That's when we stumbled into Brunch, a restaurant that served shockingly decent American food. The American-expat owner of Brunch invited us to his little theater in the back of his restaurant. He said we could come watch a movie any time we wanted, no cost. One rainy afternoon, we took him up on his offer and watched Lincoln.
But no memory epitomized our enchantment like our lovely hostel, La Serrana.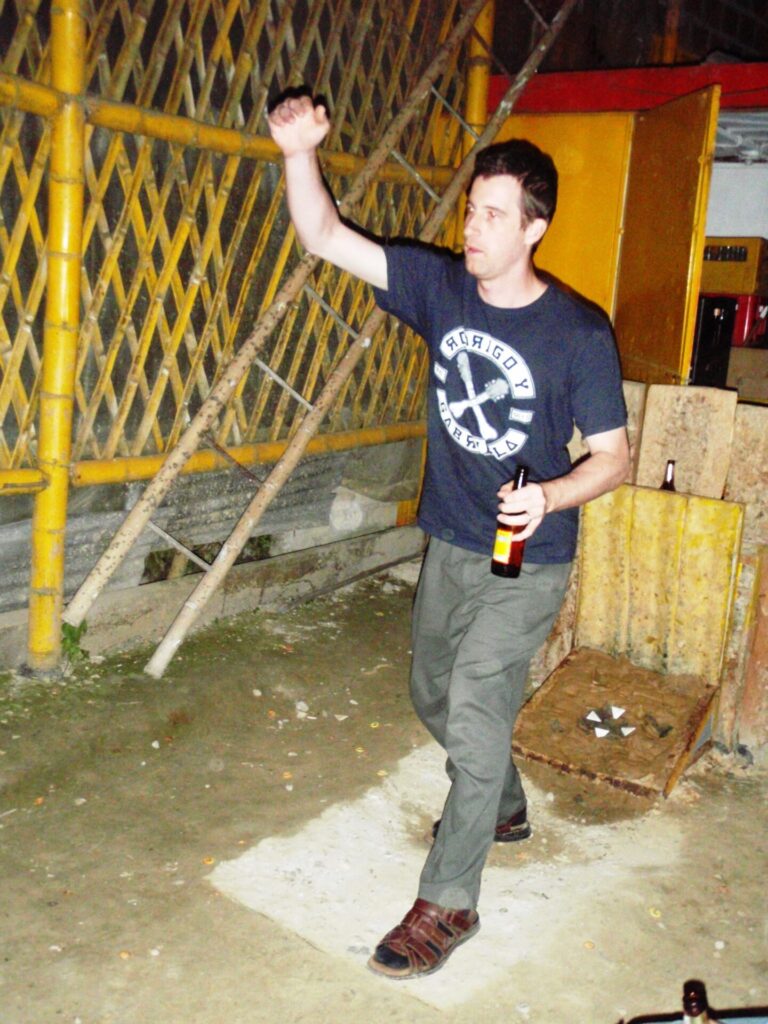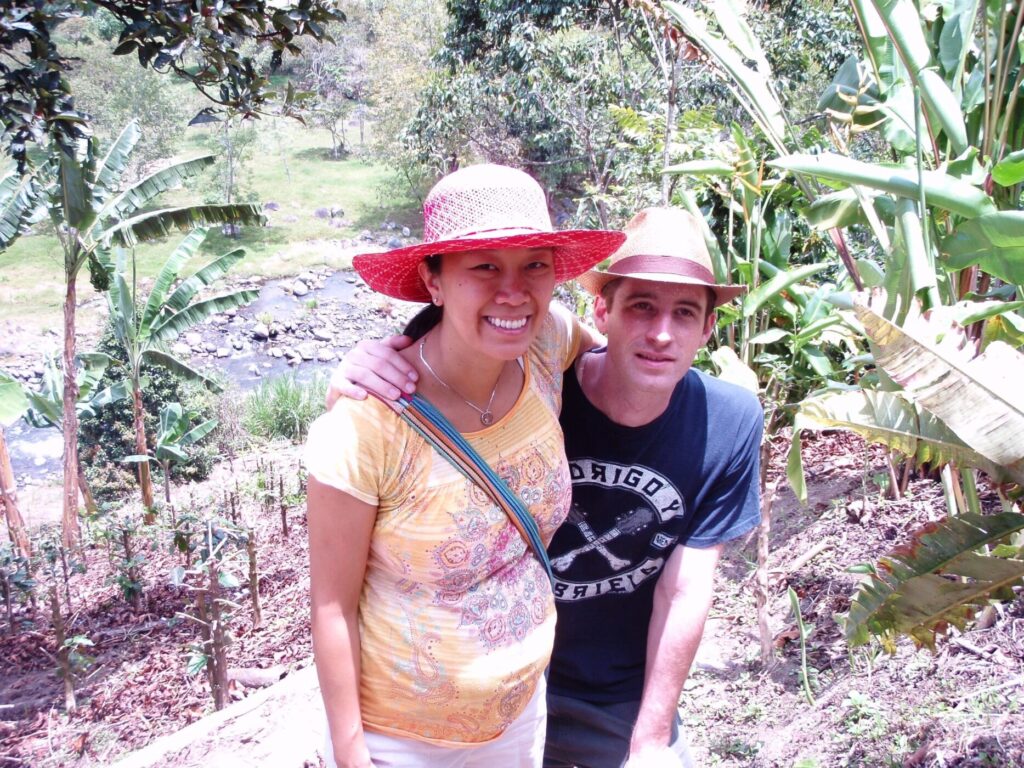 La Serrana
At the time, La Serrana was one of the few lodging options outside of the small grid of streets that made up the core of Salento. I was a bit nervous to book it. Afterall, didn't guerilla rebels roam the countryside, jumping out of the bushes to kidnap American tourists?
But the photos of the rustic boutique hostel were too alluring. There were the magnificent views of the valley and distant mountains. The common areas were warm and cozy. A large garden supplied the kitchen that served guests. And the price was unbeatable: $35 per night. We decided to take a chance.
It was even better in real life. The staff were friendly. And we especially loved the communal dining area where we ate complimentary breakfasts and opt-in dinners for a small extra fee. That's where we chatted with other travelers. We even met one we had run into in another city.
That's why, in late 2018 when we were planning our return visit, we were alarmed to find that La Serrana was all booked out.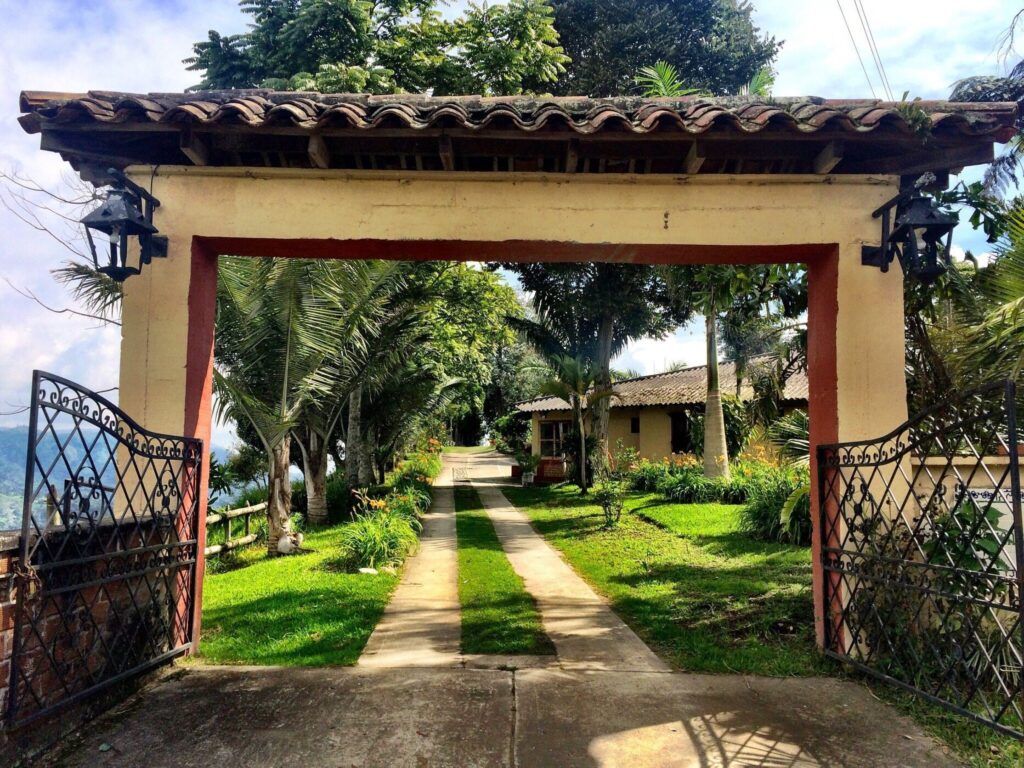 Colombia, Part II – Return to Salento
In 2018, five years after our first trip to Colombia, we longed to return. But this time we didn't waste time on any other region except the Eje Cafetero. We would spend most of our time in Salento. But we also thought we should try something new, so we also planned to spend a few days in Pijao. I had read that they considered themselves a "Slow City."
Our family had grown. Now we had two boys, Oliver and Finley, five and two years old. Liuan's mom also came along for the ride (as she does from time to time). On top of all that, Liuan was seven months pregnant with Miles.
Some Belgian tourists asked us why we picked Colombia. We explained that we just wanted an easy place to relax, you know, with all the family in tow. And you picked Colombia? they asked, puzzled, wondering what an adventurous trip looked like for us.
We fantasized about repeating our magical time at La Serrana. That's why when we checked booking.com and all their rooms were full, we were dismayed. I gave up. But Liuan had the sense to call, just in case.
It turned out they had no bookings that far in advance. The woman on the other end wasn't even sure what to charge us because they hadn't set prices for 2019 yet. But she promised to pencil us in anyway. It was October. We were booking for January, just three months away. In any case, what a relief!
We learned two valuable lessons that apply to most of Latin America. 1) Assume that information online is poorly managed. The only way to know anything for sure is to talk to someone. 2) Nobody plans in advance.
Salento 2.0
La Serrana had expanded. Instead of staying at the main hostel, we stayed in their fancy new annex, Las Camelias, about a ten minute walk up the road. It had more beds and a common kitchen. It better suited the big family we had become. We still had access to the common areas at La Serrana, including the dining area where we ate our complimentary breakfasts.
It wasn't just La Serrana and our family that had gotten bigger. Salento's tourist population had exploded. New hotels and hostels were everywhere. There was more things to do (so much for doing nothing).
We did another coffee farm tour, this time at Finca El Ocaso. It was an excellent experience, but very different from the humble family farm we had visited last time. We were led by professional tour guides. There was a coffee shop. A gift shop. Industrial machinery. Set tour times.
Brunch was still there, but not the owner we had become acquainted with last time. We didn't know for sure, but we assumed he was out riding his horse while the restaurant brought in income. It brought in enough clientele that he could hire a manager.
Another indication of how Salento had grown came from a man who guided us through his forest restoration project, Kasaguadua. We mentioned our secret dream of starting a hostel in Salento, to which he shot back, "You're too late!" The place was already over-saturated.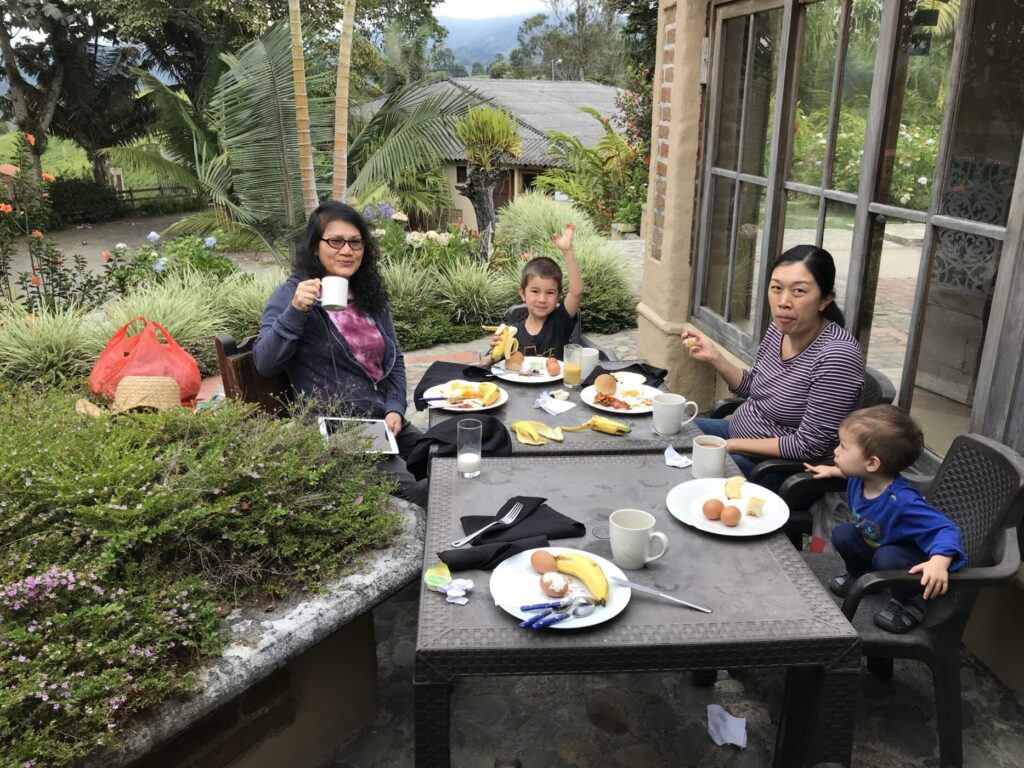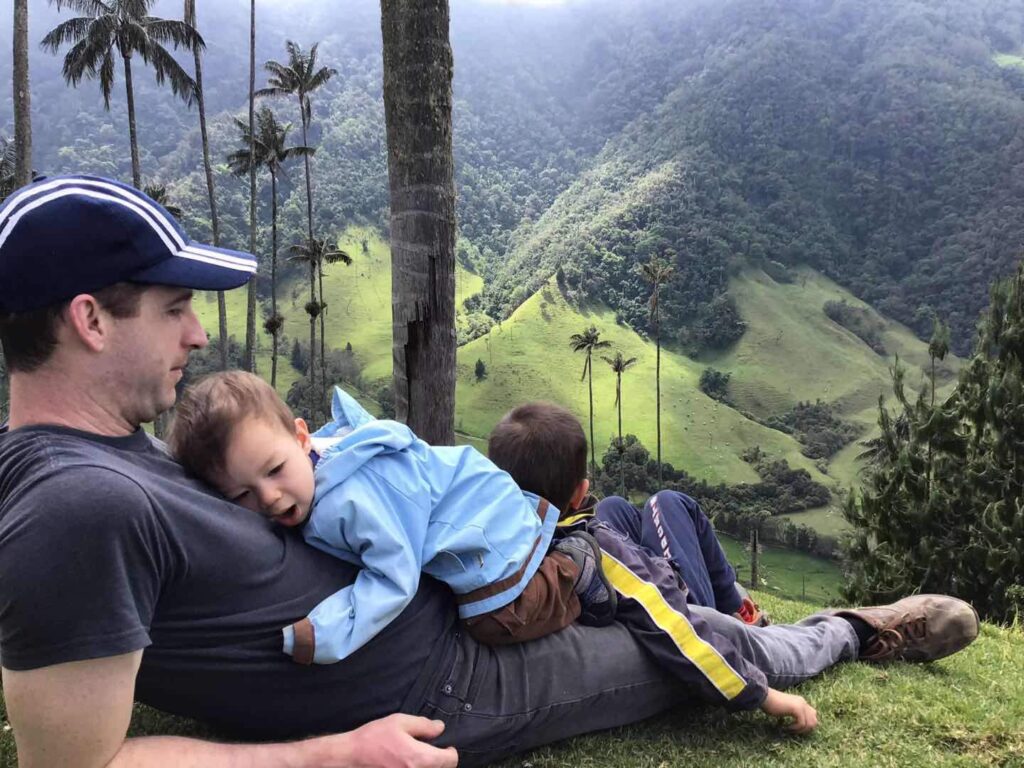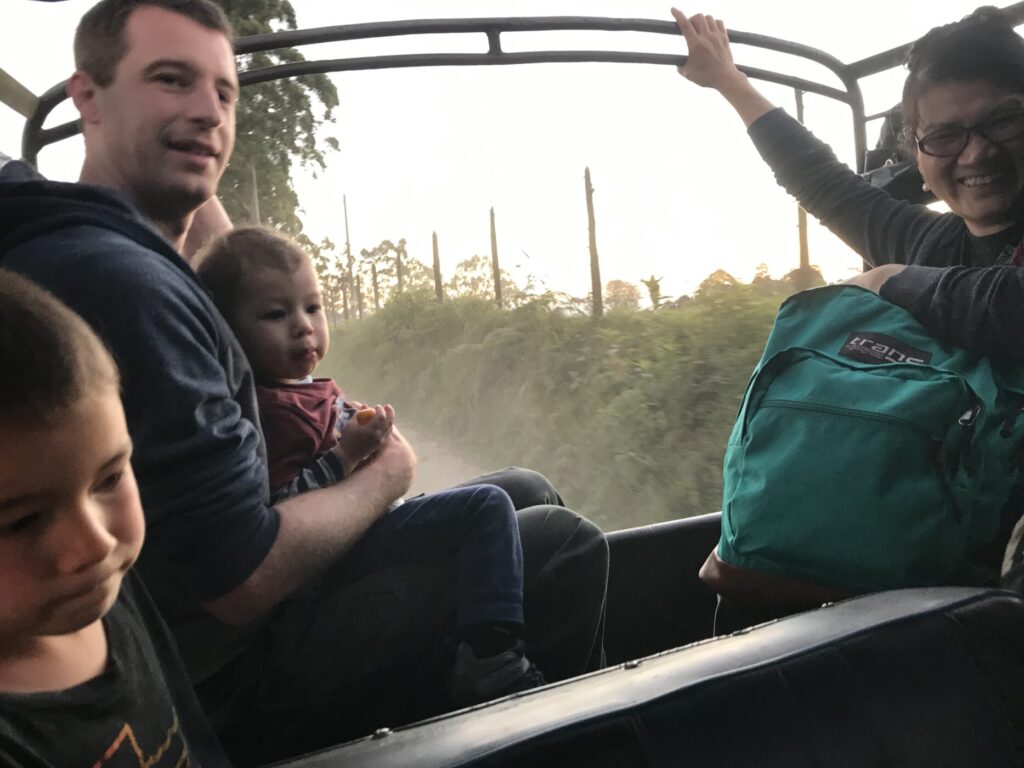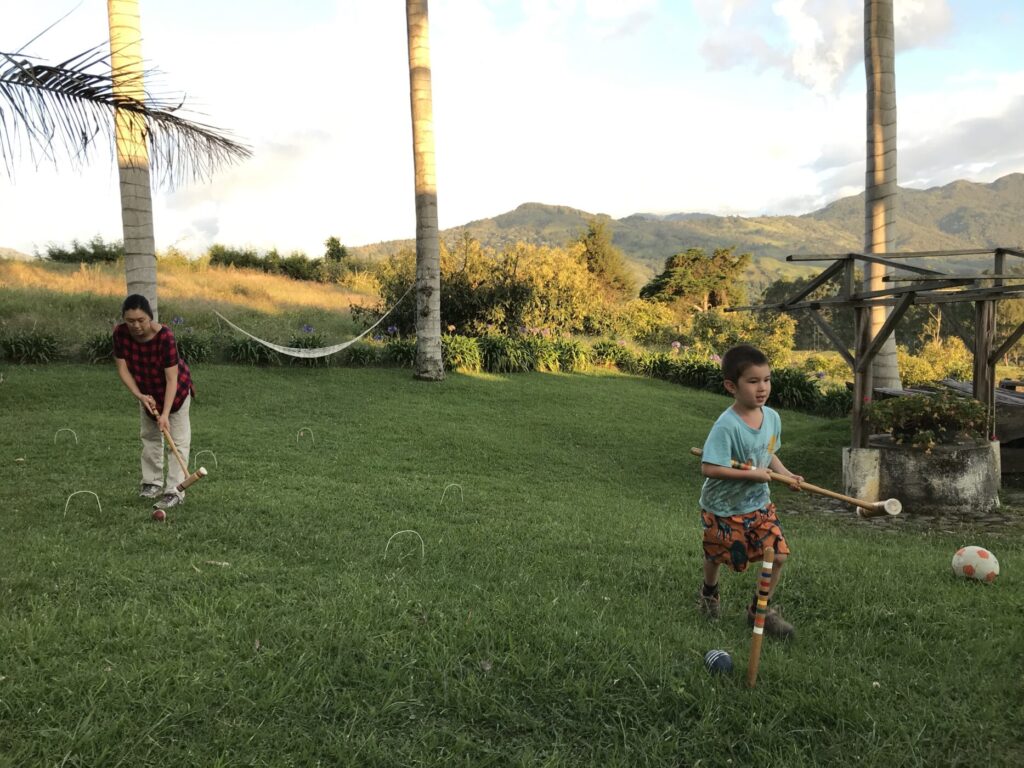 Colombia Equals Happiness
Despite how much had changed in Salento, our 2019 trip became our touchstone for happy family memories.
We fondly remember our nightly walks from Las Camelias to the front desk at La Serrana to buy slices of cake. As we strolled, we gazed deeper into the Milky Way than we ever could back home, where light pollution shrouds our view of the heavens. The fields sparked with their own constellations of fireflies. The kids were scared of the dark, but also thrilled. We'd cap off the evening cuddling in hammocks, one parent with one child, marveling at the glittery sky.
More than half a year later, Oliver stated, "you don't have to be in Colombia to be happy, you just have to enjoy." Clearly, that trip had made an impression.
But Isn't Colombia Dangerous?
For most, Colombia is synonymous with drugs, cartels, and civil warfare. That said, you might be having a hard time squaring my stories of family bliss in the promised land with the violent warzone you know Colombia to be.
To that I respond, nothing is simple. Both can be true. Furthermore, the world is ever changing. As Hans Rosling states in his book Factfulness, "What you learn about the world at school will become outdated within 10 or 20 years of graduating." What was true in 2003 was no longer true in 2013. And, as I will describe shortly, things have evolved further in 2023.
According to this article, How Colombia, Once Consumed by Violence, Became Your Next Destination, the country started becoming safe for tourists in the early 2000's, but really picked up in the following decade.
Colombia's history of violence is complicated. (I read a great book about it called My Colombian War). But the brief summary is this: Pablo Escobar's cartel dissipated after his death in 1993 and the armed guerilla factions got pushed into ever more remote areas of the country. In 2016, Colombia's president signed a peace treaty with the FARC, formally ending a half century civil war.
That is not to say all wounds are healed. On our visit to Pijao in 2019, our host recounted that it was only ten years ago that the town was invaded by members of the FARC. Murders and kidnappings are a recent memory for many and inequality remains a blight on the social fabric. But today, foreign visitors have little to fear.
An Unfortunate Discovery
With two unforgettable trips to Colombia under our belt, we knew we would have to make a return visit on our year-long journey through South America. Soon after starting this blog, I wrote an advice piece on travel in Colombia. It was while Googling for reference links that I ran into this sad piece of news. La Serrana was closed.
I felt a surge of sorrow welling in my chest. A flower of my past had wilted. It was as if my childhood home had been bulldozed. This special place contained sweet memories from our early marriage, It was a place we had shared with our two oldest kids. They equated it with happiness. I thought we could keep coming back and reliving those good times.
Of the five stages of grief, I was still working through the first — denial. I kept checking booking.com and tripadvisor to see if it had reopened yet. Maybe it was a temporary pandemic thing? Maybe they moved to some obscure website. I spent hours googling but never found it. Nor could I find out why it closed.
A Moment of Silence for La Serrana
…
Colombia, Part III – The Rise of Brunch
This time around, it's April 2023. We are staying in a big modern home with an infinity pool. Long metal doors fold open to expose the entire living and dining area to the outside air, views of the distant mountains, and three little boys making a ruckus in the pool. It is on the outskirts of Pereira, a bigger city in Colombia's coffee region.
We have been using this house as a base for taking multi-day excursions into the smaller towns in the region. We visited a popular, but new to us, town called Jardin, north of Pereira and closer to Medellin.
Last week, we stayed two nights in Salento to retrace all our memories.
Our first stop was our favorite restaurant, Brunch. Though it had moved a few buildings up the street, we had no trouble finding it. When we got there we stared in awe as the wait staff tried to usher us in. Our dark, cramped, diamond-in-the-rough American joint had transformed into a bright, hip, upscale diner.
As before, the owner Jeff was nowhere to be seen. Most of the wait staff had very little history and hadn't been there when it was in the old building. But Jeff's fingerprints were all over the place. The pull down movie screen mounted on the wall reminded us of the little backroom movie theater. The walls were covered with graffiti from visitors making their mark. There were still the thoughtful touches: the wall-sized painted map with trails and attractions, the bagged lunch menu item for tourists going to the day-long Cocora Valley excursion.
Now he had added even more "American" touches. Among other things, he accomplished nothing short of a miracle in South America — you could throw your toilet paper into the toilet.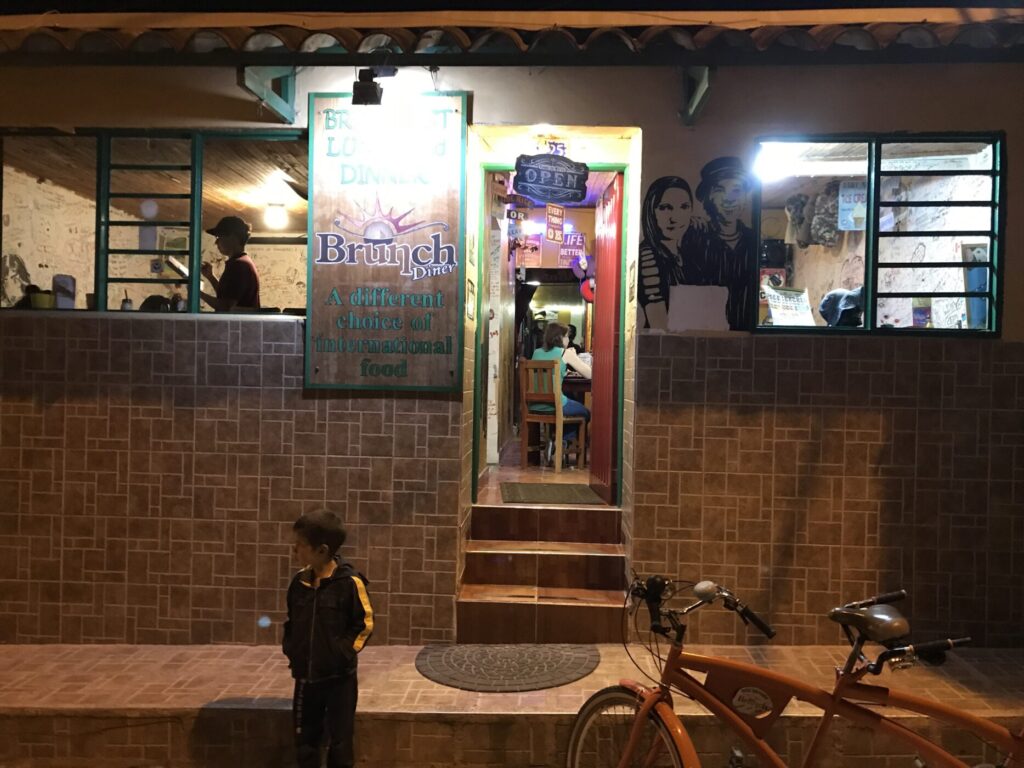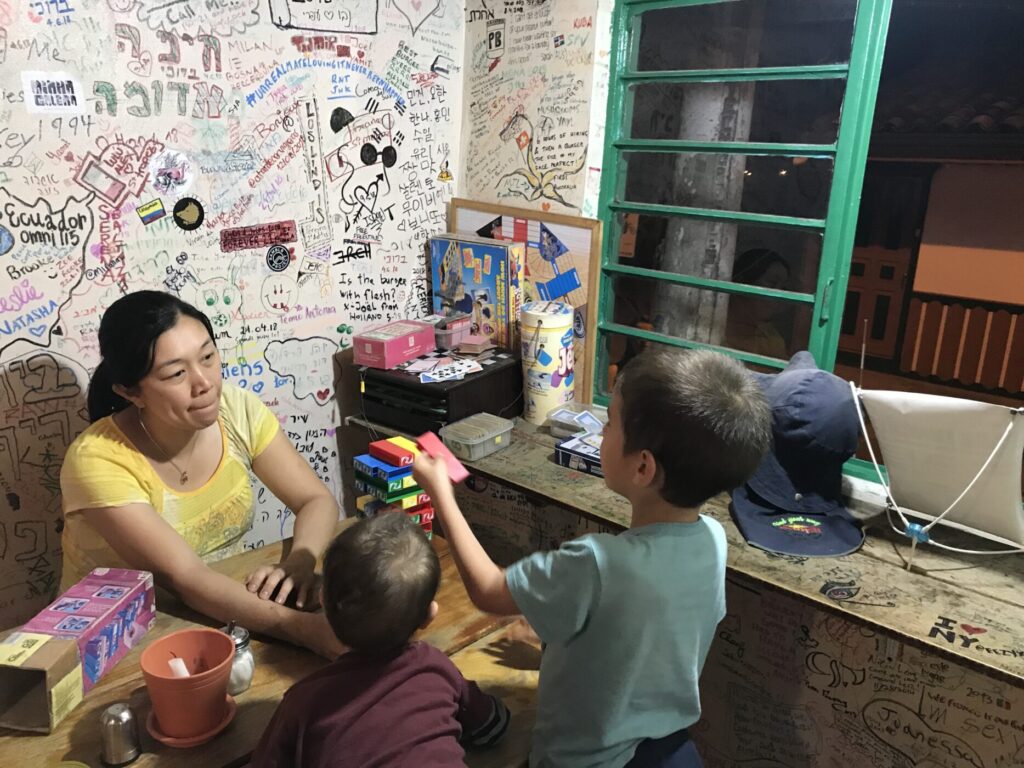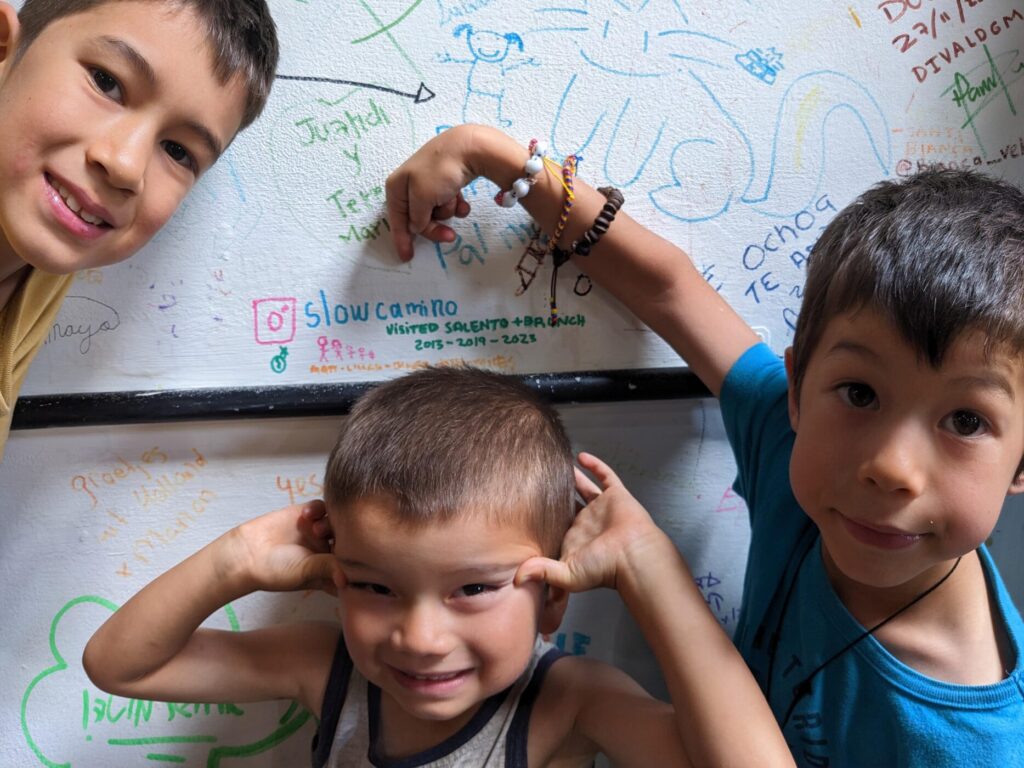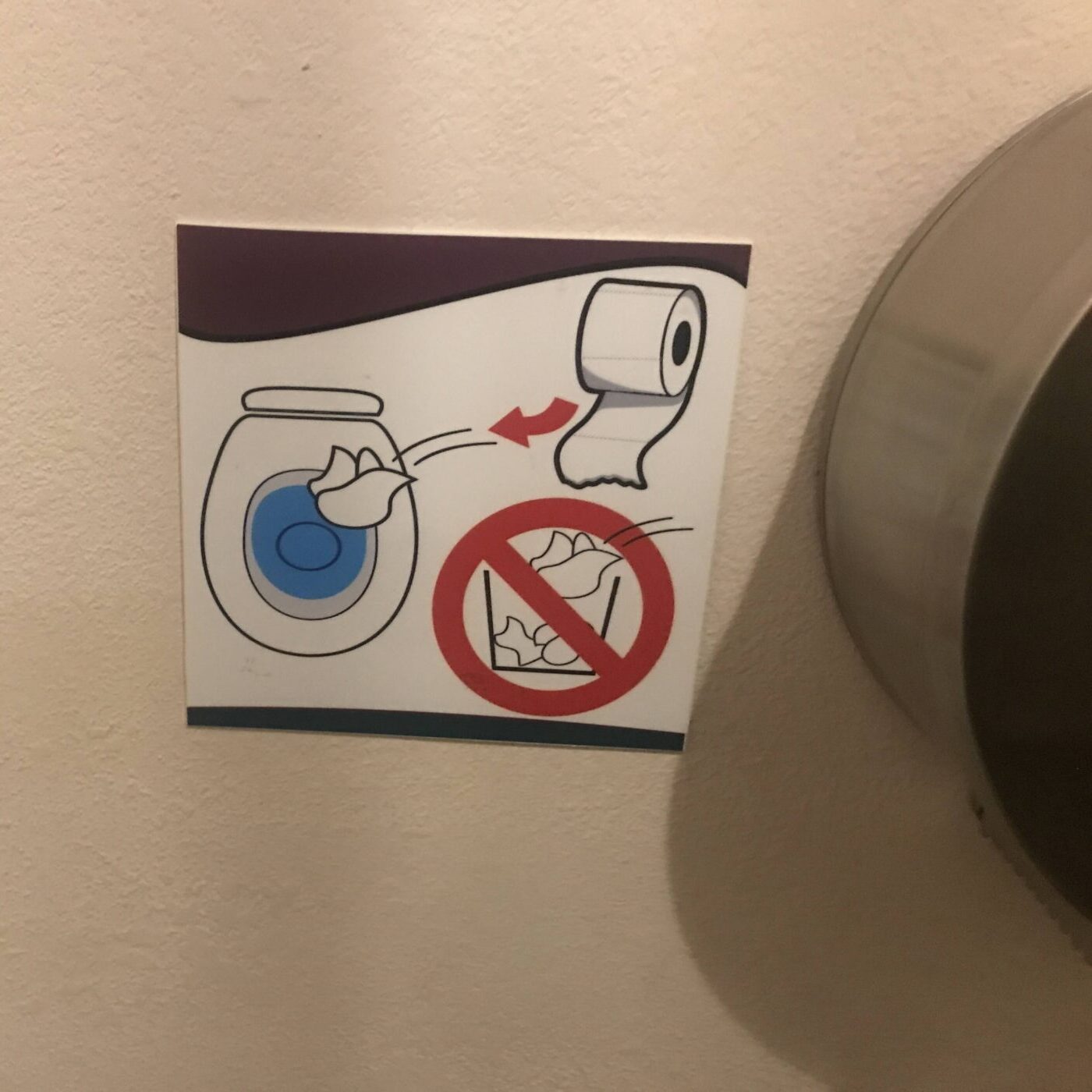 The Fall of La Serrana
After devouring a mountain of nachos at Brunch, my first order of business find out what happened to La Serrana. After all, it couldn't have vaporized. Maybe it was for sale. Maybe it was open but under a different name. Or maybe they had just pulled it from the booking websites.
I didn't need GPS to get there. We'd walked those narrow dirt roads so many times before. I knew all the landmarks.
What we saw when we pulled up to the gate was heartbreaking. The gate was padlocked. The eaves and the roof tiles were bleached by the sun and covered with black moss. It was abandoned. Not even a "for sale" sign.
Oliver got up on the wall and I snapped a photo. It was the same photo I had taken years ago. But the previous one was more hopeful. His young five-year-old face gazed in awe at the radiant sunset. Today it was overcast and his lanky body sat hunched.
As we walked along the edge of the property, we tried to square the happy sunny memories with this ghost hotel. Liuan flagged an employee over from the "glamping" hostel across the road. He kindly indulged our questions, but he couldn't give us much info, since he had only been working there for five months. As far as he knew the property wasn't for sale. He'd never seen it in business.
I told him that we had a lot of good memories there. "Ah, nostalgia," he wistfully replied.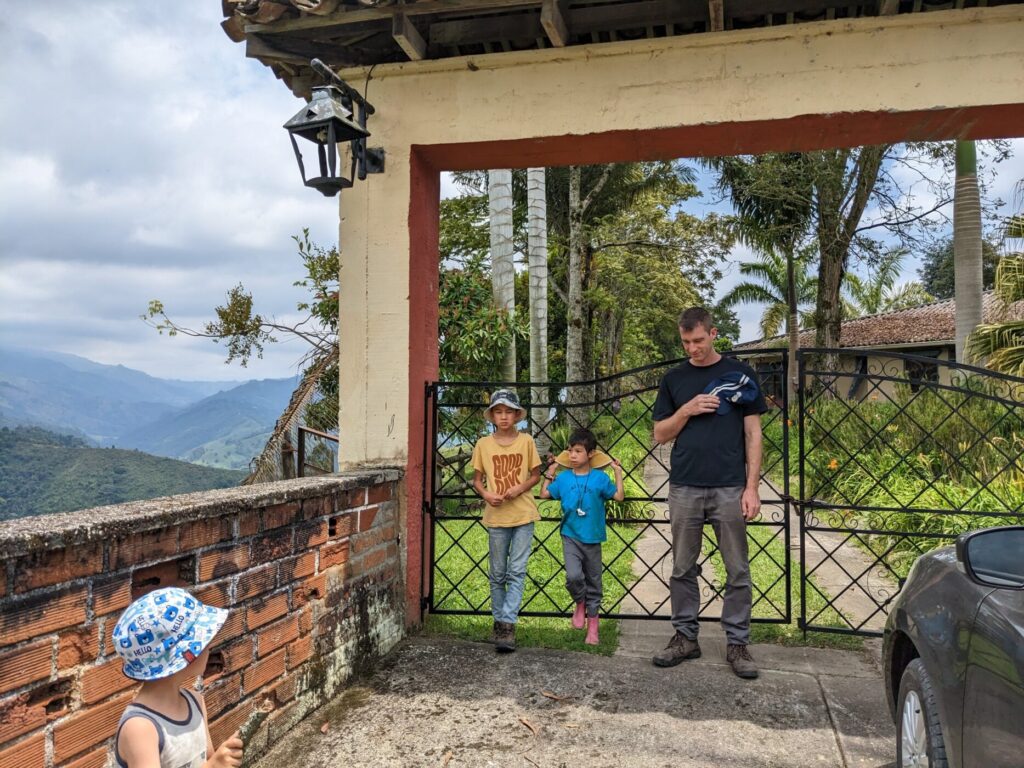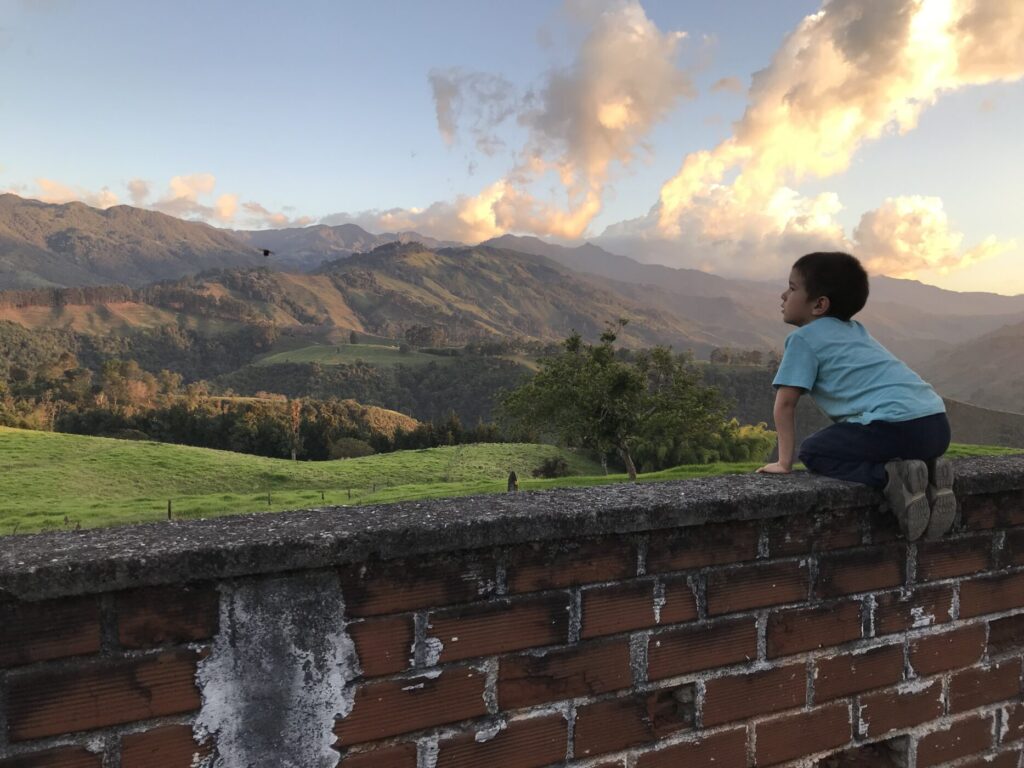 Something's Off In Salento
After our melancholy visit to La Serrana, we continued on and took a coffee farm tour. It was nice, but not mind-blowing.
Oliver, known to state it like it is, let me know that this visit was unsatisfying. He kept comparing with last time, and concluding that this time wasn't as good. Oddly, when he wasn't carping about unfulfilled expectations, he expressed his wish to stay longer than two nights.
Deep down, I felt the same. However, I was very conscious of the fact that we might not be back for a long time and I was busily trying to photograph every little detail I had missed on our previous trips. But his negativity was threatening to bring mine to the surface, so I tried to explain away what he was experiencing. Memories lied. On our previous trip, I reminded him, he had spent a lot of time whining about all the hiking. His positive impressions were formed later when we reminisced about the trip and looked at old photos.
But I had to admit, his impressions were dead on. Something was off. An easy explanation was that the weather was overcast and drizzly. Last time the weather was perfect and sunny.
But it wasn't just that. The place seemed dead.
An Inexplicable Decline
I pulled up the old pictures from our digital album to make sure it wasn't in our heads. But the photos proved it.
In the pictures, the central plaza was a jumbled, beautiful mess. Kiosks, coffee shacks, and fruit juice stands lined the edges of the central square surrounded by a swirl of jeeps, buses, cars, motorcycles and tourists all trying to squeeze past each other. I remembered fearing for my kids lives whenever we crossed the street while vicariously taking a thrill when they skipped and danced to the pulsing salsa music.
This time, the plaza resembled the type of blandly peaceful park you find in the States. The kids could have run around the central plaza without peril. There was barely any action.
We noticed it again when we revisited Finca El Ocaso, a coffee farm tour we took in 2019. Last time there were multiple concurrent tours at different stages of their program. Crowds lined up at reception to book. There was no seating room at the pavilion where hordes of tourists waited for a jeep ride back to town.
This time it was just us and a few other patrons at the coffee shop.
I started looking online for an explanation. It is admittedly futile trying to ascertain current events in a tiny Colombian town on the internet. But I tried anyway.
At first I assumed that we had come in the low season for tourism. In fact, April typically sees the highest number of tourists. Maybe it was a COVID thing? That theory was dismissed when I discovered that Colombia receives more tourists now than in 2019, (the year before the pandemic and the year of our last visit).
Finally, I Googled "why is tourism down in Salento Colombia?" But, predictably, Google returned listicles of top things to do in Salento. I gave up with the frustrating conclusion that maybe this place just wasn't what my memory had built it up to be.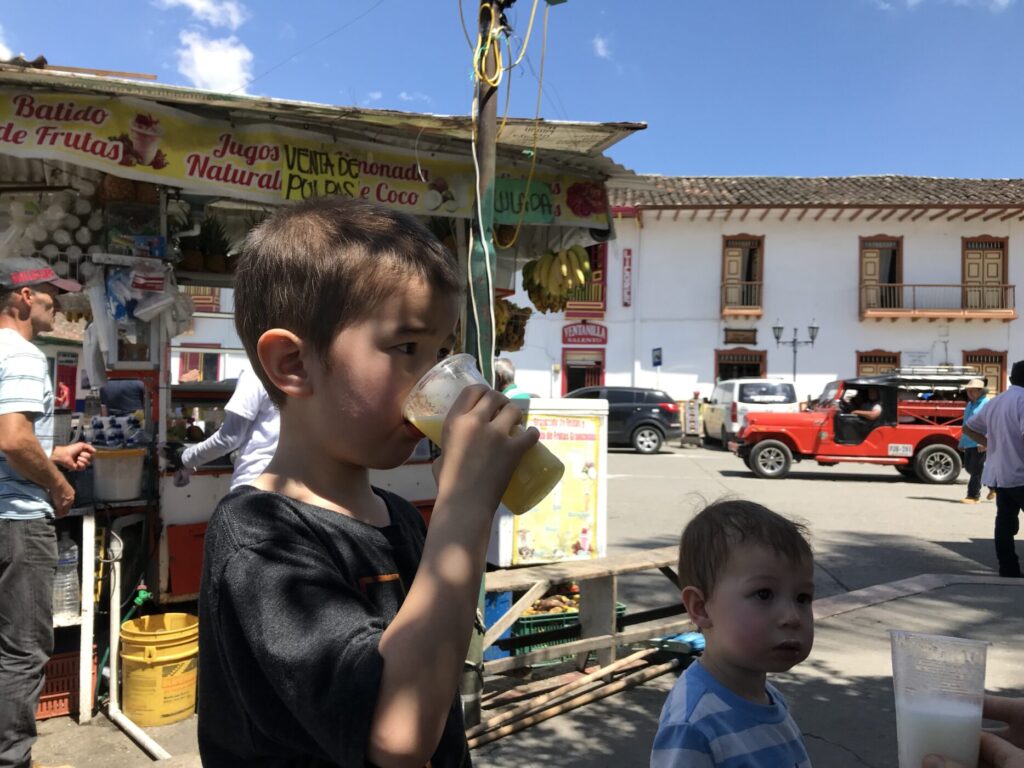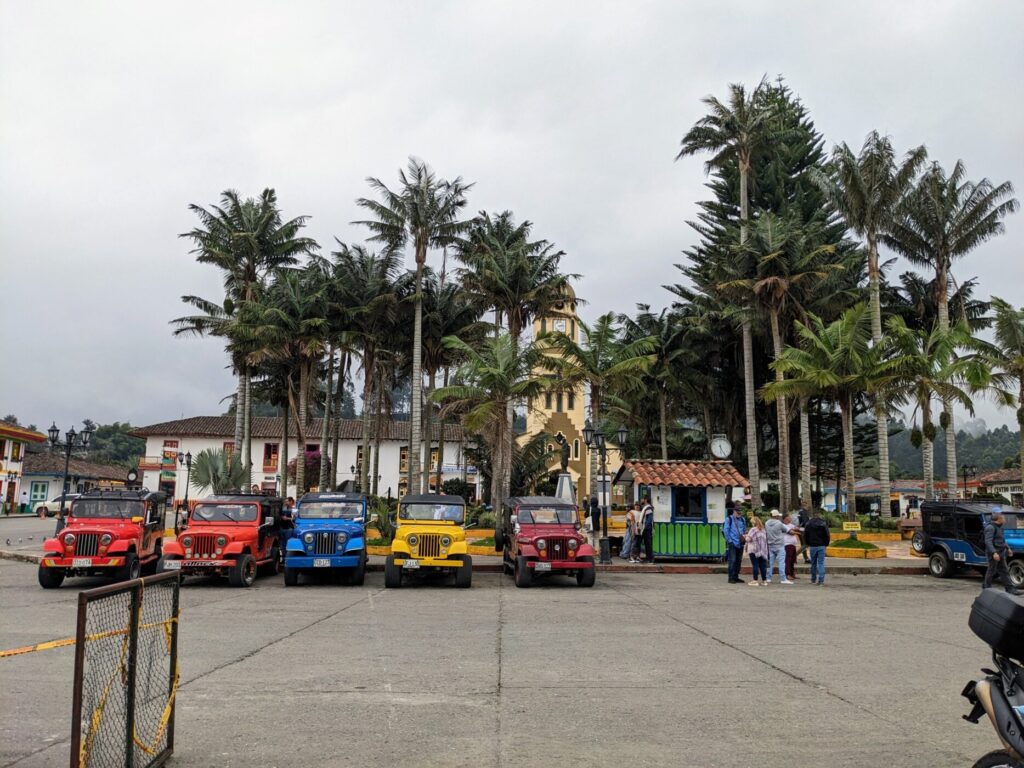 Mystery Solved
Normally, we would be happy to avoid the crowds, the lines, and the chaos. But this time, we expected Salento to be more busy, not less. And a town that is geared up for a crowd, but only sees a trickle of visitors, is a sad place.
Our last morning in Salento, we took another coffee tour. This tour featured a friendly Venezuelan former bartender who sat with us and talked about coffee's history and it's hallowed place in Colombia. The kids were bored. It wasn't as interactive as some of the other tours and our guide lectured in Spanish, which made it hard for them to follow.
Based on their website, it seemed that they gave multiple tours with groups of up to fourteen people. Which it was why it was strange that we were the only visitors that morning. Liuan asked how many customers came on a typical day. Our guide mentioned that they usually got more but tourism had slowed in the last few weeks.
Our eyes widened. Yes! But why?
As it turns out, two domestic airlines recently went out of business (quebraron, as he put it). Viva Air and Ultra Air folded due to mismanagement, stranding passengers at major airports and depressing tourism.
We hadn't even registered the unfolding crisis. It didn't affect us. We were driving our own rented car everywhere. Most tourists on a limited timeframe still fly between cities and regions, not wanting to devote (though, I wouldn't say waste!) entire days on bus travel.
Regardless, we now had a satisfying explanation for a disappointing visit.
What the Heck Happened to Filandia?
This time, in 2023, everyone told us we must visit Filandia. Whenever that happened, Liuan and I would glance at each other knowingly and chuckle.
The funny thing is, we visited Filandia back in 2013. It's an easy day trip from Salento. But what we remembered wasn't impressive. The pueblo was drab. Only the church and a few buildings in the main plaza were freshly and brightly painted. There were few restaurants to choose from, and they all served the typical Paisa food. It was only interesting in that it modeled what a coffee town was like without tourism.
There was apparently so little that amazed us that we didn't even bother to pull out the camera once.
But you wouldn't believe what ten years can do to a place. This time it was a riot of color and activity. They hadn't just dolled up the square. All the side streets were freshly painted and open for business. There were endless souvenir shops. A high-end coffee shop on every block. (In 2013, the best coffee you could get anywhere in Colombia was Juan Valdez, a chain like Starbucks. Everything else was pasilla, the defective coffee beans that were rejected for export). Restaurants ran the gamut of cuisines.
Also, unlike Salento, it was buzzing with activity. I wondered aloud if the day of week mattered. We had gone to Salento on a Thursday, Filandia on a Sunday. Liuan had a more sociological take: perhaps Salento gets more international tourism (and thus would have been affected by the flight cancellations) and Filandia gets more Colombian visitors. Just looking around at the people roaming the streets, that seemed like a sound guess.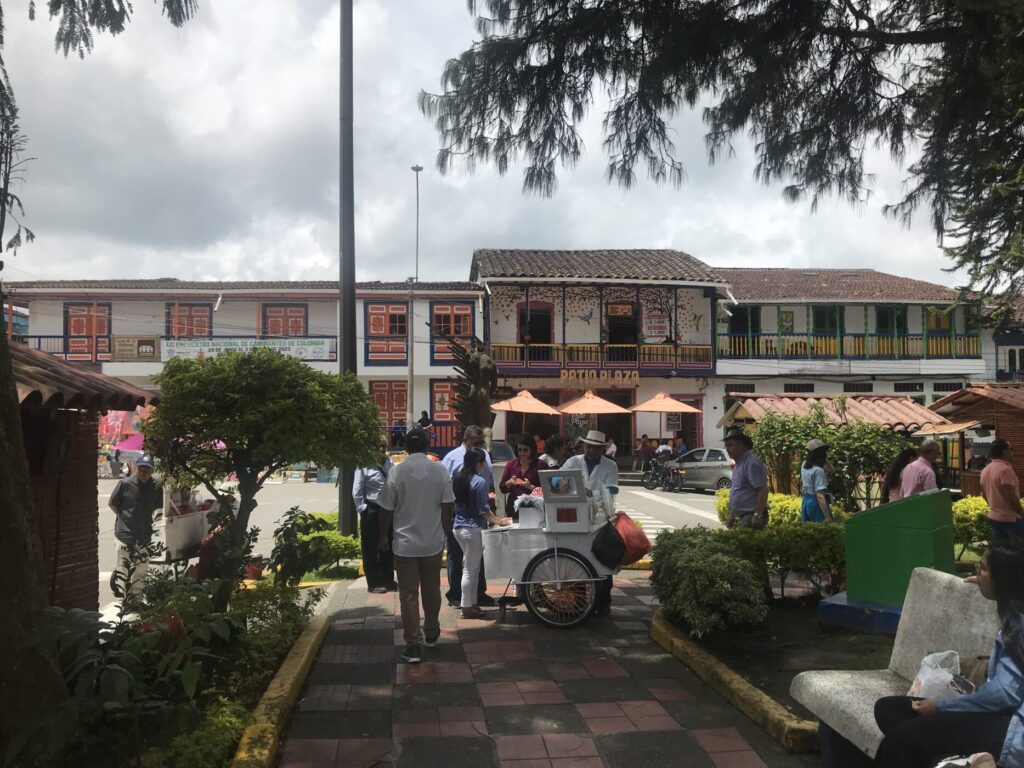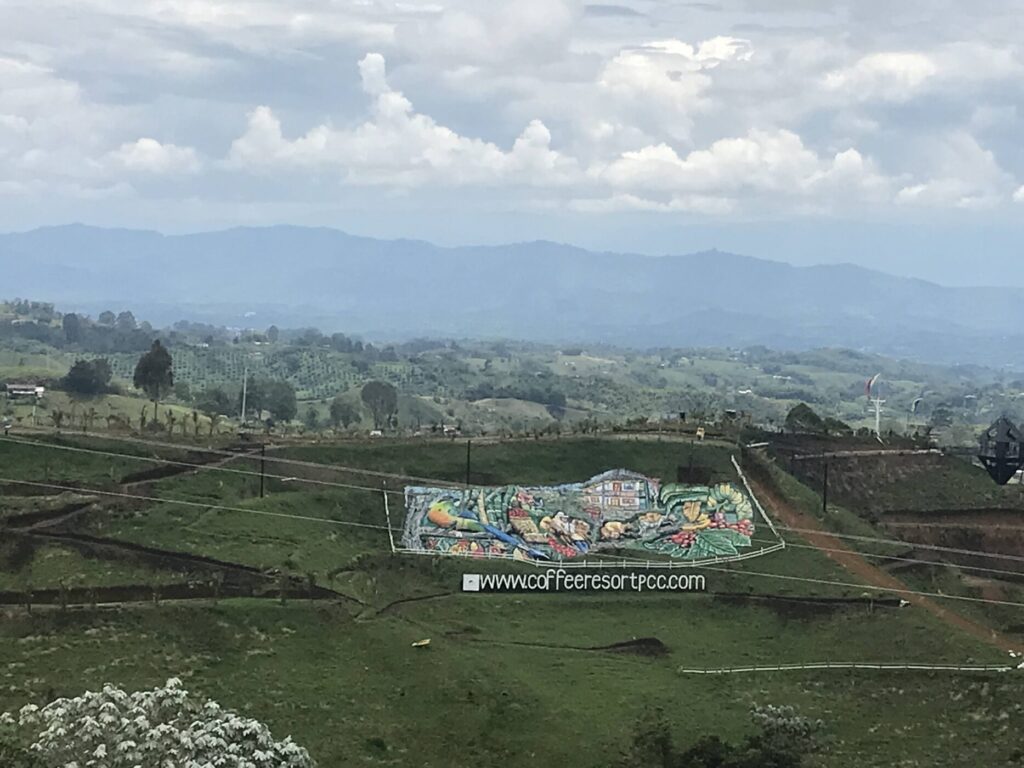 It's Not Only Colombia That Has Changed
Revisiting a place several times over a decade is bittersweet. But it is also wildly interesting to note the differences and get local takes on how things are developing.
It has also served as a point of reference to how far we've grown as travelers. We no longer fear wandering the countryside. In times past we carefully chose our destinations and used only the safest and most direct routes to get there. Now, we drive around the country with confidence. And it's paid off. Colombia's beautiful tourist destinations may be the least interesting places this country has to offer.
Taking to the roads, I now have a fuller sense of the geography of the region. When one flies from destination to destination, the world consists of disconnected points on a map.
This time, I know that the coffee region is centered around a valley, the Valle de Cauca. The bigger regional cities (Pereira, Armenia, Cali) are located in the valley and connected by decent multi-lane highways running north-south. Jutting off the highway like branches off a tree trunk, winding narrow roads foray into the cordillera, usually ending at a solitary cute "coffee" town like Salento or Pijao.
While knowledge can threaten to dull its former mystique, it transforms this favorite region of ours into a real place; much as a childhood crush turns into a real living relationship when you get to know a person intimately.
Seeing a place change is a painful reminder that we can't go back and time and relive our most cherished memories. But knowing that our favorite region is thriving, despite some transient setbacks, gives us hope that our future still holds plenty more good times.