Road Trip Around Ecuador: A Local Shares His Advice

An friend from work who grew up in Ecuador emailed me his tips for the perfect road trip. Here are his recommendations in his own words.
Planning a Road Trip (A Note from Matt)
In the coming month we will be moving on from Colombia to Ecuador. For half of our six weeks in that country we plan to do something special that we've never done before, at least not in recent memory — and certainly not with the kids. We will hit the road with no advance planning.
That's right. We'll find our lodging as we need go. If we really like a place we'll extend our stay a night or two. Our pace and itinerary will depend on how we feel each day. I'll be sure to let you know how it goes!
We have a rough idea of where we'll go. It will be a loop, starting and ending in Quito, that hits a list of destinations we might visit.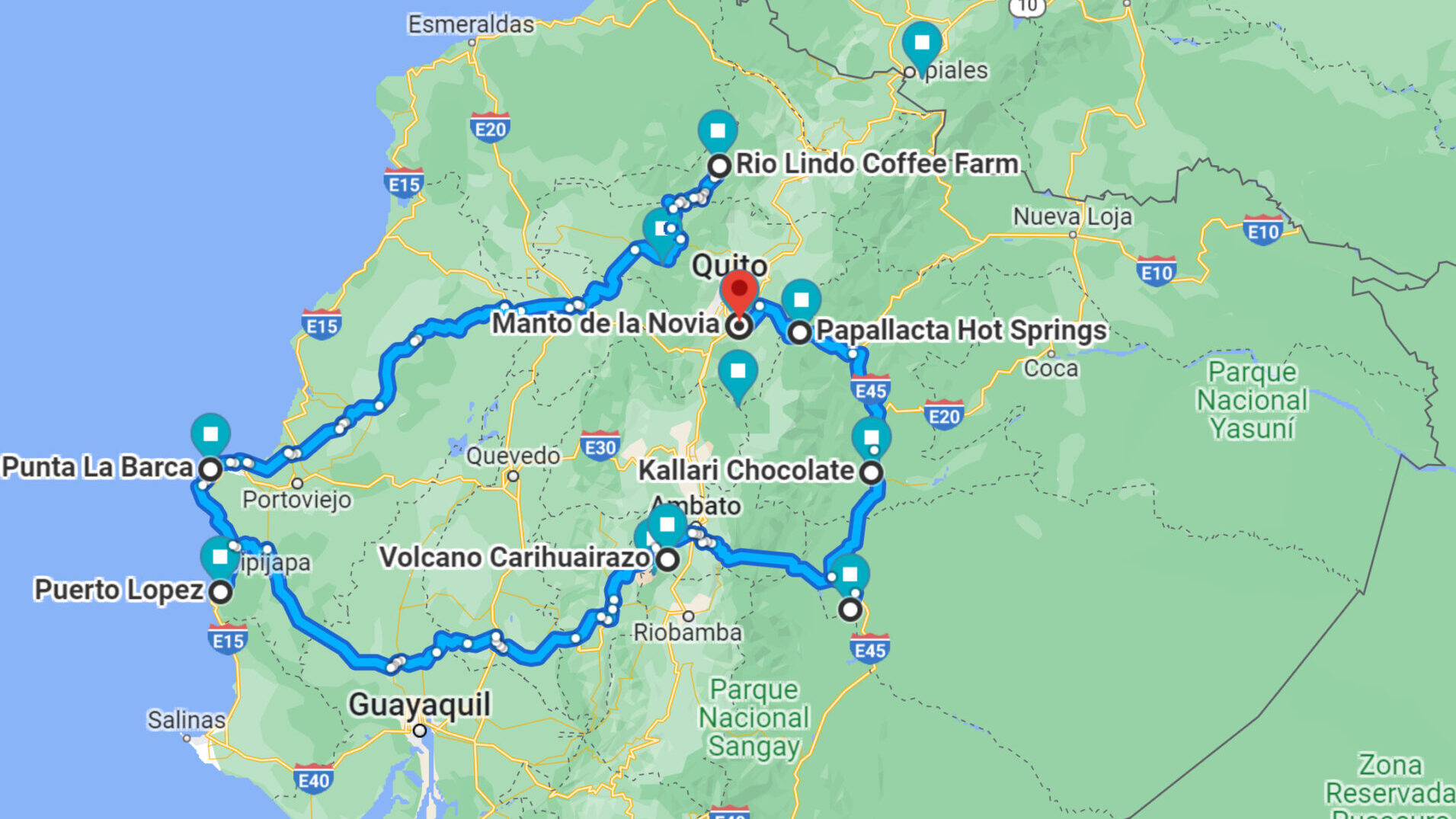 But one thing we've experienced in South America (once as recently as a few days ago) is that just because GoogleMaps indicates there is a road doesn't mean you can, or should, drive on it with an economy rental car. I also wasn't sure if there were unsafe parts that were best to avoid.
With those caveats in mind, I turned to a friend from my old job who grew up in Ecuador as a missionary kid to get his advice. I sent him my map and asked him if it looked doable. What he sent back was so much more than I was expecting for an answer. Some of it was poetic. I loved it for its candidness, helpfulness, and the little personal details he sprinkled in along the way.
Here is the email response that David sent…
David's Tips for Traveling Through Ecuador
Original email was edited for a public audience and subtitled for clarity.
Quito
Matt,
If you have time in Quito consider El Teleferiqo if you're looking for a cable car and some accessible but high altitude hiking. Climbing Rucu Pichincha on that trail was where I learned to love hiking.
You might enjoy stopping by El Centro Historico to see part of the old city. Consider visiting La Basílica. It's a grand (if relatively new) cathedral you can climb to the top of and look out. It used to be you could climb out and sit with the gargoyles 100+ feet up. Pretty sure you can't actually do that anymore but it's still got a lot of ladders (relatively safe) toward the top. Recommended for a day your kids want to get some energy out but also aren't goofing off. I would recommend finding cevichochos from a street cart.
On the way out of Quito you may want to stop at Mitad del Mundo — the equator monument. It's touristy, but how could you miss straddling a big yellow stripe showing the middle of the earth?? (It's actually a couple hundred feet off, but that's really not bad for being done in the 1700s by French guys doing survey the old fashioned way who had to synchronize their clocks using the moons of Jupiter – if you want to read more about settling the debate about whether the Earth is taller around the poles or the Equator and then a tale of survival in the Amazon I'd recommend The Mapmaker's Wife). You can take an elevator up the big monument and on your way down there are museum exhibits about the indigenous peoples of Ecuador.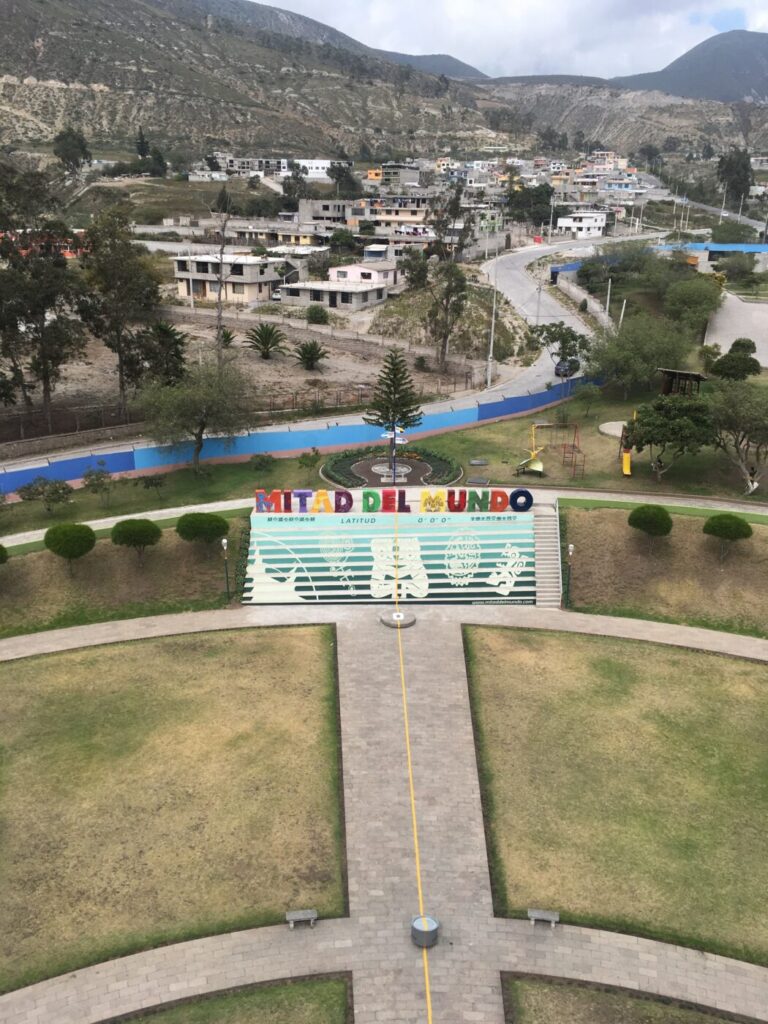 Valle de Mindo
There are many things to do in Mindo. Consider going to a mariposario. We've mostly gone to Mariposas de Mindo, which I'd recommend but is sort of expensive and I know there are other options.
One of my favorite hikes is to Cascada Nambillo. Give yourselves a full half a day for the drive there (you can take a taxi — or walk — but maybe not with young kids), taking the tarabita (cable car) across the gorge, a 30 minute(?) hike down, and bring swimming attire. You can change there and go for a dip in the river below the waterfall.
There's an Iranian restaurant along the main stretch of downtown. Like a couple from Iran that moved to Ecuador and still cooks mostly Iranian food in their shack. We only discovered it our last day, but I highly recommend it.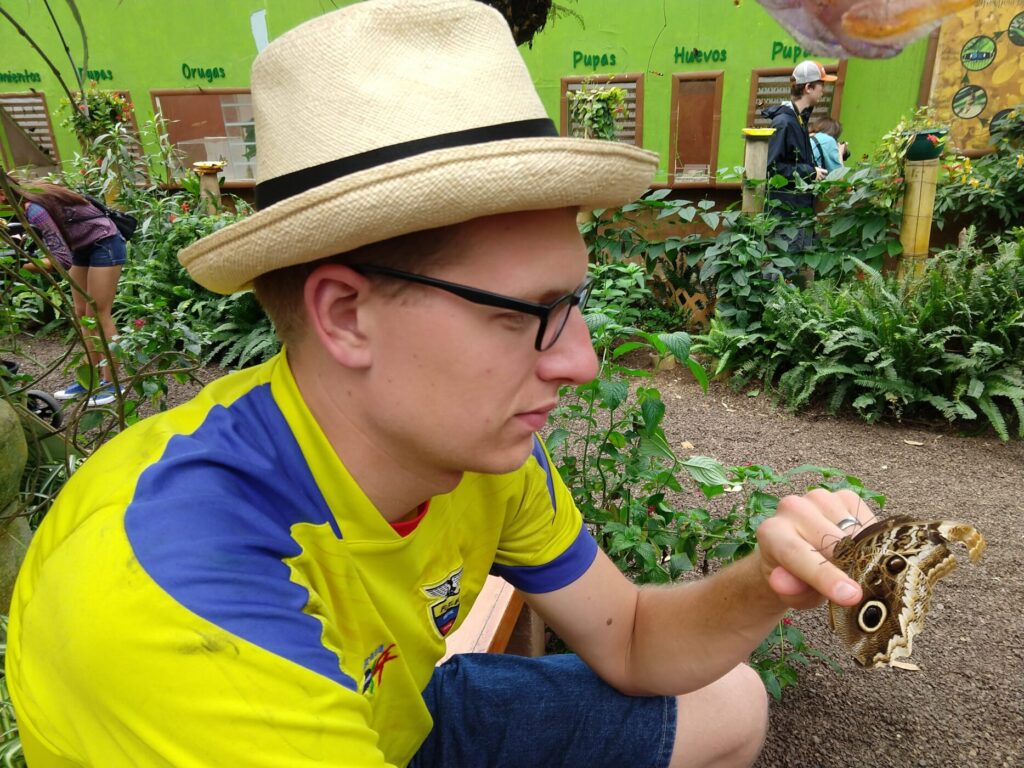 The Coast
I don't know much about Punta La Barca or Puerto Lopez. We generally went to the beach at Atacames (further north) because it was a shorter drive from Quito. Jama, just a bit north of Punta La Barca, had a devastating earthquake several years ago. My family always loved the beach. The water doesn't feel especially warm going in, but unlike in California you can stay in basically indefinitely without getting too cold.
I recommend getting lots of seafood while you're there. And rice. Because of the altitude rice in Quito splits open. But somehow the way they cook it on the coast we could never get enough of it when we visited.
There will be lots of activities people will be hawking along the beachfront — banana boats, whale watching, parasailing, etc.
The Mountains (Sierra)
I can't tell you much about Carihuairazo. I'm still sort of bitter about it. In 9th grade I was all packed to climb it. I'd rented crampons and ice axe and equipment. And then I didn't wake up to my alarm at 2 AM to get to the carpool and had to mope around the house all day.
I did later summit Cotopaxi with my dad (2nd highest peak in Ecuador). What are your plans here? Are you interested in hiking? If so, let me know and I can give you loads more recommendations for good climbs in the Sierra. Many of them you'll start around where Oliver got sick.
We always called Pelileo "jean town". You'll understand why as you drive through. It's kind of funny how clustered business often is in Ecuador.
The Baños area is a beautiful tourist spot. Waterfalls, tarabitas, canyoning, rafting. You can hike up to Mirador La Virgen. Then there are the "Baños de Agua Santa" themselves, the hot springs, after which the town is named. It's only a couple bucks to get in and for some reason aren't really a tourist attraction, not for extranjeros at least. When we went it was crowded with Ecuadorians. If you stay here long enough (a couple decades) you will eventually be evacuated due to Tungurahua erupting.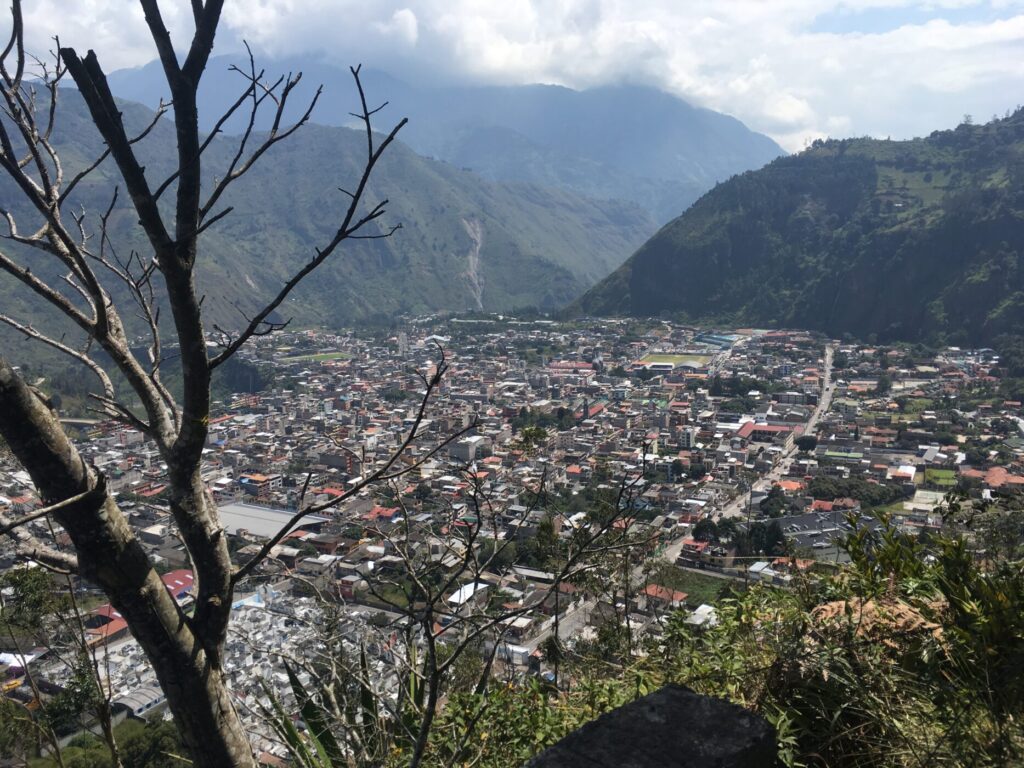 Even I am old enough to remember when the road down from Baños wasn't paved, was super bumpy, and always getting washed out. Now they've built a bunch of tunnels and paved it. The road is in great condition. This is sort of true about all the main roads back in the Oriente (what we call the jungle) now. Correa was a leftist president and wasn't perfect, but one of the things he did was revitalize infrastructure (this was when I was in high school).
Jungle (Oriente)
I spent 6 weeks in Shell in college doing an internship with Reach Beyond helping with water projects and community development. This is where Nate Saint (one of the 5 missionaries to the Waorani/Aucas) lived. The house is still there and has a tiny museum if you reach out ahead of time.
The runway is still like the 5th busiest in Ecuador with small flights going out to the jungle. There's a zoo on the back side of the military base that if you leave your passports you can walk through the base (~half hour) and down to where you can hold monkeys I think. There are also a couple other similar zoos in the area you can find.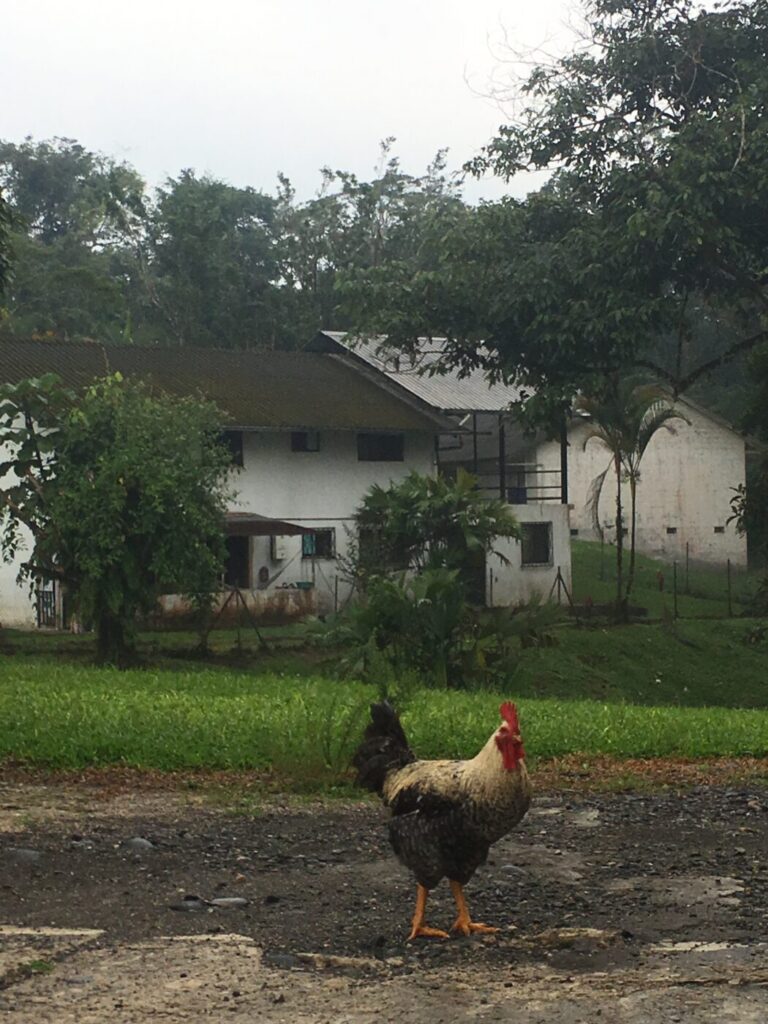 Find a market while you're in the Oriente. I'm sure you've already had many fruits you can't get in the states (naranjilla, granadilla, chirimoya), but in the Oriente you can get fruits you can't even get in Quito. Guaba is my favorite. (Not like guava in the states. We call that guayaba.) "Jungle ice cream." Caña (sugar cane) is also worth chewing on (once lest your dentist object.)
Each year of high school I took a trip down to the Tena area with my school. Pano was the town, 20 minutes west. We bathed every morning in the creek there. Highly recommended to swim in a river in the jungle. Refreshment guaranteed. Water quality not guaranteed.
A bit east of Tena is Puerto Misahuallí. This is a launch for motorized canoes that will take you to communities on the Río Napo (a very moderate tributary of the Amazon but still maybe the size of the Missouri River — just a guess). We went 45 minutes downstream to Campana Cocha every year. Now it looks like there's a road, but I bet there would still be canoes around.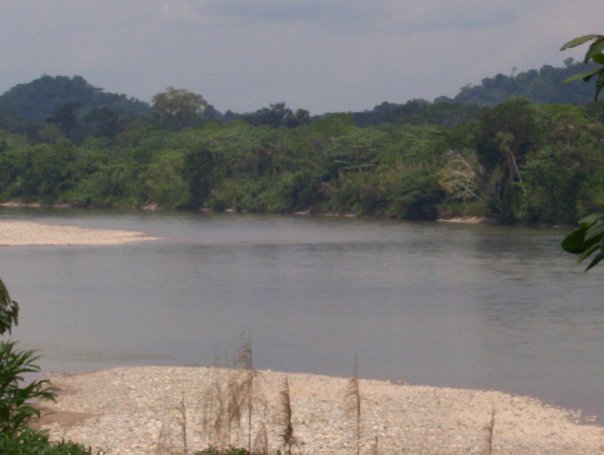 Returning to Quito
I've only spent the night at Papallacta once, but many friends frequently visited. I would recommend. Check the altitude. As you drive up to the hot springs look for the 2 penstocks (massive pipes) used for the hydroelectric dam.
As you drive over the pass back into Quito watch the landscape. The Páramo is one of my top contenders for most beautiful place in the world. Tall clumpy grasses completely dominate from 11-14k feet. When you stop during a day's hike to rest you settle into the grass, look around at the beautiful landscape, and hear nothing but wind. There are many small lakes up here and backpacking opportunities.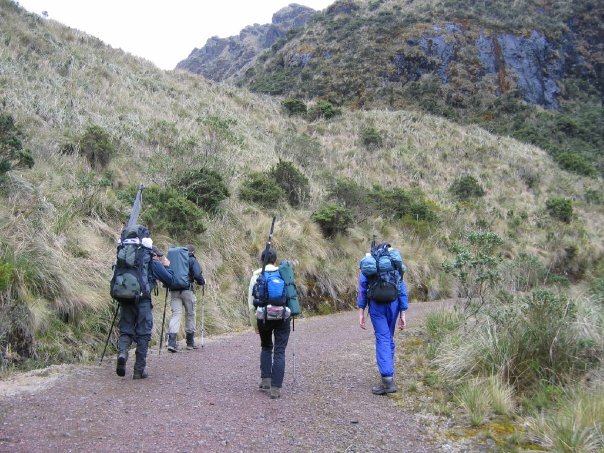 Pull off the road if you ever see a sign for Helados Mickos. They're delicious very cold fruity ice creams on a stick. It's been years and I don't even remember where they were, but I think there are probably a few locations still around.
Safety
Guerrillas are unlikely (mostly in Colombia). Gorillas also unlikely (mostly Africa and zoos). Ecuador has a lot of petty theft, but infrequently anything too serious, especially outside the big cities. Keep an eye on your (few) belongings. But after months in South America you probably don't need to be told that.
Wow, that's a lot more than you asked for. It's unlikely you'll ask me any more questions after that (assuming you're still reading), but you're certainly welcome to. Mostly I'm excited for you guys. 6 weeks in Ecuador is a good pace for a beautiful country. And you've done a good job of picking an itinerary that hits all 3 regions (costa, sierra, oriente).
Map of All Recommendations