Traveling to Colombia? Here's My Friendly Advice

So you're thinking about traveling to Colombia? I've been there twice and would love to tell you about it.
My wife and I visited in 2013 while Liuan was five months pregnant with our first son. We started out in Cartagena. Then stayed in Medellin with what should have been a day trip to Guatape. It lasted a couple days longer due to a nation-wide protest that blocked all highway travel (a minor inconvenience). We then spent a week in Salento and other small towns in the Eje Cafetero (the coffee growing region). Our final stop was Bogota, where we visited some college friends who were teaching abroad at a Christian school.
We loved our time in Colombia so much that we visited a second time in 2019. That time we had the two little boys and Liuan's mother in tow. We spent all our time in the Eje Cafetero region, where we had our fondest memories from the first trip (and felt the safest). Liuan was seven months pregnant with our third son and we weren't looking for too much adventure.
Both times we had a wonderful experience. It was by turns thrilling and relaxing. And always easy on the wallet.
With that said, here are some helpful tidbits to get you ready for your trip.
In Brief
What We Loved
People and culture. The slow pace of life.
The rugged and sublime natural beauty. Waterfalls. Mountains. Hot springs. Jungle.
The colorful and lively plazas.
Traveling by jeep.
Drinking coffee and learning how it's produced.
What We Didn't Love
The food. It's not terrible, but it's nothing to write home about. The typical meal in the coffee growing region (eje cafetero) consists of trucha (trout) and a variety of starches (potatoes, yucca, rice). Not a lot of veggies.
Is it safe?
First, let's address the elephant in the room. Colombia gets a bad rap. It is known for its history of drug trafficking, cartels, Pablo Escobar, over half a century of guerilla warfare (mostly over), and kidnappings of unsuspecting taxi customers.
Yes, it's safe, but…
Let me explain.
There are safe parts and there are places that are less appropriate for tourists. If you stick to the main tourist circuit you will find a young but thriving tourist infrastructure that is very open and welcoming to visitors.
We have traveled to many cities and towns in various regions and even wandered through some of the "seedier" parts of the city. We never felt unsafe or threatened.
A minor exception to that was Bogota. Nothing happened to us, but I've heard enough stories from others to know that your chances of being mugged aren't zero. In my opinion you could skip Bogota and not miss much. Then again, I'm saying that as someone who is decidedly not a city person.
Believe it or not, Colombia, specifically the eje cafetero, was our top pick when we were looking for a low-adventure, high-relaxation destination. When we mentioned that to another tourist, he looked at us incredulously and wondered aloud what a difficult destination would be for us if we considered Colombia easy. But in all reality, it is a low-stress place to visit.
For an example of how secure we felt, our evening ritual was to walk the country roads on the outskirts of Salento, after dark. We gazed at the starry sky and the fields filled with the blinking pinpoints of fireflies. You read that right. We took walks with our little boys after dark every single night and never felt the least bit unsafe.
Of course, you can't do that everywhere. It's important to do your research and wait until you feel comfortable doing something before you do it.
Staying safe means taking basic precautions, just as you would traveling anywhere. Don't let people that approach you on the street scam you. Don't seek out illegal activity. Keep your bling to yourself and be careful where and when you pull out your money or cell phone.
Lean on the hotel staff to book your taxis and ask them for their advice on where to go and what precautions you should take in the local area.
Is it family friendly?
Being pregnant in the States might cause a kind bus patron to surrender his seat. Being pregnant in Colombia is to be treated like royalty. Ditto for families with little children. You can pretty much take for granted that you will be ushered to the front of the line wherever lines exist. That is, assuming they haven't already created a special fast line for families already.
Colombians love kids and are protective of them. My intuition says you are probably much safer walking around with a family than traveling solo.
But will the kids like it?
So you get to cut in line, but are the kids going to enjoy themselves? Or be bored?
Our kids loved every moment of our Colombia trip.
In the beautiful Eje Cafetero countryside, you get to ride old school jeeps wherever you go. Your kid can even hang off the back if they are capable (more fun for the kid than for the mama).
In the cities there are children's museums and fun modes of transportation, like the cable car in Medellin.
Our kids went horseback riding. They toured coffee farm tours where they got to participate in all aspects of harvesting and processing the coffee. There are jungle restoration eco-tours. Fruit vendors on every corner selling delicious fruit smoothies in flavors you've probably never heard of. Hikes over rickety (but safe!) suspension bridges in the Valle de Cocora.
In addition to all that, but place is just plain interesting. There are animals where they wouldn't be found in the States. The buildings are a lot of fun colors. In contrast to the drab earth tones seen in American suburbs, the paint colors in Colombia appear to have been chosen from an elementary school child's crayon box.
It's also a great place to keep your itinerary light and take it one day at a time. Wander with your kids and see where the road leads. Kids often have the fondest memories of carefree and spontaneous travel. In our experience, Colombia provides experiences that are exciting and memorable, but at a slow and flexible pace.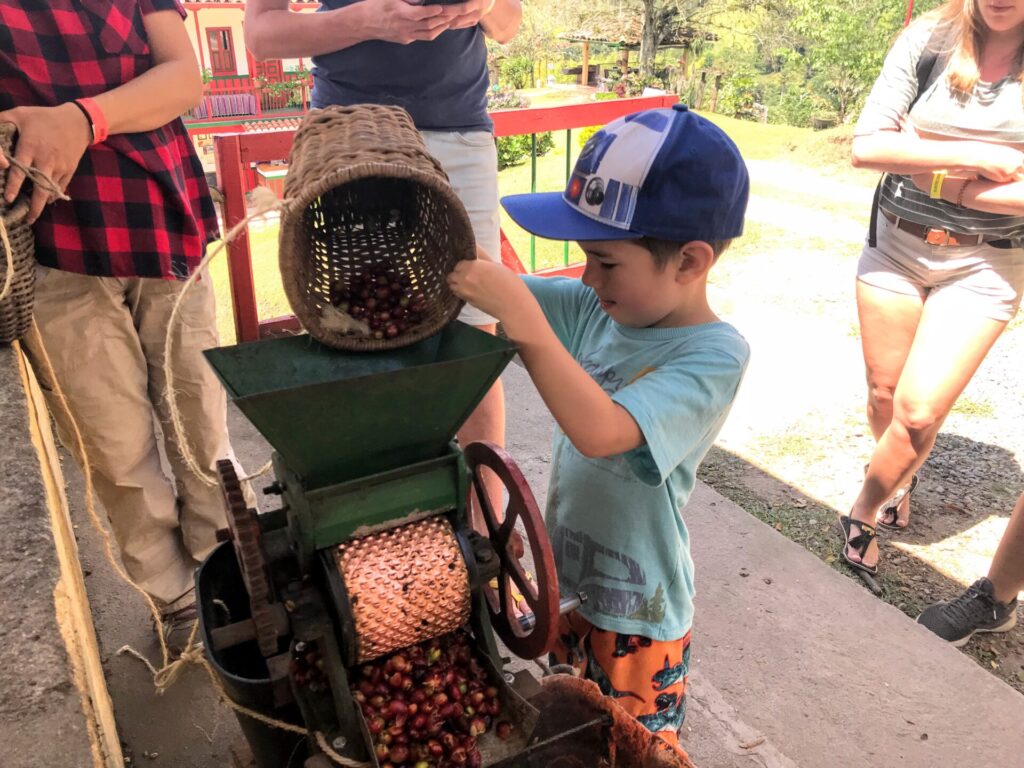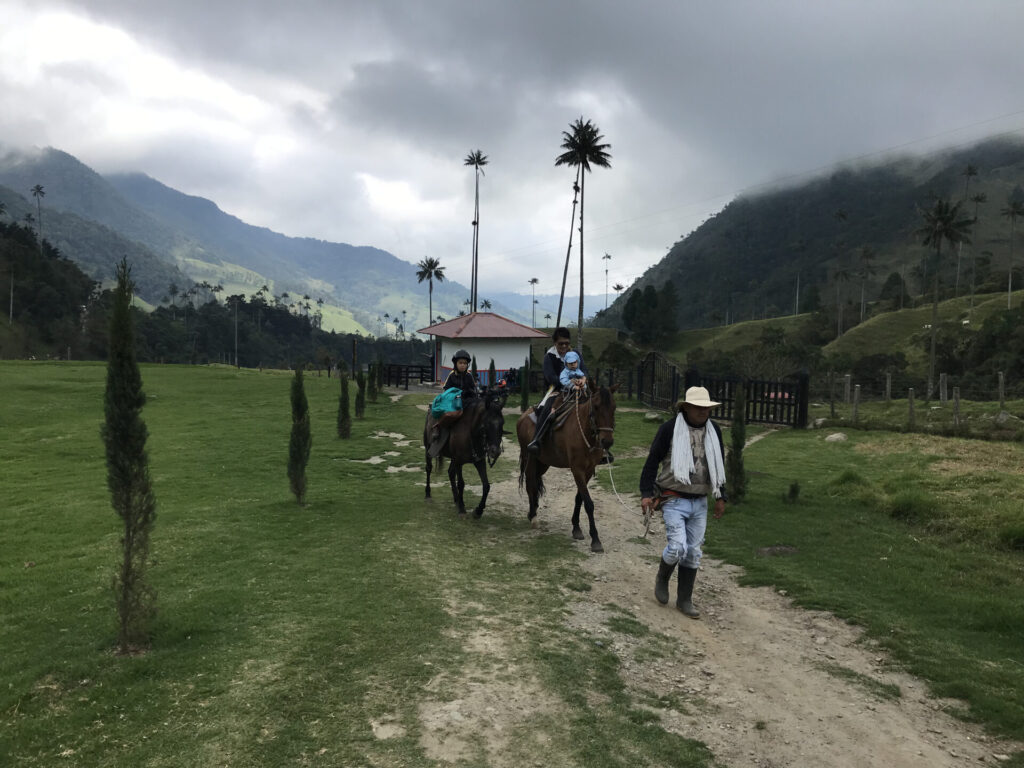 Recommendations on Where to Go
We haven't been everywhere, but we've seen a variety of regions; both city and countryside. I'll start with my favorites and work my way down.
Eje Cafetero
If you haven't guessed yet, my favorite place to kick back and relax is a region called the Eje Cafetero. This swath of highlands includes farmland and forest dotted with small vintage towns and includes the mid-sized cities Pereira and Armenia. It has few mosquitos and great weather year round because of its high altitude. The area is relatively safe for tourists.
I am a coffee lover (and a bit of a snob). Coffee is central to the region's agricultural economy. Even if you are not a coffee drinker, riding around in the old Willys jeeps that are still used to haul coffee over rough mountain paths is a blast. There are plenty of places to hike; mountains, jungles and waterfalls. It's also a great place to do nothing in particular.
Salento (Town in the Eje Cafetero)
If you are looking for tourist infrastructure—things to do, plenty of day trips, lots of other tourists—Salento is your place. We love Salento, despite the ever growing tourist population.
If you go to Salento (and you should), make sure to check out Brunch, the town's popular American restaurant. I know that's kind of a lame recommendation. American food, really? But after a few days, the trucha (trout) dishes, cooked in every imaginable way, gets tiresome (at least for the American palate, or maybe it's just me). Unlike most American cuisine in a foreign land, this joint is so good it would be one of my favorites even among all the options back home.
We've stayed in two places in Salento, both of which I'd recommend. If you want to get plugged into the tourist scene and go on organized outings, La Floresta is a a wonderful place to stay.
Our favorite place to stay, not only in Colombia but anywhere in the world, was La Serana and its sister property, Las Camelias. Unfortunately, they closed in 2020. Hopefully they'll reopen some day?
I would also recommend checking out Kasaguadua. We took a tour of the property, which the owners lovingly restored over many years back to its native jungle ecosystem. All the facilities are built to be ecofriendly in every way. Many of the "pods" were still being built when we visited in 2019, but from recent pictures, the final product looks amazing!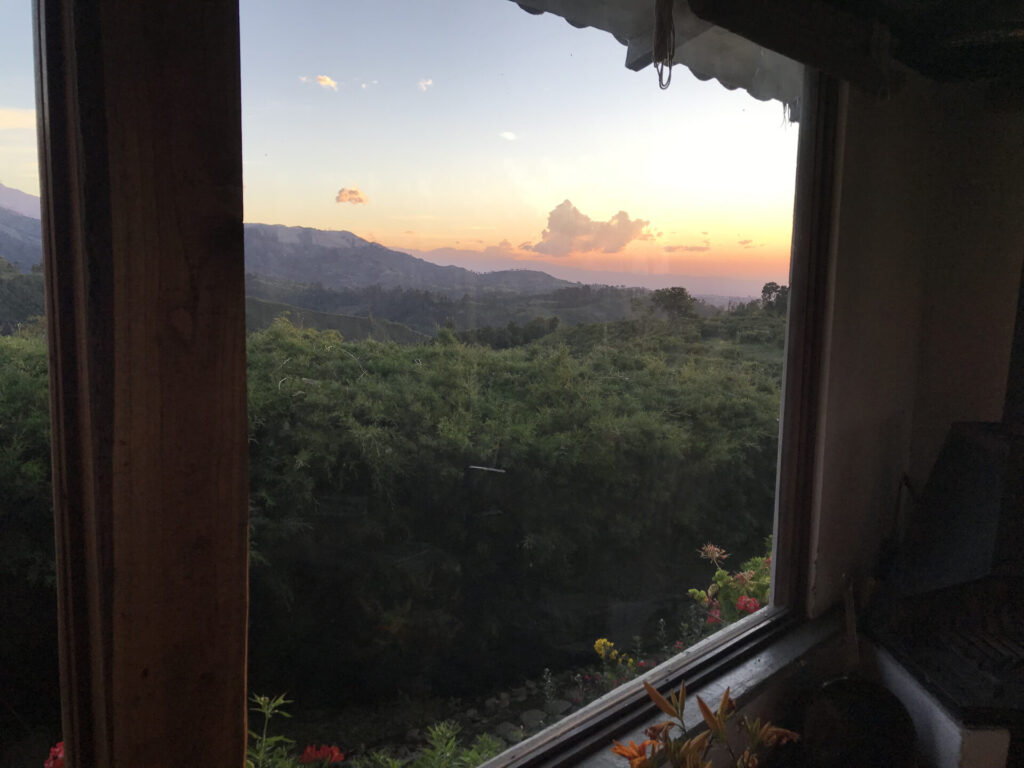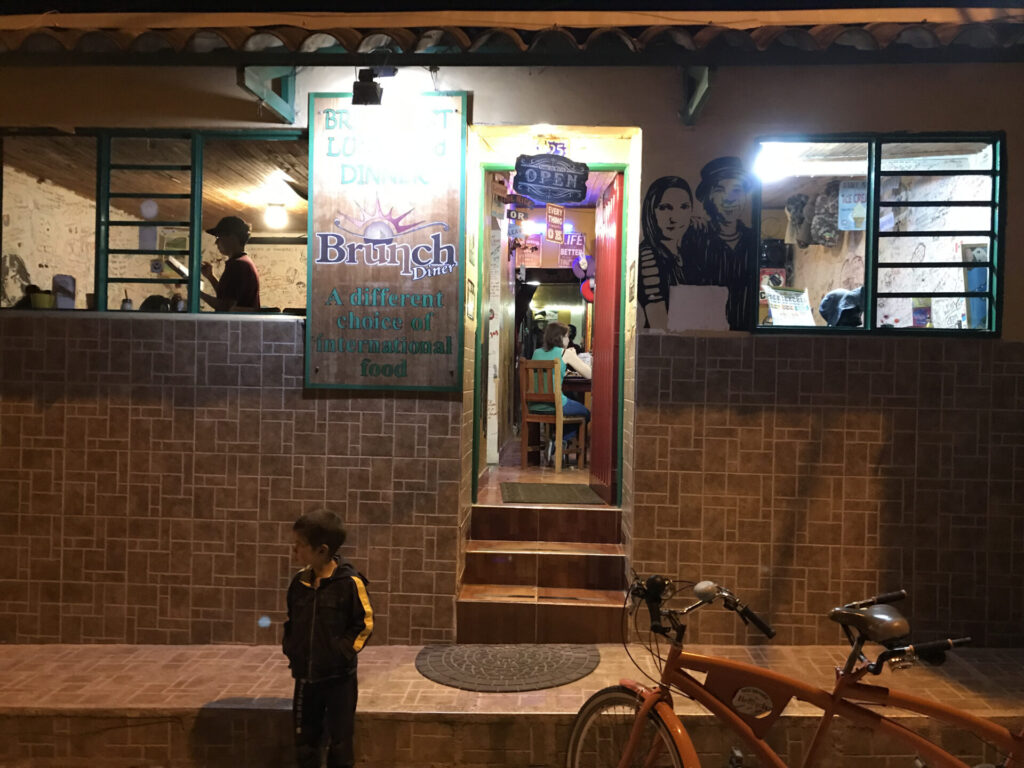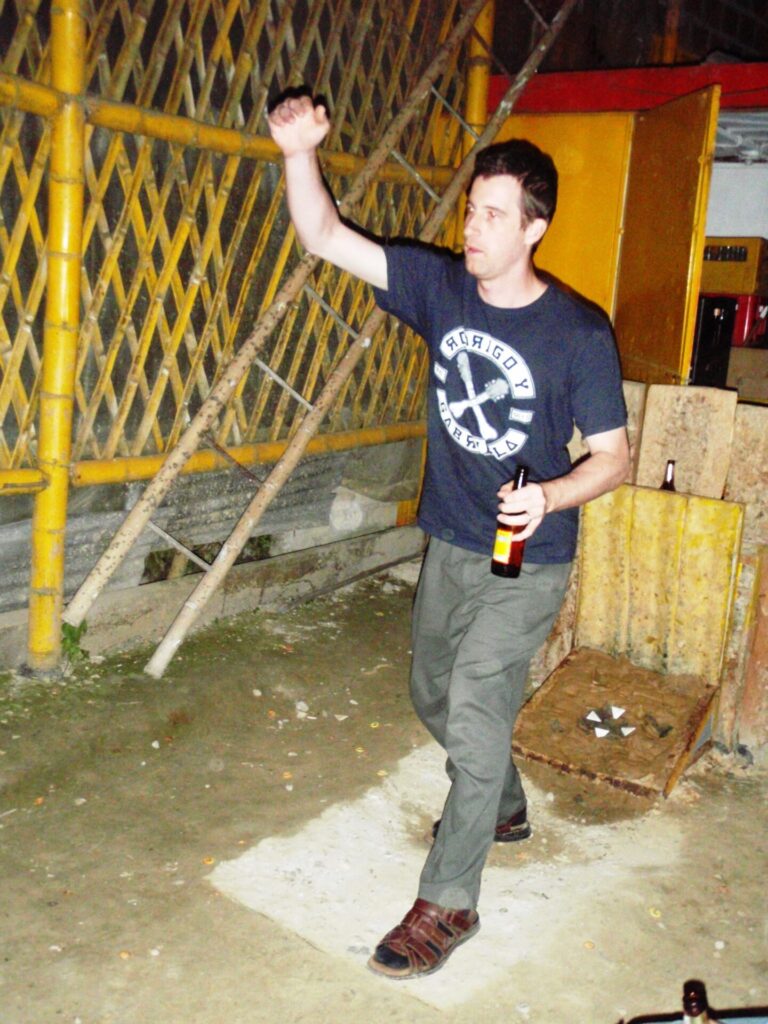 Pijao (Small town in the Eje Cafetero)
If you want a more authentic, slower experience of small town Colombia, try visiting Pijao. There are several places to stay including small boutique hotels and some AirBnBs. There is a day-long coffee tour nearby, which was a bit expensive but worth every penny. We didn't find many good restaurants, but that's the trade-off.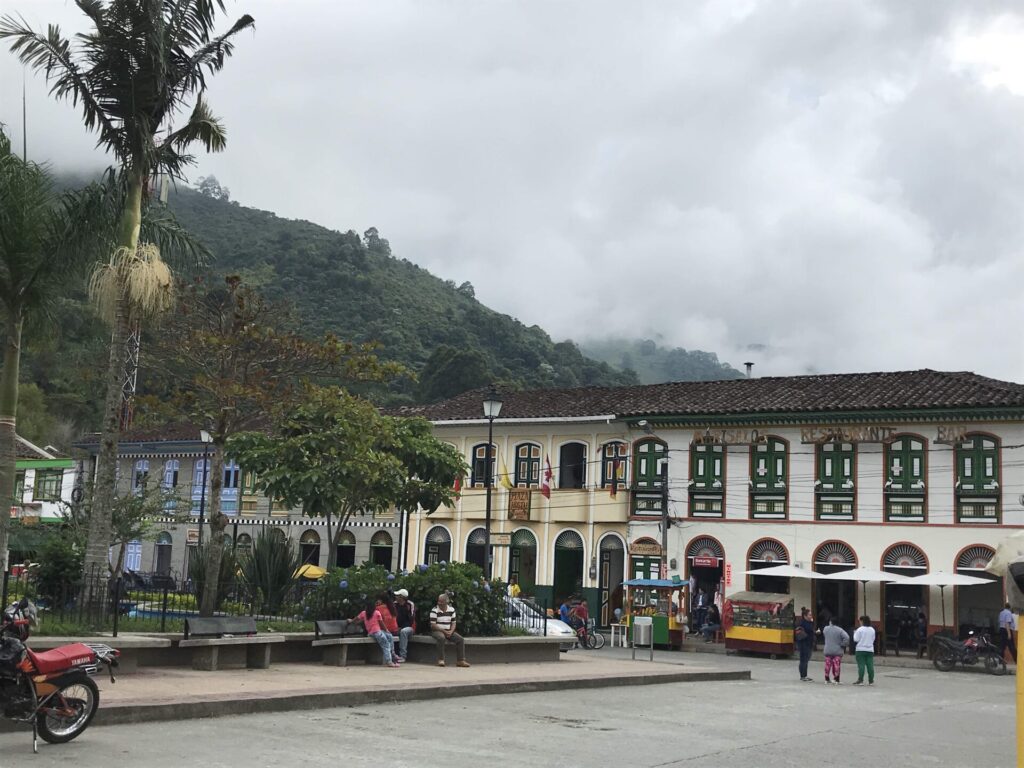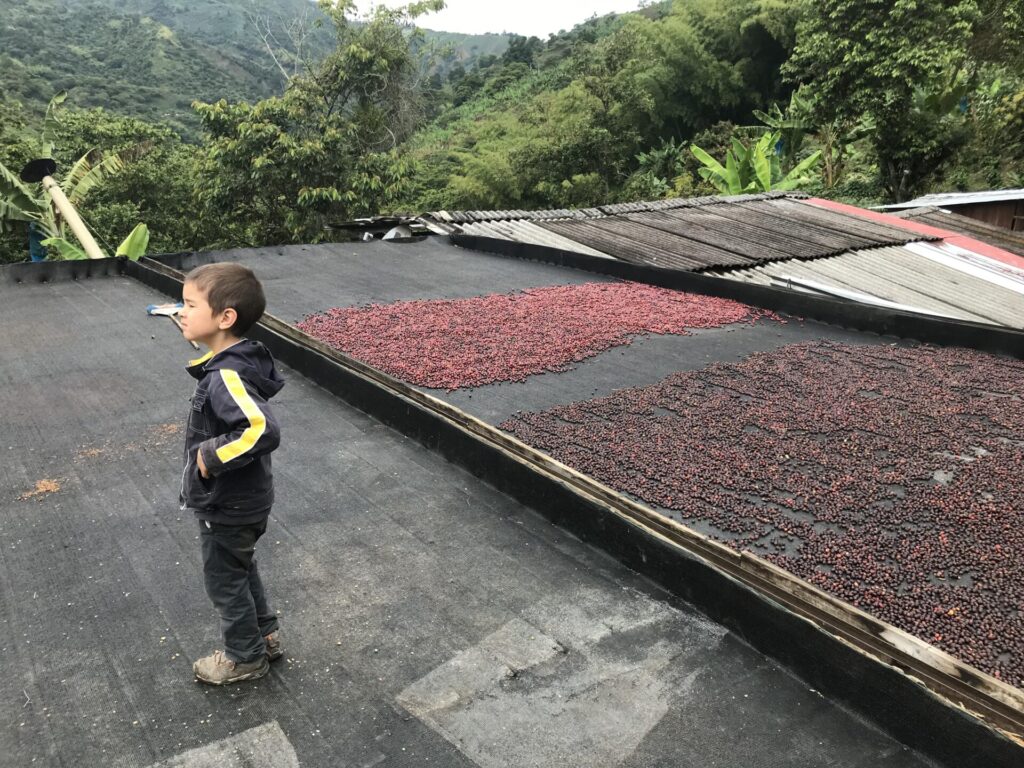 Hot Springs in Santa Rosa de Cabal
If lounging in warm burbling pools amidst devastating natural beauty is your thing, you should check out the hot springs near Santa Rosa de Cabal.
We spent several days of deep relaxation at Termales San Vicente wading in the myriad of pools warm, steaming pools. One evening we stole away for a couples massage where the masseuse slathered our bodies with sticky fruit as part of the therapy. There is another hot springs resort called Termales Santa Rosa de Cabal closer to town, however by the reviews and pictures it seems like that one is less of a natural setting and more like a bunch of swimming pools.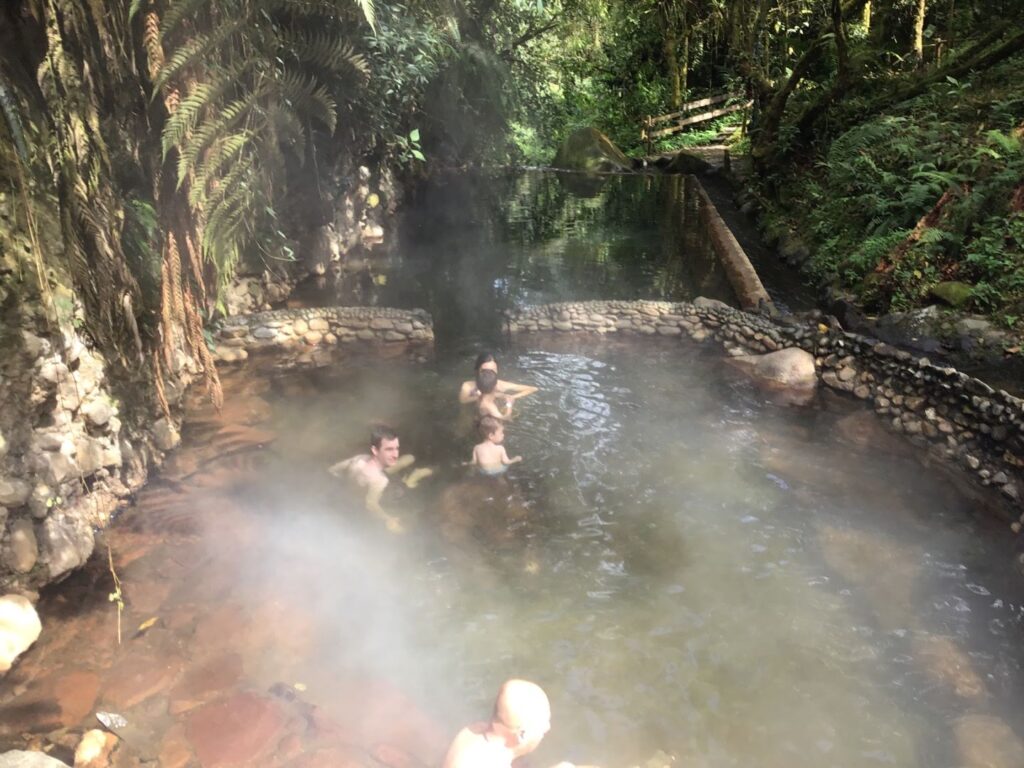 Cartagena
Cartagena is a storied Caribbean city frequently described as magical. It is the home of the Nobel prize winning author of magical realism, Gabriel Garcia Marquez. The Old Town is surrounded by an ancient stone wall topped with cannons to protect it from pirates of another era.
We spent three days in the Old Town wandering the narrow alleys, marveling at the colorful historic buildings, and drinking fruit smoothies. We would often see eccentric forms of entertainment on the street corners. A man creating giant undulating bubbles for kids to pounce at. A woman appearing to levitate a foot or so off the sidewalk.
We enjoyed our time in Cartagena, but we were also relieved to move on to the highlands where we weren't sweating twenty-four hours a day (and being attacked by mosquitos, according to Liuan).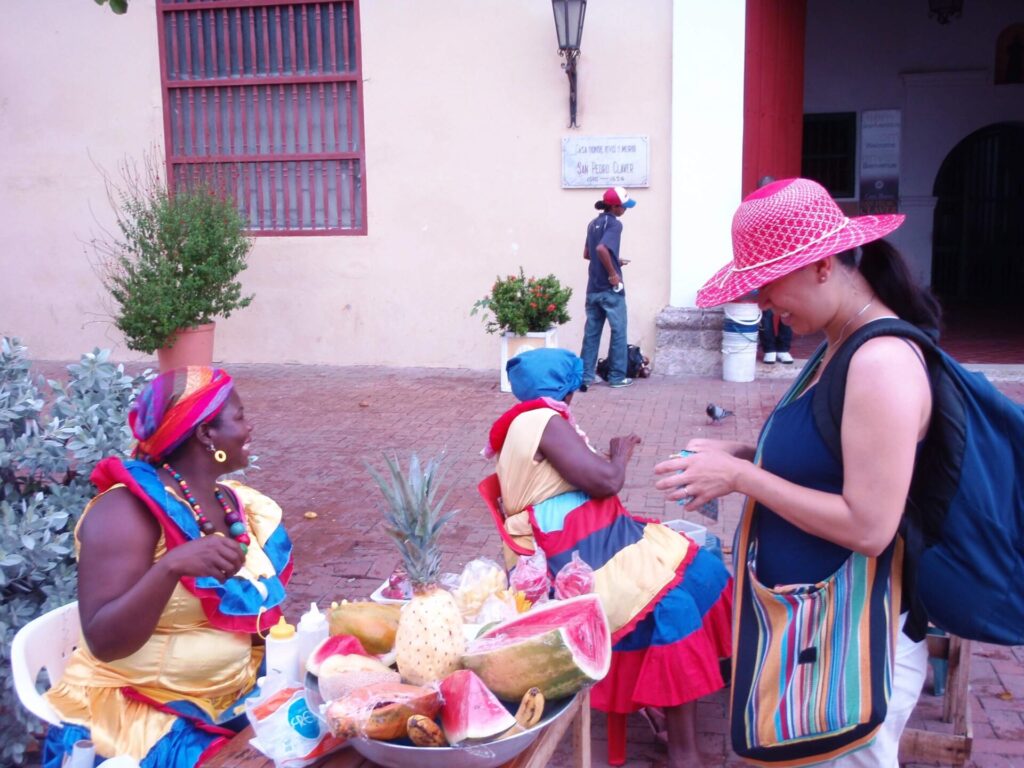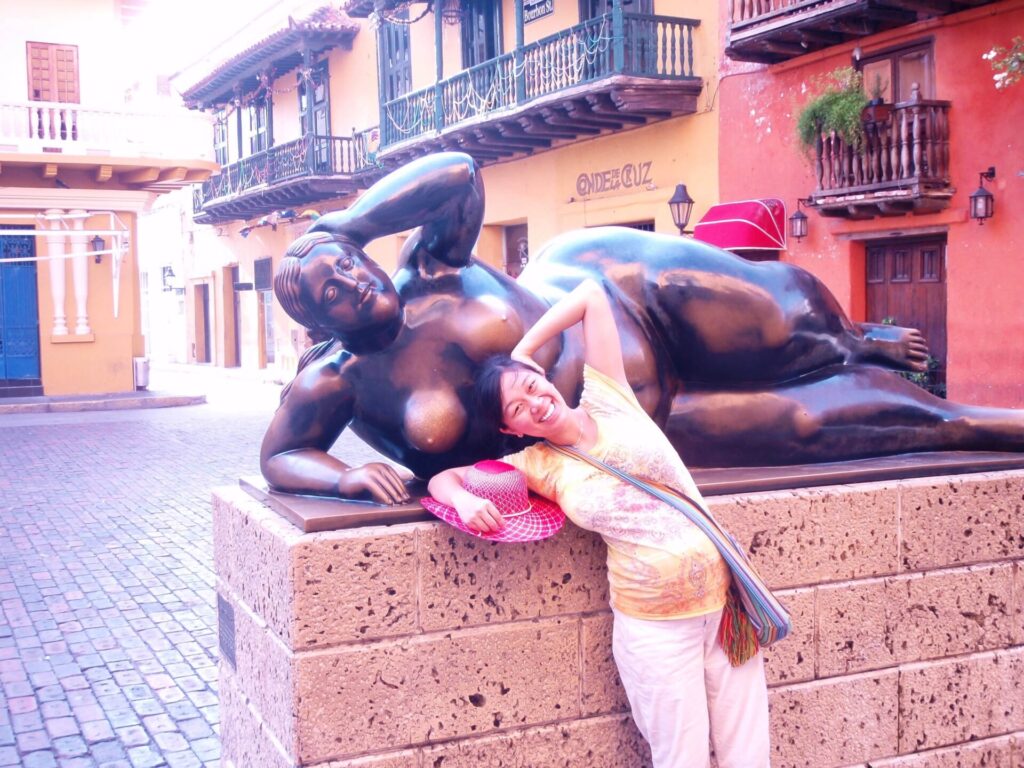 Medellin
Medellin, one of Colombia's larger cities, is infamous for Pablo Escobar's cartel. Now it is the city North American and European expats flock to.
There you will find museums, a cosmopolitan array of restaurants, a light rail metro and endless activities in a fairly safe and clean city. We enjoyed taking the cable car (just another line of the Metro) up to an ecological reserve called Arvi Park.
We also took a day trip out to the small colorful town of Guatape.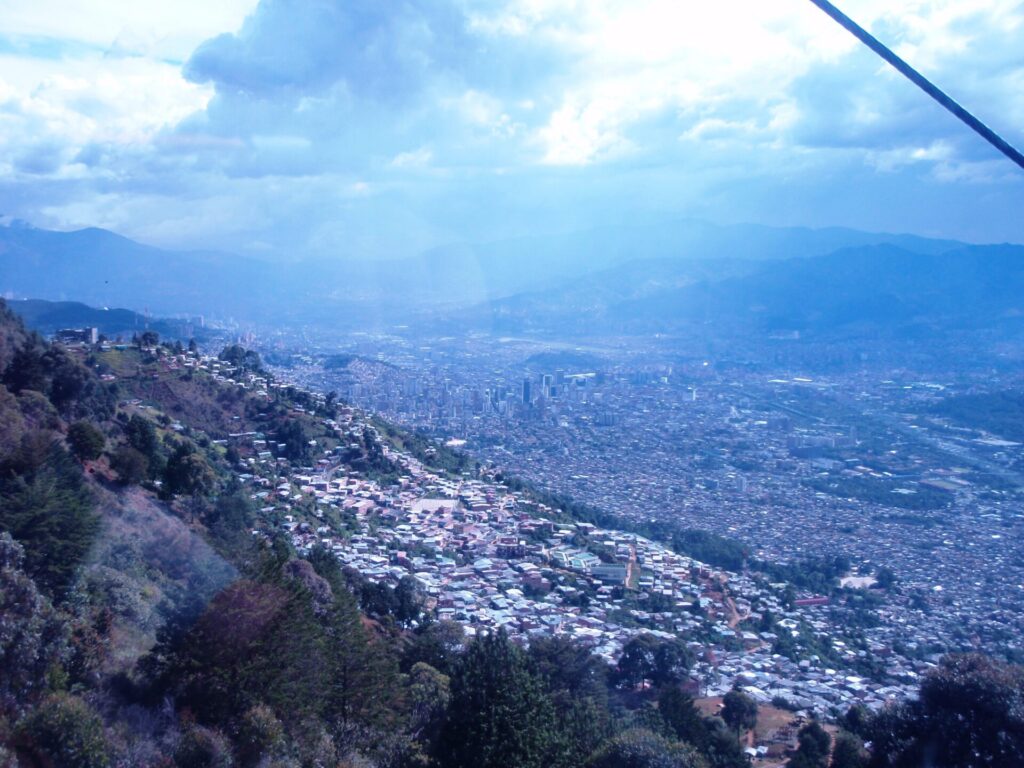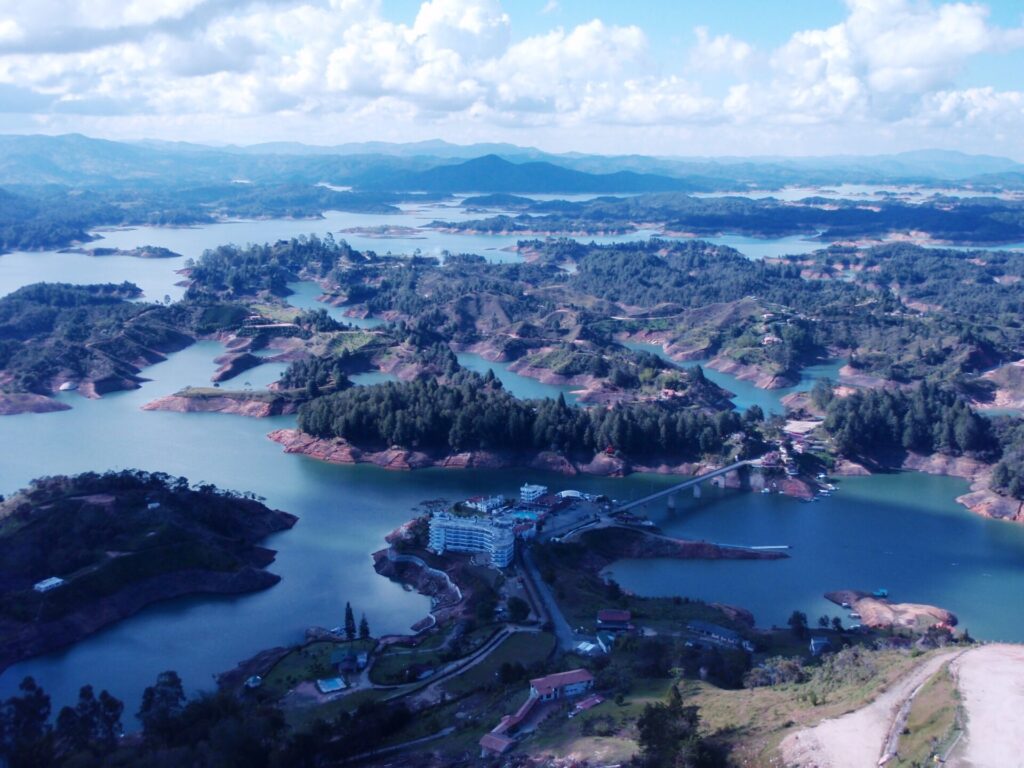 Bogota
Bogota, aside from being the capital city of Colombia, is also the most populated. There is plenty to do and see.
I'm sure some might find Bogota a great place to travel, but personally I feel like you could skip it and not miss much. For one it's cold due to it's high altitude (like in the fifties Fahrenheit), which was an unpleasant surprise. Beyond that it was a large city, with all the bad air and congestion that comes as part of the package. That said, as already mentioned, I'm not a city person. Take this review with a grain of salt. Others might find more to like.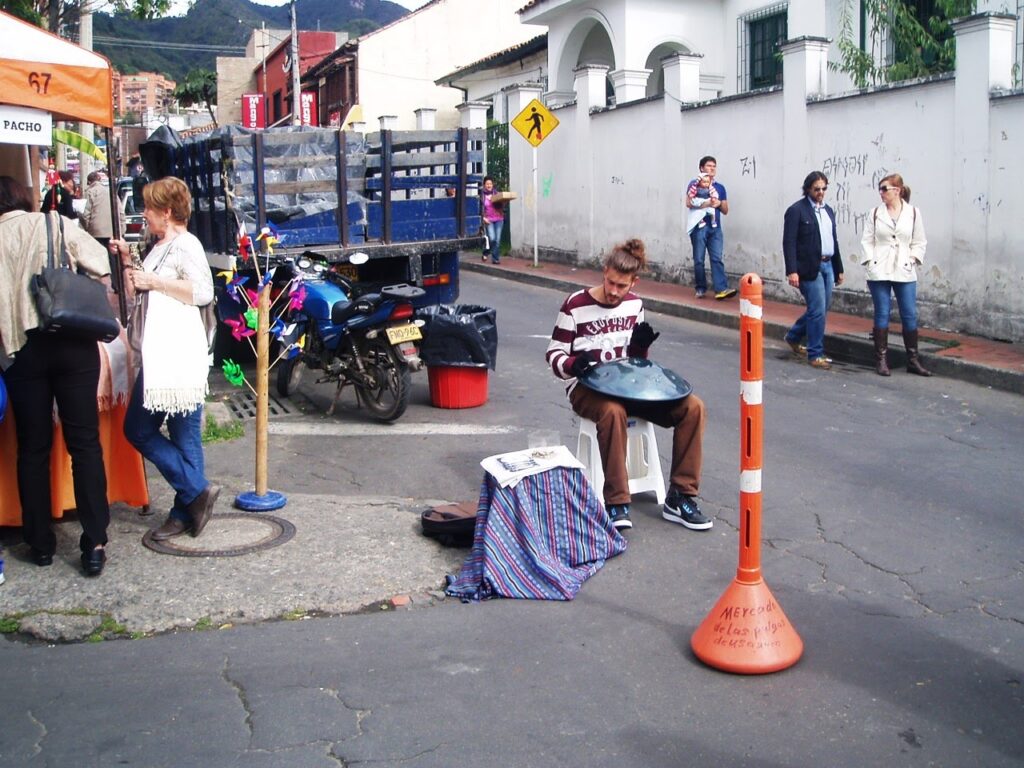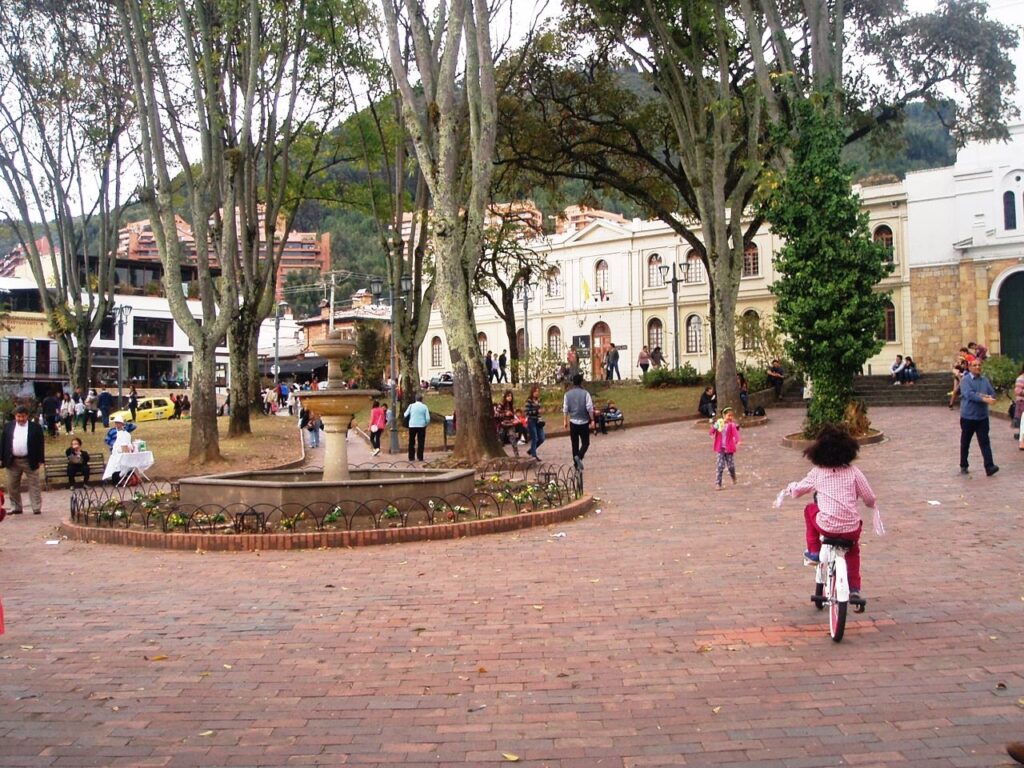 How do you get around?
In many countries we prefer to rent a car. It gives you more flexibility and allows you to leave the tourist circuit. We were less comfortable doing so in Colombia. We know there are still less safe parts of Colombia. But we weren't confident we knew how to avoid them.
In the end, we chose to fly between regions.
Another factor is the quality of the roads between cities. In the States we are used to driving city to city on wide, straight, well-maintained interstate highways. In Colombia, you might find travel more difficult and time-consuming than you would expect just by looking at the distance on the map.
For example, Medellin is only 150 miles from Bogota as the bird flies, but estimated driving times are eight to nine hours.
Air travel between cities is cheap. It is the easier and safer option and you'll save a lot of time. If you're only going to be in Colombia for a few weeks or less, you don't want to waste entire days crawling behind trucks and sucking the exhaust from their tail pipes while inching your way up windy two lane mountain roads.
For shorter travel within a region, between Pereira and Armenia for example, we've taken buses and that's worked out fine for us.
I would recommend asking your hotel or host to book taxi travel whenever you can. This will ensure you get a good rate and a trusted driver.
Do you need to know Spanish?
In the touristed areas, you could get away without knowing Spanish. We regularly encountered tourists that didn't speak Spanish.
That said, your trip will be much smoother the more Spanish you know. If you plan to use ground transport between cities, for instance, you may need to ask for information. It's not always obvious where you get off the bus or where to find the jeep drivers. We often needed to ask random people how to do stuff, what bus to take, how to find a certain intersection, where the bus driver takes his break so I could retrieve the hat that my son left on the seat.
That said, you could get by without being fluent. Colombians' Spanish is relatively clear and easy to understand for the non-Spanish speaking ear.
Anything we missed? Have tips you want to share with readers? Leave your thoughts in the comments.