Ecuador Road Trip Journal – Week 1: Into the Jungle

Our family (mom, dad, and three young boys) spent three weeks driving around Ecuador in a rental car. We hoped to sample three of Ecuador's four main regions: the jungle (el Oriente), the mountains (la sierra) and the coast (la costa). None of it was planned or reserved ahead of time. We made up our route as we went and allowed ourselves to veer off on a tangent if that's where the wind took us. This is a daily journal of our experiences during the first seven days.
Our Progress on a Map
Here is a map of where we've gone so far. Click on the icons. We've added pictures and comments.
Day 1: To Papallacta Through the Paramo
We witnessed two surreal car events today. While getting out of the taxi to pick up our rental car, we heard a crash and the sound of car bits tinkling onto the pavement. Just 150 feet down the street, a city bus and two cars had rammed into each other. We're not sure who hit whom. The kids spent the rest of the time while we were doing the rental car paperwork gawking at the scene.
The drive out of Quito took us through the paramo, the tips of the Andes mountains on the east side of Quito covered with swishing grass and glorious windswept panoramas. As the road veered downhill, fog and wet roads made the conditions more harrowing.
Suddenly, as Matt was engine braking down the steep curvy highway, a red car started spinning out of control as it careened toward us from the opposite direction. Fortunately, it stayed in its lane as it spun to a stop. We were all stunned, but relieved that nothing bad happened.
Papallacta was cold! At 3,300 meters (about 10,800 feet) the high altitude wins out over its equatorial location. We were grateful for the space heater in our hotel (Sol de Piedra).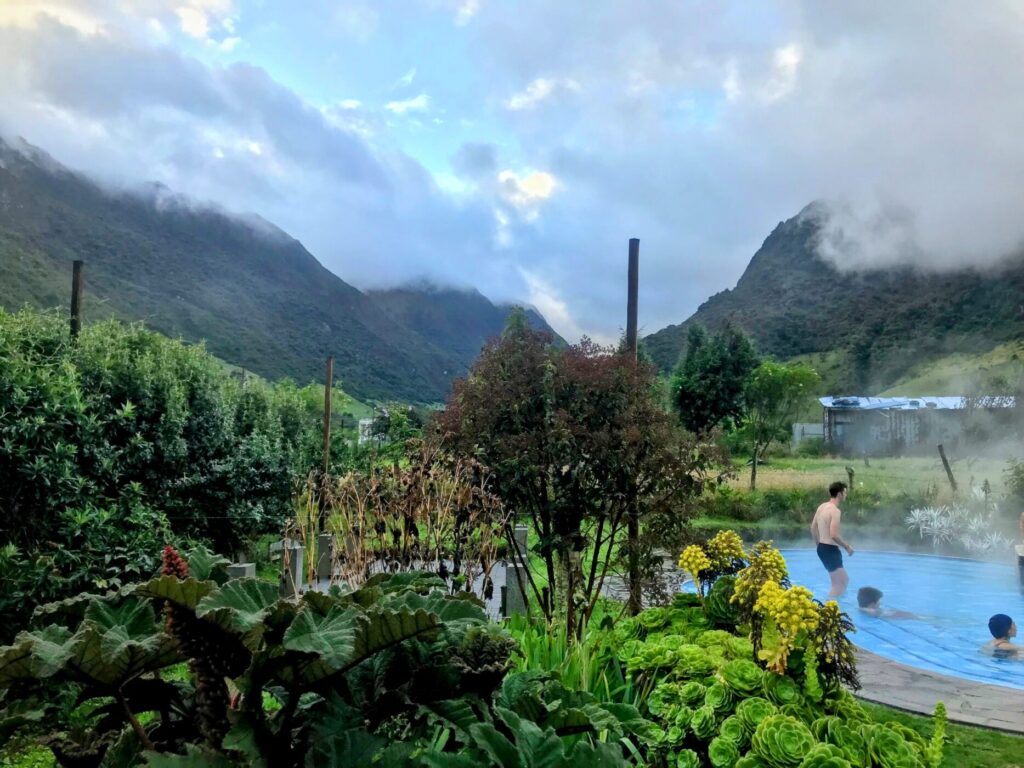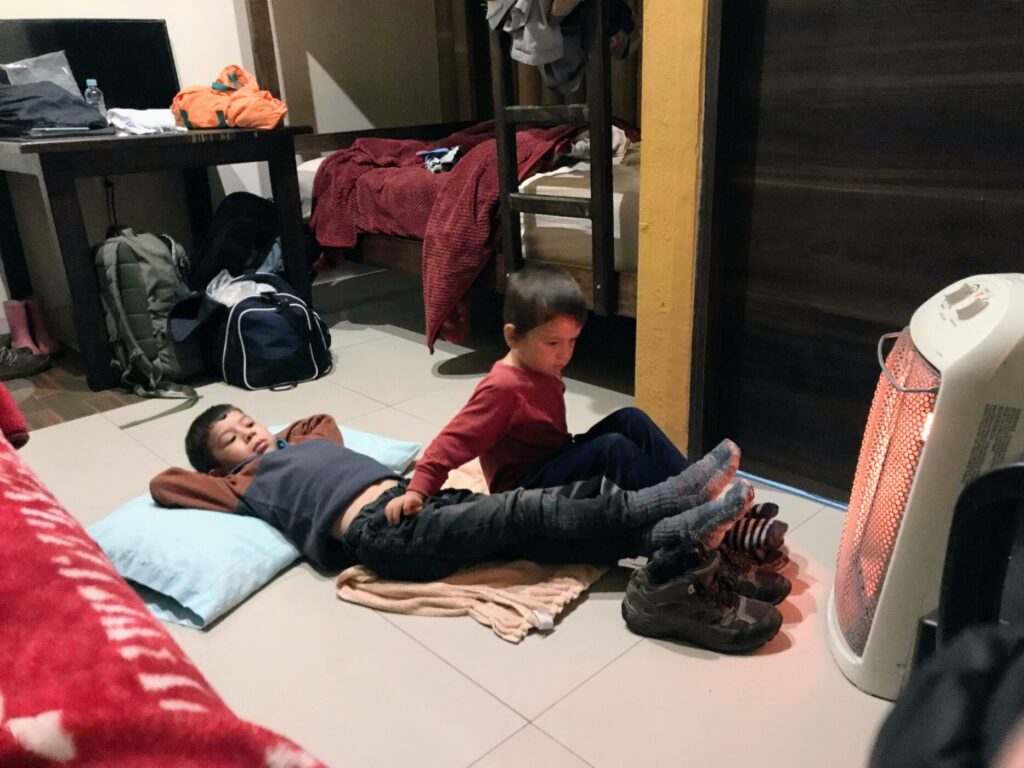 Day 2: Papallacta Hot Springs and Drive to Baeza
First thing in the morning, we went to Termas Papallacta. We hiked the easy 30-minute Sendero Isla trail. It took us way longer because we lingered by the herd of llamas, coaxing them over with handfuls of the nearby foliage. After that we soaked in the hot springs.
There are several smaller hot springs along the route to the main termas, but we recommend going to the main one, which costs the same amount and has way more pools.
We broke up the 45-minute drive from Papallacta to Baeza with a pit stop at an alluring roadside stand that advertised tortillas and chocolate. They were delicious. Matt also stained his teeth on some very murky coffee.
Baeza is a pit stop for travelers making their way from Quito to the Amazon. We stayed at the Casa de Rodrigo hostel, where Rodrigo himself kindly attended to us.
Across the main road from the hostel is a lovely trail down to the waterfalls, where we climbed up a treehouse lookout and heard the sounds of cock-of-the-rock birds. We finished out our night with dinner at the Hard River Mirador Restaurant, whose logo cheekily mimics the Hard Rock Café.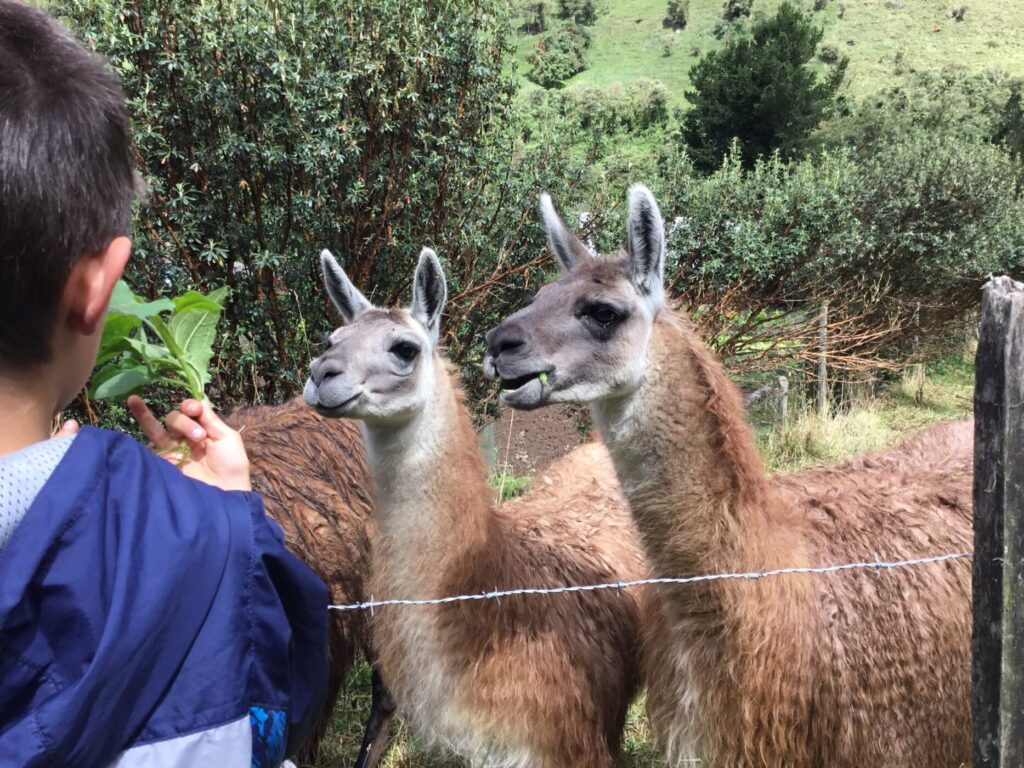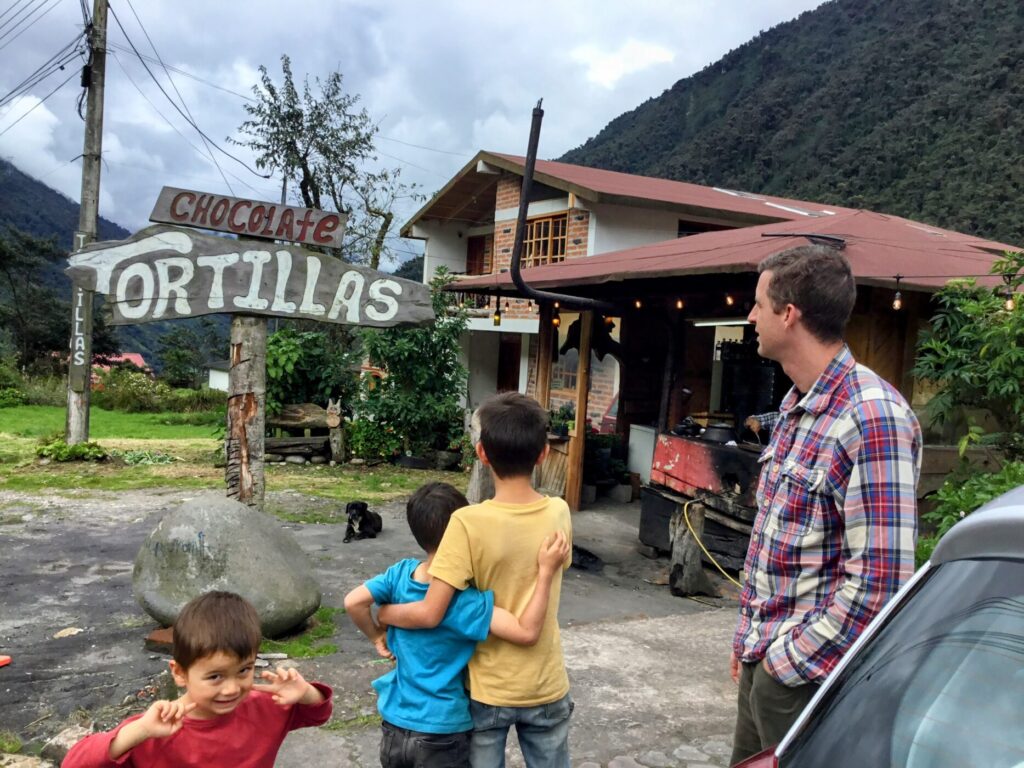 Day 3: Grand Hike in Baeza
Liuan had to work all day.
Matt took the boys on an epic hike (for a four-year-old). We hiked back down to the river where we had gone the day before, but this time we continued across the bridge. We took the trail back up the other side of the ridge for a kilometer until we arrived at a zoo.
We stood outside a locked gate debating whether to turn back or try to get someone's attention. The decision was made for us when a worker spotted us and asked if we wanted to come in and look around.
The zoo, or farm, or botanical garden (whatever it was) seemed past its prime. It only had one animal, a bristly pig with tusks — maybe a wild boar? (Later we found out it was a pecari.) We wandered around, seeing all there was to see, until we reached the front entrance. There we realized we were in the main town.
We decided to take the road through town back home. Since the "zoo" was on the far end of town, we walked the entire main drag before making our way to the little isolated outskirt (old Baeza) where our hostel was located.
For dinner, we went across the street to where a hand-lettered wooden sign wooed foreign tourists with promises of non-Ecuadorian cuisine, like burritos and nachos. Turns out El Kopal is run by a Dutch expat with an artsy flair, who built the place himself and sells salvaged wood trinkets and rents cabins as well.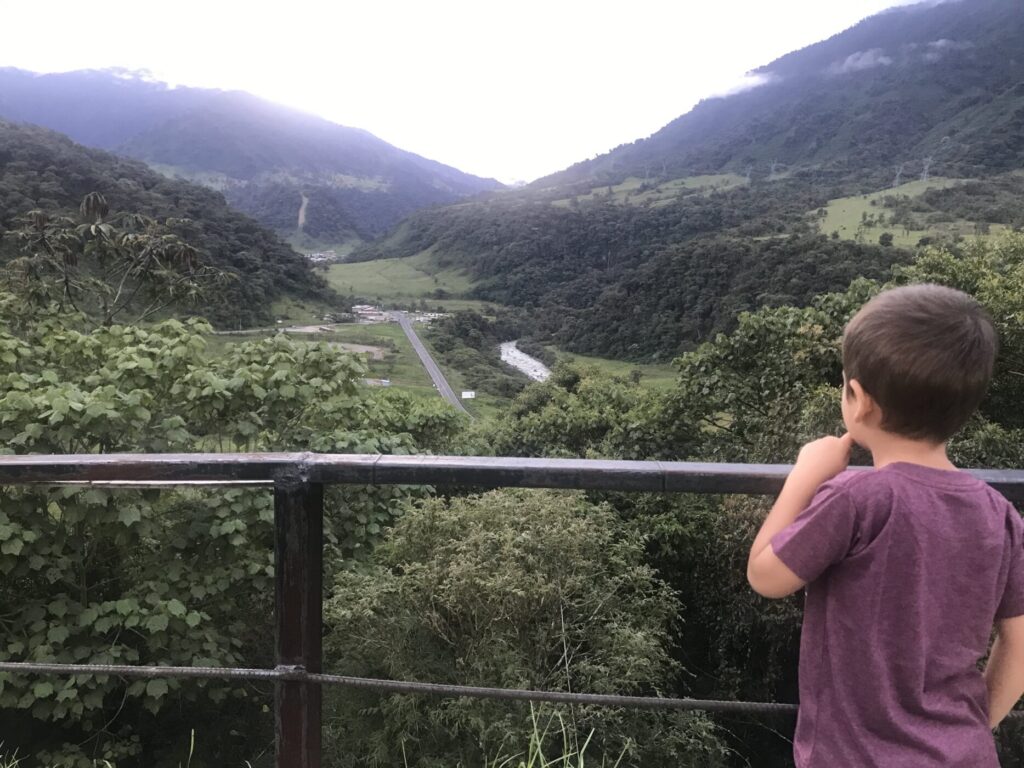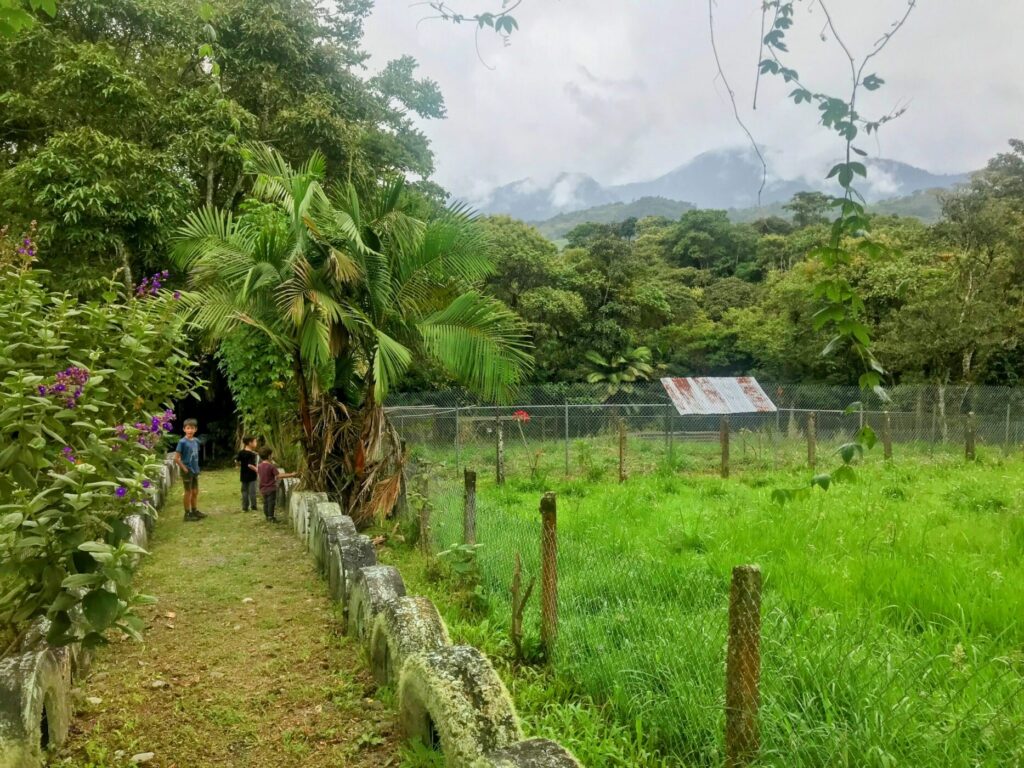 Day 4: The Edge of the Amazon: Tena and Puerto Misahualli
The estimated two-hour drive and about 1,500 meter drop from Baeza to Puerto Misahualli took considerably longer as we snaked our way through driving rain and portions of dense fog. This area of Ecuador, perched on the edge of the mountains, receives all the humidity that rises from the Amazon forest and condenses uphill.
We took a pit stop at Kallari Chocolate in Tena, hoping to take a tour, but the guide was out for a few days. We settled on buying some delicious bars. From Tena we took a sharp fork east along the Napo river to get to the town Puerto Misahualli, where many jungle tours begin.
After settling into our hostel (El Albergue Español) we took a stroll through town and ended up spending at least an hour at the Playa de Los Monos park. We expected to see maybe a monkey or two high up in the trees, if we were lucky.
Instead, we were treated to face-to-face encounters with a troop of white-capped capuchins: an older male, a couple mothers including one with a newborn baby clinging to her back, and several rambunctious youngsters entertaining us with their daredevil antics jumping from tree to tree and sliding down the electricity lines. A graduate student had been observing this primate community for some time and narrated who was whom and why they did what they did.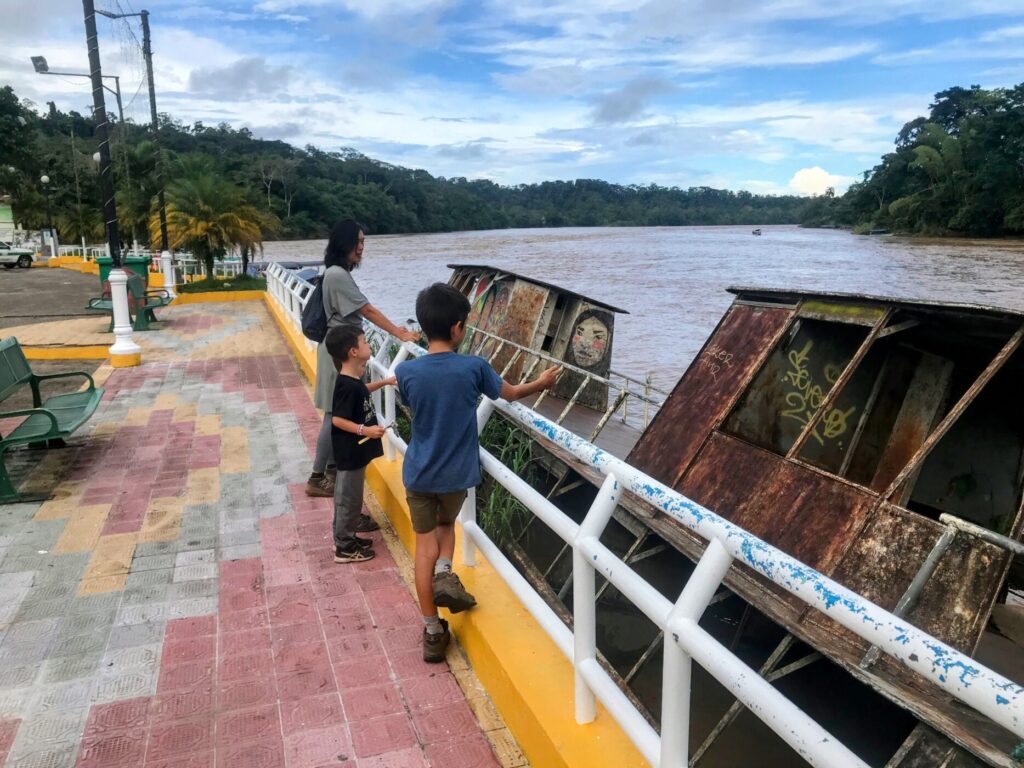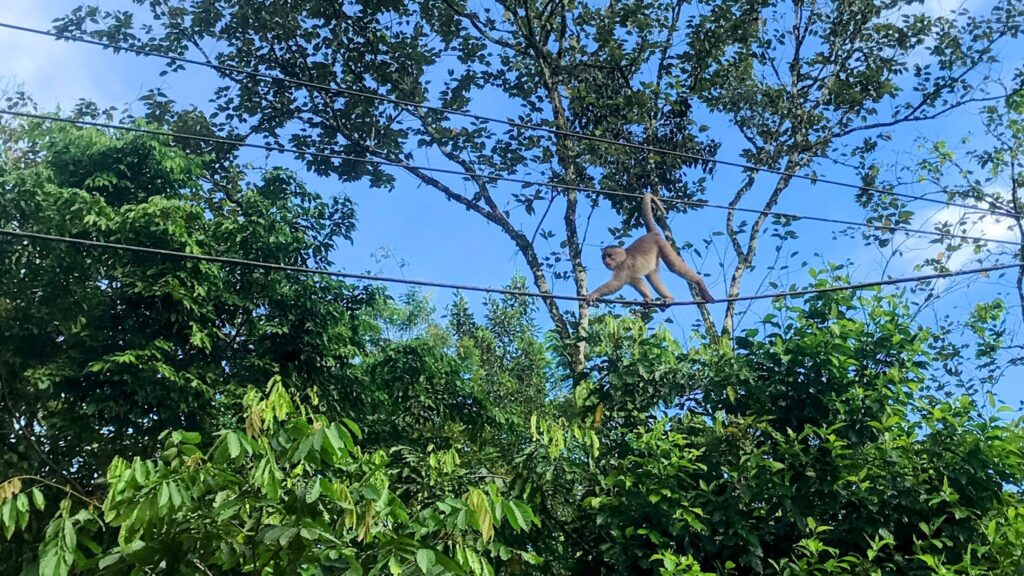 Day 5: Expedition Down the Napo River
Unbeknownst to us, the hotel we chose also had some huts down the river where they led people on an overnight package tour. When we inquired about taking a tour, they told us about theirs. We eagerly signed up.
In the morning, we crossed the Napo River on a tarabita (a rudimentary cable car). From there, a taxi picked us up and drove us over to the canoe launch further downriver.
It rained as hard as we've ever seen it rain, pounding off the thatch roofs. Rivers spontaneously appeared on the edges of the road. We were feeling disappointed, but our guide told us it would change in twenty minutes. Sure enough, it lightened up and then cleared entirely.
We rode the motorized canoe down river to an island that was home to an indigenous community. There we tried our hand at shooting blow guns. Later on, we made a chocolate fondue from dried cacao beans, fed some cow intestines to caimans (crocodiles), visited a wildlife rescue center, and ate fish cooked in bijao leaves for lunch.
Farther down river the canoe dropped us off along a barely-visible path through the reeds. We schlepped through ankle deep mud in the pouring rain (again) until we reached a compound of raised huts (thankfully we were loaned rubber boots for the expedition!). We had arrived at El Ceibo Lodge. Bats darted in and out of our covered deck and hung from the screens. The lodge was, however, surprisingly well-equipped with hot water, electricity, mosquito nets, clean bedding.
Our host, Hernan, took us on a night walk around the camp. He warned that if a big insect fell on your neck, not to reflexively slap it. Slapping would presumably trigger it to attack. Rather, it was better to tell a companion to brush it off. That terrifying prospect fueled our paranoia as we squeezed through the leaves and vines in the dark.
Afterward, we were rewarded with a nice spaghetti dinner (to the delight of one of our tour companions, a Frenchwoman who had been hankering for pasta).
We fell asleep to the sounds of the jungle.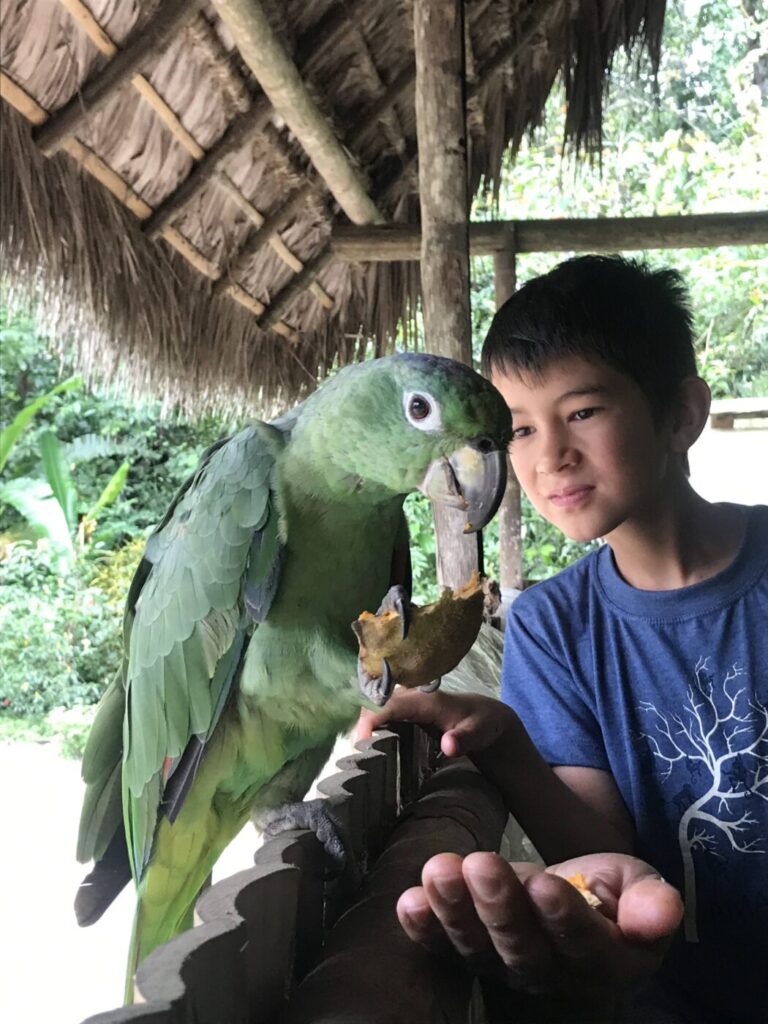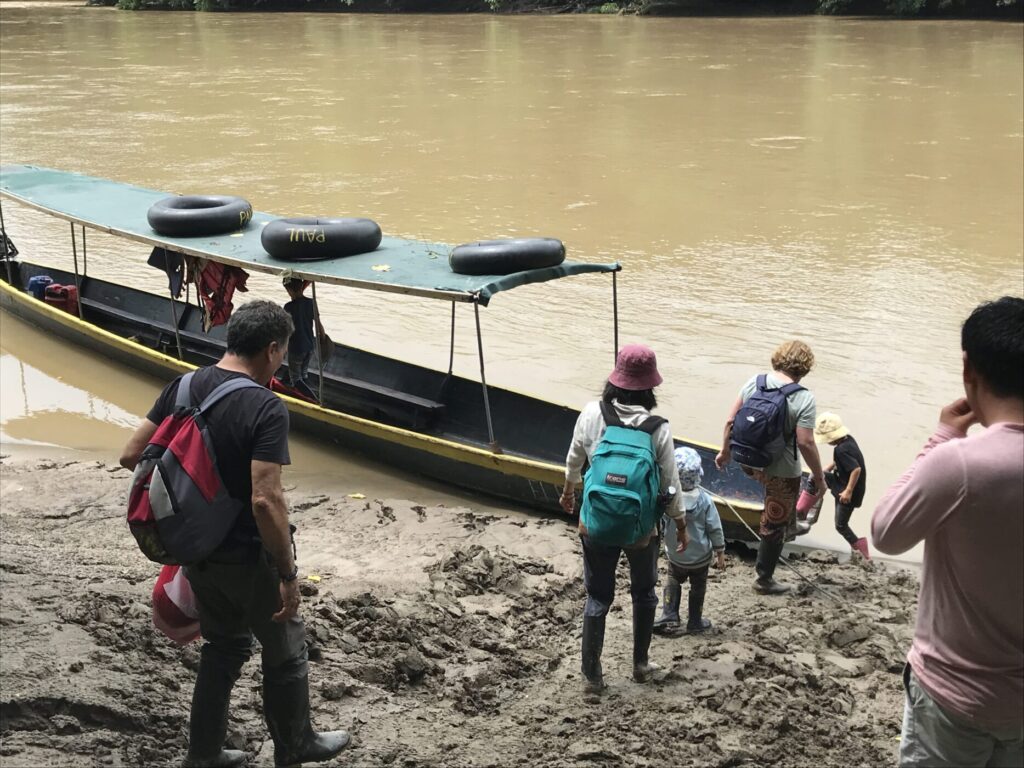 Day 6: Return from the Jungle
In the morning, we woke up well-rested for another hike in the daylight. We were introduced to the wonders of the jungle. The ceibo trees made us feel like beetles next to their towering scale. Our guide prodded a pile of shredded leaves with a stick, and ants the size of your finger furiously emerged to defend their home. A bite from one of them would hurt like hell and give you a fever, we were told.
At lunch, we conversed and told stories with the two other guests. The Frenchwoman was joined by her just-retired work colleague, a man who spoke English with a French accent, but was actually an Ecuadorian who had moved to France as a teenager.
We returned by bus. Though it had seemed we were marooned in the jungle, it was finally revealed that we were only a five minute walk from the highway. We caught the bus at the last minute, and bumped along the unpaved road for over an hour until we got back to Puerto Misahualli where we had left our rental car.
Arriving back in that little jungle town felt like a full return to civilization. There was even a Mexican restaurant/pizzeria! We decided to stay another night.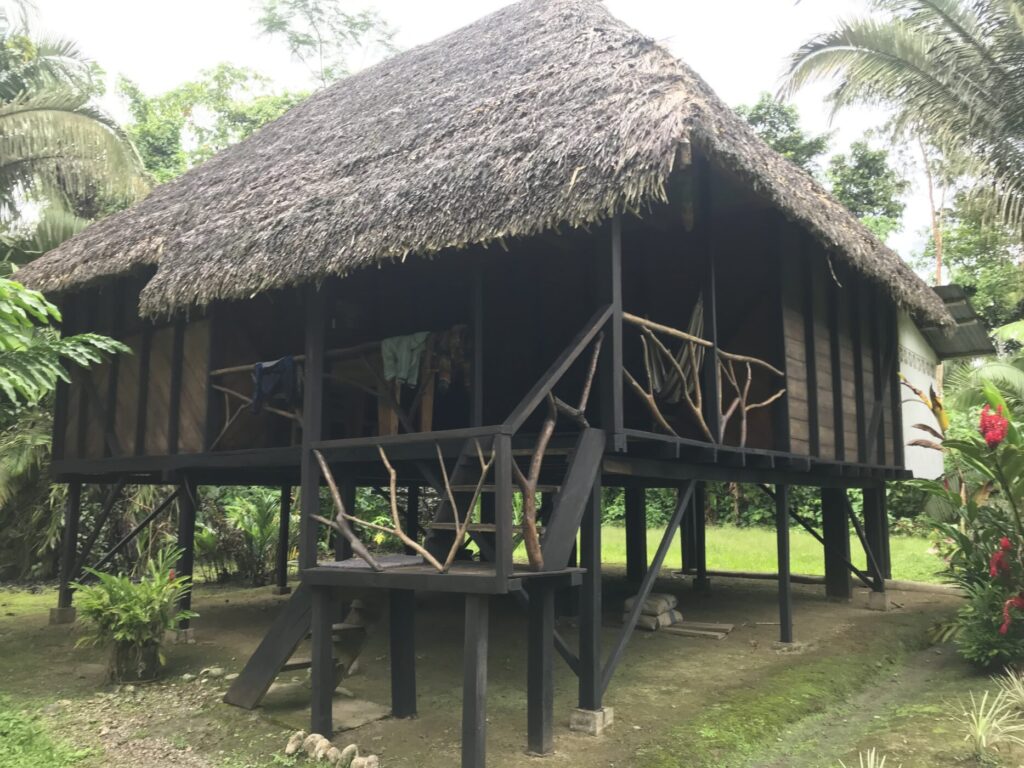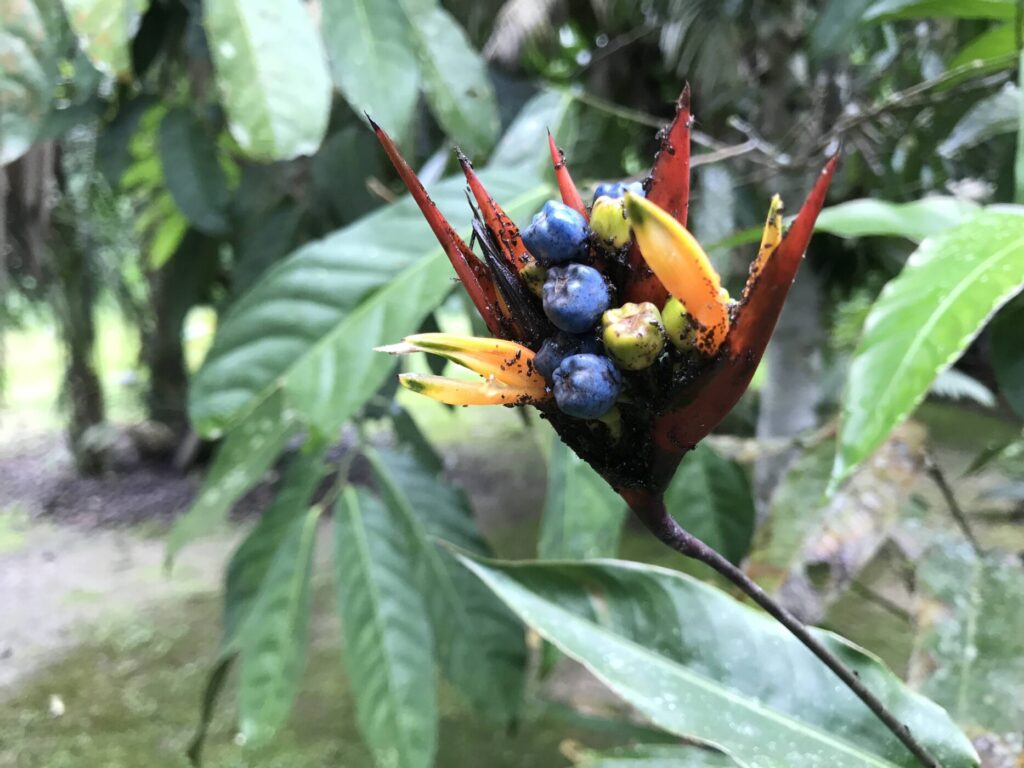 Day 7: The First Time We Just Drove Up and Asked for a Room
After breakfast, we set out from Puerto Misahualli with no idea where we'd spend the night. The only item on our itinerary was a place Liuan had found on the map months earlier, a cacao farm south of Puyo called El Paraiso. Chocolate was Liuan's only reason for coming to the Amazon.
After a few-hour journey including a coffee break and lunch stop, we neared the farm well into the afternoon.
We had decided the day before that we wouldn't do any research on where to rest our heads. We wanted to fly by the seat of our pants and see what we might run into without consulting the internet. Plus, on other parts of our travels, we had passed up places along the road that looked really cool because we already had a reservation. Today we would make room for the serendipitous.
About half-hour away from El Paraiso, we started looking out for signs advertising alojamiento or hospedaje (lodging). Turning off the road for one sign, we drive up to a thatched roof along a river. "They're just rooms," warned a woman holding a sleeping child. We followed her older son to take a look, and indeed, they were just two bare rooms that smelled of used motor oil (what the locals around here often use to keep insects from getting into the wood). We could see daylight between every wall plank and there was a large gap where the roof met the wall.
The very used, bare mattresses on bedframes were the only furniture. It was…rustic. The boy assured us they would bring in some sheets. But hey, it was $32 per night! We could rough it. We told the woman we might return, and drove further down the road.
The next place we ran into, Great Hostels Amazon, had inviting signs with hand-painted art on the walls, beds with sheets, mosquito screens on the windows, WiFi, and a bright shared area with children's toys and and books. We decided to stay! It was slightly more expensive ($55 per night for our family) but included breakfast. This was right in our price range while having all the amenities that make it a comfortable stay. Yay! We had found a place that met our specs without booking in advance (with the added benefit of saving us hours of internet browsing)!
After unloading our stuff, we finally made it to El Paraiso Cacao Farm to make our own chocolate bar and enjoy some delicious hot chocolate, cocoa husk tea, and yuca fritters. We ended the day with a dip in the Puyo River near our hostel.