Biking Through Tuscan Villages With Borrowed Bikes and Dog

Most of our best travel memories came about when we took an exit off the tourist highway. Nowhere was this more true than when we visited the Tuscan countryside.
During our week in Italy we did visit some well-known destinations, though not the ultra-touristed Venice or Rome.
We enjoyed Florence. Enticing gelaterias checkered the historic store fronts and open air markets sold souvenirs to the hordes of tourists. But the expensive meals were no different than any high-priced Italian restaurant in the States.
The Piazza del Campo in Sienna was stunning. But I got an automatic traffic fine just for entering the historic area with my rental car (eleven years later I have yet to pay). It's also where we had our only terrible meal in Italy.
In the end, we discovered the friendliest locals, the most sublime cuisine, and our fondest memories in a cluster of no-name towns in the Tuscan countryside.
Calci, Butti and Vicopisano lie just east of Pisa, where we arrived by Ryan Air. We took a short train ride and then hiked the rest of the way to the village. The area does get some out-of-towners, but they are mostly Italians seeking a break from the city.
Lost and Found
Our printout from Google Maps was flat out wrong (this was in the era before we owned a smart phone). Our bed and breakfast, Villa Fiona, was not where red pin indicated. We stood, puzzled, in a small grid of residential streets in Vicopisano wondering what to do next.
A half hour went by while we wandered and searched for clues. We eventually gave up and decided to seek help.
I started off toward a café where a dozen old men sipped their muddy espressos and read newspapers on black iron patio tables. I tried asking for directions with the Italian I picked up from a workbook. The old men answered, but I couldn't understand a word. They handled me with a laid-back lack of urgency that was neither unkind nor eager to solve my problem.
Liuan, meanwhile, sat on the side of the road and broke down. Intentional or not, her method worked. By the time I returned empty handed, a father and daughter had spotted Liuan and pulled over. They knew the location of Villa Fiona and volunteered to take us there.
The Dog is Coming With
Villa Fiona is set on a vineyard several miles outside of town. It is a quaint, rustic inn built with large timbers, bricks and yellow and white stucco.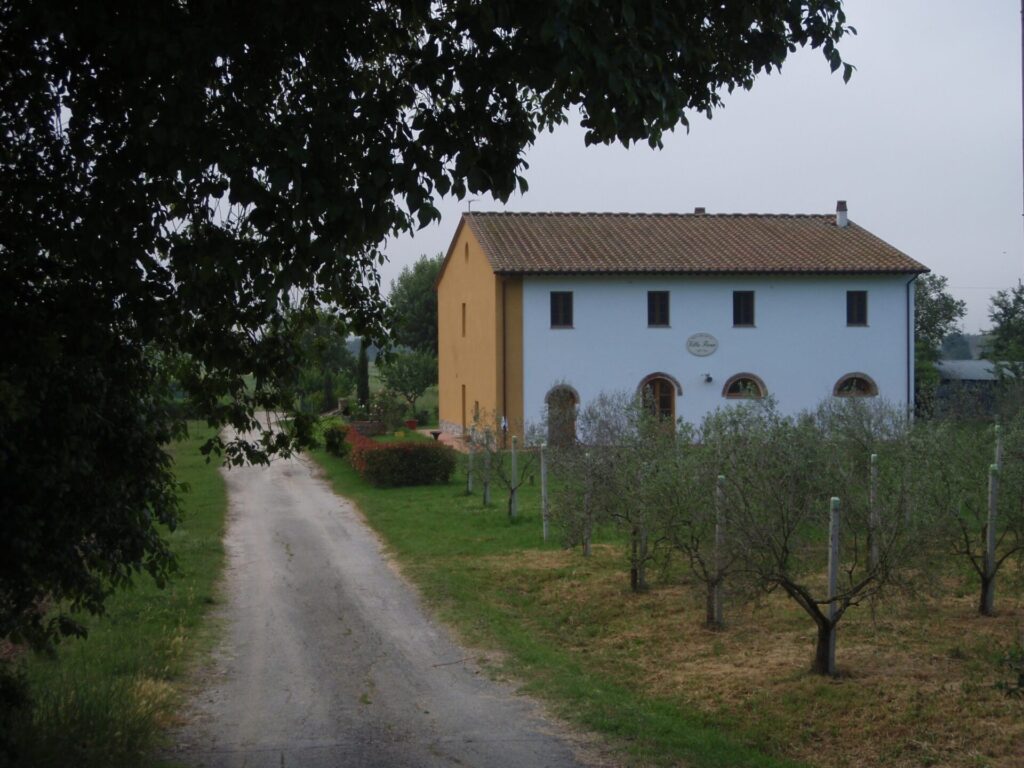 We had our complementary breakfast with blood orange juice and cappuccinos and chatted with our hosts. They were a young couple who had left the city of Turin for a simpler life.
We told them we planned to take a day trip wandering the small mountain villages, Calci and Butti. Because of the distance involved, walking was out of the question. We asked them if we could rent bikes.
They lent us their own, free of charge.
"Diego will go with you." Diego was their black lab.
I assumed he was kidding so I laughed.
The dog bounded down the long driveway following us on our bikes. When we reached the end I thought for sure he would turn back. He did not.
He followed us to the end of the narrow, barely one lane, local road to the paved two lane road. I thought he would surely turn back then. He did not.
He was in it for the long haul.
We rounded the flat base of Monte Pisano and made our ascent into Calci.
Our tireless companion romped and splashed in the creek. He rampaged through the brush and terrorized the ponies in their pastures. All while easily keeping pace with us.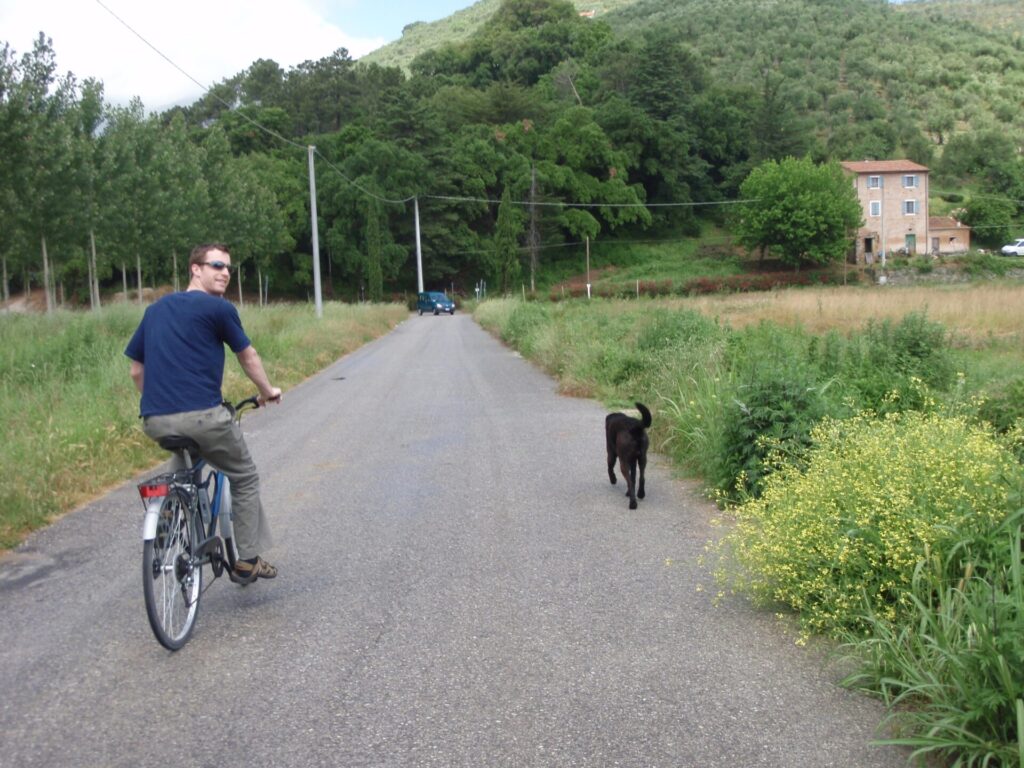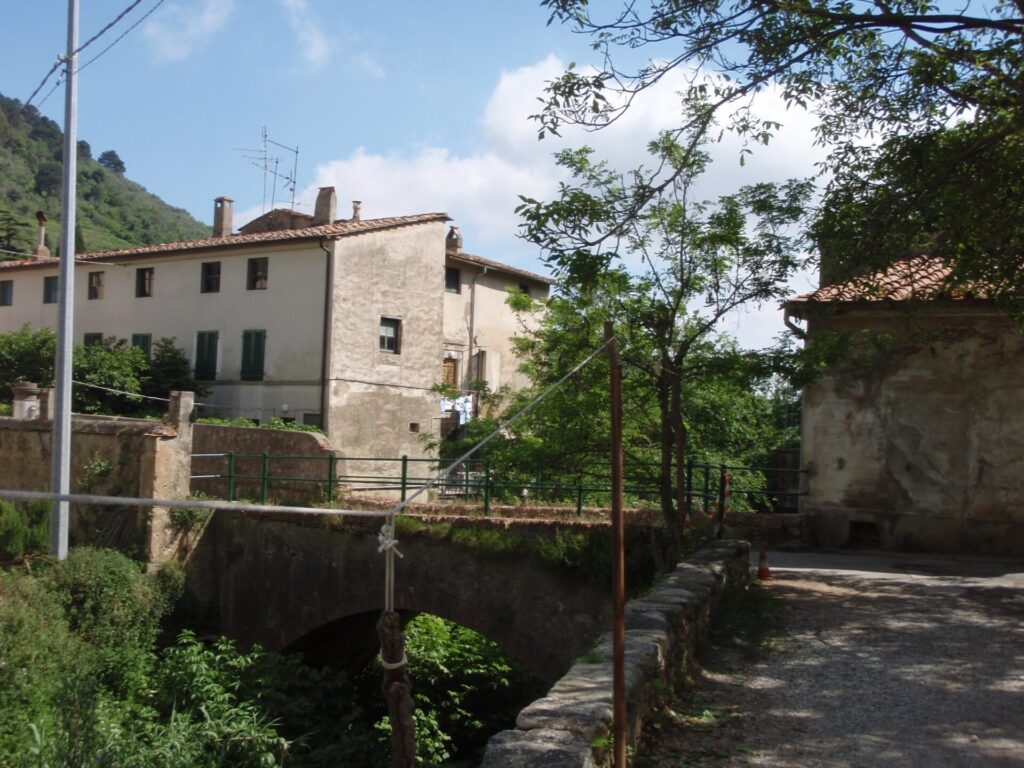 Lunch in Calci
Calci was all limestone, stucco and tiled roofs. Flower pots adorned the window sills. Canals and walking bridges crisscrossed the narrow streets.
Diego would disappear into the labyrinth of cobblestone alleys to chase a scent that only he could smell. We worried on several occasions that we had lost him. But minutes later he would burst out of a bush or come barreling out of a tunnel to catch up with us.
As lunchtime approached, we worried about two things. First of all, what should be done with the bikes? We had no lock to secure them. Would they still be there if we just left them in the park?
Second, what about the dog? Would he tire of waiting for as we ate inside the restaurant? Was he hungry too? We had no way to tie him up. Would he cause trouble? Or just run off?
After mulling it over in the town square, we decided we had no choice but to get lunch, happen what may.
We left our bikes and entered a small trattoria just off the main square. The hostess inquired about the dog. Was he coming in too?
"No, no! Of course not!" we hastily replied in unison.
"Well, isn't he hungry?"
My mind could barely compute. The restaurant staff wasn't worried about the dog making trouble or violating health codes, I realized. They cared about… the dog.
They ushered Diego into the covered entryway and fed him at no extra charge.
We ate ravioli with brown butter and sage. The quality of the food blew this American's mind.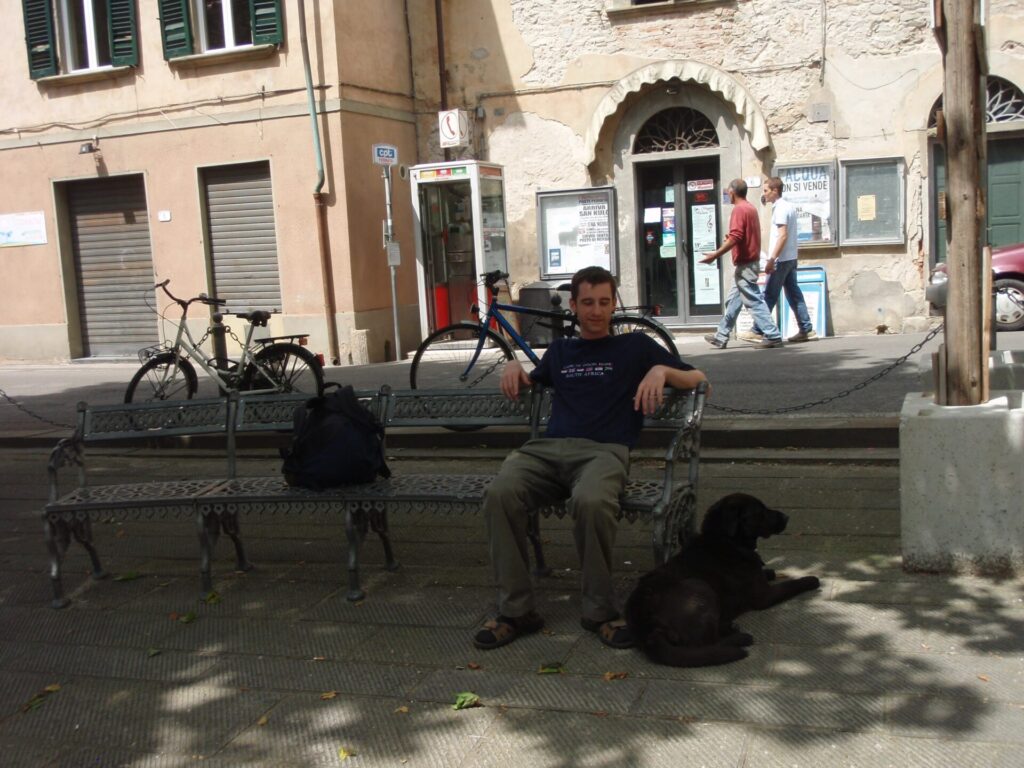 The Crest
Refreshed and in good spirits, we continued our ascent up the mountain. But as we climbed higher, the road became increasingly steep. We labored our way forward inch by inch, pedal stroke by pedal stroke.
We felt sheepish when packs of Italian bikers, decked out in spandex bike suits, breezed by us. Many of them appeared to be well past retirement age. It was as if they inhabited a parallel dimension where we could see each other but gravity didn't have the same effect.
We were exhausted and drizzling sweat. Defeated, we dismounted and walked. It was late afternoon by the time we made it to the crest. We were only halfway to Butti, and worried we wouldn't make it in time for dinner.
There was nothing to worry about, though. We whizzed downhill without moving our pedals. We worked the breaks to keep from careening off the hairpin turns. Diego raced headlong in front of us keeping pace with our bikes. Do dogs wake up sore the next day? I wondered.
The effortless ride and the wind in our faces brought back our verve and dried up our red, sweaty faces.
We descended into Butti at quarter to five. Just in time for dinner. Or so we thought.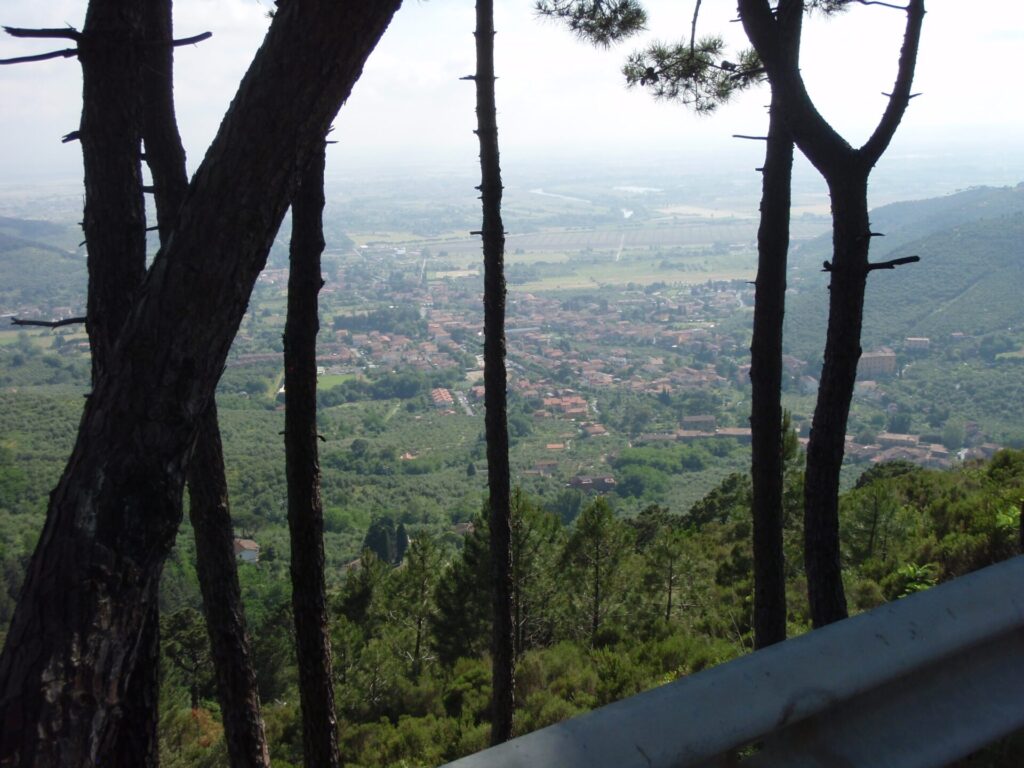 Not Open
We searched for a pizzeria that was open. Nothing. Everything was shut. We finally found one with the front door open, though it didn't appear to be "open".
A man was tossing pizza dough in the air. He seemed in a blissful state of flow. We minced our way through the door.
He spoke no English, but asked if we spoke Spanish (his wife is Spanish). Hallelujah! Yes! After bumbling through Italian for the last several days, Spanish felt as natural as a mother tongue.
After chatting with him, we asked if we could get a table. He informed us that the restaurant didn't open until seven. Most Italians, we found out, eat at eight or even nine in the evening.
Aha. That explained the lack of options.
We decamped in the nearby town square to wait it out. A gaggle of kids played tag. The kids, spotting "our" dog, came over to pet him and ask us questions. "How old is he?" "What's his name?" It was easier to make up answers than try to explain (in rudimentary Italian) how he was not our dog despite all appearances.
Diego and the children romped around the square and caused mischief chasing the local cat. The time passed quickly.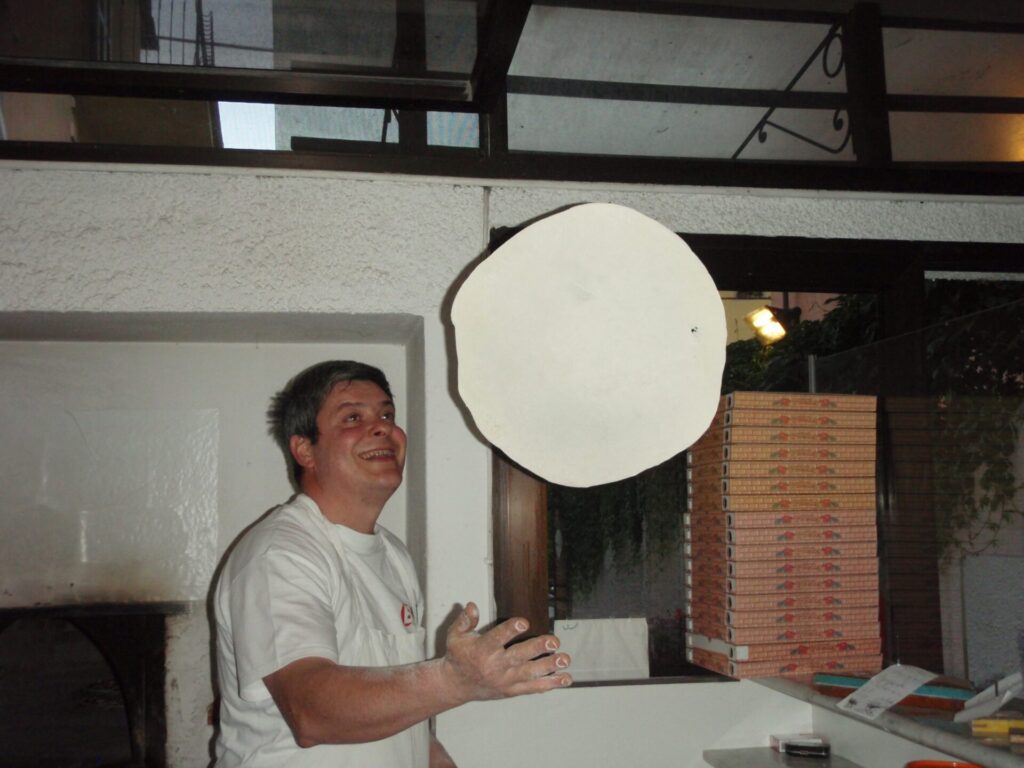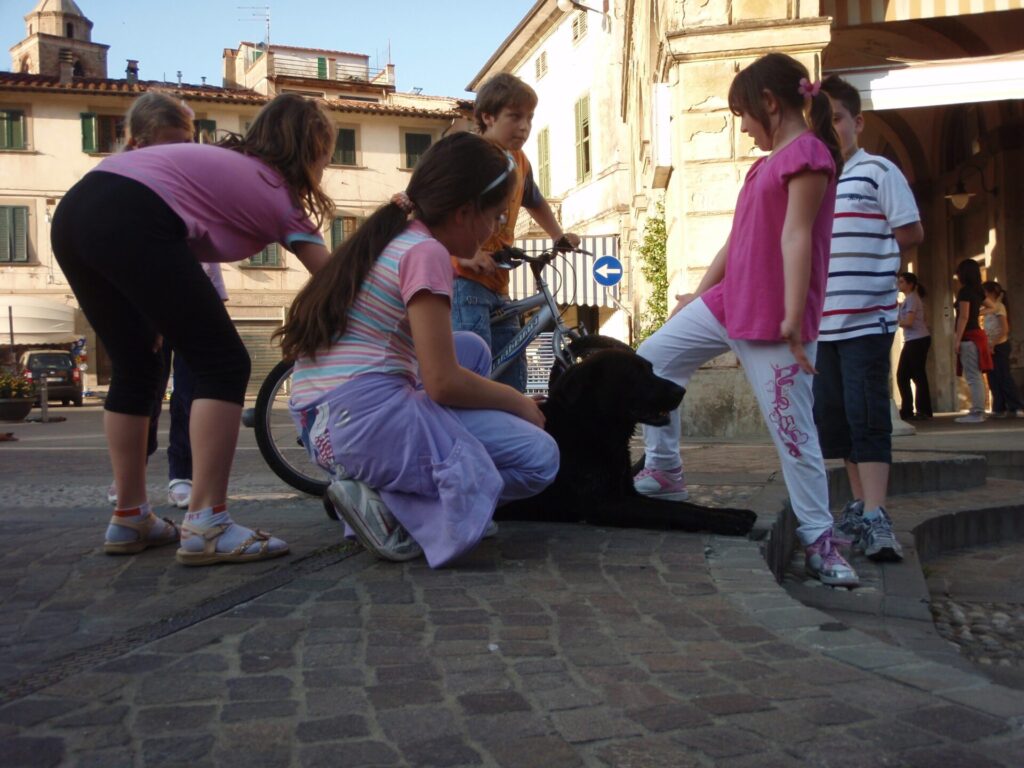 Dinner in Butti
We approached the pizzeria at sette in punto, tummies growling. For Italians that was still an early supper. We were the only patrons.
The Spanish-speaking, pizzaiolo asked if the dog was going to come in.
We assured him that the dog would not come in, once again assuming that to be the only correct answer.
But, just like at the trattoria, he was intent on accommodating Diego. He placed us at a table that was level with the street. He opened a shutter so the dog lay a mere foot from our table with no separation.
We ordered the Capriciosa pizza. It's a sort of "whatever" pizza that, like French toast or chilaquiles, was a way to use up random leftovers. Ours came with mushrooms and rings of squid. It was fabulous. Once again, the quality of the food was something special.
It was refreshing to be in a place where historic preservation, beauty, and delicious local food were ends in themselves rather than put on for an audience of tourists. These small communities were the embodiment of slow living. Though I'm not sure any of them would care. Good food, good friends, natural beauty, exercise and simple tasks like tossing pizza dough into the sky are reason enough.
We left Butti at sunset and rolled into Villa Fiona after dark still laughing and bantering on our bikes.